Medical Simulation Market Insights – 2030
The global medical simulation market size was valued at $1,687.50 million in 2020, and is projected to reach $6,688.60 million by 2030, registering a CAGR of 14.7% from 2021 to 2030. Medical simulation is a virtual replication of in-person actions or phenomena that represents the functions and qualities of a specific actual abstract or process. It is a type of simulation that is used to teach and train people in various medical professions. Simulations can take place in the classroom, or in real-world scenarios, or in the specifically built simulation locations. 
Medical simulation is a training strategy in which healthcare workers use virtual reality or simulation models to practice activities and procedures in real-life scenarios. Rather to the apprentice style of learning, medical simulation allows for the methodical application of clinical skills. It can contain simulated human patients, artificial human patients, or a combination of the two, instructional materials with detailed simulated animations, casualty assessment in national security and war scenarios, emergency response, and holographic simulation to assist virtual health operations. Simulation tools can be used in place of actual patients.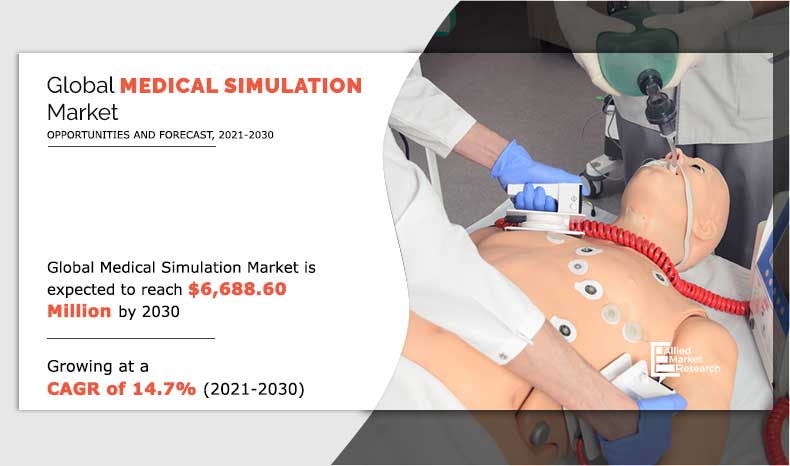 Simulation is a phrase used to describe an artificial representation of a real-world process that is utilized to achieve educational goals through experiential learning. Simulation-based medical education refers to any educational activity that includes simulation aides to mimic clinical conditions.
The growth in the use of medical simulation is mostly due to an increase in the use of simulation in healthcare; an increase in mortality as a result of medical mistakes; and the need to enhance patient safety outcomes are some of the reasons driving the medical simulation market expansion. Virtual and augmented reality are becoming more popular, and they have shown to be beneficial for teaching and communication in healthcare simulation programs. For example, virtual reality (VR) may be utilized to assist distant students in performing surgeries and other processes together. This enables students to put their knowledge into practice and improve their blunders. The use of virtual and augmented reality in healthcare simulation can be an excellent addition to hands-on training by conducting surgery and inserting IVs.
In addition, use of simulation for training healthcare professionals helps them gain confidence, knowledge, and expertise to improve patient safety. Thus, simulation provides an opportunity to better educate and train clinicians for improved patient safety outcomes and further minimize medical errors. With advent of simulation in professional education programs, clinical and critical thinking skills have increased for high risk, low frequency events. There are several simulators available in the market, which provide consistent, repeatable training, and exposure to a broader range of patients and scenarios besides normal clinical practice. 
The medical field has witnessed various technological advancements, which, in turn, fuels the demand for simulation. Newly introduced medical devices and advanced procedures, such as Intra-Cardiac Echocardiography (ICE), cardiac assist devices, and mechanical ventilation enhancements require advanced training solutions such as simulation for internal product development and training.
However, the expensive cost of medical simulation is a key impediment to their widespread use. Most simulators used in the present scenario are expensive and require constant updates and maintenance services. In addition, operators need to be trained on using software and/or hardware, which requires additional time and money. Moreover, simulations require high amount of maintenance and may hinder the healthcare simulation market growth
Impact Of Covid-19 On Medical Simulation Market (Pre And Post Analysis)
The COVID-19 pandemic led to huge number of clinics and hospitals across the globe being restructured to increase the hospital capacity for patients diagnosed with COVID-19. The non-essential procedures took a potential backlog due to rapidly rising COVID-19 cases and had a negative impact on the market. The use of virtual simulation technologies was adopted during the pandemic to enhance and strengthen procedural and patient care skills. Further, increase in use of remote learning with the help of screen-based simulation, augmented reality/AR, mixed reality, blended and/or extended reality, and virtual reality/VR is expected to drive growth of the virtual medical simulation market.
Furthermore, opportunities in untapped, emerging markets with high potential, due to improved healthcare infrastructure, increase in unmet healthcare needs and rise in prevalence of medical errors in populations. Availability of various facilities providing such minimally invasive procedures is an emerging opportunity for the key players of the market to invest in the healthcare simulation market and thus will further accelerate the expansion of the market offering significant growth opportunities for the market during the forecast period.
Medical Simulation Market Segmentation
The medical simulation market is segmented on the basis of product & service, fidelity, end user, and region. On the basis of product & service, it is divided into model-based simulation, web-based simulation, and simulation training services. The model-based simulation segment is further classified into patient simulation, surgical simulation, and ultrasound simulation.  Moreover, patient simulation is segmented into task trainer simulation, manikin-based simulators, hybrid manikin-based simulation (with AR) and standardized patient simulators. Surgical simulation is divided in laparoscopic surgical simulators, arthroscopic surgical simulators, cardiovascular simulators, gynecology simulators, orthopedic simulators, spine simulators, endovascular simulators and others. Furthermore, ultrasound simulation is segmented into anesthesia, cardiology, emergency medicine, intensive care unit, obstetrics & gynecology, radiology and others. 
In addition, the web-based simulation segment is classified into simulation software, performance-recording software, virtual tutors and learning management software. The simulation training services segment comprise vendor-based training services, custom consulting services, and educational society. 
On the basis of fidelity, the medical simulation market is classified into low fidelity, medium fidelity, and high fidelity simulators. By end user, it is divided into academic institutions, hospitals, and military organizations. 
Region wise, the medical simulation market is analyzed across North America (the U.S., Canada, and Mexico), Europe (Germany, France, the UK, Italy, Spain, and rest of Europe), Asia-Pacific (Japan, China, India, Australia and rest of Asia-Pacific), and LAMEA (Brazil, South Africa, Saudi Arabia, and rest of LAMEA).
Medical Simulation Market

---
By Product & Service
Model-based segment holds a dominant position in 2020 and would continue to maintain the lead over the forecast period.
Segment Review
Depending on the product & service, model based simulation segment dominated the market in 2020, and is expected to continue this trend during the forecast period, due to rise in patient safety, rise in minimally invasive surgeries and limited access to live patients.
On the basis of fidelity, low fidelity segment led the market in 2020, and is expected to retain its dominance during the forecast period, owing to the simple usage and low cost.
By end user, academic institutions exhibited the highest growth in 2020, and is expected to continue this trend during the forecast period.
Medical Simulation Market

---
By Fidelity
Low fidelity segment is projected as one of the most lucrative segment.
North America accounted for a majority of the global medical simulation market share in 2020, and is anticipated to remain dominant during the forecast period. This is attributed to rise in medical errors, presence of key players, increase in healthcare expenditure, advancements in technology and rise in government initiatives in the region. However, Asia-Pacific is anticipated to witness notable growth, owing to increase in overall population, surge in facilities offering medical simulation services and increased investments in healthcare sector in the region.
The key players operating in the global medical simulation market are CAE, Inc., Gaumard Scientific Company, Inc., Intelligent Ultrasound Group Plc., Kyoto Kagaku Co. Ltd., Laerdal Medical AS, Limbs and Things, Ltd., Mentice AB, Operative Experience, Inc., Simulab Corporation, and VirtaMed AG.
Medical Simulation Market

---
By Region
Asia-Pacific is expected to experience growth at the highest rate, registering a CAGR of 16.0% during the forecast period.
Key Benefits For Stakeholders
The study provides an in-depth analysis of the medical simulation market, and the current trends and future estimations to elucidate the imminent investment pockets.
It presents a quantitative analysis of the market from 2021 to 2030 to enable stakeholders to capitalize on the prevailing medical simulation market opportunities.
Extensive analysis of the market based on procedures and services assists to understand the trends in the medical simulation industry.
Key players and their strategies are thoroughly analyzed to understand the competitive outlook of the medical simulation market.
Key Market Segments
By Product & Services
Model-based Simulation

Patient Simulation

Task Trainer Simulation
Manikin-based Simulation
Hybrid Manikin-based simulation (with AR)
Standardized Patient Simulation

Surgical Simulation

Laparoscopic Surgical Simulators
Arthroscopic Surgical Simulators
Cardiovascular Simulators
Gynecology Simulators
Orthopedic Simulators
Spine Simulators 
Endovascular Simulators 
Others

Ultrasound Simulation

Anesthesia 
Cardiology
Emergency Medicine
Intensive Care Unit
OB/GYN
Radiology
Others (Urology, General Nursing, Pediatrics)

Web-based Simulation

Simulation Software
Performance Recording Software
Virtual Tutors
Learning Management Software 

Simulation Training Services
Vendor-based Training
Custom Consulting Services
Educational Societies
By Fidelity
Low-fidelity
Medium-fidelity
High-fidelity 
By End User
Academic Institutions
Hospitals 
Military Organizations
By Region
North America
Europe

Germany
France
UK
Italy
Spain
Rest of Europe

Asia-Pacific

Japan
China
India
Australia
Rest of Asia-Pacific

LAMEA

Brazil
South Africa
Saudi Arabia
Rest of LAMEA
Key Market Players 
CAE, Inc.
Gaumard Scientific Company, Inc. 
Intelligent Ultrasound Group Plc.
Kyoto Kagaku Co. Ltd. 
Laerdal Medical AS
Limbs and Things, Ltd.
Mentice AB
Operative Experience, Inc.
Simulab Corporation
VirtaMed AG