Medical Videoscope Market Overview:
Global Medical Videoscope Market was valued at $17,927 million in 2015, and is expected to reach $27,202 million by 2022, supported by a CAGR of 5.9% during the forecast period 2016 - 2022. A medical videoscope is an illuminated, optical instrument used to screen and execute diagnostic interventions inside hollow cavities and visceral organs of the body, such as the brain, esophagus, lungs, abdomen, gastrointestinal (GI) tract, and others. Medical conditions such as abdominal pain, ulcers, digestive tract bleeding, abnormal growth in the colon, and other abdominal & gastrointestinal diseases can be diagnosed through endoscopy. The demand for medical videoscopes has increased significantly owing to the increasing preference for minimally invasive surgeries. Moreover, not only being minimal invasive, endoscopic procedures are cost-effective compared to other open surgeries, especially in terms of pre- and post-operational costs and length of stay at hospitals and clinics.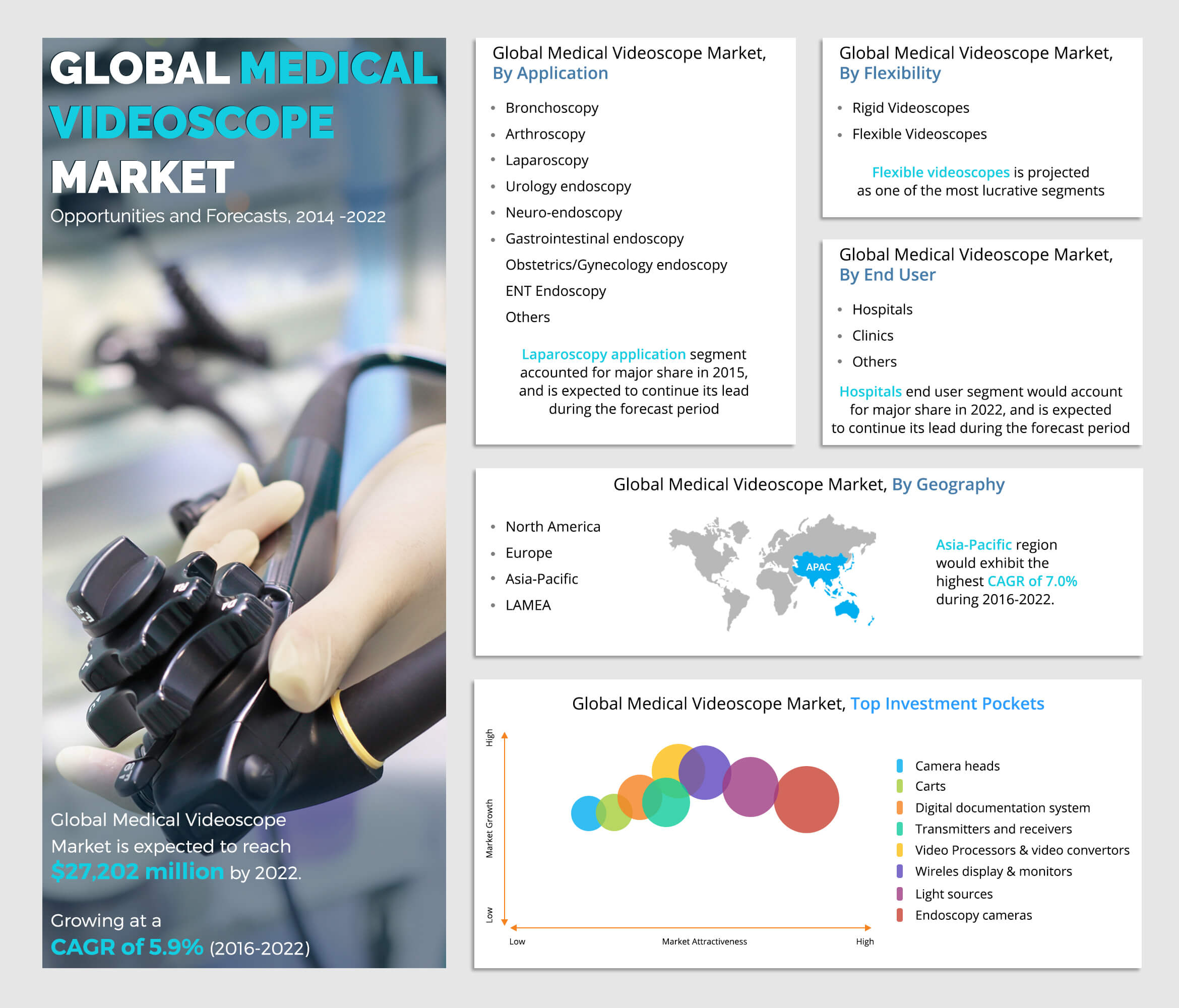 The medical videoscope market is segmented based on product type, application, end user, and geography. Based on product type, the market is bifurcated into videoscopes and visualization & documentation systems. The videoscope segment is segregated into videoscopy devices, capsule endoscopy, and robot-assisted endoscopy. In visualization & documentation system segment, endoscopy cameras occupied dominant share in 2015, and is expected to maintain this trend during the forecast period. This is attributed to the advanced imaging technologies such as ultrahigh-definition, 4-light emitting diode (LED) multi-light, and multi-zoom technology incorporated in endoscopy cameras.
Top investment pockets
Endoscopy cameras and light sources are the potential target areas for investment by the key players in the medical videoscope market, due to technological innovations in these devices. The endoscopy camera segment is poised to grow at a CAGR of 5.4% during the forecast period, owing to advanced imaging features offered by these cameras.
Top winning strategies
The key players adopted acquisition, expansion, product development, and agreement as their business strategies to sustain competition and increase their market share.
The key players operating in the global medical videoscope market include Conmed Corporation, Fujifilm Holdings Corporation, HOYA Corporation (Pentax Medical), KARL STORZ GmbH & Co. KG, Olympus Corporation, Richard Wolf GmbH, Smith & Nephew, Plc, Stryker Corporation, Hill Rom Holding, Inc. (Welch Allen, Inc.), and XION GmbH.
Other prominent players in the value chain include B. Braun Melsungen AG, Cook Medical, Arthrex Inc., Frontier Healthcare, Minntech Corporation (Subsidiary of Cantel Medical Corp.), Advanced Sterilization Products Services Inc., Medtronic Plc, STERIS Corporation, Siemens Healthcare, and US Endoscopy Group.
Medical Videoscope Market Key benefits:
The study provides an in-depth analysis of the global medical videoscope market, with current trends and future estimations to elucidate the imminent investment pockets.
A quantitative analysis from 2014 to 2022 to enable the stakeholders to capitalize on prevailing market opportunities is discussed.
Key market players are profiled and their strategies are analyzed thoroughly, which helps understand competitive outlook of the medical videoscope market.
Porters Five Forces model is expected to interpret the bargaining power of suppliers & buyers, threat of new entrants & substitutes, and competition among the key players.
Extensive analysis is conducted by following key product positioning and monitoring the top competitors within the market framework.
MEDICAL VIDEOSCOPE MARKET KEY SEGMENTS
By Product Type
Videoscopes

Videoscopy Devices

By Flexibility    

Flexible Videoscopes
Rigid Videoscopes

By Type    

Cystoscopes
Neuroendoscopes
Urology Endoscopes
Arthroscopes
Laparoscopes
OB/GN Endoscopes
Otoscopes
Laryngoscopes
Nasopharyngoscopes
Rhinoscopes
Gastroscopes
Colonoscopes
Bronchoscopes
Duodenoscopes
Sigmoidoscopes
Other Endoscopes

Capsule Endoscopy
Robot-Assisted Endoscopy

Visualization & Documentation Systems

Light Sources
Camera Heads
Wireless Display & Monitors
Endoscopy Cameras
Carts
Digital Documentation Systems
Video Processors & Video Convertors
Transmitters & Receivers
Others (Printers, Digital Capture Systems, Recorders, Couplers & Splitters, and Others)
By Application
Bronchoscopy
Arthroscopy
Laparoscopy
Urology Endoscopy
Neuroendoscopy
Gastrointestinal Endoscopy
Obstetrics/Gynecology Endoscopy
ENT Endoscopy
Others
By End User
By Geography
North America
Europe

Germany
France
UK
Rest of Europe

Asia-Pacific

Japan
China
India
Australia
Rest of Asia-Pacific

LAMEA

Brazil
Saudi Arabia
Republic of South Africa
Rest of LAMEA