Membrane Switch Market Research, 2031
The global membrane switch market size was valued at $5.7 billion in 2021, and is projected to reach $12.4 billion by 2031, growing at a CAGR of 8% from 2022 to 2031.
Despite the global disruption of COVID-19 in 2021, put various industries to a halt, the consumer electronics sales increased. Owing to contact restrictions and lockdowns, people were forced to stay at home, which increased their dependence on electronic goods such as computers or mobile phones. These restrictions meant people carried out further activities from their home, such as watching more television or playing electronic games, show a further benefit for the consumer electronics market. Surge in entertainment demand from locked-down consumers led to the increased purchase of many consumer electronics staples such as smart TVs, smartphones, and computers.
A membrane switch is a human-machine interface (HMI) that enables an operator to communicate with machinery, equipment, or instrumentation. It comprises graphic overlay, overlay adhesive, circuit spacer, rear adhesive, rigid support, and top & lower circuit layers. It is cost-efficient and offers several benefits, such as a thin and compact profile, simple construction, reliability, and resistance against toxic materials. As a result, it finds extensive applications in the industrial, medical, residential, and non-residential sectors across the globe.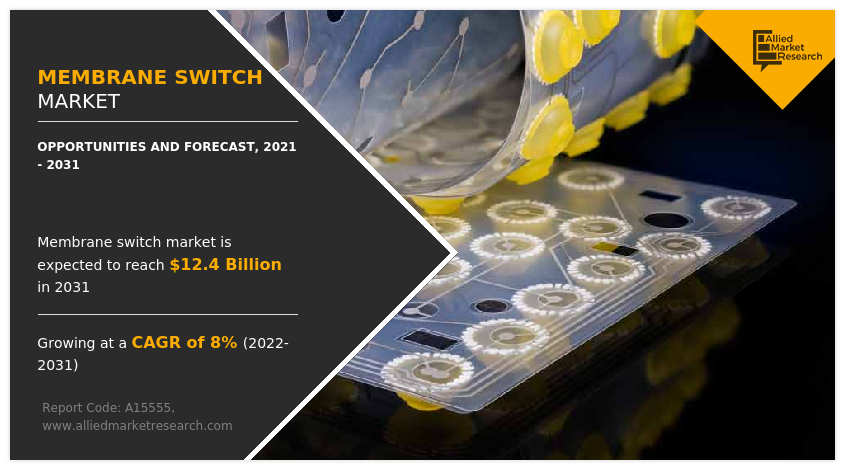 Polyester is a plastic material, commonly known as polyethylene terephthalate (PET). It is known for its clarity, flexibility, and chemical resistance. Its flexibility allows it to be more durable than other materials, especially when used on switches with tactile feedback. Whereas polycarbonate is the preferred film for industrial applications due to its inherent flame-retarding property and abrasion resistance even without additional surface treatments such as hard-coating. Polycarbonate is more economical and easier to process than polyester. The benefits of membrane switch keypads, such as it offers, easy maintenance, and better protection against hostile conditions, over conventional keypads represent one of the key factors that drives the market growth.
In addition, membrane switches are increasingly being used in electrical devices to control the circuit. Rise in sales of consumer gadgets such as washing machines, TV remote controls, and air conditioners escalates the membrane switch market's growth. In addition, the surge in employment of custom membrane switches, such as ultraviolet (UV) or water-resistant variants, in the agriculture industry to increase food production further helps to boost the market. An increase in emphasis on consumer electronics is a factor that drives market expansion.
Another factor that has gained a competitive edge is rise in use of smartphones and other consumer goods. For instance, in August 2022, Samsung Electronics Co. Ltd announced building a R&D complex in Giheung, Korea. The company plans to invest about KRW 20 trillion by 2028 for the complex in an area covering about 109,000 sq. m within its Giheung campus. The new structure drives advanced research on next-generation memory and system semiconductor electronic devices and processes.
The utilization of Printed Circuit Board has grown owing to demand for high-density interconnect (HDI) that enables faster and more compact inter-connectivity between devices. However, electronic waste (e-waste) is one of the major environmental concerns of the modern era. PCBs are often considered a large part of this problem. PCBs are utilized in numerous other control systems such as touch-based sensors, keyboards, and smart lighting that are integrated with membrane keyboards and switch panels in computers and mobile phones, which is projected to drive the membrane switch market growth during the forecast period.
In addition, there is an increase in demand for membrane switches in medical appliances such hospital equipment, handheld devices, monitors, and lab equipment. Moreover, there is surge in the usage of these switches in control panels to safeguard equipment against electrostatic discharge in a wide range of sectors. Furthermore, rise in R&D activities and rapid industrialization are additional factors anticipated to drive the market's expansion in the subsequent years.
As per the Make in India initiative, Electronic Development Fund Policy has been approved, with the intention of rationalizing a transposed duty structure. In addition, the Modified Special Incentive Package Scheme (M-SIPS) has been introduced to provide a CAPEX subsidy of nearly 15 - 20%. With rise in presence of organized retail, the market has witnessed the emergence of modern, durable retail chains, which include e-retailers such as E Zone, Reliance Digital, and Tata Croma.
The market for wearable technology has grown quickly, driven by the huge adoption of smartwatches and the expansion of high-speed internet services. The membrane switches are used in a broad range of applications for daily usage in consumer electronics products, owing to their features such as quick response features and low production cost. In addition, they are used in some sophisticated medical devices due to their specific elastic properties. Membrane switches used in medical applications are customized products produced for use in laboratories, hospitals, and other medical environments.
The industrial sector is expected to account for a sizable portion of the market. Rise in demand and technological advancements could be the primary drivers of the segment's expansion. Membrane switch technology is used in control panels and other systems in emerging industries such as aerospace. According to the Commonwealth Fund, the U.S. spent nearly 16.8% of gross domestic product (GDP) on healthcare in 2019. Germany was the second-highest ranking country, spending 11.7%, followed by Switzerland.
Numerous types of medical devices and components are quickly moving toward mandatory regulations such as RoHS (Restriction of hazardous substances). Manufacturers must provide interfaces that are simple to use, satisfy tactile response, and aids quick operation to meet industry and governmental standards. Membrane switches meet those requirements more reliably than others. In the medical device market, a sealed tactile membrane switch provides a switch function with significant advantages. These advantages prove especially important in a clinical or research environment which need clear graphics, cleanliness, gaskets, shielding, illumination, and tactile feedback.
The extensive use of membrane switches in the agricultural industry has propelled the market growth. Various equipment and technologies are increasingly integrated into the agricultural industry to enhance yield while reducing manual labor activities. In irrigation systems, it is used to increase production. Moreover, the development of ultraviolet-resistant membrane switches that can overcome weather barriers to increase the reliability of electronic components boosts industry growth. The use of membrane switches to operate seeding control and GPS navigation of agricultural automobiles augments the market growth. In addition, membrane switches are utilized in the animal husbandry industry to increase the durability of machines. 
The Europe membrane switch market is expected to exhibit a high growth rate during the forecast driven by the strong focus on the expansion of the value chain of electronics and embedded systems in the region. The European Chips Act is projected to help strengthen the semiconductor ecosystem in the EU, ensuring resilience of supply chains and reducing external dependencies.
The expansion in semiconductor and electronics sector coupled with rapid growth in demand for consumer electronic devices in various regions, especially in developing economies such as China and India is the main drivers behind the expansion of the market. In addition, the manufacturing and structural complexities of these switches are a major restraining factor expected to hamper the growth of this market to a significant extent.
Membrane switches are used for microwave oven panels, air conditioner control panels, TV remote controls, keyboards, and other electrical products. Keys on membrane switches can be made more tactile for users by embossing the top PET layer or by embedding metal snap or polyester domes or forming the graphic overlay.
The advantages of membrane switches include easy to clean, sealing ability, and low profile. Membrane switches can be used in tandem with other control systems such as touch screens, keyboards, and lighting. They can be a part of more complex systems such as the membrane keyboards and switch panels in cell phones and computers. They are reliable, effective, low-cost user interfaces, appropriate for a wide range of products, and available with many creative options.
Membrane switches became the interface of selections for a multitude of products, including toys & games, high-end appliances, industrial controllers, and automotive controls. These advantages have been enhanced by developments in materials, processes, and design expertise. Membrane switch applications are well suited for medical electronics, which are limited to a specific or small number of functions, are portable, and require a high degree of visibility. Hard coated overlay materials have excellent resistance to adverse environments. Membrane switches are ideally suited for handheld medical applications and portable devices as they are lightweight, low profile, durable, easy to clean, and RoHS-compliant.
Rapid prototyping technologies play an important role in supporting new product development (NPD) by companies that are working to bring novel and innovative products to market. The manufacturer, MacDermid Autotype (Meadows, IL), invented "The Microban® technology incorporated into the Autotex AM textured hard coat during the manufacturing process. This process ensures even distribution of the antimicrobial agent throughout the textured hard coat and the film surface.
One of the biggest threats to any type of user interface is the risk of water or chemical entrance into the switch cavity. A membrane switch can be sealed against various types of environments typically encountered in the portable medical device industry. An antimicrobial film was recently developed for use in typical membrane switch applications.
Technology advancements are expected to add new opportunities for major players in the market during the forecast period. The target audience for the global membrane switch market includes industry associations, membrane switch producers, membrane switch traders, membrane switch suppliers, membrane switch distributors, government & research organization, industrial, association bodies, raw material suppliers, and membrane switch distributors.
The membrane switch market forecast is segmented into product, type, application, and region. On the basis of the product, it is fragmented into polyester, polycarbonate, and others. On the basis of type, the market is divided into tactile, non-tactile, mixed panels, and PCB backed. On the basis of application, it is classified as industrial, medical, consumer goods, and others.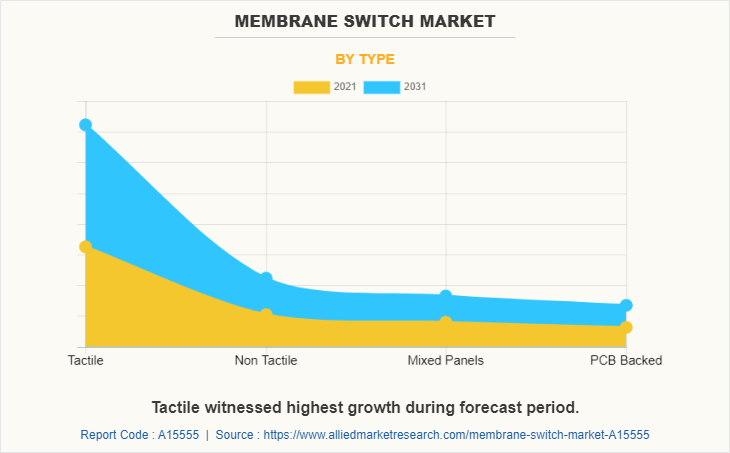 The electronics industry is another key driver for the tactile membrane switches market. It is used in various electronic devices, such as smartphones, tablets, and laptops. It provides a smooth and comfortable user experience. The increase in demand for tactile membrane switches from the electronics industry is driving the growth of the membrane switch market. Tactile membrane switches made from sustainable materials, such as recycled plastic, make them more environmentally friendly.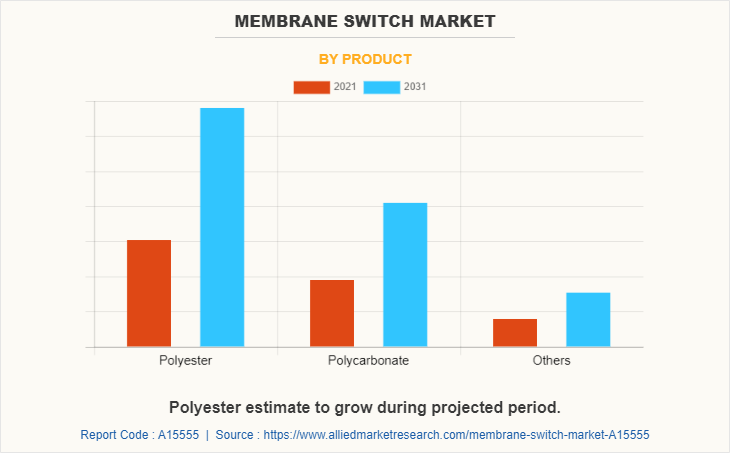 Rise in adoption of polyester for applications such as membrane switches and touch screens are another key factor driving the market growth. Furthermore, a rise in demand for flexible electronics is expected to boost market growth over the forecast period. In addition, the development of novel applications for polyester significantly accelerates market growth.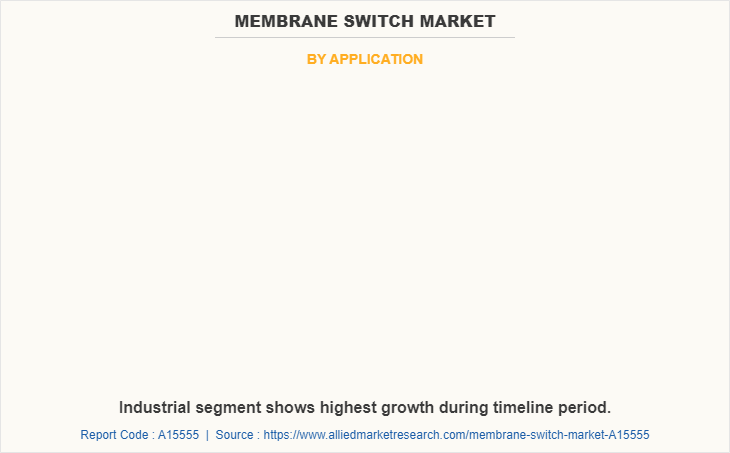 The rapid industrialization across the globe and increase in population led to a surge in demand for various industrial products. Chemicals are used in consumer goods, agriculture manufacturing, construction, and service industries. The major industries in the industrial sector are iron & steel, textiles, jute, sugar, cement, paper, petrochemical, automobile, information technology (IT), and banking & insurance.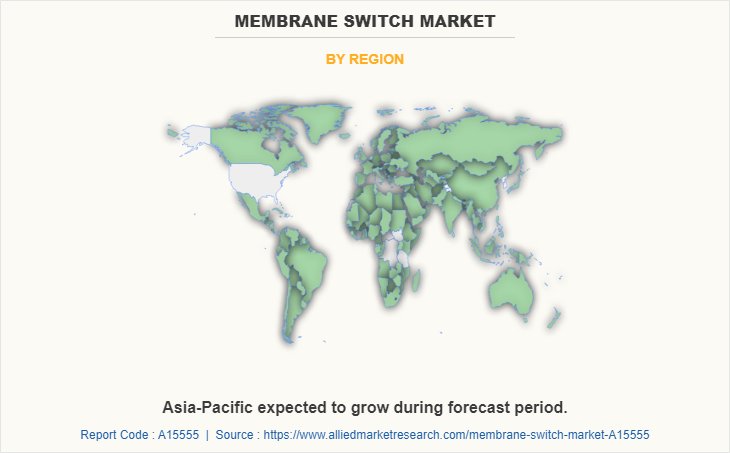 Asia-Pacific was the highest revenue contributor, with a CAGR of 8.8% and witenessed highest membrane switch market share. The Indian electronics system design and manufacturing (ESDM) sector is one of the fastest growing sectors in the economy and has witnessed a strong expansion in the country. Local electronics design and production is influenced by ongoing domestic consumption, changing dynamics in the global supply chain, and a broad range of policy initiatives to assist manufacturing in the future. The smooth implementation of new initiatives and the decline of restrictive laws boost international business and attract manufacturing investments. Higher demand for Asian consumer electronics from western countries has further boosted the market growth.
Region wise, the membrane switch market analysis  is studied across North America, Europe, Asia-Pacific, and LAMEA. The major companies profiled in this report include Butler Technologies Inc., Design Mark Industries, Dyna Graphics Corporation, EPEC LLC, Got Interface, Lustre Cal Corporation, Molex, Nelson Miller, SYTEK ENTERPRISES INC and Xymox Technologies Inc.
Key Benefits For Stakeholders
This report provides a quantitative analysis of the market segments, current trends, estimations, and dynamics of the membrane switch market analysis from 2021 to 2031 to identify the prevailing membrane switch market opportunities.
The market research is offered along with information related to key drivers, restraints, and opportunities.
Porter's five forces analysis highlights the potency of buyers and suppliers to enable stakeholders make profit-oriented business decisions and strengthen their supplier-buyer network.
In-depth analysis of the membrane switch market segmentation assists to determine the prevailing market opportunities.
Major countries in each region are mapped according to their revenue contribution to the global market.
Market player positioning facilitates benchmarking and provides a clear understanding of the present position of the market players.
The report includes the analysis of the regional as well as global membrane switch market trends, key players, market segments, application areas, and market growth strategies.
 Membrane Switch Market Report Highlights
Aspects
Details
Market Size By 2031
USD 12.4 billion
Growth Rate
CAGR of 8%
Forecast period
2021 - 2031
Report Pages
359
By Type

PCB Backed
Tactile
Non Tactile
Mixed Panels

By Product

Polycarbonate
Others
Polyester

By Application

Others
Industrial
Medical
Consumer Goods

By Region

North America (U.S., Canada, Mexico)
Europe (Germany, France, Italy, Spain, UK, Rest of Europe)
Asia-Pacific (China, Japan, India, Australia, South Korea, Rest of Asia-Pacific)
LAMEA (Brazil, Saudi Arabia, South Africa, Rest of LAMEA)

Key Market Players
Dyna Graphics Corporation, Got Interface, Xymox Technologies Inc., Nelson Miller, EPEC LLC, Molex, Butler Technologies Inc, Lustre-Cal Corporation, SYTEK ENTERPRISES INC., Design Mark Industries
Analyst Review
According to CXO perspective, the global membrane switch market is expected to witness increased demand during the forecast period due to rise in demand for clean energy resources.
Membrane switches are extensively used in a variety of applications, whether it be domestic, commercial, or industrial. They are preferred due to their compact profile, simple construction, reliability, resistance to harmful elements, and low cost. These switches are designed with different layers, which are simply assembled with heat sealing films or pressure-sensitive adhesives. The essential layers of this switch mainly include graphic presentation, graphic adhesive, the PCB layer, circuit layer, adhesive separator, second circuit layer, adhesive layer, and metal domes.
Membrane switches are used in different applications such as industrial, domestic, or commercial. These switches are found in cell phones, calculators, ovens, and door lock systems. Apart from its electrical performance and characteristics, common features of membrane switches are UV hard coats, selective textures, clear or optically filtered display windows, indicator lighting, backlighting, precision cutting, and embossing. Membrane switch failure mainly occurs due to cracked overlays, dome collapse, adhesive incompatibility, flexing or bending, and key pressing. On the other hand, an increase in government investments to innovate and develop various technologies to make the membrane switches more efficient is projected to have positive impact over the global membrane switch market.