Memristor Market Overview 
Global Memristor Market was valued at $3.2 Million in 2015 and is expected to reach $79.0 million by 2022, supported by a CAGR of 69.9% during the forecast period 2016 to 2022. Memristor is the concatenation of "memory" and "resistor", which works as a memory device as well as a resistor in the circuit. The resistance of a memristor varies according to the memristance function of the device. Memristors were first conceptualized in 1970, while the first working prototype was developed in 2008 by HP Development Company, L.P. Since then, the companies are heavily investing on the R&D of memristors. At present, the memristor market is in its nascent phase of commercialization. The first ever working memristor device was introduced in the market by Knowm, Inc. in July 2015. However, this is currently available at a whopping price of $220 in the market only for research purposes.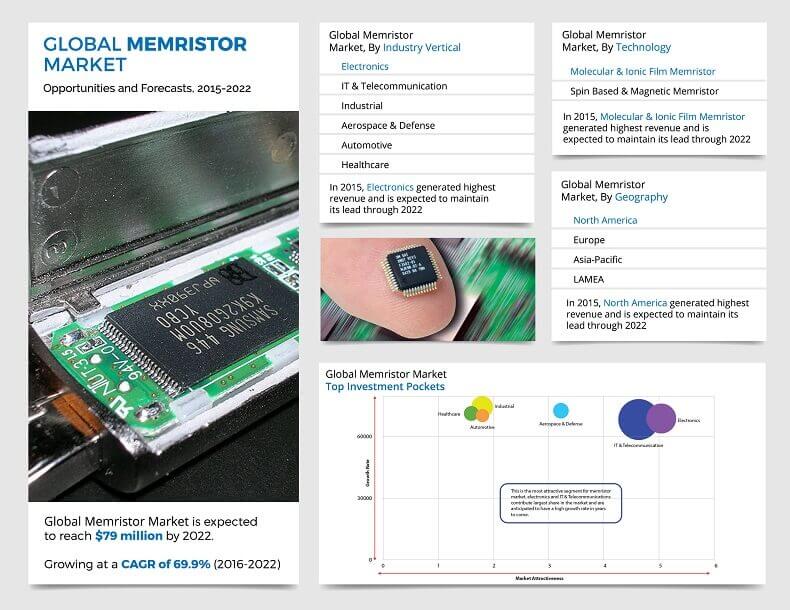 Memristor has two key properties:
The resistance of memristor changes with the change in direction of current flowing through it
When the power is turned off, the memristor can retain its resistance value till the time power is resumed again.
These two properties help memristor to store data and work as an advanced memory component.
Key advantages of memristors, such as, their compact size, very small read & write timing, very high retention, enhanced endurance, and 3D design capabilities, have resulted in their dominance over other memories, and thus memristors are anticipated to emerge as a highly reliable substitute of flash memories during the forecast period.
Memristors are applicable in portable electronics, industrial robotics, supercomputers, servers, and data centers. Electronic and IT & telecommunication industries hold major memristor market share. A key quality of memristors over other memory elements is that it assists electronic device manufacturers to develop devices with neural architecture. The memristor industry is attracting investment from the leading memory manufacturers and semiconductor giants, these investments are anticipated to increase the market share.
Key factors that navigate the growth in the global memristor market size are advantages of memristors over other memories, increase in number of industrial robots, which require memory on large scale, increase in demand of tablets, watches, smartphones and other smart wearable devices, and increase in number of data centers across the globe. However, high initial cost required to manufacture these components and variation of understanding among stakeholders, restrain the growth in global memristor industry. Although growth in trend of Internet of Things (IoT), and growth in demand of neural networks open new opportunities for the players operating in memristor market.
The global memristor market is segmented based on type, industry vertical, and geography. Based on type, it is categorized in molecular & ionic film memristor and spin based & magnetic memristor. Molecular & ionic film memristor is further classified into titanium dioxide memristor, polymeric memristor, and others (manganite memristor and resonant tunneling diode memristor). Furthermore, Spin based & magnetic memristor is bifurcated into spintronic memristor and spin torque transfer (STT) MRAM. Based on industry vertical, the memristor market is divided into electronics, IT & telecommunication, industrial, aerospace & defense, automotive and healthcare. Geographically, the memristor market analyzed across North America, Europe, Asia-Pacific, and LAMEA. Country level analysis of these regions is also provided in the report.
The key players profiled in the report include HP development company, Intel Corporation, Knowm Inc., Micron Technology, Inc., Panasonic Corporation, Rambus Incorporated, Samsung, SanDisk Corporation, Sk Hynix Inc., L.P., and Toshiba Corporation.
Increase in number of data centers across the globe
The number of industrial robots is on an increase across the globe and the prime reasons include the increase in industrialization and growth in demand of automation in industrial processes. In 2015, the sale of robots across the globe shoot up by over 12% and reached at the highest number of robots sold ever in a year. These industrial robots work without any human interaction and require flash memory to store and execute all the complex instructions to work efficiently. Currently, flash memories are used in these robots however, the traction of memristors is anticipated to increase in industrial robots. Memristors require very less read and write time and they do not require booting up process as they have capability to resume at the value which they had when the power was last turned off. The researches on the memories used inside these robots hold a small portion of memristor market share although, the demand of memristors is expected to increase in industrial robotics in order, to avoid any lagging time in the operation of the robots and to increase their capability to perform more number of instructions per unit time.
MEMRISTOR MARKET KEY BENEFITS:
This report provides an in-depth analysis of the global memristor market, along with current trends and future estimations to identify lucrative investment opportunities
It identifies the key drivers, opportunities, and restraints that shape the market
Porter's Five Forces analysis highlights the potency of the buyers and suppliers that participate in this market to facilitate better decision-making for stakeholders and strengthen their supplier and buyer networks
 Memristor Market Report Highlights
Aspects
Details
By Type

MOLECULAR & IONIC FILM MEMRISTOR
SPIN BASED & MAGNETIC MEMRISTOR

By Industry Vertical

ELECTRONICS
IT & TELECOMMUNICATION
INDUSTRIAL
AEROSPACE & DEFENSE
AUTOMOTIVE
HEALTHCARE

BY GEOGRAPHY

North America
EUROPE

France
Germany
Spain
Italy
UK
Rest of Europe

ASIA-PACIFIC

China
Japan
South Korea
Taiwan
Rest of Asia-Pacific

LAMEA

Latin America
Middle East
Africa

Key Market Players
HP DEVELOPMENT COMPANY, L.P., INTEL CORPORATION, KNOWM INC., MICRON TECHNOLOGY, INC., PANASONIC CORPORATION, RAMBUS, SAMSUNG, SANDISK CORPORATION, SK HYNIX INC., TOSHIBA CORPORATION