Men Formal Shoe Market Outlook - 2022
Global men formal shoe market is estimated to grow at a CAGR of 6.2% from 2016 to 2022, to reach $9,881 million by 2022.
Formal shoes are provided with more attention than the casual shoes as they are worn in offices and also at social occasions. They can be black or brown shoes used in formal meetings, dance floors, dress code parties, special occasions, and as standard daily shoes.
The global men formal shoe market is segmented based on shoe type, leather type, and geography. On the basis of shoe type, the market is classified into consumer oxfords, derby, loafers, boots, and others. On the basis of leather type, the market is categorized into patent leather, pebble & full grain, top grain, and suede leather. Further on the basis of Geography, the market is classified into, North America (U.S., Canada, and Mexico), Europe (Italy, Germany, France, UK, Spain and Rest of Europe), Asia-Pacific (China, India, Japan, Malaysia), and LAMEA (Latin America, Middle East, and Africa).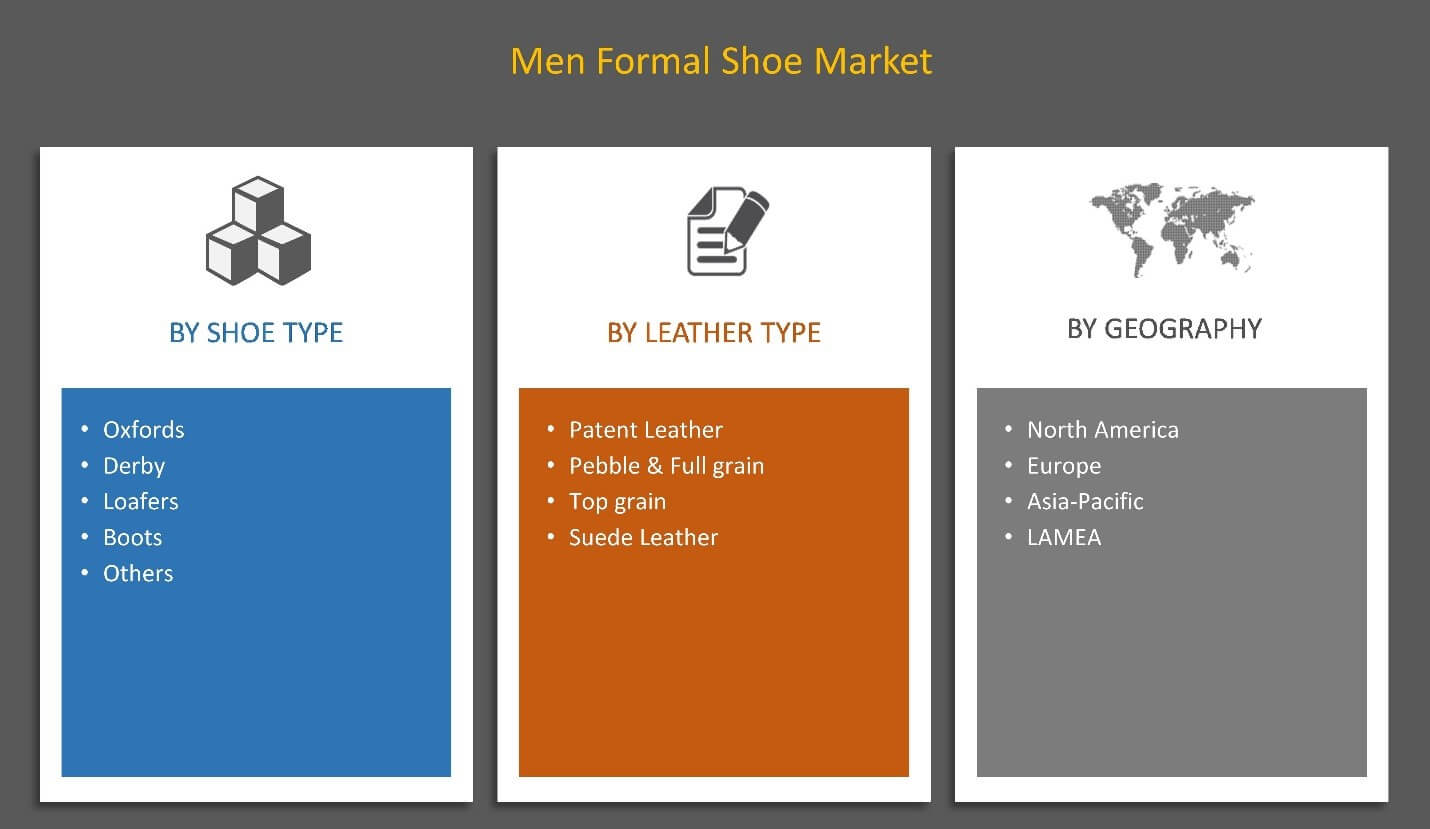 Innovations in Design and Features keep the Market Future Bright.
Men formal shoes or dress shoes are the premium products occupying a significant share in the global market for footwear. In addition, rising commercialization and demand for branded footwear drive the men formal shoe market growth with innovations that result into unique look, better finish, and durability.
Individuals are adopting new trends with higher demand in shoes such as shoe types, designs, grain, and shoe cuts which drives the market with new and established brands. The estimation of global market is based on revenue generated by the sale of footwear across different geographic regions which is maximum with respect to Europe and North America and fastest in case of Asia-Pacific.
Rapidly Expanding Asia-Pacific Men Formal Shoe Market
Various footwear enterprises initiated to devote great efforts to enhance their technological and innovation capability in an attempt to stay competitive and increase specialized production leading to more applications owing to new technology, materials, and processes.
In Asia Pacific, the men formal shoe market is significantly facilitated by the growing demand in emerging economies such as India and China. The rapid urbanization and increased demand for western brands witnessed all across Asia Pacific providing opportunities for international footwear brands. Also, a surge in adoption of online shopping among customers of Asia-Pacific boosted prospects for online sales of footwear in the region.
Main export destinations include China and Vietnam to which exports increased by60% and 20% in 2014. China remained the largest supplier of footwear to the U.S., accounting for 62 % of total imports in 2015, with a decrease from 66 % in 2014. In contrast, the respective shares of lower-cost suppliers such as Vietnam, Indonesia, and India, increased in 2015.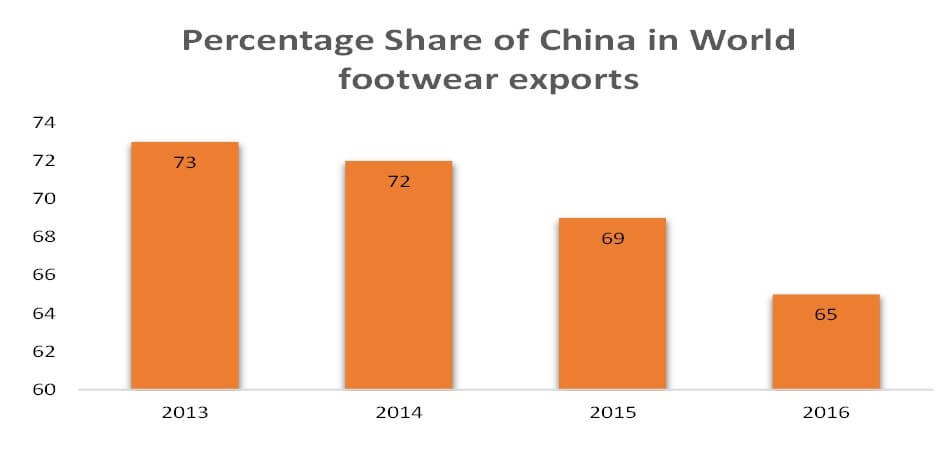 Increasing Disposal income among Developing Economies and Increased Spending on Apparels, Running the Market.
Rapid growth and rising urbanization have spawned ample of consumers with more expenditure in the market and an urge for fashion. Significant new growth opportunities for foreign and domestic players are observed owing to high-growth and fast-changing retail clothing market of India.
For men, shoes are categorized into: semi-formal, work, and special occasion footwear. Increase in globalization and westernization of Asia-Pacific region, men are more concerned of sophisticated combinations for their outfits as a result of disposable income. India, Malaysia, and Singapore together with China are emerging as the major markets both in terms of consumption and production. Present scenario suggests that consumers globally spend an average of 5-6 % of their total income on apparels, however, this figure is significantly higher in emerging markets.
Players have adopted product launch, agreement & partnership, business expansion, and product innovations as their key strategies to increase their market share. Among these, product launch and expansion are the prominent strategies adopted by the key players to remain competitive in the market. The leading players in the men formal shoe industry focus on providing customized solution to consumers as their key strategies to gain a significant men formal shoe market share in globally.  The major companies profiled in the report include C. & J. Clark International Ltd (UK), Dolce & Gabbana (Italy), Guccio Gucci S.p.A (Italy), Cole Haan LLC (U.S.), Calvin Klein Inc. (U.S.), Burberry Group Inc. (UK), Louis Vuitton (U.S.), Prada S.p.A. (Italy), Hugo Boss AG (Germany), and Alden Shoe Company (U.S.)
Key Benefits For Men Formal Shoe Market:
The report provides a quantitative analysis of the current men formal shoe market trends, estimations, and dynamics of the market size from 2014 to 2022 to identify the prevailing market opportunities.
The key countries in all the major regions are mapped based on their market share.
Porter's five forces analysis highlights the potency of buyers and suppliers to enable stakeholders to make profit-oriented business decisions and strengthen their supplier–buyer network.
In-depth analysis and the men formal shoe market size and segmentation assists in determining the prevailing market opportunities.
Major countries in each region are mapped according to their revenue contribution to the global men formal shoe industry. Market player positioning segment facilitates benchmarking and provides a clear understanding of the present position of market players.
The report includes revenue generated from the sales of men formal shoe and men formal shoe market forecast across North America, Europe, Asia-Pacific, and LAMEA.
The report includes the men formal shoe market analysis at regional as well as the global level, key players, market segments, application areas, and growth strategies.
 Men Formal Shoe Market Report Highlights
Aspects
Details
BY SHOE TYPE

Oxford shoe
Derby shoe
Loafer shoe
Boots shoe

BY LEATHER TYPE

Patent leather
Pebble & full grain leather
Top grain leather
Suede leather

BY GEOGRAPHY

North America
Europe

Italy
Germany
France
UK
Spain
Rest of Europe

Asia-Pacific

China
India
Japan
Malaysia
Rest of Asia-Pacific

LAMEA

Latin America
Middle East
Africa

Key Market Players
C & J. Clark international ltd, Dolce & Gabbana, Guccio Gucci S.P.A, Cole Haan, Calvin Klein, Inc, Burberry Group Inc, Louis Vuitton, Prada S.P.A, Hugo Boss AG, Alden shoe company