Metal Packaging Market Overview:
Global Metal Packaging Market was valued at $122 billion in 2015 and is expected to garner $153 billion by 2022, registering a CAGR of 3.3% during the forecast period 2016 - 2022. Metal packaging has evolved into a versatile solution throughout the retail, commercial, wholesale, and industrial sectors. Two metals that are commonly used in rigid metal packaging include steel and aluminum. The demand for metal packaging has increased considerably in food & beverage sector as it preserves edibles and potables from pathogens. In addition, extended shelf life and nutrition intactness associated with metal-packaged products fueled the growth of metal packaging market.
Metals have the highest recycling rate in comparison to other competitive packaging solutions such as plastic and flexible packaging. In addition, growth in demand for food owing to increase in population and rise in beverage consumption have accelerated the demand for metal cans in food & beverage industry. Furthermore, increase in demand for metal-based healthcare products such ointment tubes, tablet wrappers, trays, metal sterilizers, and others has significantly driven the market with potential growth opportunities. Moreover, increase in demand for youth-centric products has surged the applications of three-piece and two-piece aluminum cans. Growth in industrialization in regions such as Asia-Pacific and LAMEA has increased the demand for bulk metal containers such as barrels and drums. However, increase in shift of consumer preferences toward high-density polyethylene (HDPE) and polyethylene terephthalate (PET) bottles has hindered the growth of metal packaging market. Rise in investment and technological advancements are expected to create growth opportunities during the forecast period.
Segment Review Metal Packaging Industry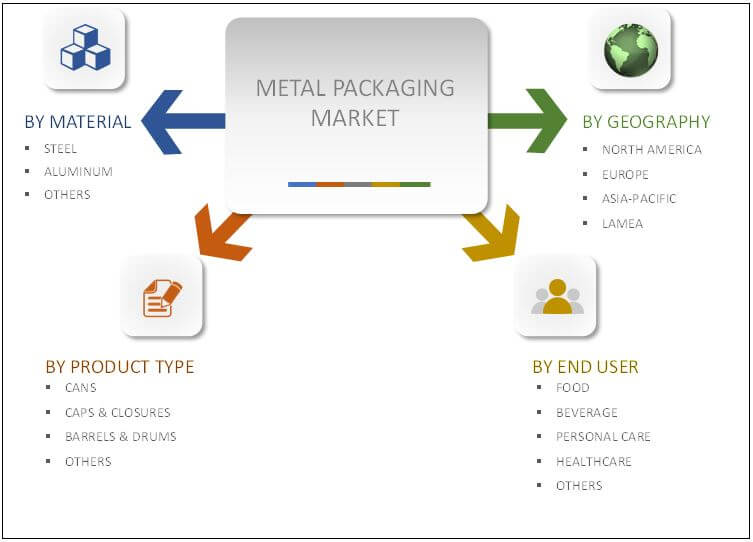 Get more information on this report : Request Sample Pages
The global metal packaging market is segmented based on material, product type, end user, and geography. On the basis of material, the report includes steel, aluminum, and others. By type, the market is categorized into cans, caps & closures, barrels & drums (metal containers), and others. According to end user, it is divided into food, beverage, personal care, healthcare, and others. Geographically, it is analyzed across North America, Europe, Asia-Pacific, and LAMEA.
Growth in demand for convenient packaging has fueled the market growth in North America. In addition, increase in consumption of beverages and recyclability associated with metals coupled with ecological measures have fueled the demand for aluminum beverage cans.
Top Investment Pocket
The personal care segment has witnessed the maximum growth owing to increase in demand for personal care products. In addition, the demand for youth-centric cosmetic products have increased significantly, which has excelled the potential growth opportunities in the market. Moreover, cosmetic brand aerosol can manufacturers have increased investments in R&D to provide superior quality products. Furthermore, increase in consumption of alcoholic and nonalcoholic beverages has resulted in growth in demand for metal cans in the beverage sector. In addition, e-commerce platform provided by online giants such as Amazon have also increased the demand for beverages.
Top Investment Pockets
Get more information on this report : Request Sample Pages
Market Dynamics
Drivers
Global rise in disposable income and on-the-go lifestyle have escalated the demand for canned food and beverages. Canned food provides the benefits of year-round availability of seasonal harvestable food, which gets wasted under improper preservation techniques. For instance, in the U.S., almost 50% of the harvestable food is wasted, which can be made available to consumers year-round. Furthermore, the demand for canned food products is anticipated to increase during the forecast period owing to rise in food crisis and malnutrition in regions such as Africa.
Restraints
Bisphenol A or phthalates are used in inside lining of cans to prevent metal corrosion and breakages, preserving the food inside. Intake of canned soups and pasta results in consumption of higher concentration of BPA than canned vegetable and fruits, which in turn increases the estrogen level in humans, leading to serious health concerns.
Opportunities
Rise in demand for food has triggered the metal can manufacturers to invest in design and manufacturing technologies, which is expected to boost the market growth in coming years.
For instance, Ball Corporation has revolutionized the aerosol can in consumer products with its ReAL aerosol container technology, which utilizes recycled aluminum to create a metal alloy that exhibits increased strength in container without affecting package integrity.
Geography Review:
The increase in beverage consumption has increased the demand for metal packaging. Moreover, new brewing company starts ups have been initiated in U.S which is expected to increase the demand for aluminum beverage cans.  However, the demand for canned food been impacted by the application of flexible and plastic packaging in North America. In 2015, Crown Holding Inc, have built a new beverage can plant in Monterrey, Mexico. This is Crown's fourth beverage can facility in Mexico with initial annual capacity of 2 billion cans having scope for future expansion. The metal packaging market size in Mexico is expected to grow with a CAGR of 5.2% during the forecast period.
Mexico Metal Packaging Market, 2014-2022 ($Million)
Get more information on this report : Request Sample Pages
Top players operating in the metal packaging market include Ardagh Group, Alcoa Incorporated, CPMC holdings Ltd., Ball Corporation, Manaksia Group, Emballator Metal Group, Crown Holdings, Silgam Holdings, Ton Yi International, and Tata Steel.
Other major players in the metal packaging market (not included in the report) are Can Pack S.A., Empac European Metal Packaging, Traxim, Drafil, Timeless Tins Ltd., Sonocco Products Company, Silgam Holdings, Anheuser-Busch Companies Inc., and Reynolds Group Holdings.
Metal Packaging Market Key Benefits:
This report entails the detailed study of metal packaging market trends and forecast from 2014 to 2022 that assists to identify the prevailing market opportunities to capitalize on the global metal packaging market.
In-depth coverage of the global market including drivers, restraints, and opportunities helps professionals to better understand market behavior.
This study further includes market share analysis in terms of material, type, and end user across all geographies.
Detailed study of the strategies of key leaders, partnerships, and acquisitions in the market is provided.
Porter's Five Forces analysis examines the competitive structure of the market and assists strategists in better decision-making.
Pinpoint analysis of geographical segments helps to identify opportunities for growth within the market.
Metal Packaging Market Key Segments:
The global metal packaging market is segmented as follows:
By Material
By Product Type
Cans
Caps & Closures
Drums & Barrels
Others
By End User
Food
Beverage
Personal Care
Healthcare
Others
By Geography
North America
Europe

UK
Germany
France
Spain
Italy
Rest of Europe

Asia-Pacific

China
Japan
India
Australia
South Korea
Rest of Asia-Pacific

LAMEA

Brazil
Saudi Arabia
South Africa
Rest of LAMEA