Mexico Digital Textile Printing Inks Market Overview:
The Mexico digital textile printing inks market was valued at $16 million in 2016, and is expected to reach $51 million by 2023, registering a CAGR of 18.1% from 2017 to 2023. Digital textile printing inks are used on small garments such as promotional wear, t-shirts, and jackets. They are also used on large format rolls of textile. The digital printing inks market has witnessed significant growth owing to increase in demand for advertisements and corporate branding such as flags, retail graphics, and banners.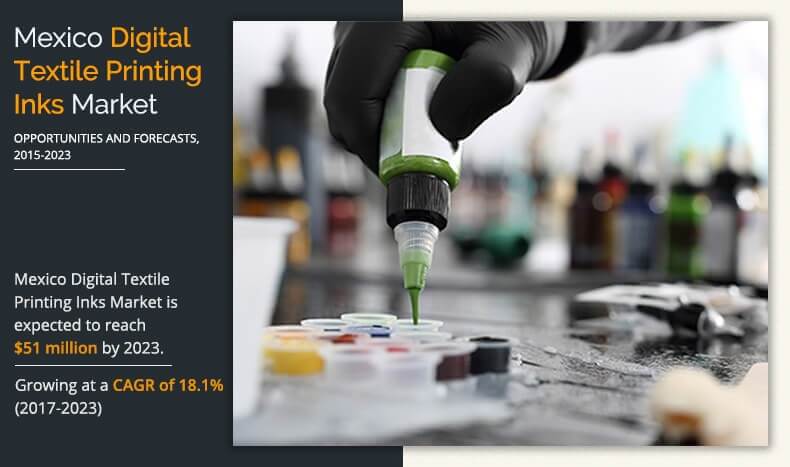 The growth in urbanization coupled with increase in demand for corporate branding and advertisement propel the market for digital textile inks. The sublimation ink segment has witnessed significant demand owing to increase in demand for dye-sublimation printer in computer printing applications. Furthermore, the demand for pigment-based inks is anticipated to witness growth owing to its excellent archival print life coupled with color stability. Based on application, the display segment has witnessed noteworthy growth in 2016 owing to increase in demand for touch panels and special effects applications. However, clothing and household segments are expected to create lucrative growth opportunities for digital printing inks market owing to increase in textile and household decorative applications.
The Mexico digital textile printing inks market is segmented based on ink type, application, and region. Based on ink type, the market is divided into reactive, acid, direct disperse, sublimation, pigments, and others. Based on application, the market is classified into clothing/garments, household, technical textile, display, and others.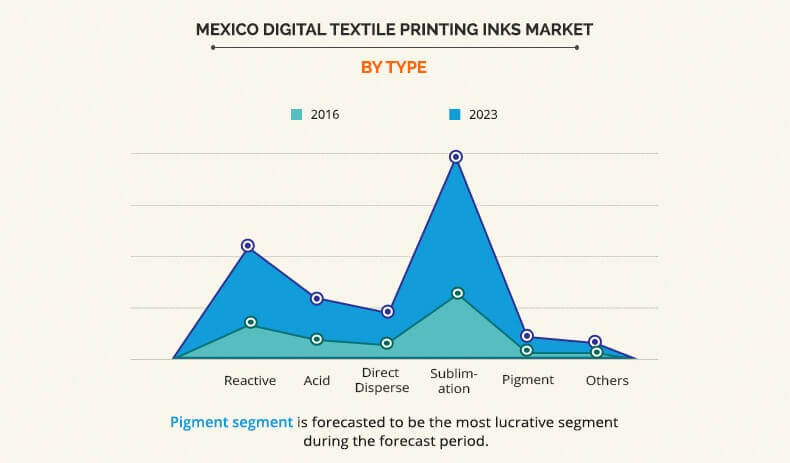 Top Investment Pocket
The household segment offers maximum market potential in the Mexico digital textile printing inks market, owing to increase in demand for textile printing in the country. Moreover, increase in the number of textile printing methods and rise in per capita disposable incomes of consumers further boost the growth for this segment. Advancements in technology and increase in introduction of efficient heavy quality inks are further anticipated to drive the overall growth. The household segment is expected to register a CAGR of 21.2% during the forecast period.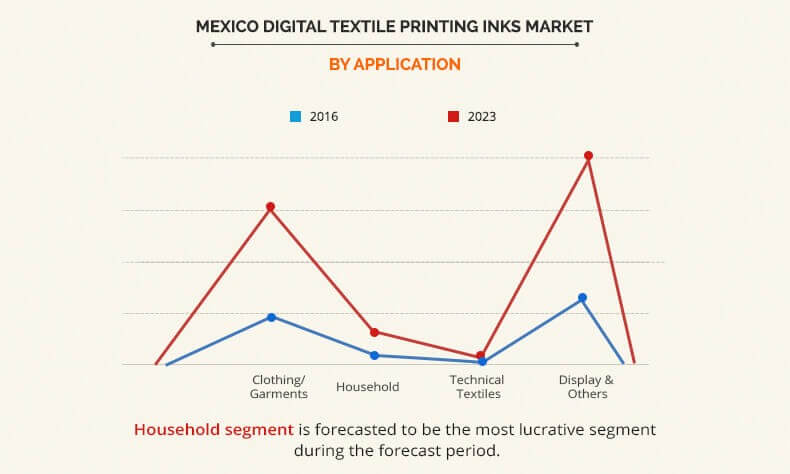 Key players have economically invested majorly in R&D activities to develop advanced products to cater to the requirements of the market. The players operating in the industry include AnaJet, BASF SE, DuPont, Huntsman Corporation, KIIAN Group, Hongsam, SPG Prints, LANYU Digital, Sawgrass, and Kornit Digital.
Other prominent market players (not included in this report) are Marabu, Jay Chemicals, Dystar, Sensient Colors UK Ltd, JCD Digital Inkjet Technologies, Trendvision Technology, Magellan Corporation, and Print right Holdings.
Key Benefits
This report provides an extensive analysis of the current trends, future estimations, and dynamics from 2015 to 2023 of the digital textile printing inks, which assist to identify the prevailing opportunities
Extensive market analysis predicts the types and applications that are currently used along with the variants that would gain prominence in the future.
Detailed analysis is conducted by following key product positioning and monitoring the top competitors within the market framework.
Key players are profiled, and their strategies are analyzed thoroughly, which portray the competitive market outlook.
 Mexico Digital Textile Printing Inks Market Report Highlights
Aspects
Details
By Ink Type

Reactive
Acid
Direct Disperse
Sublimation
Pigment
Others

By Application

Clothing/Garment
Household
Technical Textile
Display & Others

Key Market Players
BASF SE, DOVER CORPORATION (JK GOUP (KIIAN)), DYSTAR GROUP, E. I. DU PONT DE NEMOURS AND COMPANY, HONGSAM DIGITAL SCIENCE & TECHNOLOGY CO., LTD, HUNTSMAN CORPORATION, KORNIT DIGITAL LTD., RICOH COMPANY, LTD. (ANAJET), SENSIENT TECHNOLOGIES, SAWGRASS, SPGPRINTS B. V., ZHEJIANG LANYU DIGITAL TECHNOLOGY CO., LTD.