Micro Drone Market Statistics 2030 -
The global micro drone market was valued at $6,717.4 million in 2020, and is projected to reach $28,910.5 million in 2030, registering a CAGR of 17.2%.    
The rapid spread of COVID-19 had a significant impact on the global micro drone market in 2020, owing to the implementation of strict lockdown measures across the world. COVID-19 pandemic led to several challenges for the micro drone industry such as disruption in the supply chain of raw materials, logistics challenges, and others. On the other hand, the micro drone technology manufacturers had to reduce expansion and R&D investments to withstand the decline in revenue and operating performance of various companies. The challenges in the procurement of micro drones for military, homeland security, and commercial applications were observed throughout the year, and are expected to alleviate in a few years.
Micro drones are small unmanned aerial vehicles (UAVs) that weigh between 250grams and 2Kg. Micro drones can be launched by hand or they takeoff vertically, hence require short or no runways. Micro drones can prove to be highly useful across a wide range of applications such as precision agriculture, assistance to first responders, and safe inspection of crucial infrastructure such as oil and gas pipelines, among others. The government organizations and private agencies are investing heavily in the manufacturing and development of efficient and advanced small drones for both military and commercial sectors. Micro drones are equipped with advanced technologies and have an advantage of cost-effectiveness over other large-sized unmanned aerial vehicles.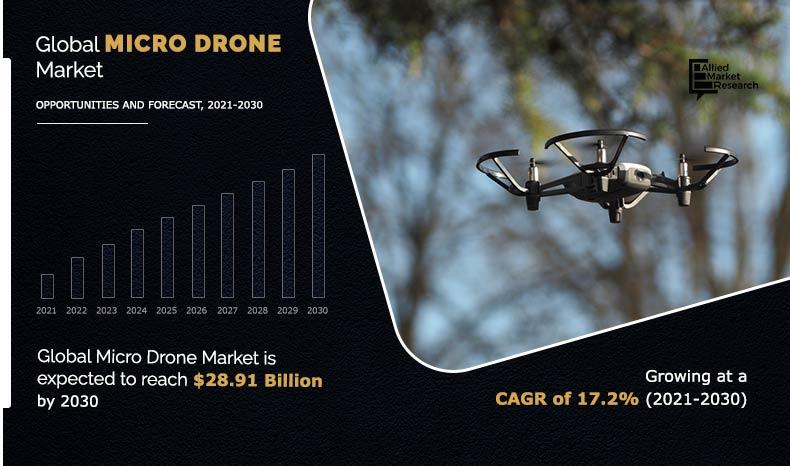 The market segmentation is based on type, application, weight, and region. The type segment is further divided into fixed-wing, rotary-wing, and hybrid or transitional. Based on application, the market is segmented into military, civil & commercial, homeland security, consumer, and others. By weight, the market is segmented into less than 1 Kg and 1 kg to 2Kg. Region wise, the market is analyzed across North America, Europe, Asia-Pacific, and LAMEA.
Key players operating in the global micro drone market include 3DR, AeroVironment Inc., Autel Robotics, DJI, Elbit Systems Ltd., Hubsan, Israel Aerospace Industries Ltd., Kespry Inc., senseFly, and Skydio, Inc.
Increased operational efficiency
Micro drones are capable of flying by themselves and gathering information with minimal human intervention, and without a person on board. The usage of micro drones in the defense operations is considerably increasing globally. For instance, in January 2021, European missile group MBDA successfully managed to hit a test target with its new anti-tank missile- Missile Moyenne Portée (MMP), using targeting information gathered by a micro-drone. According to MBDA officials, a French Novadem NX70 micro drone weighing about 1kg was used to detect and identify a tank that was out of the drone operator's sight. Furthermore, in May 2021, Turkish defense giant Aselsan conducted a successful flight with micro unmanned aerial vehicle (UAV) Saka. According to company officials, the Saka system weighs around 600 grams and utilizes a 3-axis gimbal, and was developed for exploration and surveillance purposes.
Apart from defense, they are also used in film production, news bulletins, and music videos for creating aerial videos. They are also used to inspect and investigate lands. These drones can easily go the places, which are difficult to access by humans and can stay in operation for significantly longer hours. Such features are expected to propel the growth of the global micro drone market during the forecast period. 
Increase in demand for improved surveillance
The growth in threat from terrorism and increase in security concerns worldwide has led to increased government expenditure for micro drones. Micro drones can carry out stealth operations, function in nights, operate at any location, and are easy to deploy. Such benefits have led to increase in investments by governments to procure and develop a large number of micro drones globally. For instance, in February 2021, the French Government placed a new order to reinforce its fleet of micro-drones NX70 already used by French soldiers. Since 2018, the number of NX70 owned by the French Ministry of Army has continuously increased to reach more than 150 in 2020. The NX70 fleet is equipped with tethered power supply for continuous observation and protection missions, and also data link terminal placed on vehicles or directly handled by soldiers allowing information sharing on the field. Moreover, Russian military has been developing its next generation of combat gear that could be integrated with new micro-drones that provide a tactical level automated command system.
The security of key institutions has been greatly enhanced with advanced video surveillance and access control systems. Micro drones are used for surveillance of major events or gatherings in large cities. Also, several government agencies impose strict policies and guidelines for installation of micro drones at high-risk locations. Such factors are expected to fuel the growth of the global micro drone market during the forecast period.
Strict drone regulations
Due to increased use of micro drones for civilian applications, governments in developed economies draft laws and regulations for the use of these unmanned aerial vehicles to protect areas of national, historical, or natural importance. The technology of micro drones is evolving so fast that the policy makers are not able to keep pace with it. Moreover, different nations have different and complex airspace regulations for small drones. Many countries have accepted drone use, especially recreational use, as something that does not need to be highly regulated, but monitored only for safety. Other countries have very strict laws and regulations against drone use no matter what the purpose, and pilots need to be sure they follow all the correct procedures before flying. Stringent drone regulations in various countries are anticipated to limit the growth of the micro drone market during the forecast period.
Improvement in drone technologies
The technology behind unmanned air systems (UAS) has advanced rapidly in recent years and as a result UAS can fly faster and further than ever before and are able to perform ever more sophisticated surveillance operations. Developments in size, weight and power (SWaP) optimized technologies have driven these improvements, allowing smaller man-portable systems more flexible tactical capability.
Recent advancements in drone technologies have fueled an unprecedented level of interest in these devices. Defense manufacturers have developed micro drones that fly, search, and kill without human intervention. Also, many of these can even be effectively controlled with the help of ordinary smartphones. Owing to several benefits offered by micro drones, the demand for micro drones is expected to grow appreciably during the forecast timeframe.
Covid-19 Impact Analysis
The COVID-19 impact on the micro drone market is unpredictable and is expected to remain in force till the second quarter of 2021.
The COVID-19 outbreak forced governments across the globe to implement strict lockdowns and banned import–export of raw materials items for most of 2020. This led to sudden fall in the availability of important raw materials for manufacturing micro drone equipment.
Moreover, nationwide lockdowns forced parts manufacturing facilities to partially or completely shut their operations.
Adverse impacts of the COVID-19 pandemic have resulted in delays in activities and initiatives regarding development of modern micro drone systems globally.
Key Benefits For Stakeholders
This study presents analytical depiction of the global micro drone market analysis along with the current trends and future estimations to depict imminent investment pockets.
The overall micro drone market opportunity is determined by understanding profitable trends to gain a stronger foothold.
The report presents information related to key drivers, restraints, and opportunities of the global micro drone market with a detailed impact analysis.
The current micro drone market is quantitatively analyzed from 2020 to 2030 to benchmark the financial competency.
Porter's five forces analysis illustrates the potency of the buyers and suppliers in the industry.
Key Market Segments
By Type
 
Fixed-Wing
Rotary-Wing
Hybrid or Transitional
By Application
 
Military
Civil & Commercial
Homeland Security
Consumer
Others
By Weight
 
Less Than 1 Kg
1 kg to 2Kg   
By Region
 
North America
Europe

Germany
UK
France
Russia
Rest of Europe

Asia-Pacific

China
Japan
India
South Korea
Rest of Asia Pacific

LAMEA

Latin America
Middle East
Africa
Key Players
3DR
AeroVironment Inc.
Autel Robotics
DJI
Elbit Systems Ltd.
Hubsan
Israel Aerospace Industries Ltd.
Kespry Inc.
senseFly
Skydio, Inc.