The global microelectromechanical system (mems) market was valued at $76.52 billion in 2021, and is projected to reach $181.04 billion by 2031, growing at a CAGR of 8.7% from 2022 to 2031.
Microelectromechanical systems (MEMS) are micrometer-scale devices that integrate electrical and mechanical elements. The micro-electromechanical systems (MEMS) technology includes very small, moving mechanical parts, and the electrical components. This technology is used to fabricate sensors such as accelerometers, gyroscopes, digital compasses, inertial modules, pressure sensors, humidity sensors, and microphones. Impending need of device miniaturization in various electronic devices such as smartphones, wearable devices, medical instruments, and other electronic devices has fueled the growth of the MEMS market. There is a continuous rise in the demand for these devices owing to a decline in average selling prices and increasing benefits of MEMS devices, such as low cost, less space consumption, and high accuracy. Moreover, these devices are small enough to be soldered directly onto the circuit boards, which reduces the cost of technology. 
High adoption in smartphones, thriving portable electronic market, increasing popularity of the Internet of Things (IoT), and robust demand in the automation industry drive the growth of the overall Microelectromechanical System (MEMS) Industry. Sensor manufacturing companies use MEMS technology to fabricate a wide range of sensors, owing to its low power consumption, small size, and high precision. These manufacturers are developing new MEMS-based sensors for various applications to increase microelectromechanical system (MEMS) industry in distinctive areas as well as globally.
The arrival of COVID-19 has significantly affected the electronics and semiconductor sector. Business and manufacturing units across various countries were closed, owing to increase in number of COVID-19 cases, and are estimated to remain closed in 2021. Additionally, while civil aviation, mobility, and the automotive industries have all suffered, telecommunications and the medical industry have benefited. The consequences have had a moderate impact on the consumer, mobile, and industrial markets.In addition, COVID-19 is altering how people view the current manufacturing global supply chain, which could result in increased regionalization and localised value chains to reduce hazards comparable to those posed by the pandemic and the initial lockdown.In order to break free from the cycle of commoditization and provide additional value, MEMS players will either join several sensors to form sensor hubs or they will add processing, algorithms, and software. Numerous startups are already working on edge AI, which appears to provide great potential for acquiring additional value. Examples include echolocation (IMERAI), always-on sensing (Aspinity working with Infineon, Syntiant), and predictive maintenance employing inertial sensors (Cartesiam). The COVID-19 has severely impacted the electronics sector as the production facility has been stalled, which in turn has significant demand in the industries. The effect of COVID-19 lockdown includes large-scale manufacturing interruption across Europe, interruption in Chinese parts exports, which may hinder the MEMS market globally.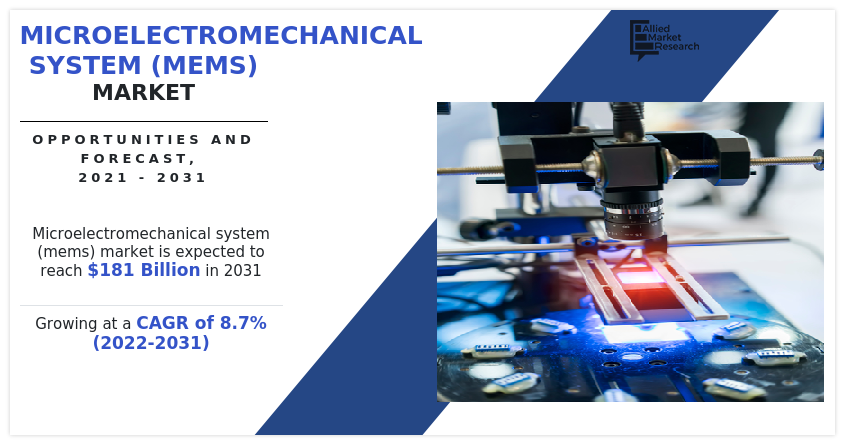 The microelectromechanical system (mems) market is segmented into Type and Application.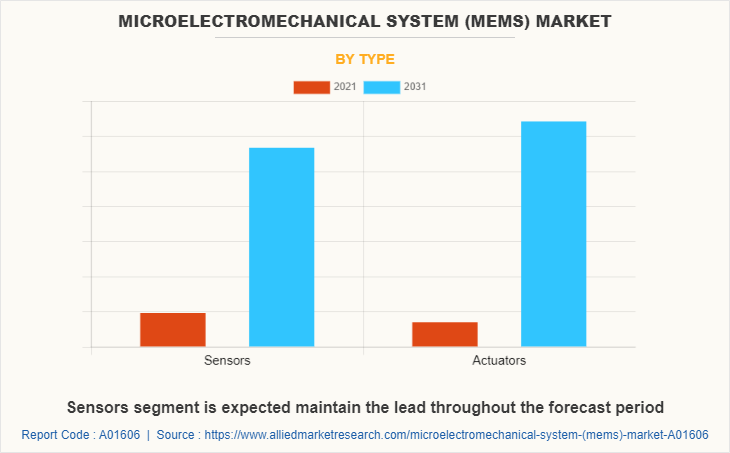 On the basis of type, the market is divided into sensors and actuators. In 2021, the sensors segment dominated the market, in terms of revenue, and is expected to follow the same trend during the forecast period.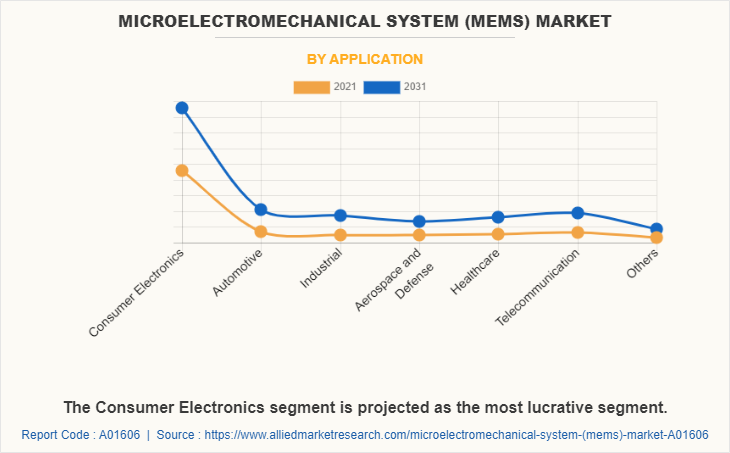 By application, the market is segmented into consumer electronics, automotive, industrial, aerospace & defense, healthcare, telecommunication and others. The consumer electronics segment acquired the largest share in 2021, and is expected to grow at a significant CAGR from 2022 to 2031 for microelectromechanical system (MEMS) market size.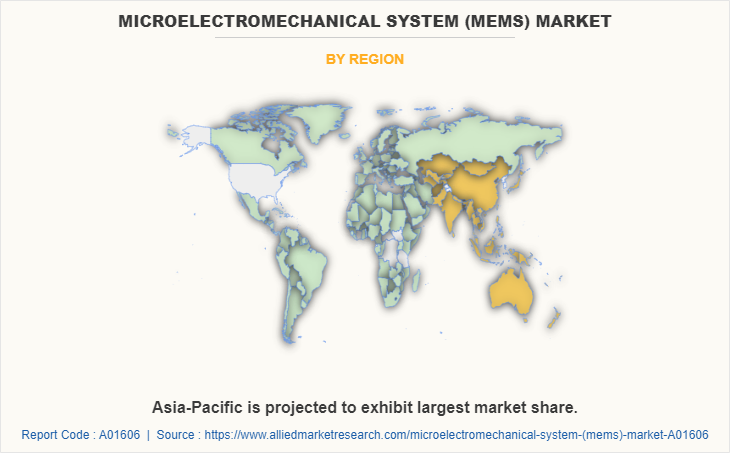 Region-wise, the microelectromechanical (MEMS) market trends are analyzed across North America (the U.S., Canada, and Mexico), Europe (Germany, UK, France, Italy, and the rest of Europe), Asia-Pacific (China, India, Japan, South Korea, and the rest of the Asia-Pacific), and LAMEA (Latin America, the Middle East, and Africa). Asia-Pacific remains a significant participant in the microelectromechanical (MEMS) market. Major organizations and government institutions in the country are intensely putting resources into technology to grab microelectromechanical (MEMS) market opportunity.
The notable factors positively affecting the MEMS market include growth in trend of smart consumer electronics, emerging trends in automotive industry and increase in popularity of IoT. However, lack of standardized fabrication process of microelectromechanical devices and incorporation of sensor in devices, which incurs extra value and reduces life of device hampers the market growth. This factor is expected to slow down the market growth. Moreover, emerging trends toward autonomous vehicles and increase in adoption of smart wearables and innovative application in biomedical sector offers huge market opportunities by 2031.
Competitive analysis and profiles of the major MEMS market players such as Analog Devices Inc., Broadcom Inc, DENSO CORPORATION, HP Development Company, L.P., Knowles Electronics, LLC, NXP Semiconductors, Panasonic Corporation, Robert Bosch GmbH, STMicroelectronics and Texas Instruments Incorporated.
Key Benefits For Stakeholders
This report provides a quantitative analysis of the market segments, current trends, estimations, and dynamics of the microelectromechanical system (mems) market analysis from 2021 to 2031 to identify the prevailing microelectromechanical system (mems) market opportunity.
The market research is offered along with information related to key drivers, restraints, and opportunities.
Porter's five forces analysis highlights the potency of buyers and suppliers to enable stakeholders make profit-oriented business decisions and strengthen supplier-buyer network of microelectromechanical system (MEMS) market growth.
In-depth analysis of the microelectromechanical system (mems) market outlook assists to determine the prevailing market opportunities.
Major countries in each region are mapped according to their revenue contribution to the global market.
Market player positioning facilitates benchmarking and provides a clear understanding of the present position of the market players and microelectromechanical system (MEMS) market share.
The current microelectromechanical system (MEMS) market forecast is quantitatively analyzed to benchmark the financial competency.
The report includes the analysis of the regional as well as global microelectromechanical system (mems) market trends, key players, market segments, application areas, and market growth strategies.
 Microelectromechanical System (MEMS) Market Report Highlights
Aspects
Details
By Type

Sensors

Sensors Type

Inertial Sensors
Pressure Sensors
Optical Sensors
Environment Sensors
Ultrasonic Sensors

Actuators

Actuators Type

Optical MEMS
Microfluidics
RF MEMS
Others

By Application

Consumer Electronics
Automotive
Industrial
Aerospace and Defense
Healthcare
Telecommunication
Others

By Region

North America (U.S., Canada, Mexico)
Europe (UK, Germany, France, Italy, Rest Of Europe)
Asia-Pacific (China, Japan, India, South Korea, Rest Of Asia-Pacific)
LAMEA (Latin America, Middle East, Africa)

Key Market Players
Panasonic Corporation, Analog Devices Inc., Robert Bosch GmbH, Broadcom Inc., HP Development Company, L.P., STMicroelectronics, DENSO CORPORATION, Knowles Electronics, LLC, NXP Semiconductors, Texas Instruments Inc.