The global micro inverter market size was valued at $2.4 billion in 2020, and is projected to reach $13.5 billion by 2030, growing at a CAGR of 19.7% from 2021 to 2030.
A micro inverter is an electrical device that converts direct current (DC) from solar modules into alternating current (AC) in photovoltaic systems. These inverters are often installed separately on each solar panel to convert DC power to AC power at the device power source. In addition, a micro inverter is easy to install and has simpler operations, compared to string inverters and central inverters. Furthermore, it also helps to produce optimal power, by performing maximum power point tracking (MPPT) for the connected module. Moreover, it offers several benefits over traditional inverters, such as greater reliability, higher production, and improved safety.
The micro inverter market has been severely impacted by the outbreak of the COVID-19 pandemic. With governments of several nations imposing and extending lockdowns, production and manufacturing facilities across the globe have been shut down, owing crisis and unavailability of workforce. Furthermore, the market is expected to be adversely impacted by COVID-19 owing to the decrease in demand for power from commercial applications. The outbreak of the pandemic has disrupted the global supply chain, thereby creating significant gap in supply chain. Economic impact of the pandemic has been disruptive. Key players operating in the micro inverter market industry temporary witnessed a slowdown, owing to lack of availability of skilled professional to develop emission monitoring system market solutions, which has led to decline in revenues for the financial year 2020 to 2021. Although the demand for power in the residential sector has increased due to lockdowns, commercial and industrial end users still contribute the larger share in the consumption of power.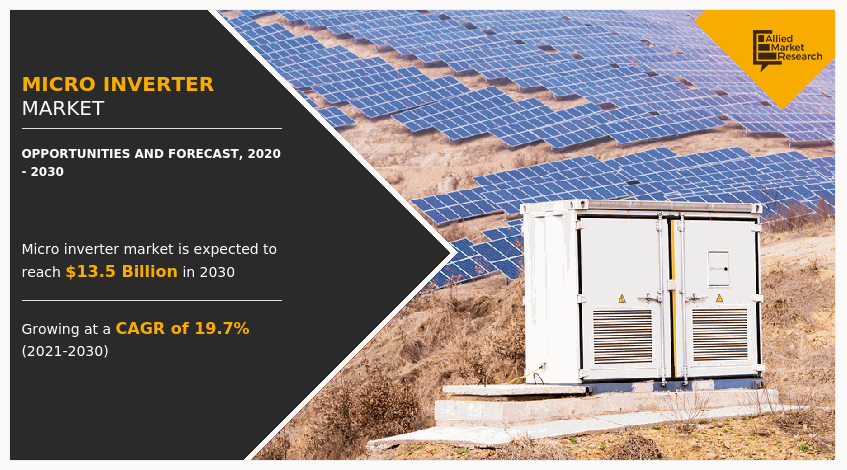 Growth of the global micro inverter industry is driven by factors such as technical advantages over other conventional solar inverter, design flexibility, and capabilities like producing maximum power from solar panels. In addition, surge in need for sustainable & clean energy on account of increase in concerns regarding greenhouse gases emissions boost the market growth. However, higher installation and maintenance cost acts as a major restraint for the market. On the contrary, rise in the number of solar photovoltaic (PV)  installations for various applications across the globe is expected to fuel the micro inverter market growth during the forecast period.
Micro Inverter Market

---
By Type
Three phase segment is expected to secure leading position during forecast period.
The micro inverter market is segmented into Type, Connection and End User. By type, it is classified into fan in single phase and three phase. Depending on connection, it is categorized into stand alone and grid connected. On the basis of end user, it is divided into residential and commercial.
Micro Inverter Market

---
By End User
Residential segment is projected as one of the most lucrative segments.
Region wise, micro inverter market trends are analyzed across North America (the U.S., Canada, and Mexico), Europe (the UK, Germany, France, and rest of Europe), Asia-Pacific (China, Japan, India, Australia, and rest of Asia-Pacific), and LAMEA (Latin America, the Middle East, and Africa). Asia-Pacific dominated the micro inverter market in 2020, and is projected to register significant growth rate during the forecast period, owing to growth in the grid connected segment. In addition, Asia-Pacific is expected to witnesses significant growth by the end of the forecast period, followed by North America. 
Micro Inverter Market

---
By Region
Asia-Pacific would exhibit the highest CAGR of 21.9% during 2021-2030
Leading micro inverter industry manufacturers such as Delta Energy Systems GmbH, Enphase Energy Inc., SolarEdge Technologies Inc., and SMA Solar Technology AG focus on their investments on technologically advanced, cost-effective, and more secure products and solutions for various applications. Product such as enphase micro inverter iq7, solar panel micro inverter, and micro grid tie inverter are in the latest trend.
TOP IMPACTING FACTORS
The prominent factors that impact the micro inverter market growth include rise in solar system installation in residential areas and surge in renewable energy investment. In addition, features of micro inverter, such as increase in reliability & safety, and higher output & cost-efficiency fuel the market growth. However, high installation cost restricts the market growth. On the contrary, rise in government spending on renewable energy projects is expected to create lucrative growth opportunities for the market.
COMPETITION ANALYSIS
Competitive analysis and profiles of the major micro inverter market players such as ABB Group, Delta Energy Systems GmbH, Enphase Energy Inc., Involar, P & P Energy Technology Co Limited, ReneSola, Siemens AG, SMA Solar Technology AG, SolarEdge Technologies Inc., and SunPower Corporation have been covered in the report.
COVID-19 IMPACT ANALYSIS
The outbreak of COVID-19 has negatively affected the electronics and semiconductor sector. Business and manufacturing units across various countries were closed in 2021, owing to increase in number of COVID-19 cases and are expected to remain closed in second quarter of 2022. Furthermore, partial or complete lockdown disrupted global supply chain posing challenges for manufactures to reach customers.
The COVID-19 pandemic impacts the society and overall economy across the globe. The impact of this outbreak is growing everyday as well as affecting the overall business across the globe. The crisis creates uncertainty in the stock market, resulting in falling business confidence, massive slowing of supply chain, and increasing panic among customers.
Asian and European countries under lockdowns have suffered major loss of business and revenue, owing to shutdown of manufacturing units. Operations of the production and manufacturing industries were heavily impacted by the outbreak of the COVID-19, which impacted the growth of the micro inverter market outlook.
In addition, the COVID-19 pandemic has impacted the electronics sector as production facilities have stalled, which, in turn, boost demand for electronics and semiconductor products in these industries. Its major impact includes a large manufacturing interruption across Europe and interruption in Chinese parts exports, which hinders the micro inverter market opportunity. It is expected that the demand for new and innovative products could surge once the economy begins to recover. Companies look forward to invest in next-generation products using new technologies, as it is expected to boost the micro inverter market growth, once customer demand surges.
KEY BENEFITS FOR STAKEHOLDERS
This study comprises analytical depiction of the global micro inverter market size along with current trends and future estimations to depict imminent investment pockets.

The overall micro inverter market analysis is determined to understand the profitable trends to gain a stronger foothold.

The report presents information related to key drivers, restraints, and opportunities with a detailed impact analysis.

The current micro inverter market forecast is quantitatively analyzed from 2020 to 2030 to benchmark the financial competency.

Porter's five forces analysis illustrates the potency of the buyers and the micro inverter market share of key vendors.

The report includes the market trends and the market share of key vendors.
 Micro Inverter Market Report Highlights
Aspects
Details
By Type
By Connection

Stand Alone
Grid Connected

By End User
By Region

North America (U.S., Canada, Mexico)
Europe (U.K., Germany, France, Rest of Europe)
Asia-Pacific (China, Japan, India, Australia, Rest Of Asia Pacific)
LAMEA (Latin America, Middle East, Africa)

Key Market Players
Involar, P and P Energy Technology Co Limited, Enphase Energy, Inc, ABB Group, SunPower Corporation, SMA Solar Technology AG, Delta Energy Systems GmbH, SolarEdge Technologies Inc., ReneSola, Siemens AG