Microcrystalline Cellulose (MCC) Market Overview :
The global microcrystalline cellulose market accounted for revenue of $937 million in 2017 and is anticipated to generate $1,451 million in 2025, growing at a CAGR of 5.5% from 2018 to 2025.
Microcrystalline cellulose is a partially depolymerized cellulose in pure form, which is synthesized from -cellulose precursor. There are several ways to synthesize microcrystalline cellulose such as reactive extrusion, acid hydrolysis, steam explosion and enzyme mediated synthesis. Microcrystalline cellulose has large scale applications in the pharmaceutical, food & beverage, and personal care industries. In the food & beverage industry, microcrystalline cellulose is added to the processed food to create a creamy and smooth mouth feel. This is mostly used to prepare low-fat dairy products such as frozen yogurt, whipped cream, and ice cream. In the pharmaceutical industry, it is used as fillers, disintegrating agents, anti-sticking agents, adsorbents, and capsule diluents.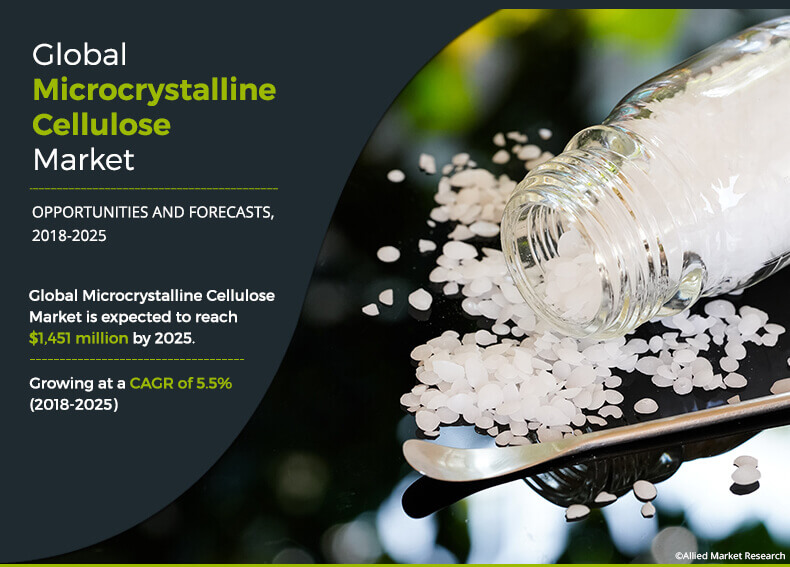 Growth in consumption of processed foods across the globe majorly drives the MCC Market. Increase in consumption of processed food has augmented the use of microcrystalline cellulose as an additive, which in turn boosts the market growth. Moreover, consumption of pharmaceutical products, such as tablets and capsules, is expected to fuel the demand for microcrystalline cellulose. However, volatile prices and availability of substitute products have restricted the market growth. Conversely, rise in disposable income of population in developing economies in Asia-Pacific is anticipated to provide new opportunities for the key players.
The global microcrystalline cellulose market is segmented based on source type, application, and region. Based on source type, it is categorized into wood based and non-wood based. By application, the market is bifurcated into pharmaceutical, food & beverage, cosmetics & personal care, and others. Based on region, the market is analyzed across North America, Europe, Asia-Pacific, and LAMEA.
The key players analyzed in this report are DowDuPont, Rayonier Advanced Material, FMC Corporation, Asahi Kasei Chemicals Corporation, Roquette, DFE Pharma GmbH & Co.KG, Accent Microcell Pvt. Ltd., JRS PHARMA GmbH & Co. KG, Sigachi Industries Pvt. Ltd., and Ming Tai Chemical Co. Ltd.
The other players in the value chain (not included in the report) include Juku Orchem Private Limited, and Avantor Performance Materials.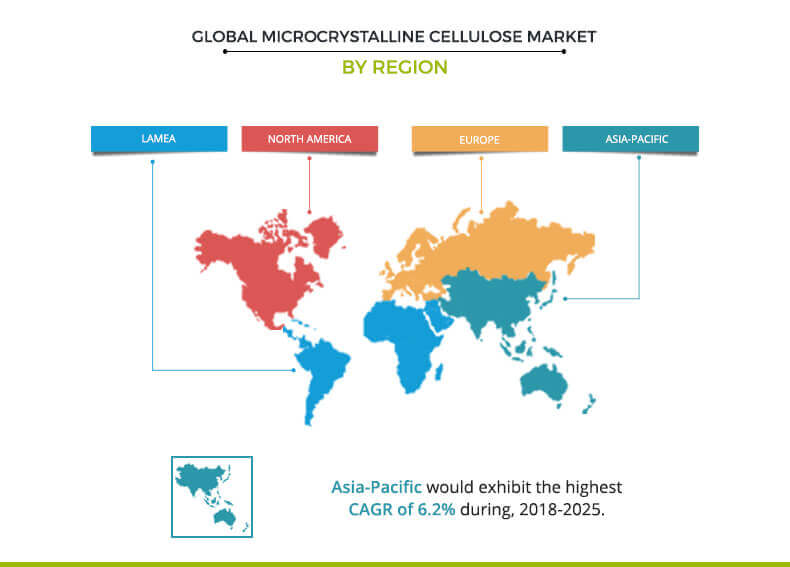 The Asia-Pacific microcrystalline cellulose market is expected to witness high growth during the forecast period, owing to the increasing demand for pharmaceutical products. Furthermore, the high demand for low fat dairy products in the region is expected to boost the growth of MCC Market.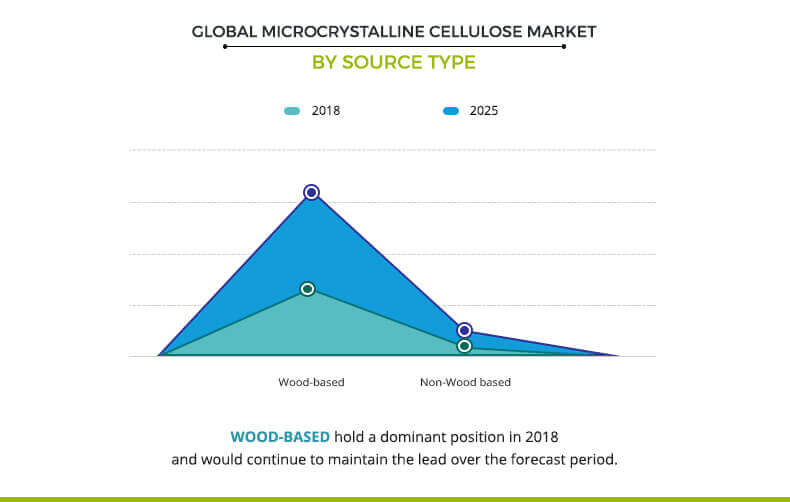 Non-wood based microcrystalline cellulose is the most lucrative segment of the market, owing to cost-effectiveness of this synthesis method.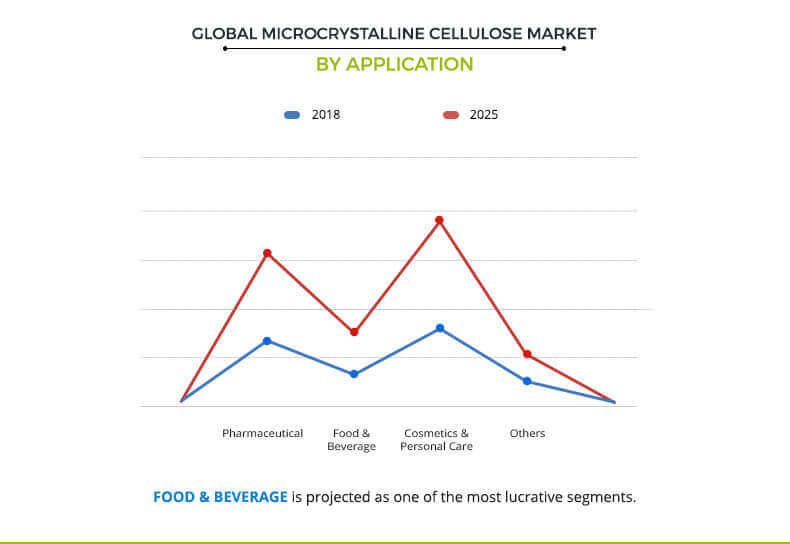 The food & beverage segment is estimated to grow at the highest CAGR during the forecast period, as microcrystalline cellulose is one of the major ingredients of processed food. Furthermore, microcrystalline cellulose can inhibit the sedimentation of insoluble particles and re-agglomeration of fat particles to achieve reliable results. This helps in giving a smooth texture to ice-cream.
Key Benefits for Microcrystalline Cellulose (MCC) Market :
This report entails a detailed quantitative analysis of the current market trends from 2017 to 2025 to identify the prevailing opportunities along with strategic assessment of the global microcrystalline cellulose market.
The market size and estimations are based on a comprehensive analysis of the source type, application, and developments of the industry.
A qualitative analysis of the industry based on innovative products and devices facilitate strategic business planning.
The development strategies adopted by key market players are enlisted to understand the competitive scenario of the market.
 Microcrystalline Cellulose (MCC) Market Report Highlights
Aspects
Details
BY SOURCE TYPE

Wood-based
Non-wood based

BY APPLICATION

Pharmaceutical
Food & Beverage
Cosmetics & Personal Care
Others

BY REGION

North America (U.S, Canada, Mexico)
Europe (Germany, France, UK, Spain, Russia, Italy, Rest of Europe)
Asia-Pacific (China, Japan, India, Australia, Malaysia, South Korea, Rest of Asia-Pacific)
LAMEA (Brazil, Argentina, Saudi Arabia, South Africa, Rest of LAMEA)

Key Market Players
DowDuPont, Rayonier Advanced Material, FMC Corporation, Asahi Kasei Chemicals Corporation, Roquette, DFE Pharma GmbH & Co.KG, Accent Microcell Pvt. Ltd, JRS PHARMA GmbH & Co. KG, Sigachi Industries Pvt. Ltd, Ming Tai Chemical Co. Ltd