Microdisplay Market Overview:
Global Microdisplay Market is expected to garner $3 billion by 2022, registering a CAGR of 22.6% during the forecast period 2014-2022.
Microdisplay is basically a compact size display with less than a quarter inch diagonal. It has user-configurable technology, high resolution, and high pixel density that is widely used in smart watches, smart bands, and smart glasses to enable quality images and high contrast ratio. Moreover, it provides super extended graphics array (SEGA) resolution for better angle viewing and enhanced brightness. LCD, DLP, and LCoS are widely used microdisplay technologies. Presently, microdisplay finds its wide range of applications in military & defence, for real time monitoring and faster performance.
High resolution and excellent picture quality, low power consumption and compact size has led to a higher adoption of microdisplay in military & defence, consumer electronics, medical applications. Therefore, owing to these benefits the global microdisplay market is expected to grow rapidly in the near future. However, high cost and low picture quality at high temperature may restrain the market growth. Irrespective of the challenges, increasing number of Near-To-Eye (NTE) applications in various consumer electronics such as head mounted display and smart glasses are expected to provide enormous opportunity for the market.
Segment Overview:
The global microdisplay market is segmented on the basis of technology, type, application, and geography.
Global Microdisplay market Segmentation

The technology segment is dominated by LCD in terms of revenue contribution and is expected to maintain this trend throughout the forecast period, owing to high resolution and optimized power consumption. By type, projection segment leads the market owing to its higher adoption in applications such as smart watches, smart bands, and car infotainments.
Microdisplay Applications
Based on various applications, consumer electronics, medical applications, and automotive applications are the most lucrative and are expected to exhibit faster growth compared to others. The global microdisplay market is segmented on the basis of geographical regions, encompassing North America, Europe, Asia-Pacific, and LAMEA. North America accounted for the largest share of the global market, owing to rapid advancement in technology and increasing adoption of microdisplay in consumer electronics.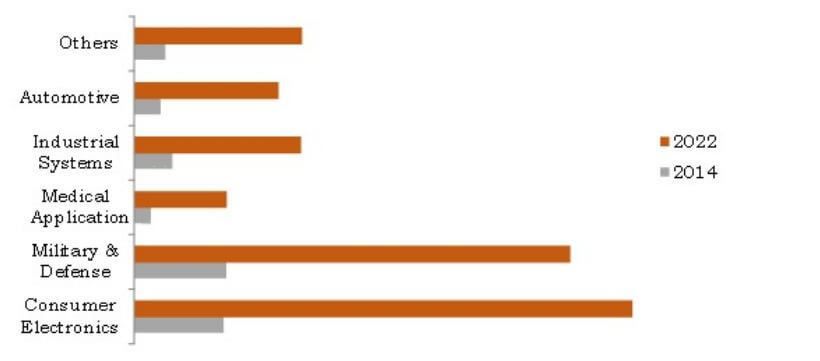 Competition Analysis
Comprehensive competitive analysis and profiles of major market players, such as eMagin Corporation, Universal Display Corporation, AU Optronics Corp, KopIn Corporation Inc., Micron Technology Inc., Himax Technology Inc., LG Display Co. Ltd, Microvision Inc., Sony Corporation, and Syndiant Inc. are also provided in this report. Currently, the microdisplay market is largely driven by growth strategies such as product launch, acquisition, and partnership. For instance, eMagin Company launched Ultra-High Brightness Direct Patterned (DPD) full color OLED microdisplay for head mounted wearable devices.

Top Factors Impacting Global Microdisplay Market
High resolution and excellent picture quality
The high resolution and high pixel density display used in the microdisplay to enable excellent picture quality without any change in the sub pixels. The standard pixel used in microdisplay is 14001044 with a pixel density of 2916 ppi. In addition, these displays are also being used in health tracker to provide real time monitoring. Thereby, driving the market growth.
Increasing Number of Near-To-Eye (NTE) Applications
The increase in demand for augmented reality devices such as smart glasses and head mounted display, where high resolution microdisplay are used with a magnifying optical system. This increase in demand is due to its optimized power consumption and compact size. Moreover, it is widely being used in various applications such as military & defense, consumer electronics, and medical applications, which is expected to fuel the market growth in years to come.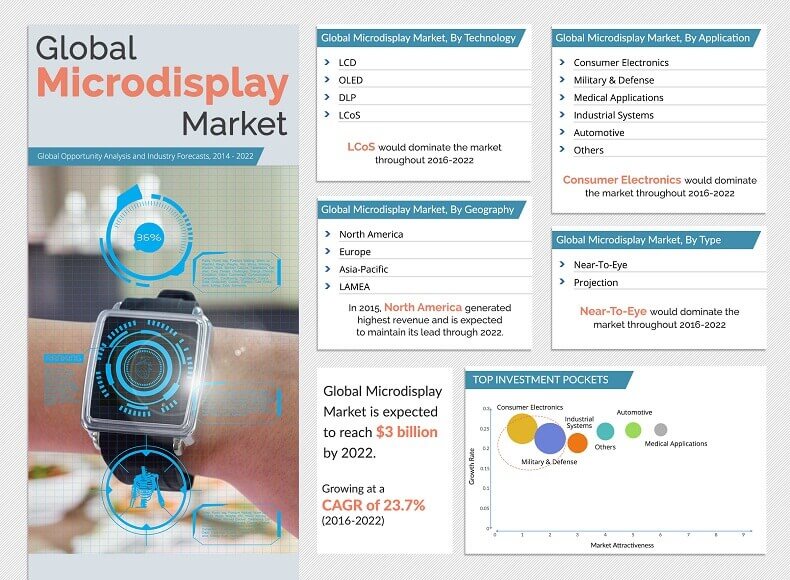 Microdisplay Market Key Benefits:
The study provides an in-depth analysis of the global microdisplay market to elucidate the prominent investment pockets in the market.
Current and future trends are outlined to determine the overall attractiveness and to single out profitable trends to gain a stronger foothold in the market.
It gives the key drivers, restraints, and opportunities with their impact analysis.
Geographically, the market is analyzed across North America, Europe, Asia-Pacific, and LAMEA
Analysis of value chain is conducted for better understanding of the role of stakeholders.
 Microdisplay Market Report Highlights
Aspects
Details
By Technology

Liquid Crystal Display (LCD)
Organic Light-emitting Diode (OLED)
Digital Light Processing (DLP)
Liquid Crystal on Silicon (LCoS)

By Type
By Application

Consumer Electronics
Military & Defense
Medical Applications
Industrial Systems
Automotive
Others

By Geography

North America
Europe

U.K.
Germany
France
Rest of Europe

Asia-Pacific

China
Japan
South Korea
Taiwan
Rest of Asia-Pacific

LAMEA

Latin America
Middle East
Africa

Key Market Players
Micron Technology Inc, Himax Technology Inc, LG Display Co. Ltd., eMagin Corporation, Microvision Inc, Universal Display Corporation, Syndiant Inc, Sony Corporation, KopIn Corporation Inc, AU Optronics Corp