The global microgrid market size was valued at $15.88 billion in 2020, and is projected to reach $59.74 billion by 2030, registering a CAGR of 14.9% from 2021 to 2030.
The microgrid market in significantly affected by the emergence of COVID-19, owing to lack of availability of skilled professional to operate the technology. In addition, the market registered downfall in the revenue due to shutdown of manufacturing units globally.
A microgrid is a self-reliant, localized energy system that serves a specific area including a hospital complex, college campus, and business centers. It can operate autonomously without any support of a centralized grid. A smart microgrid can also function when connected to the main grid and even when it is not connected to the main grid, it acts as an electrical island. It helps in reduction of harmful emissions resulting in optimal use of renewable resources, improved efficiency, and long-term predictable energy cost.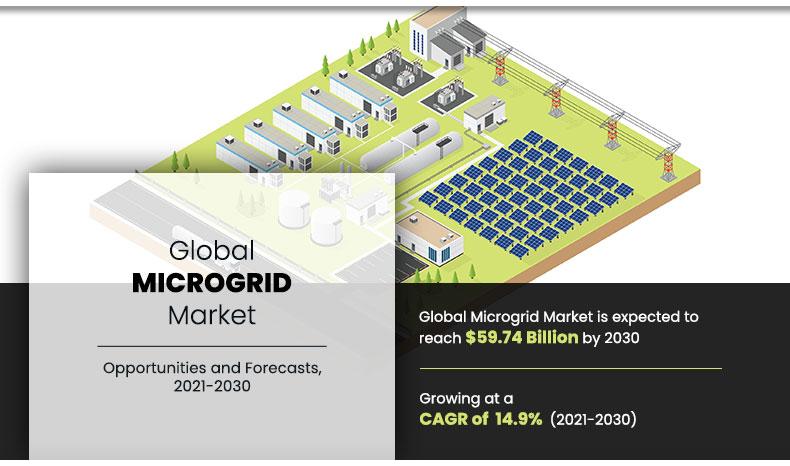 Growth in demand for reliable and secured power supply in commercial and industrial sectors across the globe, coupled with government initiatives taken to reduce carbon footprint are expected to fuel the microgrid market growth. Moreover, rapid adoption of software across various end-user segments including commercial, industrial, government, and healthcare to manage and control distributed energy resources with integrated weather and load forecasting is also expected to boost the market during the forecast period.
In the coming years, the microgrid industry is expected to generate moderate cash output with modest investments in development, research, and tests. However, the microgrid market is nearing the maturing stage, and is expected to generate modest revenue for key players in the coming years. 
Factors such as growth in development of smart cities, increase in demand, growth of rugged loT, and rise in adoption of ruggedized computers are expected to drive growth of the market in the future. However, high production cost of rugged devices acts as a major barrier and hampers the market growth. Furthermore, rise in need for hard and reliable electrical equipment for military and aerospace industries are expected to offer lucrative opportunities for the microgrid market growth.
Segmentation
The microgrid market share is analyzed on the basis of connectivity, type, end user, and region. By connectivity, the market is divided into grid connected and off-grid connected. By type, it is classified into AC microgrids, DC microgrids and hybrid. By end user, it is categorized into commercial & industrial, government, healthcare, remote, utility and others. By region, the market is analyzed across North America, Europe, Asia-Pacific, and LAMEA along with their prominent countries.
Microgrid Market

---
By Connectivity
Grid Connected segment generated the highest revenue in 2020.
COVID-19 Banner
The ongoing spread of COVID-19 has become one of the biggest threats to the global economy and is causing widespread concerns and economic hardship for consumers, businesses, and communities across the globe. The "new normal" that includes social distancing and working from home has created challenges with daily activities, regular work, needs, and supplies, causing delayed initiatives and missed opportunities.
The COVID-19 pandemic has impacted the society and overall economy across the globe. The impact of this outbreak has grown day-by-day that affects the supply chain. This has created uncertainty in the stock market; decreased business confidence, slow supply chain, and increased panic among customers. European countries under lockdown have suffered a major loss of business and revenue due to shutdown of manufacturing units in the region. Operations of production and manufacturing industries have been heavily impacted by the outbreak of COVID-19, which led to decrease in growth of the microgrid market in 2020.
AC microgrids segment generated the highest revenue in 2020.
According to the microgrid market trends, the COVID-19 pandemic has severely impacted the global manufacturing and industrial sectors as production facilities have stalled, which, in turn, led to significant demand in industries.
Emergence of COVID-19 has declined growth of the microgrid market size in 2020, and is estimated to witness slow growth till the end of 2021. Implementation of partial or complete lockdown across various countries globally is the prime reason for decline in growth rate of the market. As industries were temporarily shut, it reduced the need for maintenance from various industries.
Microgrid Market

---
By End User
Remote segment generated the highest revenue in 2020.
Top Impacting Factors
The significant factors that impact the global microgrid market growth include increasing demand in remote areas and backup for Military bases, stringent government initiatives to reduce carbon footprints. In addition, High installation and maintenance cost microgrids. Moreover, growing demand of microgrids in Commercial and industrial sector for reliable and uninterrupted power and electricity supply and rapid industrialization and increasing demand for power has affected the market growth to a certain extent. Each of these factors is anticipated to have a definite impact on the global microgrid market during the forecast period. These factors are expected to offer lucrative opportunities for the market growth in the coming years.
Microgrid Market

---
By Region
Asia-Pacific would exhibit the highest CAGR of 16.4% during 2020-2030
Key Benefits for Stakeholders
This study comprises analytical depiction of the microgrid market size, and opportunity along with current trends and future estimations to depict imminent investment pockets.
The overall microgrid market analysis is determined to understand profitable trends to gain a stronger foothold. 
The report presents information related to key drivers, restraints, size and microgrid market opportunities with a detailed impact analysis.
The microgrid market outlook forecast is quantitatively analyzed from 2020 to 2030 to benchmark the financial competency. 
Porter's five forces analysis illustrates potency of buyers and the microgrid market forecast of key vendors.
The report includes the industry trends and the microgrid market share of key vendors.
 Microgrid Market Report Highlights
Aspects
Details
BY Connectivity

Grid connected
Off-grid connected

BY type

AC microgrids
DC microgrids
Hybrid Microgrids

BY end user

Commercial and Industrial
Government
Healthcare
Remote
.Utility
Others

BY Region

North America
Europe

UK
Germany
France
Rest of Europe

Asia-Pacific

China
Japan
South Korea
Rest of Asia-Pacific

LAMEA

Latin America
Middle East
Africa

Key Market Players
ABB Group, EATON CORPORATION, EXELON CORPORATION, GENERAL ELECTRIC, HONEYWELL, PARETO ENERGY, Schneider Electric, SIEMENS, SPIRAE INC., S&C ELECTRIC