Migraine Drugs Market Overview:
The global migraine drugs market was valued at $1,713 million in 2017, and is expected to reach $2,190 million by 2025, growing at a CAGR of 3.1% from 2018 to 2025. Migraine is a clinical condition associated with painful headaches and other symptoms such as nausea, sensitivity to smell, and others. These headaches generally occur on one side of the head and each episode of migraine has different duration and intensity. Migraine drugs are employed in the treatment of headaches associated with migraine.
Rise in prevalence of migraine drives the migraine drugs market. Moreover, increase in female population and surge in awareness among patients related to prevention and treatment of migraine are the key factors that augment the growth of the market. However, side effects associated with migraine drugs is a factor that hinders the market growth. On the contrary, the presence of growth opportunities in emerging nations is expected to provide new opportunities for the key players.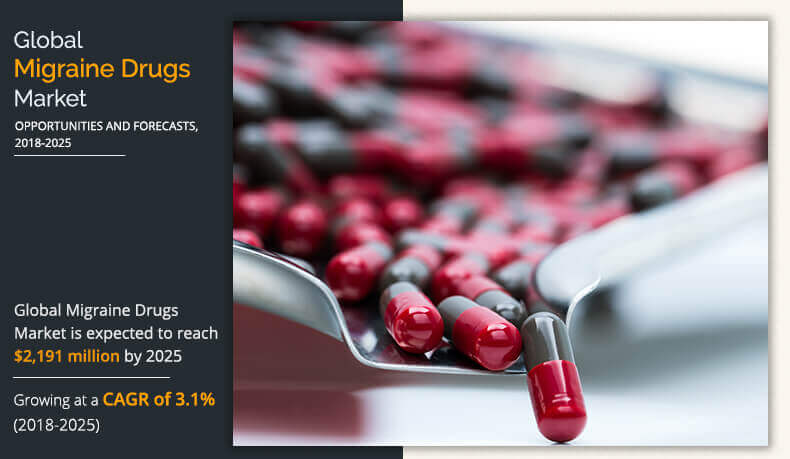 Get more information on this report : Request Sample Pages
The report segments the migraine drugs market based on type, route of administration, distribution channel, and region. Based on type, the market is bifurcated into abortive medicine and preventive medicine. Depending on route of administration, it is fragmented into oral, injection, and others. By distribution channel, it is categorized into hospital-based pharmacies, retail pharmacies, and online pharmacies. Based on region, it is analyzed across North America (U.S., Canada, and Mexico), Europe (Germany, France, UK, Italy, Spain, and rest of Europe), Asia-Pacific (China, Japan, Australia, India, South Korea, and rest of Asia-Pacific), and LAMEA (Brazil, South Africa, Saudi Arabia, and rest of LAMEA).
Get more information on this report : Request Sample Pages
Abortive Medicines dominated the migraine drugs market in 2017, owing to the ease of self-administration in case of patients with symptoms of nausea and vomiting along with migraine.
Female Population are Mostly Affected
Migraine pain is commonly prevalent in women as compared to men. According to the Migraine Association of Ireland, the ratio of female migraineurs to male migraineurs was found to be 3:1 in the global population in 2018. This is attributed to the changes in estrogen levels in females, especially during menstruation. Moreover, hormonal medications, such as oral contraceptives and hormone replacement therapy may further worsen migraine in women. Therefore, increase in the global female population is anticipated to propel the growth of migraine drugs market
Get more information on this report : Request Sample Pages
Rise in focus of vendors on the emerging markets, such as Asia-Pacific and LAMEA, is expected to boost the market growth. Asia-Pacific is projected to witness significant growth in future, owing to rise in demand for better healthcare facilities and improvements in healthcare infrastructure. Furthermore, this region presents remarkable opportunities for the venture capitalists and investors, as the developed markets are comparatively saturated.
The report provides an extensive competitive analysis and profiles of the key market players in the migraine drugs industry such as Abbott Laboratories, Allergan Plc., AstraZeneca, Eisai Co., Ltd., Endo International Plc., GlaxoSmithKline Plc., Impax Laboratories, Johnson & Johnson, Merck & Co., and Pfizer Inc. The other players in the value chain (not included in the report) include Novartis International AG, Teva Pharmaceutical Industries Limited, and Sanofi SA.
Key Benefits
This report entails a detailed quantitative analysis of the current market trends from 2017 to 2025 to identify the prevailing opportunities along with strategic assessment of the global migraine drugs market.
Migraine drugs market size and estimations are based on comprehensive analysis of the applications and developments in the industry.
A qualitative analysis based on innovative products and devices facilitate the strategic business planning.
The development strategies adopted by the key market players are enlisted to understand the competitive scenario of the migraine drugs industry.
Migraine Drugs Market Key Segments:
By Type
Abortive Medicine

Triptans (Serotonin Receptor Agonists)
Ergotamine Derivative
Others

Preventive Medicine

Anticonvulsant
Antidepressant
Beta Blocker
Others
By Route of Administration
By Distribution Channel
Hospital-based Pharmacies
Retail Pharmacies
Online Pharmacies
By Region
North America
Europe

Germany
France
UK
Italy
Spain
Rest of Europe

Asia-Pacific

Japan
China
India
Australia
South Korea
Rest of Asia-Pacific

LAMEA

Brazil
Saudi Arabia
South Africa
Rest of LAMEA