The global military drones market was valued at $11.60 billion in 2021, and is projected to reach $34.34 billion by 2031, growing at a CAGR of 11.7% from 2022 to 2031.
Military drones are unmanned aerial aircrafts that perform a range of missions including intelligence, surveillance, remote sensing, target monitoring, and combat. The operators are referred as drone pilot which control these crafts remotely. Military drones are utilized to collect information on enemy movements, scout during firefights, and can be extremely useful in a manhunt. In addition, military drones are effective as they costs less as compared to traditional military weapons and they have become increasingly accurate. Moreover, the most common unmanned aerial system used in combat is the MQ-1 Predator.
The spread of the COVID-19 pandemic has negatively impacted the global military drone industry. The purchase of defense equipment required related services has been affected due to lack of confidence in the market, resulting in fewer military drone's business contracts. In addition, defense budget cuts from several countries such as the U.S., India, France and Israel have been observed. For instance, in 2021, the U.S. defense budget was reduced from $712 billion in 2020 to $705 billion in 2021. The major risk factors of the military drone market participants are regulatory & policy changes, dependency on labor, working capital management, and liquidity & solvency management. Majority of the developing facilities of drones has been shut down during the pandemic due to commute restrictions, workforce unavailability, and supply chain disturbance. Private and commercial security industries were one of the most severely affected industries by the pandemic and observed a decline of investments initially. Revenue crunch and rising maintenance costs were two of the major challenges adversely affecting the drone manufacturers. Furthermore, the reduced GDP of major economies such as the U.S., the UK, China, France, India, Germany, and others in 2020 resulted to a decline in investment in the industry.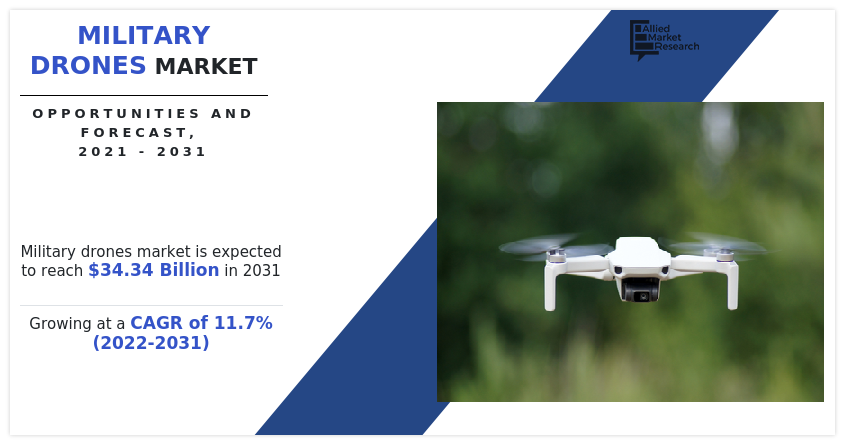 The growth of the global military drones market has propelled, due to upsurge in military spending, and growth in demand for improved surveillance solution. However, high cost of UAV solution is the factor hampering the growth of the market. Furthermore, defense modernization is the factor expected to offer growth opportunities during the forecast period.
The military drones market is segmented on the basis of type, range, technology, application, and region. By type, it is segmented into fixed-wing, rotary-wing, and hybrid/transitional. By range, it is classified into visual line of sight (VLOS), extended visual line of sight (EVLOS), and beyond line of sight (BLOS). By technology, it is categorized into remotely operated, semi-autonomous, and autonomous. By application, it is fragmented into intelligence, surveillance, reconnaissance, & target acquisition, combat operations, delivery & transportation, and others. By region, the report is analyzed across North America, Europe, Asia-Pacific, and LAMEA.
Military Drones Market

---

By Type
Rotary wing is projected as the most lucrative segment
Some leading companies profiled in the military drones market report comprise Aeronautics Group, Aerovironment, Inc., Anduril Industries, Animal Dynamics, Asteria Aerospace Ltd., Boeing, Elbit Systems Ltd., General Atomics, Israel Aerospace Industries, Northrop Grumman Corporation, SAAB AB, Shield AI, Teal Drones, Inc., Teledyne FLIR LLC, and Thales Group.
Upsurge in Military Spending
The global defense expenditure has seen exponential growth in recent years. As per Stockholm International Peace Research Institute (SIPRI), the global military expenditure has reached $1,981 billion in 2020 with a 2.6% year-on-year increase. To modernize the defense forces in order to tackle the rise in threats of wars and other internal conflicts, many nations are continuously increasing their defense spending in order to purchase and manufacture advanced security solutions. The military expenditure accounted for 2.4% of the global gross domestic product (GDP) in 2020. Thus, an increase in global military expenditure has augmented the adoption of simulation and training technology. Furthermore, advancements of weapons and attacking capabilities worldwide have created the demand for modernization and installation of sophisticated defense infrastructure by governments to be prepared for any unprecedented threats and offensive attacks from foreign countries. Militaries across the globe are investing in the UAV solutions such as drones for effective operations of advanced security systems. Thus, upsurge in military spending is driving the growth of the military drone industry during the forecast period.
Military Drones Market

---

By Technology
Autonomous is projected as the most lucrative segment
Growth in demand for improved surveillance solution
The growth in threat from terrorism and increase in security concerns across the globe has led to increased government expenditure for UAVs such as drones. Unmanned aerial vehicle solutions have wide range of applications in military & defense sector for the effective observations of the assets and surveillance of the areas for gaining the optimum operational effectiveness.
UAV or drones can carry out stealth operations, function in nights, operate at any location, and are operational efficient to deploy in various operational conditions. Such benefits have led to increase in investments by governments to procure and develop a large number of UAVs globally. For instance, in September 2021, BAE Systems and Malloy Aeronautics have announced plans to explore the development of an all-electric 'heavy lift' unmanned air systems (UAS) as a potential new solution to deliver cost-effective, sustainable rapid response capability to military, security and civilian customers. Moreover, the security of key institutions has been greatly enhanced with advanced video surveillance and access control systems. Unmanned Aerial Vehicles are used for tactical planning and surveillance of major events or gatherings in large cities. Such factors are expected to fuel the growth of the global military drone market during the forecast period.
Military Drones Market

---

By Region
Asia-Pacific would exhibit the highest CAGR of 13.0% during 2022-2031
The military drones market is segmented into Type, Range, Technology and Application.
Key Benefits For Stakeholders
This report provides a quantitative analysis of the market segments, current trends, estimations, and dynamics of the military drones market analysis from 2021 to 2031 to identify the prevailing military drones industry opportunities.
The market research is offered along with information related to key drivers, restraints, and opportunities.
Porter's five forces analysis highlights the potency of buyers and suppliers to enable stakeholders make profit-oriented business decisions and strengthen their supplier-buyer network.
In-depth analysis of the military drones market segmentation assists to determine the prevailing market opportunities.
Major countries in each region are mapped according to their revenue contribution to the global military drones industry.
Market player positioning facilitates benchmarking and provides a clear understanding of the present position of the market players.
The report includes the analysis of the regional as well as global military drones market trends, key players, market segments, application areas, and market growth strategies.
 Military Drones Market Report Highlights
Aspects
Details
Type

Fixed Wing
Rotary Wing
Hybrid

Range

Visual Line of Sight
Extended Visual Line of Sight
Beyond Line of Sight

Technology

Remotely operated
Semi-autonomous
Autonomous

Application

Intelligence, Surveillance, Reconnaissance, and Target Acquisition
Combat Operations
Delivery and Transportation
Others

By Region

North America (U.S., Canada, Mexico)
Europe (Germany, UK, France, Italy, Rest of Europe)
Asia-Pacific (China, Japan, India, South Korea, Rest Of Asia Pacific)
LAMEA (Latin America, Middle East, Africa)

Key Market Players
Northrop Grumman Corporation, Anduril Industries, Inc., Shield AI Inc., Animal Dynamics Ltd, Insitu, Elbit Systems Ltd., Asteria Aerospace Limited, Teal Drones, Inc., Aeronautics Group, Aeryon Labs Inc, Israel Aerospace Industries, Thales Group, The Boeing Company, Saab AB, AeroVironment, Inc.