Military Robots Market Statistics 2030 -
The global military robots market was valued at $17,556.51 million in 2020 and is projected to reach $34,618.14 million in 2030, registering a CAGR of 7.4%.    
The rapid spread of COVID-19 had a significant impact on the global military robots market in 2020, owing to the implementation of strict lockdown measures, and its consequent after effects across the world. COVID-19 pandemic led to several challenges for the military robots industry such as disruption in the supply chain of essential raw materials, logistics challenges, reduction in defense spending across various countries, and others. On the other hand, the defense systems manufacturers and service providers had to reduce R&D investments and business expansion to withstand the decline in revenue and operating performance of the defense industry. The slow production rate and significant delays in purchase orders were some of the major challenges witnessed in the military robots market throughout the year, and are expected to continue for a few years.
Military robots are autonomous or remote-controlled machines designed specifically for military applications such as surveillance, search and rescue, as well as transportation. Robot deployments in modern battles are supported by the changing nature of warfare and the high costs and soldier casualties. High soldier casualties in the past wars have raised concerns and resulted in various governments investing in new robotic systems to maintain a fleet of UUVs, UAVs, and UGVs for critical mission operations.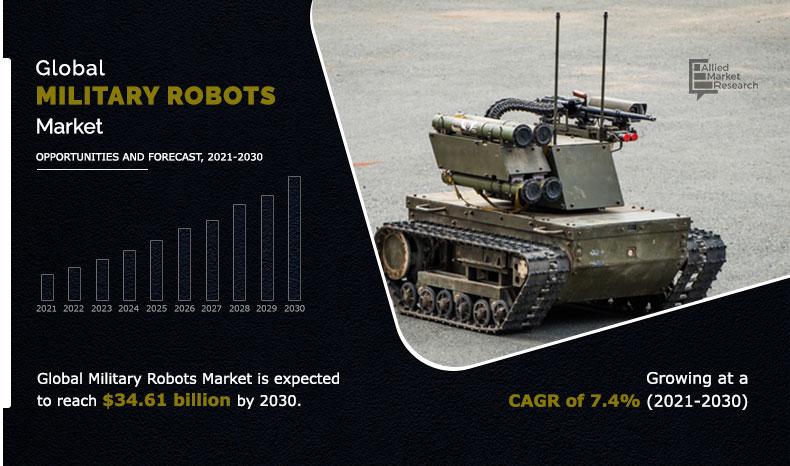 The investment in military robots and related technologies has become quite important for the defense forces throughout the world. Since military robots systems would result in requirements for lesser warfighters, superior defense capabilities could be made available into previously inaccessible locations, and human losses would be reduced by removing military personnel from dangerous missions, military robots systems would prove to be a big military advantage. 
For the purpose of analysis, the report segments the global military robots market based on application, mode of operation, platform, and region. The report outlines the details about major applications of military robots, which include combat support, intelligence, surveillance and reconnaissance (ISR), mine clearance, explosive ordnance disposal (EOD), and others. In addition, the study provides information about various modes of operation such as human-operated and autonomous. Furthermore, the platforms covered in the study include airborne robots, land robots, and marine robots. Moreover, it analyses the current market trends of military robots across different regions such as North America, Europe, Asia-Pacific, and LAMEA and suggests future growth opportunities by analyzing the government regulations & policies.
Infographic for Military Robots Market
Key players operating in the global military robots market include BAE Systems plc, Elbit Systems Ltd., General Dynamics Corporation, Israel Aerospace Industries Ltd., Lockheed Martin Corporation, Northrop Grumman Corporation, Rafael Advanced Defense Systems Ltd., Rheinmetall AG, SAAB AB, and Thales Group. 
Increase in investments to develop autonomous systems throughout the world
Although the adoption of military robots is in its early stages, various militaries are developing and testing weapons that could one day be deployed to fight completely on their own. Big nations such as the U.S., China, and Russia are advancing the development and integration of military robots. For instance, in 2019, the U.S. Department of Defense requested a significant rise in the defense budget to induct autonomous systems. The request included a nearly 10 times increase to the Navy's expenditure on acquiring large unmanned surface vehicles, from $49 million in 2019 to $447 million in 2020. The army aimed to boost the development of robotics through increased spending from $74 to $115 million. The U.S. Department of Defense planned to spend $3.7 billion on robotic systems in the year 2020, along with $2.6 billion on hypersonic weapons and $0.9 billion on AI systems. China is boosting the development of military robots to build up its defense force's capabilities amid rising tensions with various countries. In July 2021, China introduced some of its newest accomplishments in robotic military systems by demonstrating cutting-edge air, sea, and land combat robots at an exhibition in Beijing, displaying the Chinese arms industry's rapid development to meet the requirements of future warfare. In April 2021, Russia's Defense Ministry confirmed its plans to create the nation's first robotic military unit. Russia's military forces have made breakthroughs in integrating artificial intelligence (AI) across military operations and trialed with prototypes during military operations in Syria.
Armed forces across the world have been working on autonomous weapons for several decades now. At least 30 countries today use them, mainly to defend airbases, ground vehicles, or ships against missile attacks. Various countries are competing with each other intensely in order to manufacture or procure leading-edge autonomous weapons, for instance, China and Russia aim to pursue the development of autonomous weapons and are heavily investing in R&D activities. In addition, the UK's new defense strategy is aimed at boosting the defense capabilities leveraging AI, as does Israel. Hence, the rise in investments in order to develop autonomous systems throughout the world is expected to fuel the growth of the military robots market during the forecast timeframe.
Rise in demand for underwater drones for defense and security applications
In recent years, military across the globe (for instance, the U.S. and UK) have begun using underwater drones for observation and inspection purposes. For instance, the U.S. Navy sees underwater drones as a key part of its defense strategy. According to a 2016 United States Department of Defense (DoD) report titled Autonomous Undersea Vehicle Requirement for 2025, the submarine-based underwater drones will be used to increase the effective range of the submarine's weaponry and sensors over the years. Unmanned Underwater Vehicles (UUVs) or drones allow the formation of an underwater surveillance, investigation, and intelligence network. These drones are immensely useful in carrying out dangerous missions like mine countermeasures. In May 2021, the U.S. Navy placed an order with Huntington Ingalls Industries (HII) for the supply of two REMUS 300 unmanned underwater vehicles (UUVs). In 2017, The U.S. Navy commissioned its first underwater dedicated drone unit, Unmanned Undersea Vehicle Squadron One (UUVRON 1). Moreover, in 2016, the U.S. and UK held the first unmanned warrior exercise in Scotland, where drones from different nations were organized together to work as a unit. Other nations such as China, India, UK, France, Russia, and others are developing unmanned vehicles to be used in oceanic warfare. For instance, India is gearing up to develop unmanned underwater vehicles. The Indian navy is soon expected to induct unmanned underwater vehicles amid the rise in conflicts with China. Hence, the rise in usage of underwater drones for military applications is anticipated to propel the growth of the global military robots market during the forecast timeline.
High cost of military drones
Military drones are quite valuable for defense forces as they are designed to perform a variety of operations, for instance, situational awareness, disarm bombs, provide aid to soldiers on the battleground, and also help in search and rescue operations. Currently, various nations across the world use drones for search operations, surveillance, rescue operations, and transportation. However, they incur huge costs for the military. Boeing's subsidiary, Insitu, produced the ScanEagle- a small, long-endurance, low-altitude drone used mainly for reconnaissance purposes. Besides offering reconnaissance, it also helps the Australian Army, U.S. Marine Corps, and U.S. Navy in border control, battleground damage, search and rescue, and more. While it is a useful asset to militaries, it costs around $800,000 per unit. Another prominent drone- the Chengdu Pterodactyl 1, developed by the Chengdu Aircraft Industry Group in the People's Republic of China costs around $1 million per unit. Other very expensive military drones used by the defense forces worldwide include Northrop Grumann X-47B ($405 million per unit), BAE Systems Taranis ($206 million per unit), MQ-25 Stingray ($201 million per unit), RQ-4 Global Hawk ($131 million per unit), MQ-4C Triton ($120 million per unit), Turkish Aerospace Anka ( $100 million per unit), Northrop Grumann X-47B: $405 million per unit, BAE Systems Taranis: $206 million per unit, MQ-25 Stingray: $201 million per unit, RQ-4 Global Hawk: $131 million per unit, MQ-4C Triton: $120 million per unit, and Turkish Aerospace Anka: $100 million per unit. The high costs of military drones make their adoption limited to the developed nations that have a huge defense spending capability. This factor is anticipated to hinder the growth of the global military robots market during the forecast timeframe.  
Communication problems associated with autonomous underwater vehicles (AUVs)
One of the major challenges with the deployment of AUVs is regarding communication and navigation. In the case of underwater communication, information is usually transmitted using the radio waves (for instance submarine communications). Radio signals, for instance, those produced by GPS navigation systems, travel with the speed of light in air or vacuum. But, as the absorption of light in water is several times bigger than that in air, the radio signals can't go reach greater depths underwater and therefore are not feasible for underwater communications.
To overcome these challenges with communications via radio waves, the underwater drone navigation has to depend on different communication technologies, for instance, high-power inertial navigation sensors (INS) that are really expensive and cost thousands of dollars. Hence, the problems related with communication in deep water are estimated to hinder the growth of military robots market during the forecast period. 
Increasing investment for robotics technologies in unmanned ground vehicles
Robotics technology is not new-fangled for military applications; it has long been used by armed forces all over the world. Robots in the military can undertake a variety of combat functions, including explosive disarmament, lethal combat operations, fire support, rescue, logistics support, reconnaissance, and more. These robots can also be considered as a replacement for human soldiers, as they can handle a broader range of combat responsibilities, such as effectively targeting enemy locations and more. During intense artillery fire, military robots can give backup and reduce the number of casualties. They can also map a potentially vast hostile environment with high accuracy by identifying a variety of hazards. These factors are expected to result in the high adoption rate of robotics technologies in the near future. 
In August 2021, Milanion Group, based in the United Arab Emirates, signed a memorandum of understanding with the Ukrainian Armor (a design and manufacturing company), granting the latter distribution rights for the Agema unmanned ground vehicle. Agema is designed to support a wide array of missions, including fire support, surveillance and reconnaissance, national and civil defense and security, anti-tank support, intelligence, fire and rescue, logistical support, and route inspection and clearance. The Amega platform can also provide encoded communications. Besides this, in May 2021, The U.S. armed forces publicized their plans to acquire 600 additional Centaur unmanned ground vehicles (UGV) worth more than $70 million from technology company FLIR Systems. During military operations, the advanced ground robots will be utilized to dismantle landmines and improvised explosive devices, as well as execute other perilous jobs. In July 2021, under project STARTER, L3Harris Technologies delivered 122 T7 explosive ordnance disposal machines to the UK Ministry of Defence (MOD). The defense ministry at first contracted L3Harris to deliver 56 robots in 2017, however, the deal was expanded to 122 units in 2019. These developments point out the rise in demand for unmanned ground vehicles, which is expected to boost the growth of the global military robots market during the forecast timeframe.
Rise in defense spending globally
The global military expenditure has seen exponential growth in recent years. According to Stockholm International Peace Research Institute (SIPRI), the global military expenditure has reached $1,981 billion in 2020 with a 2.6% year-on-year increase. 
The military expenditure accounted for 2.4% of the global gross domestic product in 2020. Thus, an increase in global military expenditure has augmented the adoption of modern digital warfare systems, including robots for all branches of military. In line with boosting the defense capabilities, in May 2021, the U.S. Defense Department was allocated around $7.5 billion for a variety of robotic platforms and related technologies. While the deployment of military robots is costly and requires large capital spending for its R&D, testing, and integration in a variety of applications, an increase in military and defense expenditure globally facilitates the implementation of expensive but necessary robotic systems. Furthermore, advancements of weapons and attacking capabilities worldwide have created the demand for modernization and installation of sophisticated unmanned systems by governments to detect, and prevent threats and offensive attacks from foreign countries. Hence, the increase in defense expenditure is expected to open new avenues for the growth of the military robots market during the forecast timeframe.
COVID-19 Impact Analysis 
The COVID-19 impact on the military robots market is unpredictable and is expected to remain in force till the fourth quarter of 2021. 
The COVID-19 outbreak forced governments across the globe to implement strict lockdowns and banned import-export of non-essential items for most of 2020. This led to sudden fall in the availability of important raw materials. 
Moreover, nationwide lockdowns forced manufacturing facilities to partially or completely shut their operations.
Adverse impacts of the COVID-19 pandemic have resulted in delays in activities and initiatives regarding development of reliable and innovative military autonomous systems globally.
Key Benefits For Stakeholders
This study presents analytical depiction of the global military robots market analysis along with current trends and future estimations to depict imminent investment pockets.
The overall military robots market opportunity is determined by understanding profitable trends to gain a stronger foothold.
The report presents information related to key drivers, restraints, and opportunities of the global military robots market with a detailed impact analysis.
The current military robots market is quantitatively analyzed from 2020 to 2030 to benchmark the financial competency.
Porter's five forces analysis illustrates the potency of the buyers and suppliers in the industry.
Key Market Segments
By Application
Combat Support
Intelligence, Surveillance and Reconnaissance (ISR)
Mine Clearance
Explosive Ordnance Disposal (EOD)
Others
By Mode of Operation
By Platform
Airborne Robots
Land Robots
Marine Robots
By Region
North America
Europe

Germany
UK
France
Russia
Rest of Europe

Asia-Pacific

China
Japan
India
South Korea
Rest of Asia Pacific

LAMEA

Latin America
Middle East
Africa
Key Players
BAE Systems plc
Elbit Systems Ltd.
General Dynamics Corporation
Israel Aerospace Industries Ltd.
Lockheed Martin Corporation
Northrop Grumman Corporation
Rafael Advanced Defense Systems Ltd.
Rheinmetall AG
SAAB AB
Thales Group