Milking Robots Market Research, 2031
The global milking robots market was valued at $1.7 billion in 2021, and is projected to reach $7 billion by 2031, growing at a CAGR of 15.3% from 2022 to 2031. Milking robots are made to best meet the farmer's preferences and requirements. Labor and operational costs are expected to rise as a result of rising demand for dairy products and subsequent expansion in dairy farms worldwide
The COVID-19 pandemic has accelerated the adoption of agricultural robotics and automation. During the coronavirus crisis, component production slowed significantly in order to halt the spread of the infection. However, in the face of numerous challenges such as supply chain disruption and labor shortages, farm owners are realizing that automation may be the key to resolving some of the issues in the event of future disruptions. Agriculture companies that use robotics and automation to farm could benefit significantly from the pandemic's widespread disruption.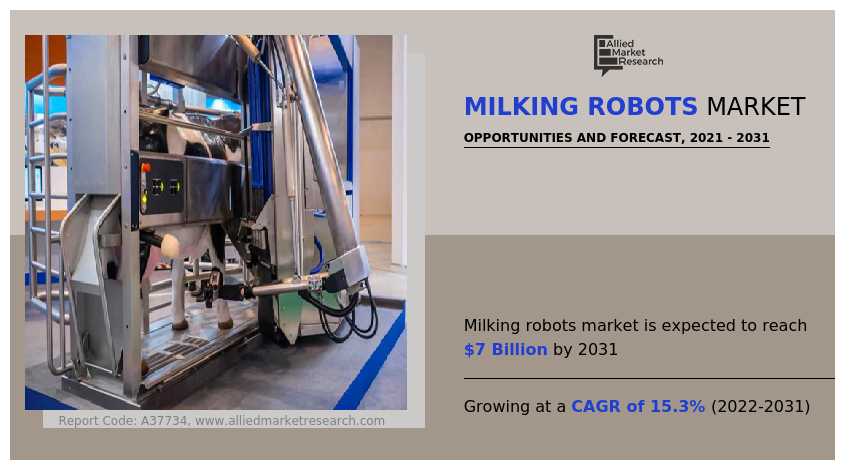 Milking automation technology, such as milking robots, can dramatically reduce labor costs on dairy farms by improving milk output. Not only do milking robots minimize manual labor, but they also increase the number of times a single cow can be milked, hence boosting the output.
The training provided to the cows at dairy farms has a significant impact on the functionality and usefulness of milking robots. Cows need to adjust to the systems in order to operate more effectively. One of the main things that is anticipated to impede the market is inadequate training. Furthermore, the majority of farm owners worldwide own small to medium-sized farms, and investing heavily in advanced and automated solutions may result in financial losses. This is especially prevalent in emerging economies such as India, Brazil, and China, where farm herd sizes are small and the livestock industry is unorganized.
The milking robots industry players are investing a lot of effort on the research and development of smart and unique strategies to sustain their growth in the market. These strategies include product launches, mergers & acquisitions, collaborations, partnerships, and refurbishing of existing technology. In August 2021, The National Gas Company of Trinidad and Tobago Limited (NGC) inked a Consolidated Gas Supply Contract (CGSC) with Milking Robots Holdings (Trinidad) Limited (MHTL), a part of the Proman family of companies, which is also the largest milking robots producer in the world. The agreement is supposed to upkeep operations at the MHTL Milking robots Complex, which includes one of the world's most competent producers of low carbon milking robots -- the mega-Milking Robotic M5 plant.
The key players profiled in this report include Afimilk Ltd., BouMatic Robotics, Dairymaster, DeLaval (Tetra Laval), Fullwood Ltd., GEA Group AG, Lely Industries N.V., Read Industrial Ltd., System Happel and Waikato Milking Systems NZ LP.
The global milking robots market is segmented on the basis of system, offering, herd size, and region. By system, the market is sub-segmented into single-stall milking system, multi-stall milking system, and rotary milking system. By offering, the market is sub-segmented into software, hardware, and services. By herd size, the market is classified into less than 100, between 100 to 1,000, and more than 1,000. By region, the market is analyzed across North America, Europe, Asia-Pacific, and LAMEA.
The milking robots market is segmented into Herd Size, System and Offering.
Milking Robots Market

---
By Herd Size
Less than 100 held the highest revenue in 2021 and is anticipated to continue its dominating over the foreacst period.
By herd size, the less than 100 sub-segment dominated the global milking robots market share in 2021. Robotic milking system are widely used by dairy farm proprietors with herd sizes of between 100 and 1,000 cows because they make it possible to milk several cows at once, increasing milk production. Multi-stall automatic milking is preferred by farms with herds of 100 to 1,000 cows. In such units, a single robot arm can milk up to 500 cows at once and can serve two or more stalls, making it easier and more convenient for farms with bigger herds.
Milking Robots Market

---

By System
Rotary milking system is anticipated to grow at a fastest CAGR during the foreacst period.
By system, the multi-stall milking system sub-segment dominated the market in 2021. Multi-stall models accounted for roughly 44% of the worldwide market share. Due to rising demand for milk and milk products, significant investment in farming technology, and expensive on-farm labor costs, the market is anticipated to witness significant growth. Rising average herd size and technological advancement are expected to drive substantial growth in milking robots adoption in these areas. These are predicted to be the major factors affecting the milking robots market size during the milking robots market forecast.
Milking Robots Market

---
By Offering
Hardware is anticipated to grow at a fastest CAGR during the foreacst period.
By offering, the hardware sub-segment dominated the global milking robots market share in 2021. The milking robot was developed to improve the efficiency and productivity of the milking process. Because robot suppliers wished to keep the data to themselves, it used to be a stand-alone system. However, most robots have become compatible with a wide range of other technologies and devices over the years, and data flows between systems are being encouraged, which is a positive development. Integrating AMS technology with other systems and sensor technology improves cow health and welfare while allowing farmers to respond faster and make better, more informed choices.
Milking Robots Market

---
By Region
Europe held the highest market share in 2021
By region, Europe dominated the global milking robots market overview market in 2021 and is projected to remain the dominating sub-segment during the forecast period. Growing demand of dairy product and subsequent increase in number of dairy farms in Europe is expected to drive the milking robots market growth in this region. A rise in livestock rearing operations has resulted from the region's expanding population and the ensuing rise in demand for milk and dairy products, opening up possibilities for the adoption of automated milking techniques like milking robots. Additionally, it is anticipated that the demand for milking automation solutions will increase as a result of the fast urbanization and economic growth in nations like the UK, Germany, and Spain as well as the rising demand for automatic milker and other dairy products.
Impact of COVID-19 on the Global Milking Robots Industry
The rise of COVID-19 halted global activity. Businesses across industries have experienced an unprecedented effect as a result of the health crisis. Increasing government and corporate funding can aid in the battle against this highly contagious disease. Some sectors are doing well, while others are experiencing difficulties.
Businesses worldwide have suffered revenue losses and disrupted supply chains as a result of covid-19, as factory shutdown and quarantine measures have been implemented globally, restricting movement and business activities.
The rate at which robots and automation are used in agricultural contexts has accelerated due to the COVID-19 pandemic. Production of components was drastically reduced during the coronavirus disaster to stop the infection from spreading.
Although it is expected that the COVID-19 restriction will lead to a 70% decrease in migrant seasonal workers, the level of uncertainty is growing. The National Farmers Union and the Agri-EPI Centre are two groups that have come to the conclusion that the best way to combat this problem is to promote the use of milking robots in the marketplace.
Key Benefits For Stakeholders
This report provides a quantitative analysis of the market segments, current trends, estimations, and dynamics of the milking robots market analysis from 2021 to 2031 to identify the prevailing milking robots market opportunities.
The market research is offered along with information related to key drivers, restraints, and opportunities.
Porter's five forces analysis highlights the potency of buyers and suppliers to enable stakeholders make profit-oriented business decisions and strengthen their supplier-buyer network.
In-depth analysis of the milking robots market segmentation assists to determine the prevailing market opportunities.
Major countries in each region are mapped according to their revenue contribution to the global market.
Market player positioning facilitates benchmarking and provides a clear understanding of the present position of the market players.
The report includes the analysis of the regional as well as global milking robots market trends, key players, market segments, application areas, and market growth strategies.
 Milking Robots Market Report Highlights
Aspects
Details
Market Size By 2031
USD 7 billion
Growth Rate
CAGR of 15.3%
Forecast period
2021 - 2031
Report Pages
280
Herd Size

Less than 100
Between 100 to 1,000
More than 1,000

System

Multi-stall Milking System
Rotary Milking System
Single-Stall Milking System

Offering

Software
Hardware
Services

By Region

North America (U.S., Canada, Mexico)
Europe (Germany, UK, France, Netherlands, Italy, Rest of Europe)
Asia-Pacific (China, Japan, India, South Korea, Australia, Rest of Asia-Pacific)
LAMEA (Brazil, UAE, Saudi Arabia, South Africa, Rest of LAMEA)

Key Market Players
Lely, DeLaval, GEA Group Aktiengesellschaft,  Hokofarm Group, Fullwood Packo, Milkomax Solutions laitières, BouMatic, AktivPuls GmbH,  Waikato Milking Systems NZ LP., DAIRYMASTER