Millet Seeds Market Statistics: 2030
The global millet seeds market was valued at $10.1 billion in 2020, and is projected reach $18.3 billion by 2030, registering a CAGR of 6.1% from 2021 to 2030.The pearl millet segment led in terms of millet seeds market share in 2020, however, the proso millet is expected to have the highest growth in the forecast period.
Millets are coarse grains that are grown majorly in Asia and Africa. It is a part of a staple diet of consumers residing in Asia and Africa. Millets require relatively less amount of water to grow as compared to other cereals such as rice wheat, and are not harmed by sever climatic conditions. As a result, millets are prominent source of nutrition in geographical areas having harsh climatic conditions especially in the western and southwestern African countries. Millets rich in nutrition such as of proteins, calcium, fiber, vitamins, and minerals which are beneficial for human nourishment. Furthermore, they are low in carbohydrates, and thus can be utilized as power food in the form of energy bars or protein snacks. Moreover, millets are rich source of nutrition for people with gluten allergies, as millets do not contain gluten. Furthermore, breads, cakes, and desserts made form millets are completely harmless for people with gluten allergies, hence, a greater number of people with such allergies are adopting millets as an alternative for wheat. Thus, increase in   consumer awareness regarding health benefits associated with millets in is expected to strengthen the growth of the global millet seeds market. Furthermore, increase has been witnessed in the demand for millets among consumers with practicing veganism, owing to high protein densities, which notably contributes toward the growth of the market.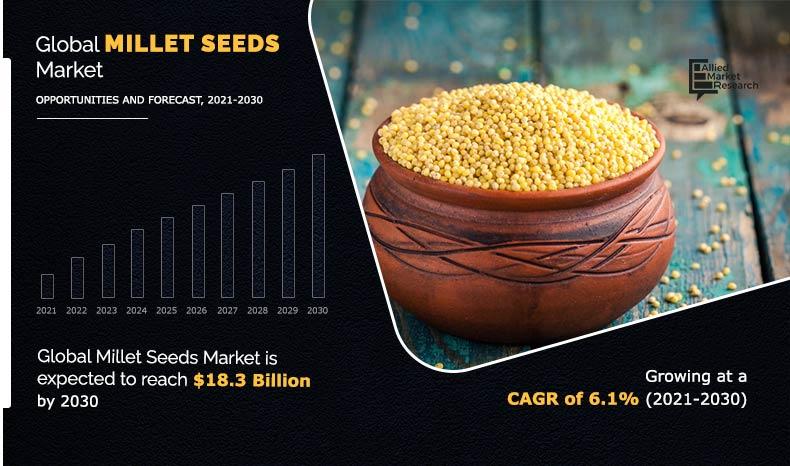 Rise in awareness about eating organic, nutrient-rich foods in the west is leading to a greater adoption of millets in western countries, especially in Europe. In addition, these countries are realizing the potential of millets as power foods, which is further bolstering the popularity of millets in the western countries. UK, the U.S., Denmark are some of the major countries in the west where high demand for millets can be observed.
Segment review
The global millet seeds market is segmented into type, nature, sales channel, and region. Depending on type, the global market is segregated into pearl millet, finger millet, proso millet, foxtail millet, and others. On the basis of nature, it is bifurcated into conventional and organic. By sales channel, it is fragmented into across hypermarket/supermarket, specialty store, and others. Region wise, it is studied across Asia-Pacific, Africa, Europe, and rest of the world.
Millet Seeds Market

---
By Type
Proso millet segment would exhibit the highest CAGR of 7.7% during 2021-2030.
By type, pearl millet is the most commonly used and consumed across the globe, followed by other various types of minor millets. The use of prose millet is slowly increasing, and it is expected to positively impact the growth of the overall market during the forecast period.
Millet Seeds Market

---
By Nature
Organic segment would exhibit the highest CAGR of 7.9% during 2021-2030.
Depending on the nature, the organic segment is expected to witness the highest CAGR during the forecast period, owing to the fact that organic millets are completely natural, and pesticide-free.
Millet Seeds Market

---
By Sales Channel
Others segment would exhibit the highest CAGR of 7.8% during 2021-2030.
By sales channel, specialty stores are the most common and the most easily accessible types of stores for purchase of millet seeds, hence, the segment captures the highest market share.
Millet Seeds Market

---
By Region
Rest of World region would exhibit the highest CAGR of 8.4% during 2021-2030.
By region Asia Pacific dominates the global market. Millet seeds are a staple diet in many of these countries in the region, consumed in the form of flat breads, sweets, deserts, alcoholic, and nonalcoholic beverages. It has been cultivated in the region since ancient times, and the export of millet seeds form this region is significantly large.
The report focuses on the millet seeds market growth prospects, restraints, and opportunities of the global millet seeds market. The study provides Porter's five forces analysis to understand the impact of various factors such as competitive intensity of competitors, bargaining power of suppliers, threat of substitutes, threat of new entrants, and bargaining power of buyers of the millet seeds market.
Some of the major players profiled for in the millet seeds market analysis include Allied Seed, Crystal Crop Protection Ltd., Delphi Organic GmbH, Eastern Colorado Seeds, Hancock Seed & Company, Mamta Hygiene Products Pvt Ltd, Mirfak Pty Ltd, Nuts in Bulk, RR Agro Foods, and Soya UK Ltd. Other prominent players analyzed in the report are Alta Seeds, Bayer, Corteva Agriscience, and Johnston Seed Company.
COVID-19 impact analysis
Millet seeds industry was slightly positively impacted during the pandemic, owing to increase in demand of healthy foods.
The COVID-19 pandemic disrupted the export of millet to the western countries, but increased local demand in Asia-Pacific and Africa, which led to increased sales.
Increase in demand for natural and organic foods is expected to create high demand for organic millets market.
Key Benefits For Stakeholders
The report provides an extensive analysis of the current and emerging market trends and opportunities.
The report provides detailed qualitative and quantitative analysis of the current trends and future estimations that help evaluate the prevailing opportunities in the market.
The millet seeds market forecast is offered along with information related to key drivers, restraints, and opportunities.
The market analysis is conducted by following key product positioning and monitoring the top competitors within the market framework.
The report provides extensive qualitative insights on the potential and niche segments or regions exhibiting favorable growth.
 Millet Seeds Market Report Highlights
Aspects
Details
By Type

Pearl Millet
Finger Millet
Proso Millet
Foxtail Millet
Others

By Nature
By Sales Channel

Hypermarket/Supermarket
Specialty Stores
Online Channels

By Region

.Asia-Pacific (India, China, Nepal, Myanmar, Australia, Rest of Asia Pacific)
Africa (Niger, Nigeria, Mali, Sudan, Ethiopia, Burkina Faso, Senegal, Chad, Rest of Africa)
Europe (Russia, Ukraine, Rest of Europe)
Rest of World (North America, Latin America, Middle East)

Key Market Players
CRYSTAL CROP PROTECTION PVT. LTD., MAMTA HYGIENE PRODUCTS PVT LTD, SOYA UK LTD, ALLIED SEED, LLC, HANCOCK SEED & COMPANY, MIRFAK PTY LTD, RR AGRO FOODS, NUTS IN BULK (Outlet Wholefood Company Ltd.), EASTERN COLORADO SEEDS, LLC, DELPHI ORGANIC GMBH