Millimeter Wave Technology Market Outlook - 2027
The global millimeter wave technology market size is expected to reach $3.88 billion by 2027 from $369.9 million in 2019, growing at a CAGR of 37.1% from 2020 to 2027. 
Millimeter wave is a kind of electromagnetic technology used in various products such as phones, cars, medical devices, and others to ensure wireless broadband communications at a higher speed. It is extremely high frequency (EHF) as it presents signal spectrum ranges from 30 GHz to 300 GHz with a wavelength between 1 and 10 mm. Moreover, millimeter wave technology provides security for communication transmission.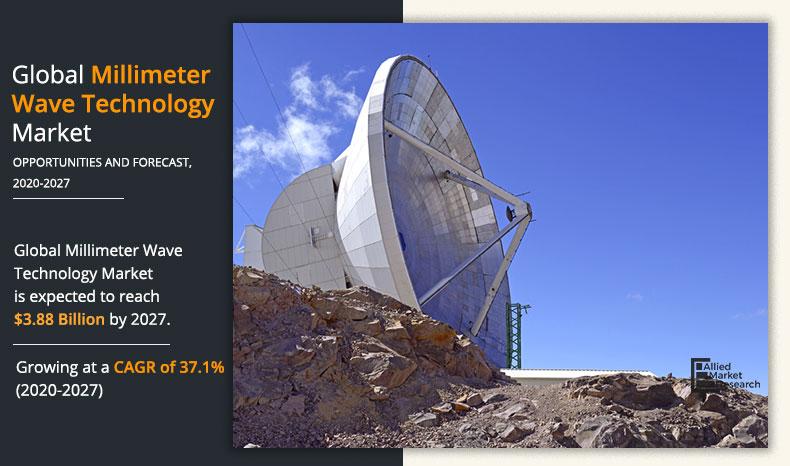 This millimeter wave technology market is experiencing high adoption in various industrial and commercial sectors such as providing wireless communication in smart wearable, smart phones, and smart watches. Technological advances in digital networks connect number of devices and sensors together, which ensures advances in healthcare, education, transportation, automotive, telecommunication, and other industries. Hospitals are now using autonomous millimeter wave technology for medical imaging. Military and aerospace use millimeter wave technology in segments such as radar and satellite communications, which are mainly deployed by the military in combat scenarios. The telecommunication industry uses millimeter wave technology for transmitting the data over long distances. 
In addition, increase in demand for higher bandwidth increases the demand for new technologies such as mm wave over fiber optic cable, which provides high data transmission at high rate. Rise in demand for connected devices among the consumers such as smartphones, tablets, and others drives the millimeter wave technology market growth. Millimeter wave technology offers various advantages over fiber optics such as high bandwidth, high speed, and more secured transmission.
Rise in adoption of multimeter wave technology trend in healthcare and aerospace industries due to increase in demand for imaging devices networks, monitor, and foremost for security. Furthermore, increase in demand for millimeter wave solutions in the industrial segment due to increase in adoption of building automation ensures high accuracy occupancy detection and tracks the people from both indoor and outdoor at a range from 14 m to 50 m. Thus, increase in advancement in the field of material research, imaging system, and process control in the industrial sector drives the millimeter wave technology market growth. However, high cost and environmental concerns related to 5G and limited range acts as a major restraint, which hampers the growth of millimeter wave technology industry.
Nonetheless, there is increase in demand for millimeter wave technology market in unmanned vehicles, owing to shift in preference of consumers from normal cars to smart driver's assistant cars, which assist automatic parking, braking, GPS navigation, blind spot detection collision avoidance system, and others. Hence, such benefits can be entitled only with the integration of millimeter wave technology. 
Moreover, rise in demand for millimeter wave technology in the military, defense, and aerospace (MDA) sector due to easy and faster exchange of information for instance, orders, commands from one place to another with high connectivity and security by making use of various applications such as electronic warfare, radar, tactical, and satellite communications. These factors are expected to create lucrative opportunities for the millimeter wave technology market globally.
The millimeter wave technology market analysis includes various segments such as component, product type, license type, frequency band, application, and region. By component, the market is divided into antenna & transceiver components, frequency sources & related components, communication & networking components, imaging components, RF & radio components, sensors & controls, and others. Based on product, the market is fragmented into scanner systems, radar & satellite systems, and telecommunication equipment. 
Based on license type, the market is segregated into light licensed frequency, unlicensed frequency, and fully licensed frequency. Based on frequency band, the market is classified into below 57 GHz, between 57 GHz & 300 GHz, and around 300 GHz. On the basis of application, the millimeter wave technology market is classified into telecom and datacom, military & defense, automotive, industrial, consumer, medical, and others. Region wise, the market is analyzed across North America (the U.S., Canada, and Mexico), Europe (the UK, Germany, France, Italy, and rest of Europe), Asia-Pacific (China, India, Japan, South Korea, Australia, and rest of Asia-Pacific), and LAMEA (Latin America, Middle East, and Africa).
COVID-19 is having a large impact on both consumer and the economy. Electronics manufacturing hubs have been temporarily shut down to liming the COVID-19 spread among the individuals. This has majorly affected the supply chain of the semiconductor market by creating shortages of materials, components, and finished goods. Lack of business continuity has ensured significant negative impacts on revenue, shareholder returns, and revenue, which are expected to create financial disruptions in the millimeter wave technology industry.
Millimeter Wave Technology Market

---
By Product
Telecommunication Equipment segment is projected as one of the most lucrative segments.
Despite the economic slowdowns, 5G demand in several industries has been accelerating. Online and essential retail, manufacturing, and healthcare (including physical, mental, and elderly care) are expected to utilize 5G technologies. With the enhanced capabilities of 5G, particularly private 5G networks for manufacturing and healthcare, the demand for 5G infrastructure is expected to rise.
Physical distancing and spikes in patient volumes in hospitals due to COVID-19 are driving the need for advanced connectivity in healthcare. With the help of video conferencing and many cloud-connected IoT endpoints, 5G-enabled telemedicine, including remote patient monitoring is expected to allow access to medical care without potential exposure to COVID-19 and reduces hospital bed demand.
However, various supply chain forces will impact the telecommunications ecosystem. For instance, most 5G network operators rely on equipment from Huawei, Nokia, and Ericsson, despite the rise of open radio access networks. The 5G New Radio supply chain has been negatively impacted, mainly because most 5G radio units and active antennas are being manufactured in China.
Millimeter Wave Technology Market

---
By Application
Telecom and Datacom segment is expected to secure leading position during forecast period.
Top Impacting Factors
The notable factors positively affecting the millimeter wave technology market include increase in usage of testing in 5G technology in countries such as the U.S., China, Japan, and South Korea; rise in adoption of electronic appliances; and surge in usage of millimeter wave technology-based scanner systems in airports worldwide. However, rise in environmental concerns and adverse impact by millimeter wave technology on the environment hamper the market growth. Moreover, emerging trends and usage of millimeter wave technology in aerospace & defense and increase in demand for autonomous vehicle offers huge millimeter wave technology market opportunities in the next seven years. 
Competition Analysis
Competitive analysis and profiles of the major millimeter wave technology market players, such as NEC Corporation, L3 Technologies, Inc., Keysight Technologies, Millimeter Wave Products Inc., BridgeWave Communications (REMEC Broadband Wireless Networks), CableFree: Wireless Excellence, Farran Technology, E-Band Communications, LLC, SAGE Millimeter, Inc., Siklu Communication, Denso Corporation, Fujitsu, Mitsubishi Electric Corporation, MMW Biomedical, and Hubei YJT Technology are provided in this report. These key players have adopted strategies, such as product portfolio expansion, mergers & acquisitions, agreements, geographical expansion, and collaborations to enhance their millimeter wave technology market penetration.
Millimeter Wave Technology Market

---
By Geography
Asia-Pacific region would exhibit the highest CAGR of 41.8% during 2020-2027
Key Benefits For Stakeholders
This study comprises analytical depiction of the global millimeter wave technology market share along with the current trends and future estimations to depict the imminent investment pockets.
The overall market analysis is determined to understand the profitable trends to gain a stronger foothold.
The report presents information related to key drivers, restraints, and opportunities with a detailed impact analysis.
The millimeter wave technology market forecast is quantitatively analyzed from 2020 to 2027 to benchmark the financial competency.
Porter's five forces analysis illustrates the potency of the buyers and suppliers in the market.
The report includes millimeter wave technology market trends and share of key vendors.
 Millimeter Wave Technology Market Report Highlights
Aspects
Details
By Component

Antenna & transceiver components
Frequency sources & related components
Communication & networking components
.Imaging components
RF & radio components
Sensors & controls
Others

By Product

Scanner system
Radar and satellite communications system
Telecommunication equipment

By License Type

Light licensed
Unlicensed frequency
Fully licensed frequency

By Frequency

24 GHz to 57 GHz
58 GHz to 86 GHz
87 GHz to 300 GHz

By Application

Telecom & datacom
Military, defense, & aerospace
Automotive
Industrial
Consumer
Medical
Others

By Region

North America (U.S, Canada, Mexico)
Europe (UK, Germany, France, Italy, Rest of Europe)
Asia-Pacific (China, Japan, India, Australia, South Korea, Rest of Asia-Pacific)
LAMEA (Latin America, Middle East, Africa)

Key Market Players
.BRIDGEWAVE COMMUNICATIONS (REMEC BROADBAND WIRELESS NETWORKS), .CABLEFREE: WIRELESS EXCELLENCE, E-BAND COMMUNICATIONS, LLC, FARRAN TECHNOLOGY, KEYSIGHT TECHNOLOGIES, L3 TECHNOLOGIES, INC., MILLIMETER WAVE PRODUCTS INC., NEC CORPORATION, SAGE MILLIMETER, INC., SIKLU COMMUNICATION, FUJITSU LIMITED, DENSO CORPORATION, MITSUBISHI ELECTRIC CORPORATION, MMW BIOMEDICAL ENGINEERING TECH, .HUBEI YJT TECHNOLOGY CO., LTD.