Mining Drilling Services Market Outlook - 2030
The mining drilling services market was valued at $2.5 billion in 2019, and is projected to reach $4.4 billion by 2030, growing at a CAGR of 6.7% from 2020 to 2030. Drilling services include drilling work carried out on contract basis for numerous mining customer bases, operating across the wide ranges of commodities such as coal, metals, and others. Various types of drilling services are surface drilling, underground coring, and others. Furthermore, the drilling services' agreements are typically carried out through a tender process. Drilling service providers quote an extensive costing process that guarantees that the projects are well planned and taken into consideration the geography, geology, time-frame, and others.
Drilling is a significant component of the mining industry and used for various purposes such as body characterization, surface & underground blast hole drilling, underground roof bolting & cabling, dewatering, and others. There are numerous advancements in the drilling technology such as development of global positioning system (GPS), wireless communications, sensors, and others. While there are numerous things at development stage such as automated drill rigs and battery-operated drill rigs. An automated drilling rig provides the mining industry a rapid solution for excavation operation.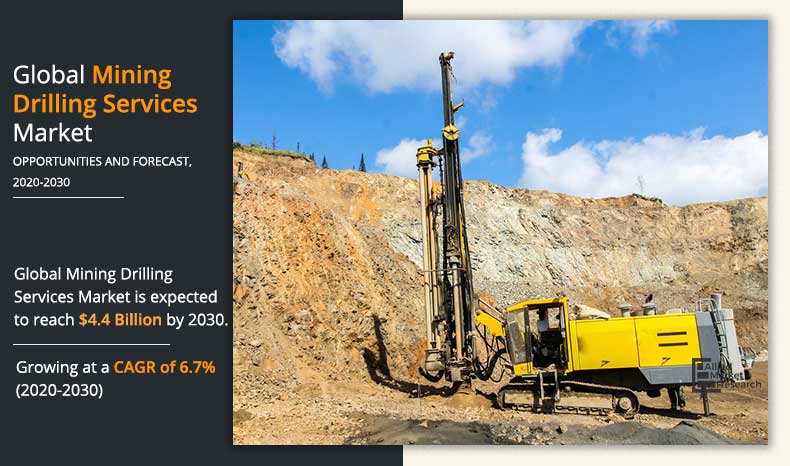 Furthermore, battery-operated drill rigs have potential of drilling blast patterns in short period of time as well as accurately than any human-operated machines. Some of the advantages of battery-operated drill rigs are no harmful exhaust fumes, less maintenance costs, and if equipped with chargers or exchangeable batteries would offer support for long-working hours of continuous mining operations. Drilling technology has evolved and served the needs of the industry. 
Moreover, the demand for minerals is estimated to increase as many countries in the world are aiming to achieve low carbon economy. While fossil fuels have improved living standards up to certain extent, their related problems such as greenhouse gas emissions has led to global warming. Therefore, to tackle global warming many industries have taken several steps, for instance, the automotive industry is focusing toward the development of low-emission energy and transportation systems. Low-emission energy and transportation systems are more mineral intensive than their fossil fuel-based components; this transition to low carbon economy is anticipated to offer lucrative growth opportunity for the mining sector.
On the basis of mining type, the global mining drilling services market is segmented into metal, coal, mineral, and quarry. By region, the market is studied across North America, Europe, Asia-Pacific, and LAMEA. The key players operating in the mining drilling services market are BoartLongyear, Ausdrill, Action D&B, PAMA, Byrnecut Australia, and others.
Global mining drilling services market, by Mining Type
By mining type, the mineral segment accounted for the largest mining drilling services market share in 2019, and is anticipated to continue this trend during the forecast period. This is attributed to rise in production of minerals across the globe.
Mineral mining is very important for metal productions, which are used in number of applications such as electrical, construction, and automotive. Moreover, growth in trends toward low-carbon economy increases the demand for mineral mining, which further fuels the growth of the drilling services market during the forecast period. In addition, increase in the demand for commodities across the globe drives the growth of the market for mineral mining. Furthermore, digitalization in mining offers instrumented, interconnected, and integrated mining operations. This helps in monitoring drilling services and further improves the mining operations; thereby, boosting the growth of the market globally. Metal production, metal trade, and metal investing are the key factors that drive the growth of the global mining drilling services during the forecast period.
Mining Drilling Services Market

---
By Application
Mineral is projected as the most lucrative segment.
Get more information on this report :
Request Sample Pages
Global mining drilling services market, by region
Asia-Pacific valued for the highest market share of 57.0% in 2019, owing to increase in demand for minerals and precious metals such as gold, silver, diamond, and platinum, which lead to a higher penetration of mining drills and breakers in Asia-Pacific. Furthermore, rise in demand for coal production, owing to rise in demand for power is driving the growth of the drilling services market in the Asia-Pacific region during the forecast period.   
Mining Drilling Services Market

---
By Region
Asia Pacific holds a dominant position in 2019 and would continue to maintain the lead over the forecast period.
Get more information on this report :
Request Sample Pages
China is the largest contributor to the Asia-Pacific metal and coal mining industry in terms of production, consumption, and reserves. The demand for high-quality machinery can be an opportunity for the players in the industry. Indonesia is one of the top producers and exporters of coal. Indonesia has large amount of proven reserves of medium and low-quality coal. Moreover, rise in demand from the developing countries such as China and India, from the Asia-Pacific region, is expected to boost the production of coal in Indonesia. Which, in turn, is anticipated to fuel the growth of the market. 
Key Benefits For Stakeholders
The report provides an in-depth mining drilling services market analysis of the mining drilling services market forecast along with the current and future market trends.

This report highlights mining drilling services market growth, the key drivers, opportunities, and restraints of the market along with the impact analyses during the forecast period.

Porter's five forces analysis helps analyze the potential of the buyers & suppliers and the competitive scenario of the industry for strategy building in mining drilling services market forecast.

A comprehensive analysis covers mining drilling services market trends, factors that drive and restrain the market growth.

The qualitative data in this report aims on mining drilling services market size, market dynamics, trends, and developments.
 Mining Drilling Services Market Report Highlights
Aspects
Details
By Mining Type

Coal
Metal
Mineral
Quarry

By Region

North America (U.S., Canada, Mexico)
Asia-Pacific (Indonesia, Australia, Rest of Asia-Pacific)
Europe (Germany, UK, Sweden, Denmark, France, Italy, Spain, Rest of Europe)
LAMEA (Brazil, South Arabia, South Africa, Rest of LAMEA)

Key Market Players
BOARTLONGYEAR, PT UNITED TRACTORS TBK, BYRNECUT GROUP, ACTION DRILL & BLAST, AUSDRILL