Missile Defense System Market Statistics 2030 -
The global missile defense system market was valued at $26.16 billion in 2020, and is projected to reach $40.04 billion in 2030, registering a CAGR of 4.4%.    
The rapid spread of COVID-19 had a significant impact on the global missile defense system market in 2020, owing to the implementation of strict lockdown measures across the world. COVID-19 pandemic led to several challenges for the missile defense system industry such as disruption in the supply chain of raw materials, logistics challenges, and others. On the other hand, the missile defense system manufacturers had to reduce expansion and R&D investments to withstand the decline in revenue and operating performance of the defense industry. The delay in purchase orders and slow production rate were some of the challenges observed in the missile defense system market throughout the year, and are expected to continue for a few years.
Missile defense systems include land and marine-based technologies used by the defense forces to guard against a variety of missiles, including cruise and ballistic missiles. Amid rise in conflicts and war-like situations across different parts of the world, the demand for missile defense systems have grown at a significant rate. Missile defense systems ensure the safety of national assets and citizens against missile attacks.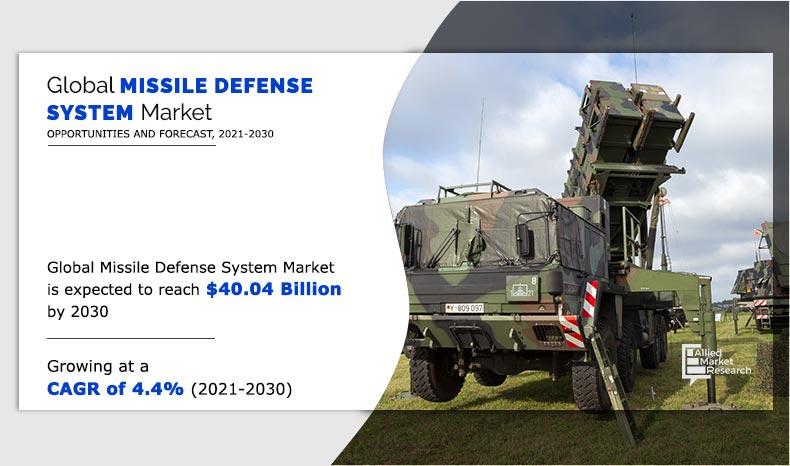 With the introduction of more lethal, covert, and nimble enemies, the character of modern warfare has evolved. As the nature of warfare has changed, countries tend to invest in defensive spending; this has resulted in the development of numerous missile defense systems. Missile defense systems are used to counter incoming missiles such as ballistic missiles, cruise missiles, and other types of missiles. Currently, large defense corporations all around the world are substantially investing on the development of missile defense systems. 
The market segmentation is based on range, threat type, domain, and region. Depending on range, the market is categorized into less than 100Km, 101-200Km, and 201-400Km. On the basis of threat type, the market is segregated into subsonic missiles, supersonic missiles, and hypersonic missiles. By domain, it is fragmented into ground and marine. Region wise, the market is analyzed across North America, Europe, Asia-Pacific, and LAMEA.
Competitive analysis and profiles of the major missile defense system market players include BAE Systems plc, General Dynamics Corporation, Leonardo Spa, Lockheed Martin Corporation, MBDA, Northrop Grumman Corporation, Raytheon Technologies Corporation, Rheinmetall AG, Thales Group, and The Boeing Company.
Rise in number of conflicts throughout the world
Over the past decade, the world has witnessed a tremendous rise in conflicts almost all around the world. The rise in tensions among several countries such as India-China, India-Pakistan, Israel, China-Taiwan, China-Japan, and many Arab nations, have resulted in the development and procurement of missile defense systems. For instance, in November 2021, Russia began the delivery of S-400 missile defense systems that were bought by India in 2018 for nearly US$5.5 billion. Furthermore, Russia completed delivery of the second regimental set of Russian-made S-400 Triumf long-range interceptor-based air defense systems destined for service in the Chinese People's Liberation Army Air Force (PLAAF) in February 2020.
Six countries lay overlapping rights to the South and East China Seas, which is an area that is abundant in natural gas and hydrocarbons, and via which trillions of dollars of international trade flow happen annually. As China enlarges its naval dominance and constructs military bases on man-made islands, it has been met by increased forcefulness from other regional claimants such as Japan, Vietnam, and the Philippines. The U.S. has also built up its military activities and maritime presence in the seas, indicating the country's raised role in the clashes, which, if not handled properly, might turn part of Asia's flourishing trade channels into grounds of continuous conflicts, thus leading to more tensions in the region. The rise in conflicts across different parts of the world to gain dominance in commercial or defense arenas is expected to drive the growth of the global missile defense system market during the forecast period.
Missile Defense System Market

---
By Range
201-400Km is projected as the most lucrative segments
Surge in defense spending globally
The global defense expenditure has seen exponential growth in recent years. According to Stockholm International Peace Research Institute (SIPRI), global defense spending reached $1,981 billion in 2020 with a 2.6% year-on-year increase. The military expenditure accounted for 2.4% of the global gross domestic product (GDP) in 2020. Thus, an increase in global military expenditure has augmented the adoption of efficient missile defense systems, including the U.S.'s Terminal High Altitude Area Defense (THAAD), Israel's Iron Dome, and Russia's S-400. 
While the deployment of missile defense systems is costly and requires large capital spending for its integration in a variety of platforms, an increase in defense expenditure facilitates the implementation of expensive yet necessary missile defense system technologies. Furthermore, advancements of weapons and attacking capabilities worldwide have created the demand for modernization and installation of sophisticated defense technologies by governments to prevent threats and offensive attacks from foreign countries. Hence, the increase in defense expenditure is expected to open new avenues for the growth of the missile defense system market during the forecast period.
Missile Defense System Market

---
By Threat Type
Hypersonic Missiles is projected as the most lucrative segments
High costs associated with missile defense systems
In the current scenario of rise in conflicts and war-like situations that are being witnessed across the world, the development or procurement of missile defense systems is crucial to defend the national boundaries. However, the high costs of missile defense systems have resulted in their procurement being limited to only a few nations globally. According to a new Congressional Budget Office (CBO) report published in January 2021, the U.S. Department of Defense's (USDoD) missile defense costs could reach a massive $176 billion between 2020 and 2030. CBO's 10-year cost estimations include costs associated with research, development, sustainment, procurement, and operation of missile defenses. 
Recently, Russia has started the delivery of the S-400, which India bought for about $5 billion in 2018 to defend its northern boundaries amid the rise in threats from China and Pakistan. One of the well-known missile defense systems is Iron Dome, which the world witnessed in action, when deployed against Palestine fired rockets. With regards to its cost, each battery reportedly costs $100 million and each interceptor missile around $50,000. Furthermore, according to a CNBC report, each unit of THAAD can cost an estimated $3 billion. In November 2018, Saudi Arabia signed an agreement with the U.S. to purchase 44 THAAD launchers and missiles for $15 billion. Such high costs associated with missile defense systems are expected to limit the growth of the missile defense system market during the forecast period.
Missile Defense System Market

---
By Domain
Marine is projected as the most lucrative segments
Rise in adoption of AI in military operations
One of the popular missile defense systems is the Iron Dome. It is an artificial intelligence (AI)-powered anti-missile system that is reportedly 90% effective. The Iron Dome employs artificial intelligence to decide if the approaching wave of short-range rockets and missiles will strike the common people or the state's important assets. Unmanned Aerial Vehicles (UAVs), guided missiles, and cruise missiles are among the threats that the AI system identifies, analyzes, and ultimately obstructs. In addition, AI and machine learning (ML) could also be useful in analyzing a vast amount of missile testing-data. A typical testing of ground-based midcourse defense generates terabytes of data. Using AI can ease the processing of data and provide vital insights to improve the functioning of the missile defense system. 
Rise in developments in artificial intelligence (AI) and deep learning systems, alongside the rapid growth in graphics processing unit (GPU) hardware performance, have opened up new opportunities for using AI to do highly difficult tasks faster than more traditional methods. Identification and classification of tracked objects, defense design, and dynamic planning & tasking are all possible applications within the Army's Integrated Air and Missile Defense (IAMD) system. Hence, the rise in incorporation of AI in missile defense systems is anticipated to boost the growth of the missile defense system market during the forecast period.
Missile Defense System Market

---
By Region
Asia-Pacific would exhibit the highest CAGR of 5.2% during 2021-2030.
COVID-19 Impact Analysis 
The COVID-19 impact on the missile defense system market is unpredictable, and is expected to remain in force for a few years. 
The COVID-19 outbreak forced governments across the globe to implement stringent lockdown and ban import–export of raw materials items for most of 2020 & few months in 2021. This led to sudden fall in the availability of important raw materials for manufacturing ground defense equipment.
Moreover, nationwide lockdown forced parts manufacturing facilities to partially or completely shut their operations.
Adverse impacts of the COVID-19 pandemic have resulted in delays in activities and initiatives regarding development of modern missile defense systems globally.
Key Benefits For Stakeholders
This study presents analytical depiction of the global missile defense system market analysis along with the current trends and future estimations to depict imminent investment pockets.
The overall missile defense system market opportunity is determined by understanding profitable trends to gain a stronger foothold.
The report presents information related to key drivers, restraints, and opportunities of the global missile defense system market with a detailed impact analysis.
The current missile defense system market is quantitatively analyzed from 2020 to 2030 to benchmark the financial competency.
Porter's five forces analysis illustrates the potency of the buyers and suppliers in the industry.
 Missile Defense System Market Report Highlights
Aspects
Details
By Range

Less than 100Km
101-200Km
201-400Km

By Threat Type

Subsonic Missiles
Supersonic Missiles
Hypersonic Missiles

By Domain
By Region

North America (U.S., Canada, Mexico)
Europe (Germany, UK, France, Russia, Rest of Europe)
Asia-Pacific (China, Japan, India, South Korea, Rest of Asia Pacific)
LAMEA (Latin America, Middle East, Africa )

By KEY PLAYERS

Bae Systems plc
General Dynamics Corporation
Leonardo Spa
Lockheed Martin Corporation
MBDA
Northrop Grumman Corporation
Raytheon Technologies Corporation
Rheinmetall AG
Thales Group
The Boeing Company