Mobile Phone Accessories Market Outlook - 2026
The global mobile phone accessories market size was valued at $224.69 billion in 2018, and is projected to reach at $284.06 billion by 2026, growing at a CAGR of 3.1% from 2019 to 2026. Mobile phone plays an important and vital role in modern day to day life. Increase in the adoption of smartphones, as they offer effective connectivity to the digital world majorly drives the mobile phone accessories market. Rise in demand for wireless accessories also boosts the market growth. This increase in demand is due to the change in customer preferences to listen to music on portable devices, such as smartphones and tablets.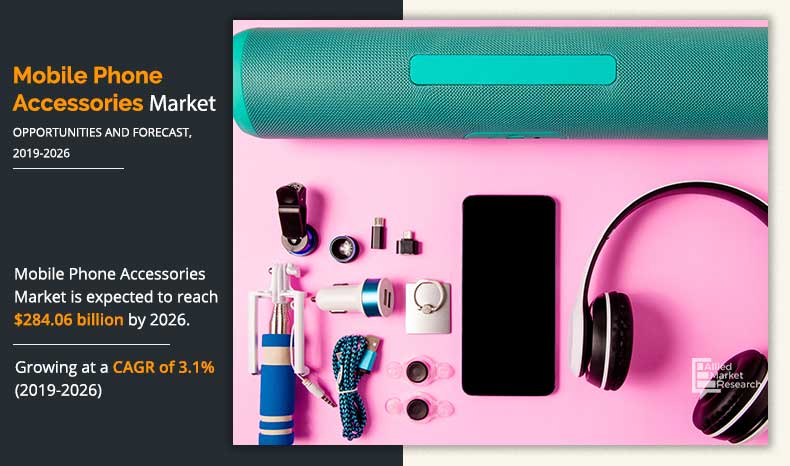 Rise in demand for wireless accessories drives the mobile phone accessories market growth. This increase in demand is due to the change in customer preferences to listen to music on portable devices, such as smartphones and tablets. Music is easily accessible through music streaming platforms, which include YouTube and SoundCloud. The demand for mobile phone accessories has increased due to an upsurge in disposable income and rise in the popularity of social networking sites in urban areas. In addition, increase in internet penetration also boosts the online retailing platform. However, excessive use of headphones affects the hearing ability of the users, which restricts the market growth. Rapid technological advancements, including implementation of noise canceling technology, Bluetooth/NFC speakers, and built-in fan and light in selfie sticks, are expected to offer lucrative growth opportunities in the near future. However, the imposition of tariffs on imports and exports among leading manufacturing countries result in significant changes in the global technological landscape. The future market uncertainty restricts the companies to invest and reduce the pace of development.
The key players operating in the global mobile phone accessories market are Panasonic Corporation, Sennheiser Electronic GmbH & Co. KG, Sony Corporation, Samsung Electronics Co., Ltd., Apple Inc., Bose Corporation, BYD Co Ltd., Plantronics, Inc., Energizer Holdings, Inc., and JVC Kenwood Corporation. Key players spend heavily on developing innovative accessories to gain mobile phone accessories market share.
Mobile Phone Accessories Market

---
By Product Type
Portable Speakers is projected as the most lucrative segment.
Segment Overview
The global mobile phone accessories market trends are analyzed on the basis of various segments including product type, distribution channel, price range, and region. By product type, the market is divided into battery, headphone/earphone, portable speaker, charger, memory card, power bank, battery case, protective case, screen guards, popsockets, and others (USB cable and selfie stick). By distribution channel, it is bifurcated into online and offline. By price range, it is segmented into premium, mid, and low. By region, the market is analyzed across North America, Europe, Asia-Pacific, and Latin America and Middle East (LAMEA).
Growth in usage of smart mobile phones
Rapid technological development of mobile phones in the twenty-first century has led to its adoption as a utility, used for day to day tasks such as alarm, task reminders, remote controlling appliances, and others. Further, the entertainment and media exploring functionalities such as large touch screens, speakers, easy control volume buttons, voice control intelligence, and other applications, add value in the market. As a result, smartphones have found replacement of laptops, cameras, wrist watches, and other electronics up to a considerable level. Moreover, the features such as handsfree and others generate the need of headsets and earphones urge the user to buy these mobile accessories. Furthermore, the fragile frame and display screen of mobile phones, drive users to purchase protective case and screen guards as well. These protective accessories are manufactured in terms of design and quality to attract users. Therefore, the increase in penetration of smartphone fuels the growth of the mobile phone accessories market as well.
Mobile Phone Accessories Market

---
By Price Range
Premium accessories will dominant the market in 2026.
Rise in usage of smart wireless accessories
Various features with the advancement of technology such as AI and IoT make way for hyper connectivity and intelligence in the electronic devices. This promotes the use of wireless mobile accessories such as smart wearable, smart speakers, wireless headsets & earphones, and others. Furthermore, the advancement in the sector of smart wireless mobile accessories result in mobile phone accessories industry growth. For instance, U.S. based company & world leader, Amazon, launched series of Echo Show 5 display speakers with integration of AI called as Alexa. Moreover, the rise in adoption of health monitoring smart wearable such as fitness bands, fosters the growth of the mobile phone accessories market.
Adverse effect of hearing disability
Rapid growth in the use of mobile phones, headsets, and portable music players has increased the use of wireless accessories and this has led to many adverse hearing effects. The prolonged use of headphones at high-volume limits has caused temporary as well as permanent sensory damages, which limits the market growth.
Technological advancements in imaging and photographic accessories
The increase in vertical of media & entertainment has brought advanced photographic and video graphic mobile phone accessories. The imaging accessories used in smartphones such as tripods, stabilizer stands, phone lenses, instant photo printer, and others. Further, penetration in the usage of social media applications such as Facebook, Instagram, and others has raised the number of casual photographers, which is expected to boost the market of photo and imaging mobile accessories.
Mobile Phone Accessories Market

---
By Region
Asia-Pacific region would exhibit the highest CAGR of 3.6% during 2019-2026
Key Benefits for Stakeholders:
This study comprises analytical depiction of the global mobile phone accessories market size along with the current trends and future estimations to depict the imminent investment pockets.
The overall mobile phone accessories market analysis is determined to understand the profitable trends to gain a stronger foothold.
The report presents information related to key drivers, restraints, and opportunities with a detailed impact analysis.
The current mobile phone accessories market forecast is quantitatively analysed from 2012 to 2025 to benchmark the financial competency.
Porter's five forces analysis illustrates the potency of the buyers and suppliers in the industry.
The report includes the market share of key vendors and market trends.
 Mobile Phone Accessories Market Report Highlights
Aspects
Details
By Product Type

Battery
Headphone/Earphone
Portable Speaker
Charger
Memory Card
Power Bank
Battery Case
Protective Case
Screen Guards
Popsockets
Others

By Distribution Channel
By Price Range
By Region

North America (U.S., Canada, Mexico)
Europe (UK, Germany, France, Rest of Europe)
Asia-Pacific (China, India, Japan, South Korea, Rest of Asia-Pacific)
LAMEA (Latin America, Middle East, Africa)

Key Market Players
APPLE INC, BOSE CORPORATION, BYD COMPANY LTD, ENERGIZER HOLDINGS, INC, JVCKENWOOD CORPORATION, PANASONIC CORPORATION, PLANTRONICS, INC, SAMSUNG ELECTRONICS CO. LTD, SONY CORPORATION
Other Key Market Players
SENNHEISER ELECTRONIC GMBH & CO. KG, ALIBABA GROUP HOLDING LIMITED, AMAZON.COM, INC., BEST BUY, CARREFOUR S.A., WALGREENS BOOTS ALLIANCE, INC, FAMILY DOLLAR STORES, INC. (DOLLAR TREE, INC.), TARGET CORPORATION, WALMART INC., MEDIAMARKT, J SAINSBURY PLC, XIAOMI CORPORATION, FOXCONN TECHNOLOGY GROUP (BELKIN), OTTER PRODUCTS, LLC. (OTTERBOX), ZAGG INTELLECTUAL PROPERTY HOLDING CO., INC.