Mobile Crane Market Research, 2031
The global mobile crane market size was valued at $14.4 billion in 2021, and is projected to reach $24.5 billion by 2031, growing at a CAGR of 5.3% from 2022 to 2031. A crane is a heavy machine used for handling, lifting, and moving light and heavy loads. A mobile crane performs all the tasks of a crane, with an added feature of horizontal mobility. With different types of carriers, mobile crane can mobilize itself on any type of terrain. In addition, mobile cranes are equipped with different types of booms that enable it to perform various material lifting tasks.
The mobile crane market was hampered during the outbreak of COVID-19 pandemic, owing to restrictions on construction and manufacturing activities. In addition, mobile cranes could not be effectively manufactured during the lockdown period.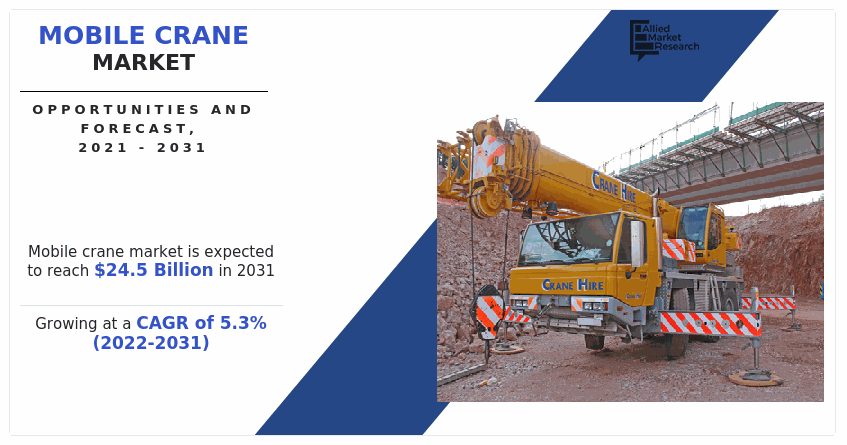 North America and Asia-Pacific regions spend heavily on infrastructure projects, such as roads, tunnels, railways, bridges, and metros, owing to increase in demand for efficient public transport. The manufacturing sector, which uses compact mobile cranes for material handling, is also witnessing a notable growth. In other regions, such as Africa, Europe, Middle East, and Latin America, the building and infrastructure construction sectors are witnessing a significant boom. Mobile cranes are extensively used on construction sites for lifting heavy loads, therefore; growth of the construction industry is anticipated to positively impact the mobile cranes market. Furthermore, mobile cranes have mobility in various types of terrains, such as mountainous, lose soil, and dense forests. This, increasing the usage of mobile cranes for various activities. In addition, various public-private partnerships (PPP) are being formed in countries globally, such as Mexico, India, China, Canada, and Japan for speeding up construction projects. This has led to significant inflow of money and resources towards the infrastructural development. Therefore, it is anticipated to positively influence the mobile crane market growth.
Moreover, various market players now offer cranes with longer telescopic booms that can operate at a considerably higher speed. Furthermore, incorporation of hybrid power mode technology, enables the mobile cranes to operate on oil as well as electricity.. This, is anticipated to enhance the usability of mobile cranes, thereby, positively influencing the market.
Major players in the industry have focused on development of high-performance and heavy lifting mobile cranes. For instance, in February 2021, Manitex Valla, an Italy-based manufacturer of mobile cranes, launched V110 R Electric Mobile Crane, which is a battery-operated and remote-controlled mobile crane. This equipment features a front wheel drive and a lifting capacity of up to 11 tones to a service height of 10.4 meters. Furthermore, in December 2021, XCMG, a Chinese manufacturer of mobile cranes, launched XCMG XCT25 EV, the world's first truck crane with hybrid technology. It is a 25-ton capacity hybrid crane, which can easily switch to different operating modes that are, hybrid, pure electricity, pure oil, and plug-in.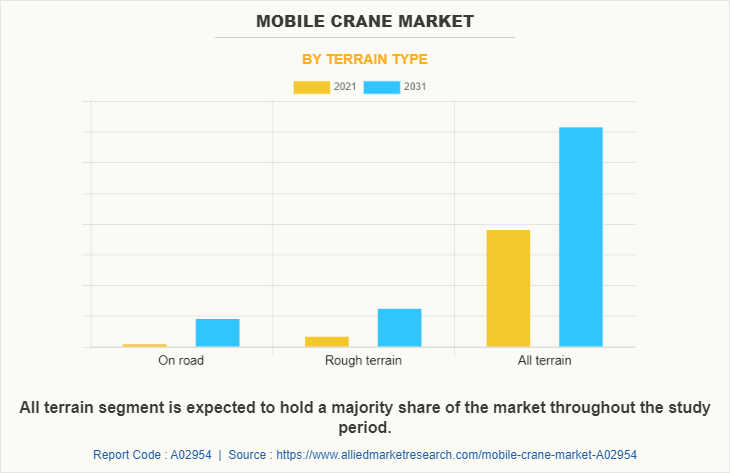 The novel coronavirus rapidly spread across various countries and regions, causing an enormous impact on the lives of people and the overall community. It began as a human health condition and later became a significant threat to global trade, economy, and finance. The COVID-19 pandemic halted the production of many components of mobile cranes due to lockdown. The economic slowdown initially resulted in reduced spending on mobile cranes by the construction sector. However, owing to the introduction of various vaccines, the severity of COVID-19 pandemic has significantly reduced. As of mid-2022, the number of COVID-19 cases have diminished significantly. This has led to the full-fledged reopening of mobile cranes manufacturing companies at their full-scale capacities. Furthermore, it has been more than two years since the outbreak of this pandemic, and many companies have already shown notable signs of recovery.
Furthermore, the aftermarket support for the mobile crane industry has advanced significantly. Various companies such as Manitowoc, Liebherr, and others are developing technologies for diagnosing and predicting issues in cranes systems and scheduling maintenance. In addition, companies such as VerveTronics offers various Internet of Things (IOT) solutions for preventive and predictive maintenance technology for the mobile cranes. These systems can be integrated or retrofitted in the existing cranes. Such advancement in aftermarket is expected to incredibly enhance the service life of mobile cranes. Thereby, driving the growth of the mobile crane market.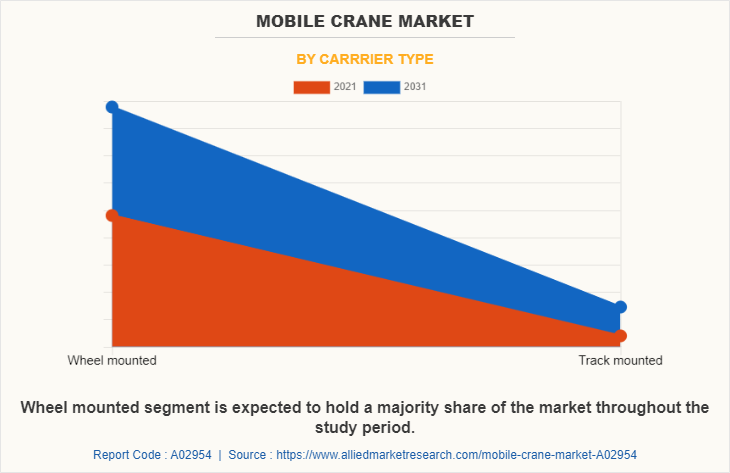 The mobile crane market is segmented into Terrain Type, End User Industry, Boom Type and Carrrier Type. By boom type, the mobile crane market is bifurcated into lattice boom and telescopic boom. According to carrier type, the market is categorized into wheel mounted and track mounted. By terrain type, the market is segmented into on-road, rough terrain, and all-terrain. By end-user industry, the market is classified into construction, manufacturing, and utilities. Region-wise, the market is analyzed across North America, Europe, Asia-Pacific, and LAMEA. Asia-Pacific dominated the market in 2021, accounting for the highest mobile crane market share, and is anticipated to maintain this trend during the forecast period. This is attributed to increase in spending on infrastructural development and investment in manufacturing industry from public and private entities.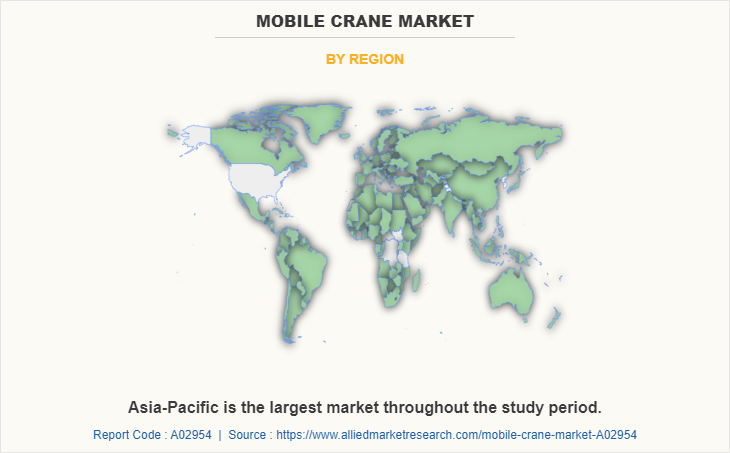 Competition Analysis
Key companies profiled in the mobile crane market forecast report include, Altec Inc., Cargotec Corporation, Liebherr International AG, Manitowoc Company Inc., SANY Heavy Industry Co. Ltd., Tadano Ltd., Terex Corporation, Xuzhou Construction Machinery Group Co. Ltd. (XCMG), Zoomlion Heavy Industry Science and Technology Co. Ltd., and Kobelco Construction Machinery Co., Ltd.
Key Benefits For Stakeholders
This report provides a quantitative analysis of the market segments, current trends, estimations, and dynamics of the mobile crane market analysis from 2021 to 2031 to identify the prevailing mobile crane market opportunities.
The market research is offered along with information related to key drivers, restraints, and opportunities.
Porter's five forces analysis highlights the potency of buyers and suppliers to enable stakeholders make profit-oriented business decisions and strengthen their supplier-buyer network.
In-depth analysis of the mobile crane market segmentation assists to determine the prevailing market opportunities.
Major countries in each region are mapped according to their revenue contribution to the global market.
Market player positioning facilitates benchmarking and provides a clear understanding of the present position of the market players.
The report includes the analysis of the regional as well as global mobile crane market trends, key players, market segments, application areas, and market growth strategies.
 Mobile Crane Market Report Highlights
Aspects
Details
By Terrain Type

On road
Rough terrain
All terrain

By End User Industry

Construction
Manufacturing
Utilities

By Boom Type

Lattice Boom
Telescopic Boom

By Carrrier Type

Wheel mounted
Track mounted

By Region

North America (U.S., Canada, Mexico)
Europe (Germany, United Kingdom, France, Italy, Rest of Europe)
Asia-Pacific (China, Japan, India, South Korea, Rest Of Asia Pacific)
LAMEA (Latin America, Middle East, Africa)

Key Market Players
Kobelco Construction Machinery Co., Ltd., Manitowoc Company, Inc., Tadano Ltd., Liebherr-International AG, Altec, Inc., Zoomlion Heavy Industry Science and Technology Co., Ltd., Terex Corporation, SANY Heavy Industry Co. Ltd., Xuzhou Construction Machinery Group Co., Ltd., cargotec corporation