Internet services play a major role in the daily lives of consumers. Digitization technology is undergoing continuous innovations and advancements driven by the changing requirements of information processing associated with the need for wireless communication systems.
Increase in demand for mobile broadband services positively impacts the demand for mobile hot spot router market growth. Mobile hot router is a device designed to connect the internet through various services such as 3G and 4G to enable sharing of the wireless network connection with other WiFi equipped devices. Mobile hot routers are nowadays available with an LCD screen that displays the hotspot name, data usage quantity, number of connected devices, network strength, and network status.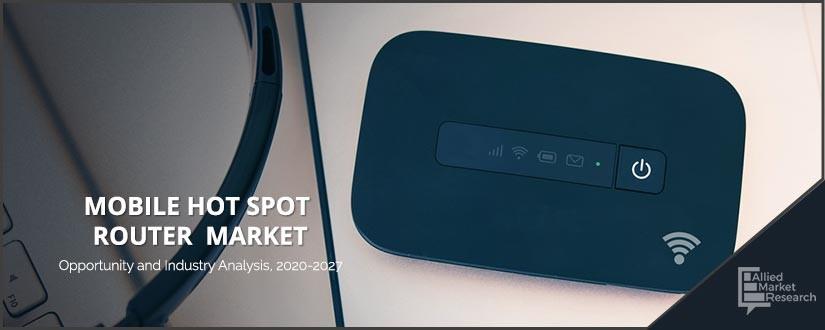 Constant alterations at work place, changes in work locations, time zone differences, and increase in need for instant access to confidential data anywhere and at any time has generated the requirement for bring-your-own-device (BYOD) strategy. This scenario is attributed to the increase in adoption of mobile hot spot routers for suitable purposes.
As per the changes in professional work patterns, there has been a prominent increase in the average time being spent in commuting for work which is thereby expected to spur the demand for global mobile hot spot router market during the forecast period. Expansion in the WiFi enabled smart devices product portfolio augments the adoption of mobile hot spot routers especially in transportation services. However, the market witnesses few restraints expected to hamper the growth of the global market. Limited signal coverage range, fluctuating network performances, availability of public hotspot services, and issues concerning authentication and safety are few restraints expected to pull down the growth of the global mobile hot spot router market.
The mobile hot spot router market is segmented on the basis of product type, end user, and geography. On the basis of type, the market is bifurcated into standalone devices and bundled devices. Based on the end user, it is divided into domestic and commercial. By geography, the market is analyzed across North America, Asia-Pacific, Europe, and LAMEA.
The key players operating in the global mobile hot spot router industry are Novatel Wireless Inc., TP_Link Technologies Co. Ltd, Huawei Technologies, NETGEAR, D-Link Corporation, Karma Mobility, XCom Global Inc., Belkin International Inc., Alcatel, ZTE, and others.
Key Benefits
The study provides an in-depth analysis of the mobile hot spot router market and current & future trends to elucidate the imminent investment pockets.
Information about key drivers, restrains, and is provided.
Porters Five Forces analysis illustrates the potency of buyers & suppliers operating in the industry.
The quantitative analysis of the global mobile hot spot router market from 2017 to 2023 is provided to determine the market potential.
 Mobile Hot Spot Router Market Report Highlights
Aspects
Details
By Product Type

Standalone Devices
Bundled Devices

By End User
By Distribution Channel

Multi-Brand Store
Online Store
Others

By Region

NORTH AMERICA (U.S., Canada)
EUROPE (Germany, France, UK, Italy, Rest of Europe)
ASIA-PACIFIC (China, India, Japan, South Korea, Rest of Asia-Pacific)
LAMEA (Latin America, Middle East, Africa)

Key Market Players
Alcatel, Belkin International Inc., D-Link Corporation, Huawei Technologies, Karma Mobility, NETGEAR, Novatel Wireless Inc., TP_Link Technologies Co. Ltd., XCom Global Inc., ZTE