Mobile satellite services (MSS) are the telecom services provided to the mobile users with the help of satellite technology to establish communication between portable terminals or mobile devices. The availability of the mobile communication beyond the terrestrial-based wireless system is a salient feature of MSS. The cost of mobile devices and the poor connection between mobile devices are key drawbacks of these services. MSS are used for emergencies such as distress, natural disasters, war zones, and breakdown of emergency communication.
The increase in demand for mobility, rise in integration between mobile and satellite technology, and advancement in digital technology majorly drive the mobile satellite services market growth. However, low available bandwidth and poor quality of voice and data in inadequate signal conditions, and increase in government regulations on the use of satellite technology restrict the market growth. Growth in trend of Internet of Things (IoT), allocation of additional bandwidth for MSS, and increase in competition in the Internet service market create abundant growth opportunities. However, lack of assurance for the reliability of MSS over different regions is the key challenge for MSS market growth.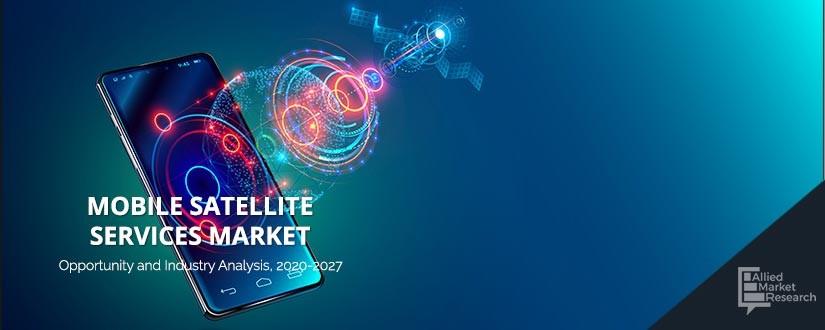 The mobile satellite services market is recognized by moderate competition due to huge capital investment. The competition is based on performance, reliability, product features, quality, and innovation. For instance, Newtec Inc. launched MCX 7000 multi carrier satellite gateway for advance end-to-end primary destitution system on May 2017, which is prominent innovation in satellite technology.
The global mobile satellite services market is segmented by service, access type, industry vertical, and region. Based on service, it is divided into video, voice, and data service. The access type is further classified into land, air, and maritime access. Based on industry vertical, it is categorized into banking, financial, and insurance (BFSI); aerospace & defense; healthcare; public sector; IT & telecom; retail; and others. Based on geography, it is analyzed across North America, Europe, Asia-Pacific, and LAMEA.
Comprehensive mobile satellite services market analysis and profiles of the major market players profiled in the report include Ericsson Inc., Globalstar, Inc., Inmarsat Holdings Limited., Iridium Communications, Inc., Orbcomm Inc., Echostar Corporation., Intelsat General Corporation., Singtel Ltd., VirSat Inc., and Telstra Corporation Limited.
Key Benefits
This report provides an extensive analysis of current and potential mobile satellite services market trend.
The report contains in depth quantitative analysis of current and future market estimations which helps recognize the growth opportunities.
Extensive analysis of the market helps understand the current practices for the better investment decisions.
Key market players are profiled and their strategies are analyzed thoroughly, which helps understand the competitive outlook of the mobile satellite services market.
Extensive analysis of the market is conducted by monitoring the top competitors within the market framework.
Comprehensive analysis of factors that drive and restrict the growth of the market is provided.
 Mobile Satellite Services Market Report Highlights
Aspects
Details
By Services

Video
Voice
Data
Tracking and Monitoring

By Access Type

Land mobile
Maritime
Aeronautical

By Industry Vertical

Oil and gas
Media and entertainment
Mining
Military and defense
Aviation
Transportation
Others

By Region

North America
Europe
Asia-Pacific
LAMEA

Key Market Players
Intelsat, ORBCOMM, SingTel, Telefonaktiebolaget LM Ericsson, Globalstar, Inmarsat, Motorola Solutions, Inc., Telstra, Echostar Corporation, Iridium Communications