Modified Starch Market Overview:
Global modified starch market was valued at $7,995 million in 2016, and is projected to reach at $10,700 million by 2023, growing at a CAGR of 4.2% from 2017 to 2023. Modified starch is formed by morphological or physicochemical changes in the structure of native starch via its treatment with heat, acids, alkalis, or enzymes. These have improved water-holding capacity, heat resistance, binding characteristics, and thickening property. Maize, potato, wheat, and cassava are some of the main raw materials of modified starches. Modified starches are widely used in the food & beverage industry as thickening agents, stabilizing agents, or emulsifying agents due to their partially digestible nature and quality of being gluten free, thus providing lesser fat than regular starches. The paper-making industry is another main application of modified starches, owing to their binding property for manufacturing high strength and enhanced quality paper with appropriate surface sizing, coating, and calendaring. Moreover, pharmaceutical, animal feed, textile, cosmetics, and other industries also make use of modified starch.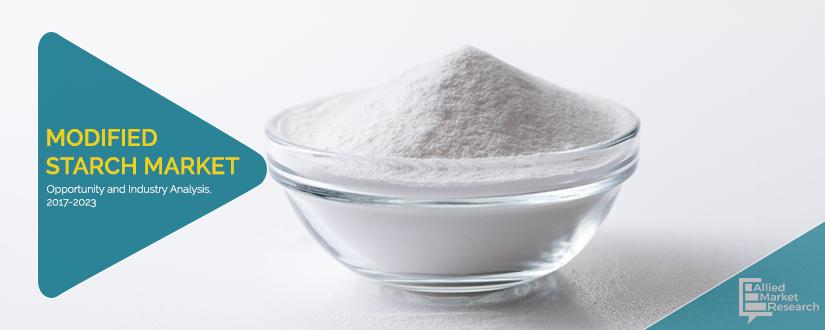 The global modified starch market is driven by increase in consumption of convenience food and ease of modification in its functional properties. Furthermore, rise in usage of modified starch in pharmaceutical, cosmetics, and paper industries fuels the growth further. However, availability of substitutes and volatility in raw material prices are expected to hinder the market growth. The newer & potential sources of modified starch and its untapped applications represent major opportunities for market expansion.
Segment Review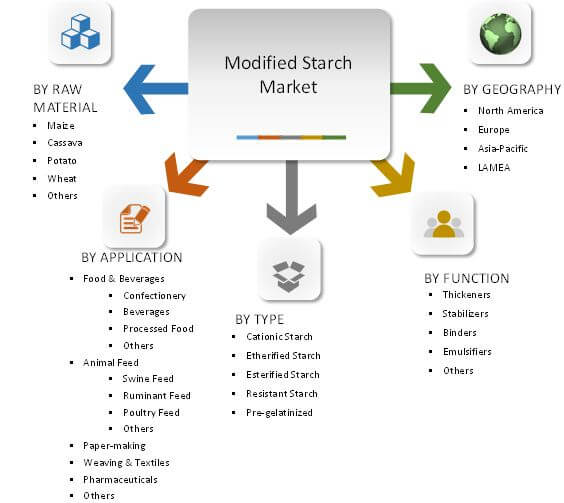 The global modified starch market is segmented on the basis of raw material, type, application, function, and geography. Based on raw material, it is divided into maize, cassava, potato, wheat, and others. According to type, it includes cationic starch, etherified starch, esterified starch, resistant starch, and pre-gelatinized starch. Based on application, the market is classified into food & beverages, animal feed, paper-making, weaving & textiles, pharmaceuticals, and others. The food & beverages sector is classified into confectionery, beverages, processed food, and others; while the animal feed is segmented into swine feed, ruminant feed, poultry feed, and others. Based on function, the market is divided into thickeners, stabilizers, binders, emulsifiers, and others. Geographically, it is analyzed across North America, Europe, Asia-Pacific, and LAMEA.
Top Investment Pocket, by Application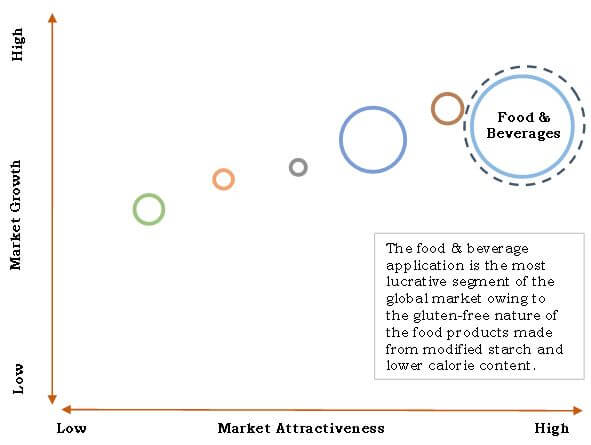 Food & beverage is the most lucrative application segment of the global modified starch market, as it possesses high market potential for investment owing to the gluten-free nature of the food products made from modified starch and lower calorie content. Moreover, pharmaceutical is the second most attractive segment, owing to the high growth rate of the industry in different regions and the stable & extreme condition resistant nature of modified starch.
Modified Starch Market, by Geography
Asia-Pacific occupied the highest market share in 2016 and is anticipated to register the highest CAGR of around 4.5% during the forecast period. This is due to the rise in demand for modified starches in several developing regions and increase in industrialization. North America is another region with significant growth rate, which accounted for nearly one-fourth market share in 2016. The South Korea modified starch market was valued at $109 million in 2016, and is expected to reach $145 million by 2023, registering a CAGR of 4.0% during the forecast period.
South Korea Modified Starch Market, 2016-2023 ($Million)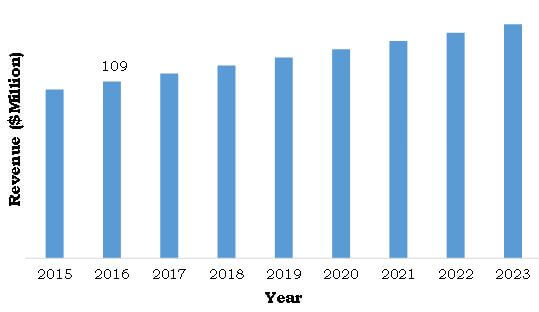 Key leading players operating in the modified starch industry are Archer Daniels Midland Company, Avebe U.A., Cargill Incorporated, Emsland- Strke GmbH, Global Bio-Chem Technology Group Company Limited, Grain Processing Corporation, Ingredion Incorporated, Roquette Frres, Tate & Lyle PLC, and Universal Starch Chem Allied.
Other players in the value chain include Ulrick and Short Ltd., Penford Corp., SPAC STARCH PRODUCTS (INDIA) LTD., Tirupati Starch & Chemicals Ltd., Angel Starch & Food Pvt Ltd, Honest Derivatives Pvt. Ltd., Sanstar Bio - Polymers Ltd., Shubham Starch Chem (P) Ltd., AGRANA Strke GmbH, and Everest Starch (IND) Pvt. Ltd.
Key Benefits for Modified Starch Market:
Porter's five forces analysis helps to analyze the potential of buyers & suppliers and the competitive scenario of the industry for strategy building.
It outlines the current trends and future scenario of the market from 2017 to 2023 to understand the prevailing opportunities and potential investment pockets.
Major countries in each region have been mapped according to their individual revenue contribution to the global/regional market.
The key drivers, restraints, and opportunities and their detailed impact analyses are elucidated in the study.
The profiles of key players along with their key strategic developments are enlisted in the report.
 Modified Starch Market Report Highlights
Aspects
Details
By Row Material

Maize
Cassava
Potato
Wheat
Others

By Type

Cationic Starch
Etherified Starch
Resistant Starch
Pre-gelatinized

By Application

Food & Beverages

Confectionery
Beverages
Processed Foods
Others

Animal Feed

Swine Feed
Ruminant Feed
Poultry Feed
Others

Paper-making
Weaving & Textiles
Pharmaceuticals
Others

By Function

Thickeners
Stabilizers
Binders
Emulsifiers
Others

By Geography

North America
Europe

UK
Germany
France
Italy
Spain
Rest of Europe

Asia-Pacific

China
India
Japan
South Korea
Australia
Rest of Asia-Pacific

LAMEA

Brazil
South Africa
KSA
Rest of LAMEA

Key Market Players
ARCHER DANIELS MIDLAND COMPANY, AVEBE U.A., CARGILL, INCORPORATED, EMSLAND- STÄRKE GMBH, GLOBAL BIO-CHEM TECHNOLOGY GROUP COMPANY LIMITED, GRAIN PROCESSING CORPORATION, INGREDION INCORPORATED, ROQUETTE FRÈRES, TATE & LYLE PLC, UNIVERSAL STARCH CHEM ALLIED