Modular Construction Market Outlook - 2026
The global modular construction market size was valued at $114.6 billion in 2018, and is projected to reach $196.2 billion by 2026, growing at a CAGR of 7.1% from 2019 to 2026.  Modular construction is a process in which an off-site construction of a building is completed, using the same design, standards, and materials. The construction of the buildings is done in a modules format, which is then put together on site. The modular construction creates fewer site disturbances and generates less waste as compared to traditional construction. In addition, the disassembling of modular buildings can be achieved easily, and can be refurbished and relocated for new modular homes, thus minimizing the demand for raw materials and the need for energy to construct new buildings. 
The modular construction is utilized for permanent or temporary facilities such as military housing, classrooms, classrooms, construction camps, and industrial facilities. Moreover, modular houses and buildings are used in remote areas where conventional construction is not possible. Furthermore, modular construction finds its major application in healthcare facilities, churches, fast food restaurants, and commercial offices. In addition, it is gaining increased popularity, owing to its benefits such as ability to serve remote locations, low waste generation, environmentally friendly construction process, enhanced flexibility, high quality, and increased market acceptance.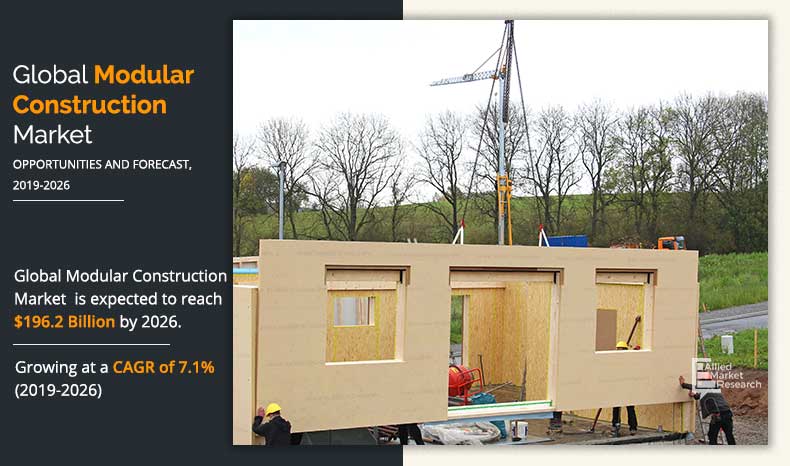 The growth of the global modular construction market is driven by increase in urbanization & industrialization in developing countries. In addition, upsurge in population is anticipated to have a significant impact on the growth of the market to cater to the increasing needs of consumers. Furthermore, rise in demand for jobs, housing, energy, clean water, food, transportation infrastructure, and social services leads to higher adoption of cost-effective modular construction technologies to ensure uniform quality, thereby fueling the modular construction market growth. However, lack of reliability on modular construction in earthquake-prone regions considerably hampers the growth of modular construction market. Conversely, increase in investments in infrastructure is anticipated to offer lucrative growth opportunities for the market players during forecast period.
Modular Construction Market

---
By Type
Re-locatable segment is projected to grow at a significant CAGR
The global modular construction market is segmented into type, material, end user, and region. By type, the market is categorized into permanent and re-locatable. The permanent segment garnered the largest share in 2018, owing to the fact that permanent modular constructions are inexpensive and simple to build; however, the re-locatable segment is expected to grow at a significant rate during the forecast period. This is attributed to increase in adoption of re-locatable modular construction for offices and other commercial projects.
Modular Construction Market

---
By End-user
Commercial segment holds dominant position in 2018
Depending on material, the modular construction market is divided into steel, wood, concrete, and others. Others includes plastics, containers, natural slate, and others. On the basis of end user, the market is fragmented into residential, commercial, and industrial. Region wise, the modular construction market is analyzed across North America, Europe, Asia-Pacific, and LAMEA. In 2018, by end user, the residential segment garnered the largest share in the global modular construction market. The modular construction is gaining popular in residential construction sector due to its features such as strong & durable structure and movable & relatively economical nature.  Region wise, Asia-Pacific accounted for the highest revenue in 2018, due to increase in commercial infrastructure projects especially in China and India. Moreover, key players operating in the region have adopted various strategies to straighten their foothold in the modular construction market. For instance, UK based Z Modular offers modular homes for student housing, multifamily, and workforce housing.
Competition Analysis
The key players profiled in the modular construction market report include ATCO, Anderco Pte. Ltd., Giant Containers Inc., Honomobo Corporation, Lendlease Corporation, SG Blocks, Inc., Skanska AB, Speed House Group of Companies, Supertech Industries LLC, and Tempohousing.
The major players operating in the global modular construction market have adopted key strategies such as partnership, and business expansion to sustain the stiff competition in the market. For instance, in October 2018, SG Blocks entered in strategic alliance with Harrison, Walker and Harper (HWH), an engineering, contracting and industrial services firm. Under this alliance, these HWH will be become SGB preferred partner to complete site work and installation of single-family modular homes. Similarly, in September 2018, SGB and its subsidiary named SG Residentials entered into partnership with Capital Plus Financial (CPF), one of the nation's largest Community Development Financial Institutions (CDFI) and a subsidiary of Crossroads Systems, Inc. With this partnership, SGB aims to provide affordable modular homes at low-to-moderate-income areas across the country and Puerto Rico.
Modular Construction Market

---
By Region
Asia-Pacific holds a dominant position in 2018 and is expected to grow at a highest rate during the forecast period.
Key Benefits for Stakeholders:
The report provides an extensive analysis of the current and emerging modular construction market trends and dynamics.  
In-depth market analysis is conducted by constructing estimations for the key segments between 2018 and 2026. 
Extensive analysis of the modular construction market is conducted by following key product positioning and monitoring of the top competitors within the market framework.
A comprehensive analysis of all the regions is provided to determine the prevailing opportunities.
The global modular construction market forecast analysis from 2018 to 2026 is included in the report.
The key market players operating in the global modular construction market are profiled in this report, and their strategies are analyzed thoroughly, which help understand the competitive outlook of the modular construction industry. 
Global Modular Construction Market Segments:
By Type
By Material
By End User
Residential
Commercial
Industrial
By Region
North America
Europe

Germany
UK
France
Italy
Rest of Europe

Asia-Pacific

China
Australia
Japan
South Korea
Rest of Asia-Pacific

LAMEA

Latin America
Middle East 
Africa
Key Players
ATCO 
Anderco Pte. Ltd.
Giant Containers Inc.
Honomobo Corporation
Lendlease Corporation
SG Blocks, Inc.
Skanska AB
Speed House Group of Companies
Supertech Industries LLC
Tempohousing