Modular Inverter Market Research, 2031
The global modular inverter market was valued at $16.8 billion in 2022 and is projected to reach $33.3 billion by 2031, growing at a CAGR of 8% from 2022 to 2031.
Key Report Highlighters:
The modular inverter market has been analyzed in terms of value (billion) and volume (MW) covering more than 15 countries.

For growth prediction, we have looked into historical trends including present and future activities of key business players.

The report covers detailed profiling of the major 10 market players
The global modular inverter market had a low impact from the COVID-19 pandemic. The market has recovered from the negative impacts of its pre-COVID terms and is expected to grow at a significant rate. However, the market is expected to witness a decline in Europe region due to the Russo-Ukrainian war and a depressing economy leading to recession.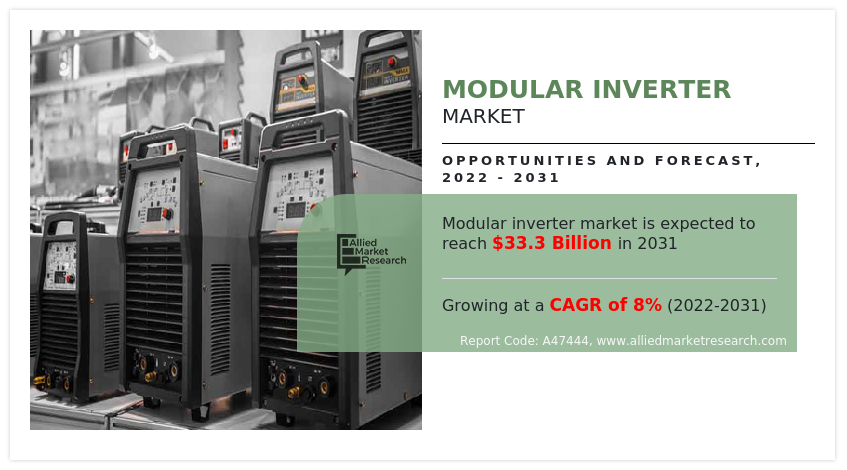 The modular inverter has a modular concept, that is, it provides pure sine wave alternate current (AC). A sine wave is generated by rotating AC machinery and sine waves are a natural product of rotating AC machinery. It has many advantages among which the major advantage is that all the equipment on the market is designed for a sine wave. All the electric products that exist are sine wave compatible. Some appliances, such as motors and microwave ovens will only produce full output with sine wave power. A few appliances, such as bread makers, light dimmers, and some battery chargers require a sine wave to work at all. Sine wave inverters are always more expensive - from 2 to 3 times as much. When combined with a direct current (DC) power system, it acts as an excellent AC backup solution.
The modular inverter is made from different components that are assembled to make up a working system. These components have their own independent work to be done. Any failure in a single component halts the ongoing process, however, it can be fixed easily and quickly with a low repair cost. This is because only the damaged component is to be repaired or replaced without affecting any other components' function. This acts as a driving factor for the modular inverter market growth. However, pure sine wave technology incurs high costs, and thus modular inverters are at the higher end of the price range. This discourages market growth and acts as a restraining factor for the overall modular inverter industry.
Market Dynamics
With rising demand for technologically advanced inverters, there is competition among modular inverter industry players. To offer differentiated products that stand out and attract the attention of their customers, continuous research and development activities are carried out by the manufacturers. Since there is a substantial number of inverters present in the market, offering differentiated products is a significant factor to sustain the competition. Thus, the players operating in the modular inverter market are investing in product development activities, which acts as a driving factor for the industry's growth.
Modular inverters are easy to maintain and have a lower cost for the same. They are made from different components that are assembled to form a working inverter. These components are independent in their functions and can be easily fixed or removed as per the requirement. Any damage to a single component of the inverter can be replaced without disturbing the functions of other components of the inverter. The damaged component is replaced and fixed back into the system and thus the inverter resumes working. This offers a huge advantage to the customer as the need to replace the whole inverter is dismissed which means a lower cost for managing the damage which in turn encourages the demand for the modular inverter. Thus, the demand for the product rises which further drives the modular inverter market growth.
Since there are many players operating in the industry, the product's availability is easy. The supply side of the product is easily able to meet the demand. A customer has many options available to choose from owing to the wide variety of products in the market. Moreover, the price is also flexible as options fit all budgets. This means that the market is flooded with alternatives and competitor products, which acts as a restraining factor for the market growth. Solar modular inverters are located between solar modules and the power connectivity grid. These modular inverters can convert direct current from solar cells into grid-compatible alternating current.
Apart from this, they are also capable of monitoring & controlling the entire photovoltaic system, recording all operating data, automatically disconnecting from the grid if required, interrupting the grid supply, and protecting the network against overloading. Such benefits of solar modular inverters propel the growth of modular inverters. Since the solar sector is itself experiencing a boom in controlling carbon emissions, the solar modular inverter demand offers a great opportunity for industry growth.
The modular inverter market size is studied through segment Application, Type, and Region.
By type, the market is divided into the standard modular inverter and compact modular inverter. By type, the market is divided into the standard modular inverter and compact modular inverter. Compact modular inverters dominated the market share in 2021 and are expected to continue their growth during the modular inverter market forecast. This was owing to their compatibility in many sectors as they can be connected to all types of electrical machinery and equipment.
The compact modular inverters have a modular architecture and are compact in size. They have innovative designs and comprehensive monitoring & control features. It offers several benefits over traditional industry standards. The compact modular inverters have high power density and low weight and can be configured in highly flexible system solutions. The enhanced power conversion mode in many compact modular inverters stabilizes the AC output while providing mains filtering, reduced conversion losses, and zero transfer time between sources.
Moreover, rising application in the solar sector also contributes to market growth apart from the above-mentioned features of the product. Standard modular inverters refer to the design of any system composed of separate components that can be connected. The beauty of a standard modular inverter is that it can be replaced or added to any one component (module) without affecting the rest of the system. Standard modular inverters refer to the design of any system composed of separate components that can be connected. The beauty of a standard modular inverter is that it can be replaced or added to any one component (module) without affecting the rest of the system
By application, the market is categorized into industrial, telecommunications, and others. By application, the industrial sector dominated the modular inverter market share in 2021 as the product offers reliable backup for any heavy industrial process. An inverter is mostly used in the form of an uninterrupted power supply (UPS). The main function is to supply AC output to the source and maintain the power level. In industrial setups, high-power equipment can protect against power interruptions.
Several industries are functioning with power as the critical element for their operations. Industries like power generation, transportation, manufacturing, oil production, and others require a continuous power supply to function smoothly. A shutdown of its activities will result in monetary loss. Power outages, surges, and sags are the biggest threat to manufacturing industries. Industrial organizations are vulnerable to power supply variations. The damage caused due to the power failures would, of course, be devastating. A power failure that lasts for mere seconds can result in a momentary lapse in production. This can cause damage to the equipment and machinery of the manufacturing industry. Thus, to manage power outages and power failure, efficient and robust compact modular inverters are installed.
The various communication devices used to provide data communication services, such as telephone and the internet require a stable power supply. There are also many different types of power supply installations, including those which are installed indoors for communication centers and other facilities, and those which are installed outdoors such as those for mobile telephone base stations. The modular inverter provides clean, regulated, and continuous AC power to critical loads.
The modular inverter eliminates the need for a static transfer switch, ensuring seamless transfer between the AC and DC inputs and giving zero transfer time. In the telecom sector, an uninterrupted power supply is a basic and huge requirement for the industry to function smoothly. Modular inverters offer the exact reliability for the primary power requirement of the telecom industry. They are also long-lasting and easy to maintain, which makes them the preferred choice and thus propels market growth.
Region-wise, the modular inverter market analysis is done across North America, Europe, Asia-Pacific, and LAMEA (Latin America, the Middle East, and Africa). North America dominated the market share in 2021, however, Asia-Pacific is estimated to grow at a higher CAGR during the projection period. The North America modular inverter market is studied across the U.S., Canada, and Mexico. The region is dominated by the U.S. followed by Canada. The market has the presence of many large-scale and medium-scale manufacturers. Most manufacturing facilities are highly automated and have a heavy reliance on power for functioning.
Moreover, continuously developing technologies that are replacing humans with machinery also boost the need for continuous power supply. Such factors raise the need for modular inverters that are although high costing for installation but easy on maintaining cost. The market growth was highly driven by the U.S. followed by Canada.
The Asia-Pacific modular inverter market is analyzed across China, Japan, India, South Korea, Australia, and rest of Asia-Pacific. The region's growth is majorly driven by China, Japan, South Korea, and India. This can be attributed to rising investment in electrification activities. Moreover, the automation of industrial processes in China, Japan, and South Korea also acts as a major driving factor for market growth. Moreover, heavy reliability on electrical appliances and the rising telecom sector also aids in the modular inverter market growth. In addition, the poor electricity grid connectivity infrastructure also encourages the growth in demand for modular inverters and thus propels the growth of the product in the region.
The key players operating in the modular inverter industry are Eaton Corporation, Eagle Eye Power Solutions, BENNING Elektrotechnik und Elektronik GmbH & Co. KG, AEG Power Solutions, Sungrow Power Supply Co., Ltd., Shenzhen Pulsen technology, TDK Electronics AG, PRAG, Shenzhen Bwitt Power Co., Limited, and CE+ T Power.
Key Industry Players And Their Strategic Activities:
Sungrow launched the world's largest inverter factory, once fully operational, the global annual production capacity will reach 50 GW, including 3 GW of the India factory. Offering a wide range of solutions and services, Sungrow is committed to providing clean power for all and is steadfast in its efforts to become the global leader of clean power conversion technology. Sungrow Power Supply Co., Ltd., launched its newest product the "1+X" Modular Inverter. It is expected to lead the next-generation inverter designation for utility-scale solar plants, significantly streamlining O&M and guaranteeing favorable yields for applications.
Eagle Eye Power Solutions is engaged in the manufacture of appliances, electrical, and electronics manufacturing. Through the products, it serves industries such as utility, UPS and data centers, telecommunications, government, and military, CATV and broadband, industrial manufacturing, and motive power and forklift. CE T Power SA is engaged in the manufacture of power solutions including inverters (DC to AC), UPS (securing AC loads with batteries), and multidirectional converters (inverter, rectifier and UPS all-in-one). It has three manufacturing factories and three research and development centers.
BENNING Electrical and Electronic GmbH and Co. KG is engaged in the manufacture of electrical equipment. It offers products and services such as power supply systems, energy storage, battery formation systems, e-mobility, system check, calibration processing, and software and firmware to serve various industries. It offers its products to e-mobility, infrastructure and transportation, IT/data processing, manufacturing industry, medical, oil, gas, and petrochemical industry, power distribution, power generation, primary production/mining, telecommunications, and water treatment/desalination.
AEG Power Solutions B.V. is engaged in AC and DC power technology. It offers inverters, UPS systems, monitoring services, convertibles, and renewable energy systems. The company serves various industries through its products and services such as oil and gas, power generation, railways, data and IT, energy storage, green hydrogen, transportation, and manufacturing.
Key Benefits For Stakeholders
This report provides a quantitative analysis of the market segments, current trends, estimations, and dynamics of the modular inverter market analysis from 2022 to 2031 to identify the prevailing modular inverter market opportunities.
The market research is offered along with information related to key drivers, restraints, and opportunities.
Porter's five forces analysis highlights the potency of buyers and suppliers to enable stakeholders make profit-oriented business decisions and strengthen their supplier-buyer network.
In-depth analysis of the modular inverter market segmentation assists to determine the prevailing market opportunities.
Major countries in each region are mapped according to their revenue contribution to the global market.
Market player positioning facilitates benchmarking and provides a clear understanding of the present position of the market players.
The report includes the analysis of the regional as well as global modular inverter market trends, key players, market segments, application areas, and market growth strategies.
 Modular Inverter Market Report Highlights
Aspects
Details
Market Size By 2031
USD 33.3 billion
Growth Rate
CAGR of 8%
Forecast period
2022 - 2031
Report Pages
198
Application

Industrial
Telecommunications
Others

Type

Standard Modular Inverter
Compact Modular Inverter

By Region

North America (U.S., Canada, Mexico)
Europe (Germany, UK, France, Spain, Italy, Rest of Europe)
Asia-Pacific (China, Japan, India, South Korea, Australia, Rest of Asia-Pacific)
LAMEA (Brazil, Saudi Arabia, South Africa, Rest of LAMEA)

Key Market Players
TDK Electronics AG, Sungrow Power Supply Co., Ltd, CE T Power SA, PRAG, Shenzhen Bwitt Power Co., Limited, AEG Power Solutions B.V., Shenzhen Pulsen Technology Co. Ltd., Eaton Corporation, Eagle Eye Power Solutions, LLC, BENNING Electrical and Electronic GmbH and Co. KG