Monocrystalline Transparent Ceramics Market Overview:
Global Monocrystalline Transparent Ceramics Market was valued at $106 million in 2015 and is expected to garner $327 million by 2022, registering a CAGR of 18.1% during the forecast period 2014 - 2022. Monocrystalline transparent ceramics are used as an alternative to traditional glass, owing to its added mechanical stability without compromising transparency. It is a single crystal of ceramic material made to eliminate voids to enhance its uniformity, which directly affects its transparency.
The global monocrystalline transparent ceramics market is segmented based on material, application, and geography. Based on material, it is divided into sapphire (Al2O3), yttrium aluminum garnet (YAG), aluminum oxynitride [(AlN)x·(Al2O3)1-x)], and yttria (Y2O3). According to application, it is categorized into optics & optoelectronics, aerospace, defense & security, healthcare, and others (sensors & instrumentation and energy). Geographically, it is classified into North America, Europe, Asia-Pacific, and LAMEA.
Monocrystalline Transparent Ceramics Market Segmentation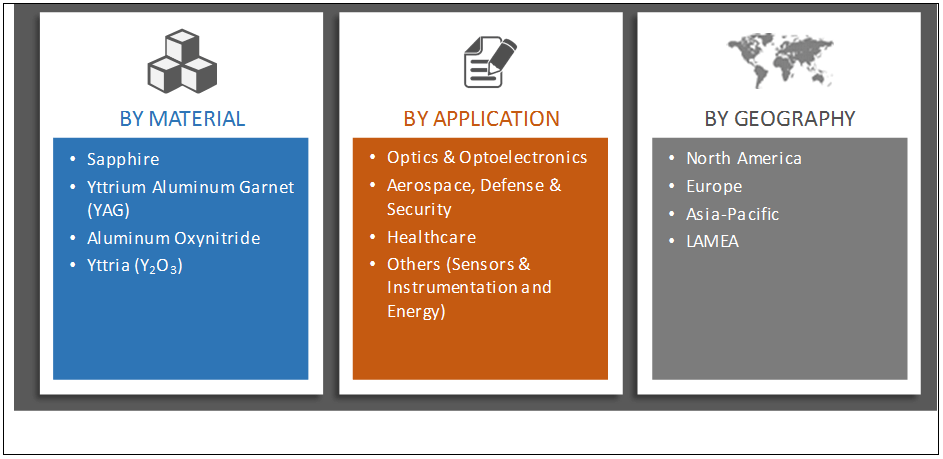 Top Investment Pocket
Sapphire is the most lucrative investment option for new entrants in the monocrystalline transparent ceramics industry. Monocrystalline transparent ceramics made of sapphire are analyzed and are manufactured easily. However, the cost incurred in the manufacturing is high, owing to processing temperature and complex machineries. Its excellent hardness, transmission, and scratch-resistant characteristics are the reasons for its excess production and wide-spread use in various applications. It is used to manufacture windows for missiles & domes, and also in transparent armor and electronics & semiconductor industries.
Monocrystalline Transparent Ceramics Market Top Investment Pockets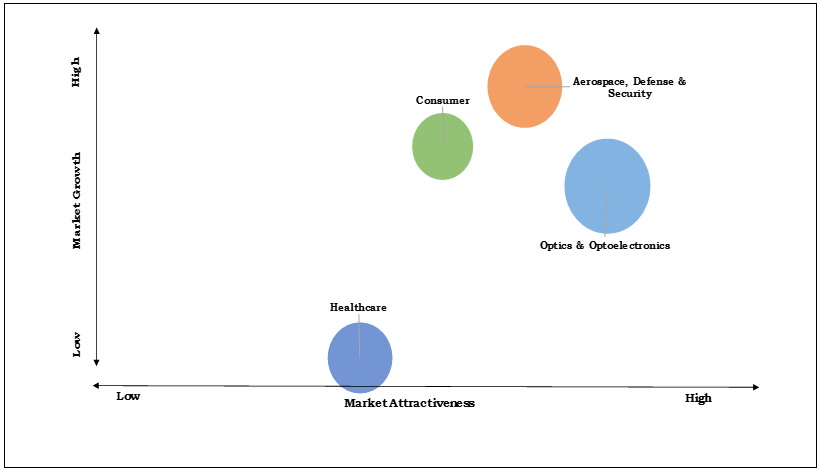 Segment Review
Optics & optoelectronics application is expected to be the leading segment in terms of revenue in 2015 for monocrystalline transparent ceramics market. Optoelectronics use sapphire as a base or substrate material to make various equipment such as photodiodes, phototransistors, lasers, laser diodes, LEDs, and optical fiber communications. R&D activities for variable usage in lasers tumor control, labelling, packaging, fault detection & inspection, and cutting & grinding, which are expected to drive the market during the forecast period.
LAMEA Review
Brazil is an active market for monocrystalline transparent ceramics in the LAMEA region. According to the Brazilian Association of General Aviation (ABAG), Brazil has the second largest executive aircraft fleet, and the third largest helicopter fleet globally, thereby increasing the demand for transparent ceramics materials in the region. The market in Latin America is driven by abundance of raw materials, development of ports to ease out transportation, and increase in number of educated population.
Brazil Monocrystalline Transparent Ceramics Market, 2014-2022 ($Million)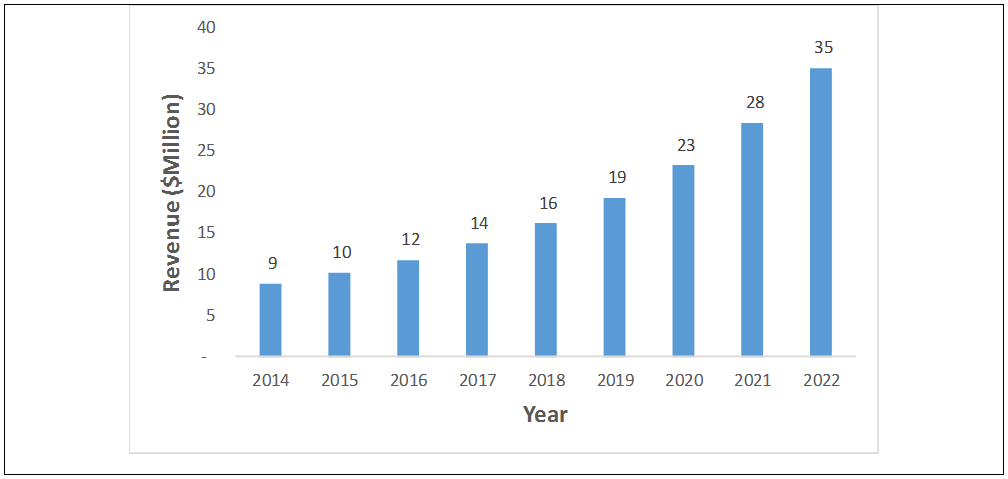 Key players in monocrystalline transparent ceramics industry profiled in the report include Brightcrystals Technology Inc., Ceramtec ETEC, Ceranova Corporation, CILAS, Coorstek Inc., II-VI Incorporated, Konoshima Chemicals Co., Ltd., Murata Manufacturing Co., Ltd., Schott AG, and Surmet Corporation.
Other key players (not profiled in report) in the value chain are General Electric, IBD Deisenroth Engineering, Koito Manufacturing, Philips, and Innovacera.
Monocrystalline Transparent Ceramics Market Key Benefits:
This report provides an extensive analysis of the current trends, future estimations, and dynamics from 2014 to 2022 of the global monocrystalline transparent ceramics industry, which assist to identify the prevailing opportunities.
Extensive market analysis predicts the applications that are currently used and the variants that are expected to gain prominence.
Detailed analysis is conducted by following product benchmarking, positioning, and monitoring the top competitors within the global market.
Key players are profiled and their strategies are analyzed thoroughly, which portrays the competitive market outlook.
 Monocrystalline Transparent Ceramics Market Report Highlights
Aspects
Details
By Material

Sapphire
Yttrium Aluminum Garnet (YAG)
Aluminum Oxynitride
Yttria (Y2O3)

By Application

Optics & Optoelectronics
Aerospace, Defense & Security
Healthcare
Others (Sensors & Instrumentation and Energy)

By Geography

North America
Europe
Asia-Pacific
LAMEA

Key Market Players
CILAS, KONOSHIMA CHEMICALS CO., LTD., SURMET CORPORATION, MURATA MANUFACTURING CO., LTD., CERAMTEC ETEC, BRIGHTCRYSTALS TECHNOLOGY INC., II-VI INCORPORATED, SCHOTT AG, CERANOVA CORPORATION, COORSTEK INC.