Mortgage Lending Market Research, 2031
The global mortgage lending market was valued at $11,487.23 billion in 2021, and is projected to reach $27,509.24 billion by 2031, growing at a CAGR of 9.5% from 2022 to 2031.
Increase in technological advancements in mortgage lending for automation of underwritings and adoption of machine learning in lending markets is expected to propel the growth of mortgage lending market in upcoming years.
An arrangement to purchase or refinance a property without having to pay the whole amount up front is known as a mortgage, often known as a mortgage loan, and it is made between the borrower and a mortgage lender. In the event that the borrower defaults on the conditions of the mortgage, which is often accomplished by failing to pay back the amount borrowed plus interest, this arrangement grants lenders the legal right to reclaim the property.
As many nonbank lenders have made significant investments in digital interfaces that facilitate the submission of applications, the uploading of supporting data, and the communication with lenders, have made it convenient for the consumers to opt for mortgage lending processes. Moreover, increase in the innovations in software designs to speed up the mortgage-application process, lower costs for the lender, and improve the overall customer experience is benefiting the mortgage lending market growth. This factor notably promotes the growth of mortgage lending market. However, the higher interest rate on mortgage loans and additional costs such as arrangement fees, valuation fees, remortgaging fees on mortgage loans are limiting industry expansion. On the contrary, increasing digitization in mortgage lending market is expected to boost the growth of the market in upcoming years. Moreover, rise in developments & initiatives toward mortgage lending is anticipated to provide a potential growth opportunity for the market.
The report focuses on growth prospects, restraints, and trends of the mortgage lending market forecast. The study provides Porter's five forces analysis to understand the impact of various factors such as bargaining power of suppliers, competitive intensity of competitors, threat of new entrants, threat of substitutes, and bargaining power of buyers on the mortgage lending market outlook.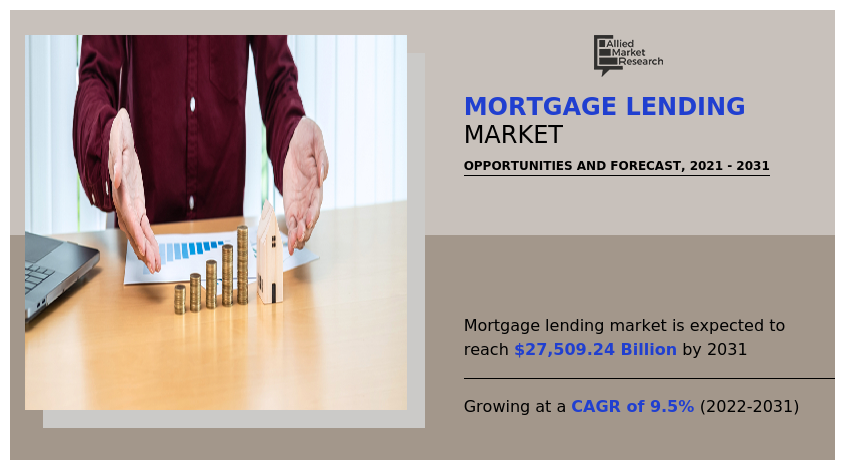 The mortgage lending market is segmented into Type of Mortgage Loan, Mortgage Loan Terms, Interest Rate and Provider.
Segment review
The mortgage lending market is segmented into type of mortgage loan, mortgage loan term, interest rate, provider, and region. By type of mortgage loan, the market is differentiated into conventional mortgage loans, jumbo loans, government-insured mortgage loans and others. Depending on mortgage loan term, it is fragmented into 30-year mortgage, 20-year mortgage, 15-year mortgage and others. The interest rate segment is divided into fixed-rate mortgage loan, adjustable-rate mortgage loan. The provider segment is segregated into primary mortgage lender and secondary mortgage lender. The primary mortgage lender is further segmented into banks, credit unions, NBFC's and others. The NBFC's is further segregated in online and offline. Region wise, the market is analysed across North America, Europe, Asia-Pacific, and LAMEA.
Mortgage Lending Market

---

By Type Of Mortgage Loan
Conventional mortgage loans segment accounted for the highest market share in 2021.
Get more information on this report :
Request Sample Pages
By type of mortgage loan, the conventional mortgage loans segment acquired highest share in the mortgage lending market size. This is attributed to the fact that conventional loans need fewer paperwork and be approved faster. The usual delays associated with FHA or government-backed loans can be avoided when mortgage lenders accept conventional loans.
Mortgage Lending Market

---
By Region
North America accounted for the highest market share in 2021.
Get more information on this report :
Request Sample Pages
Region wise, North America dominated the mortgage lending market share in 2021. This was attributed to the fact that the federal government created several programs, or government sponsored entities, to foster mortgage banking, construction and encourage home ownership. These programs include the Government National Mortgage Association (known as Ginnie Mae), the Federal National Mortgage Association (known as Fannie Mae) and the Federal Home Loan Mortgage Corporation (known as Freddie Mac). Hence, the region has largest mortgage lenders globally. Thus, these increasing initiatives by the government are fuelling the growth of the market in the region.
The key players operating in the global mortgage lending market include Ally Financial Inc., Bank of America Corporation, BNP Paribas Fortis, Citigroup, Inc., Fannie Mae, JPMorgan Chase & Co, Mr. Cooper Group Inc., PT Bank Central Asia Tbk, QNB, Royal Bank of Canada, Rocket Mortgage, LLC, Social Finance, Inc., Standard Chartered, Truist, Wells Fargo, ClearCapital.com, Inc. and Roostify, Inc. These players have adopted various strategies to increase their market penetration and strengthen their position in the mortgage lending industry.
COVID-19 Impact Analysis
COVID-19 pandemic has a moderate impact on the mortgage lending industry as some lenders struggled to keep up with the workload and had no choice but to raise rates. In addition, mortgage debt represents the single largest source of debt for individual homeowners and had a significant impact on their financial situation and capacity to maintain financial stability in the face of pay reductions or wage loss. Moreover, mortgages are frequently the biggest asset that lenders have in their retail banking portfolio, thus changes in originations, repayment plans, and default rates had a big influence on their profitability and liquidity during the pandemic. Furthermore, the initiatives such as the suitability of products offered to consumers, a growing focus on transparency and information provision, the imposition of requirements to support responsible lending by focusing on the borrower's ability to repay and restrictions on the amount of the loan relative to asset value and income has helped the market grow during crisis.
Top Impacting Factors
Shorter loan application processes
Mortgage lending aims to approve loan applications within 24 hours. The application usually takes less time as mortgage finance application involves filling out an online form, sending a few documents via email, and chatting through terms of loan. With this short application process, small business owners can easily apply for mortgage loan. The mortgage lender uses these documents and decides if borrowers qualify for their financing. If the borrower qualifies, lenders then use this information to determine the loan amount. Moreover, mortgage lending provides cash injection that borrowers need to invest in new equipment, meet payroll, or afford other business expenses. Therefore, this factor propels the growth of the market.
Increased focus toward digitalizing lending process
Digitization has been one of the most widely adopted strategies in financial services to improve core processing capabilities and offer better consumer services and insights. In addition, FinTech organizations have reportedly increased their sales percentage by focusing on digitalization of their financial services. A study has revealed that investments in financial technologies witnessed an impressive growth in 2018, which was almost twice that of 2015. In addition, more than half of these investments have been associated with lending and payments. Digitization in lending landscape has helped FinTech and their customers for better loan management decisions as well as rapid application and disbursement process. Thus, increase in focus of organizations on digitalizing their lending process to achieve business efficiency and enhanced outcomes drives the growth of the global mortgage lending market.  
Access to large sums of money
Small business owners often do not have the financial capability to raise funding in the debt or equity markets. This can make starting a business extremely expensive and risky. However, with a mortgage lending, it is possible to cover all business startup expenses with availing mortgage loan. This also makes it significantly less intimidating for business owners without extensive resources to obtain a relatively large amount of funding. In addition, by consolidating all financing on one loan, mortgage lending helps to access large sum of money for small businesses. Therefore, this is a major driving factor for the mortgage lending market.
KEY BENEFITS FOR STAKEHOLDERS
This report provides a quantitative analysis of the market segments, current trends, estimations, and dynamics of the mortgage lending market analysis from 2021 to 2031 to identify the prevailing market opportunity.

    The market research is offered along with information related to key drivers, restraints, and opportunities.

    Porter's five forces analysis highlights the potency of buyers and suppliers to enable stakeholders make profit-oriented business decisions and strengthen their supplier-buyer network.

    In-depth analysis of the mortgage lending market segmentation assists to determine the prevailing mortgage lending market opportunity.

    Major countries in each region are mapped according to their revenue contribution to the global market.

    Market player positioning facilitates benchmarking and provides a clear understanding of the present position of the market players.
    The report includes the analysis of the regional as well as global mortgage lending market trends, key players, market segments, application areas, and market growth strategies.
 Mortgage Lending Market Report Highlights
Aspects
Details
Type of Mortgage Loan

Conventional Mortgage Loans
Jumbo Loans
Government-insured Mortgage Loans
Others

Mortgage Loan Terms

30-year Mortgage
20-year Mortgage
15-year Mortgage
Others

Interest Rate

Fixed-rate Mortgage Loan
Adjustable-rate Mortgage Loan

Provider

Primary Mortgage Lender

Primary Mortgage Lender

Banks
Credit Unions
NBFC's
Others

Secondary Mortgage Lender

By Region

North America (U.S., Canada)
Europe (UK, Germany, France, Italy, Spain, Netherlands, Rest of Europe)
Asia-Pacific (China, Japan, India, Australia, South Korea, Singapore, Rest of Asia-Pacific)
LAMEA (Latin America, Middle East, Africa)

Key Market Players
Ally, Bank of America Corporation, BNP Paribas, China Zheshang Bank, Federal National Mortgage Association (FNMA), JP Morgan & Chase, Mitsubishi UFJ Financial Group, PT Bank Central Asia Tbk, Qatar National Bank, Royal Bank of Canada, Rocket Mortgage, LLC, Sofi, Standard Chartered PLC, Truist financial corporation, Clear Capital, Roostify, Mr. Cooper