Motor Grader Market Research, 2031
The global motor grader market was valued at $6.8 billion in 2021, and is projected to reach $12.1 billion by 2031, growing at a CAGR of 5.9% from 2022 to 2031. Motor grader is a type of heavy construction equipment which is used for grading the earth surface. It could be useful for grading or levelling of construction site, oil & gas sites, mining operations and levelling infrastructural surface. In addition, it is used for maintenance of earth surface which includes cleaning and removal of dust, snow and others. 
Motor grader, often known as road grader, is a construction equipment used in the grading process to level soil or surface. It has a long blade that aids in the development of a flat surface. It is commonly used in the construction sector to build and maintain dirt and gravel roads. It is used for a variety of tasks in the mining and construction industries, and they are equipped with a variety of equipment and is also used to prepare soil foundation before constructing any structures. Motor graders with engine capacity ranging from 60 kilowatts to 373 kilowatts and blade lengths ranging from 2.5 meters to 7.3 meters are available on the global market. It is increasingly being utilized to provide a smooth surface throughout the building process, in mining and construction sectors. 
The Motor Grader Market was hampered owing to reduction in construction activities along with the downfall of manufacturing industry. However, the market recovered by the end of 2021.
Motor graders are employed to complete or modify the grading process. While other construction vehicles or heavy equipment, such as bulldozers and scrapers perform the rough grading process efficiently, motor graders are utilized in the construction sector for maintenance & building of gravel and dirt roads. They are used to create large level areas on which bitumen can be laid during the building of paved roadways. It is employed to lay dirt foundations before the construction of a building or structure. In summary, motor graders are used in construction and mining to create level surfaces at the beginning or end of a road or site. Furthermore, road motor graders are used in the maintenance for grading, applying materials, and compacting of roads. It can perform cutting or scraping operations on snow-covered surfaces. It can remove pebbles and offer smooth surface roads. Thus such benefits drive the growth of motor grader market.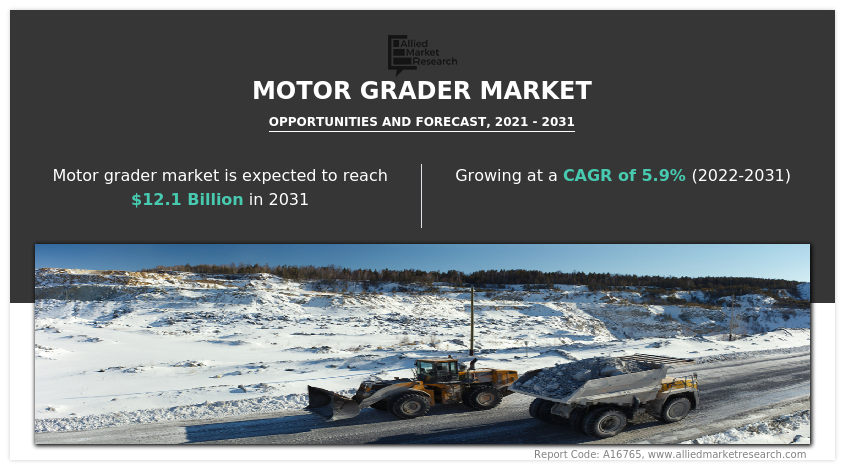 The motor graders market is driven by increased private sector investment, real estate sector growth, improving economic situations, and residential and commercial infrastructure setup in emerging countries. In addition, the expansion of government infrastructure development projects and public-private partnerships for the construction of public infrastructure systems in countries such as the U.S., India and China, has helped in expansion of motor grader market size. 
The U.S. government has made significant investments in the construction of roads, railway tracks, airports, and other infrastructure, which necessitates the employment of excavators, loaders, graders and other heavy equipment. For instance, in March 2021, the U.S. President introduced $2 trillion infrastructure plan, which includes transportation, broadband, electric grid and residential & commercial constructions.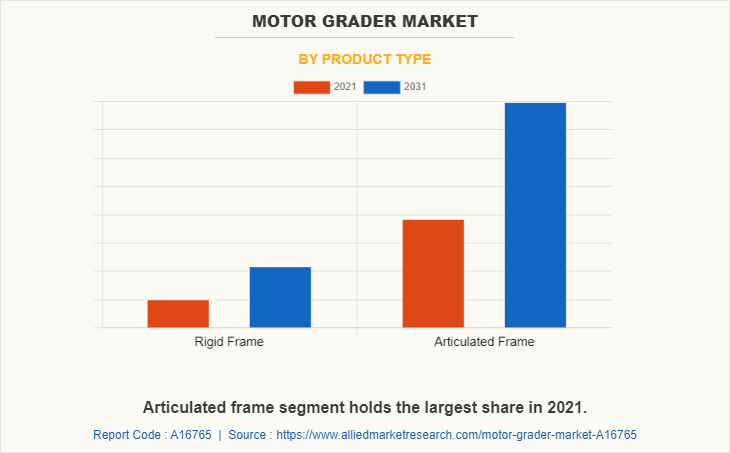 By product: The motor grader market is divided into rigid frame and articulated frame. In 2021, articulated frame segment registered the highest revenue and is expected to grow at a significant CAGR, owing to greater flexibility such motor grader offers. The articulated frame motor graders are specialized in providing accuracy in construction and mining tasks. These are preferable for working in smaller spaces with the help of its front and rear axis that helps in providing complete levelling and maintenance at lower amount of time. This boosts the adoption of articulated frame motor graders in the market.
In addition, leading market players are focusing on manufacturing smart, internet-connected, fuel- and energy-efficient construction machinery, resulting in motor grader market development potential throughout the projection period. For instance, in March 2021, Doosan Infracore launched super large 100-ton excavator model. It uses smart power control and electronic integrated hydraulic system. It has in-house designed fuel optimization system, to improve fuel efficiency and deliver ideal job performance with loss-free power and speed. 
However, construction, manufacturing, hotel, and tourism industries were majorly affected, during the outbreak of the COVID-19 pandemic. Manufacturing activities were halted or restricted. This led to decline in manufacturing of various equipment used for dust control systems as well as their demand in the market, thereby restraining the growth of the motor grader market. Conversely, industries are gradually resuming their regular manufacturing and services. This is expected to lead to re-initiation of dust control systems companies at their full-scale capacities, that helped the motor grader industry to recover by end of 2021.
By capacity: By capacity, the motor grader market is segmented into into small, medium and large motor graders. In 2021, medium segment registered the highest revenue and small segment is expected to grow at a significant CAGR, owing to price effective solution small motor grader offers. The medium motor graders have longer blades which make it suitable for covering the longer stretches of road. In addition, such motor graders have larger wheels which helps them in performing larger jobs. Such motor graders are used at large construction sites and are used commonly for highways and roads. The major benefit of medium motor grader is that it is cheaper in comparison with large motor graders and saves more energy in comparison with large motor graders but effective in performing most of the essential tasks that could be performed by large motor graders.
The major demand for motor grader was previously noticed in giant manufacturing regions, such as North America, Europe, Asia-Pacific, and South America, which are negatively affected by the spread of the coronavirus, thereby declining the demand for yarders. Further, potential impact of the lockdown is currently vague and financial recovery of companies is totally based on their cash reserves. Motor grader manufacturers can afford a full lockdown only for a few months, after which the players have to modify their investment plans. For instance, various players in the market halted their production activities for several weeks to reduce their expenses. On the contrary, few players adopted employee lay-offs to sustain themselves during the COVID-19 health crisis. Motor grader manufacturers are expected to focus on protecting their workforce, operations, and supply chains to respond to immediate crises and find new ways of working after COVID-19. For instance, provision of sanitizers, maintaining social distancing, as well as ensuring the vaccination of every employee in the company are promoting the health & safety of the workforce.  
Further factors driving motor grader market growth include expansion of construction sector and increase in government investments in infrastructure projects all around the world, especially in the U.S., China, and India. For instance, in February 2022, the Indian Government announced 48,000 Cr under the Pradhan Mantri Awas Yojana, which aims to build 80 lakh residential houses. Similarly, In January 2022, the Chinese Government invested $471 billion for its infrastructure development projects, which include roads & highways, airports, railways, and high-tech industries.  Furthermore, growth in mining sectors in emerging countries in Asia-Pacific increased the demand for motor graders. For instance, in October 2021, the Australian Government approved third coal mine projects to create new coal pit. In addition, major companies in the construction equipment sector are focusing on manufacturing motor grader vehicles for construction and mining sectors. 
By application: By application, the motor grader market is segmented into into infrastructure, construction, mining, oil & gas and others. In 2021, construction segment registered the highest revenue and oil & gas segment is expected to grow at a significant CAGR, as the demand for the oil & gas is expected to increase. For example, as per the Energy Information Administration (EIA), the demand for petroleum and liquid fuels demand is expected to rise by 1 million barrels per day in 2020 and by 1.5 million barrels per day in 2021. Further, in 2021, oil & gas exploration spending rose by around 20-22% compared to 2020 spending. Therefore, increased spending in oil & gas exploration and rise in demand for oil & gas will bring a significant change in the motor graders market for the oil & gas industry. In addition, Different motor grader manufacturing companies have launched motor grader models having three axles with the engine and cab situated above the rear axles at one end of the vehicle and a third axle at the front end of the vehicle with the blade in between. In addition, introduction of different technologies in manufacturing of construction equipment is expected to drive the growth of the market.
In March 2021, XMCG, China's leading construction machinery manufacturer, delivered GR2605 graders to Rio Tinto, which is utilized in Western Australia in mining sector. In addition, in January 2021, Gmmco Ltd. and Caterpillar Inc. launched SEM 915, a new generation motor grader. It is equipped with 150 HP motor and offers improved reliability and reduced operating costs. Moreover, in November 2020, Caterpillar Inc. introduced Cat 120 next generation motor grader. It offers higher fuel efficiency and lowers operating and maintenance costs. Moreover, the construction and mining industry witnessed growth over the years. This led to growth in the demand of dump trucks, loaders and excavators. In addition, this equipment is used for the demolishing and the quarrying activities. Hence this is driving the demand for earthmoving equipment such as motor graders and excavators.  
Furthermore, the rental service of earthmoving equipment is gaining popularity. These rental services include services for large, medium & small contracts as these help save the price and provide timely application. There is a rise in urbanization in different countries. This led to the rise in the infrastructure development. The infrastructure development is responsible for the development of different new projects. Furthermore, different key players are adopting different strategies for their market growth owing to developments in technology. These strategies are bringing new products and their use is increasing. The growing use is expected to offer lucrative opportunities for the growth of the motor grader market. 
The motor grader market is segmented on the basis of product type, capacity, application and region. By product type, the market is fragmented into rigid frame and articulated frame. By capacity, the market is categorized into small motor graders, medium motor graders and large motor graders. By application, the market is divided into infrastructure, construction, mining, oil & gas and others. 
By region, the motor grader market is analyzed across North America (the U.S., Canada, and Mexico), Europe (Germany, the UK, France, Italy, and rest of Europe), Asia-Pacific (China, India, Japan, South Korea, and rest of Asia-Pacific), and LAMEA (Latin America, Middle East, and Africa). 
On the basis of product type, in 2021 the articulated frame segment dominated the market, in terms of revenue, and the rigid frame segment is expected to witness growth at the highest CAGR during the forecast period. As per capacity, in 2021, the medium motor graders segment led the motor grader market, and the large motor graders segment is expected to exhibit the highest CAGR in the near future. By application the construction segment led the market in 2021, in terms of revenue and the oil & gas segment is anticipated to register highest CAGR during the forecast period. Region wise, Asia-Pacific garnered the highest revenue in 2021; and LAMEA is anticipated to register highest CAGR during the forecast period.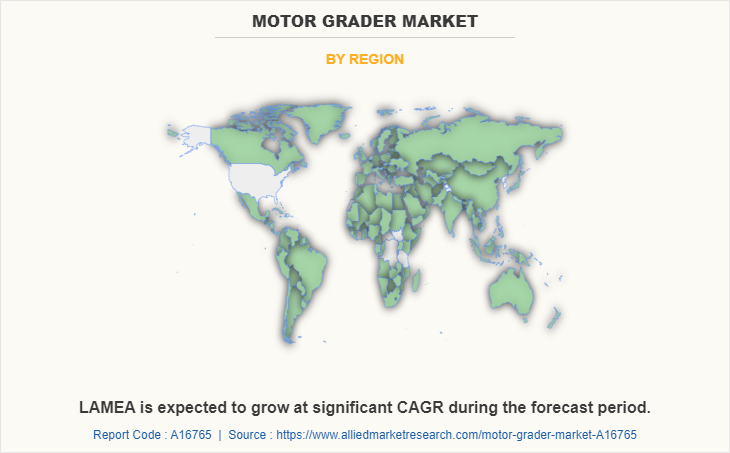 By region: By region, the motor grader market is segmented into into North America, Europe, Asia-Pacific and LAMEA. In 2021, Asia-Pacific registered the highest revenue and LAMEA is expected to grow at a significant CAGR. The major motor graders manufacturers focused on the North America market, mainly due to the high adoption rate of compact heavy construction equipment in the region. The U.S. is a major manufacturing hub of construction equipment for many major companies such as Caterpillar, Volvo, John Deere, and others. Further, Caterpillar manufactures most of its construction machinery through its production locations in various states of the U.S. which includes Illinois, California, Georgia, and Arkansas. Moreover, Hitachi Construction Machinery Co., Ltd. based in Japan through its subsidiaries Hitachi Construction Truck Manufacturing Ltd., Hitachi Construction Machinery Loaders America Inc., and Deere-Hitachi Construction Machinery Corporation, aims to provide an extensive range of motor graders along with different construction equipment and service & sales support for various equipment types in North America.
 Competiton Analysis 
The major players having significant motor grader market share profiled in the report are Advantech, AB Volvo, Calder Brothers Corporation, Caterpillar Inc., CNH Industrial N.V., Deere & Company, Guangxi Liugong Machinery Co., Ltd., KOMATSU Ltd, Leeboy, Sany Group Co Ltd, and Veekmas Oy. 
Major companies in the market have adopted product launch and product upgrade as their key developmental strategies to offer better products and services to customers in the motor grader market. 
Key Benefits For Stakeholders
This report provides a quantitative analysis of the motor grader market outlook, market segments, current trends, estimations, and dynamics of the motor grader market analysis from 2021 to 2031 to identify the prevailing motor grader market opportunities.
The market research is offered along with information related to key drivers, restraints, and opportunities.
Porter's five forces analysis highlights the potency of buyers and suppliers to enable stakeholders make profit-oriented business decisions and strengthen their supplier-buyer network.
In-depth analysis of the motor grader market segmentation along with motor grader market forecast that assists to determine the prevailing market opportunities.
Major countries in each region are mapped according to their revenue contribution to the global market.
Market player positioning facilitates benchmarking and provides a clear understanding of the present position of the market players.
The report includes the analysis of the regional as well as global motor grader market trends, key players, market segments, application areas, and market growth strategies.
 Motor Grader Market Report Highlights
Aspects
Details
Market Size By 2031
USD 12.1 billion
Growth Rate
CAGR of 5.9%
Forecast period
2021 - 2031
Report Pages
220
By Product Type

Rigid Frame
Articulated Frame

By Capacity

Small Motor Graders
Medium Motor Graders
High Motor Graders

By Application

Infrastructure
Construction
Mining
Oil and Gas
Others

By Region

North America (U.S., Canada, Mexico)
Europe (Germany, France, UK, Italy, Rest of Europe)
Asia-Pacific (China, Japan, South Korea, India, Rest of Asia-Pacific)
LAMEA (Latin America, Middle East, Africa)

Key Market Players
CNH Industrial N.V,, AB Volvo, KOMATSU Ltd, Veekmas Oy, leeboy, Calder Brothers Corporation, Sany Group Co Ltd,, Caterpillar Inc., Guangxi Liugong Machinery Co., Ltd., Deere & Company