The global motorcycle battery market size was valued at $8.6 billion in 2022, and is projected to reach $12.7 billion by 2032, growing at a CAGR of 4.3% from 2023 to 2032.
Report Key Highlighters:
The report covers a detailed analysis on the batteries used in motorcycles.
The motorcycle battery market has been analyzed from the year 2022 till the year 2032.
Latest developments have been mentioned in the research study.
Top companies operating in the industry has been profiled in the research study.
The research study includes different segments & regions across which the market has been analyzed.
A motorbike battery is an electrical energy storage system that uses a reversible chemical interaction between the lead and the acid in the battery to store electrical energy. Battery consists of battery electrolytes which includes sulfuric acid and distilled water mixture that is added to motorcycle batteries and acts as a conductor between the lead in the battery and the battery acid, allowing an electrical charge to be created. With the advancement in technology, component manufacturers operating across the globe has been inclined toward offering effective motorcycle batteries which proves to be a factor supplementing the growth of the market across the globe.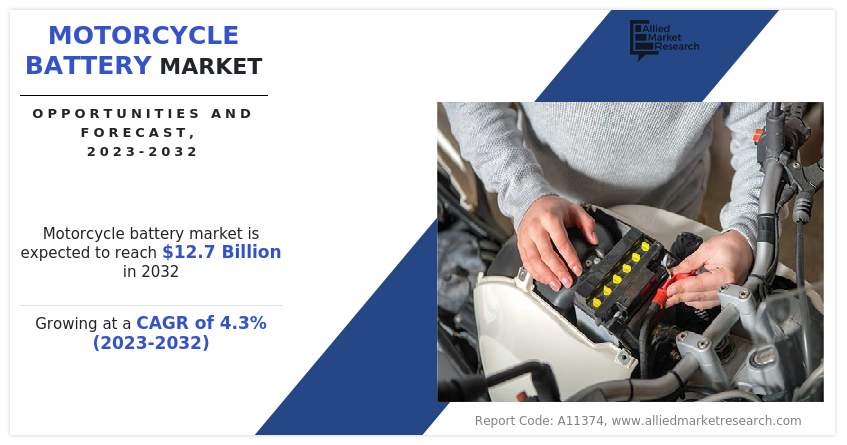 Factors such as growth in demand for zero emission vehicles and reduction in cost of electric vehicle batteries drives the growth of the market across the globe. However, factors such as stringent lead pollution norms and instability in the prices of the raw material create a barrier affecting the growth of the market across the globe. Moreover, factors such as evolution of lithium-ion technology and proactive government initiatives are the factors that create lucrative opportunities for the growth of the market across the globe.
The motorcycle battery market has been segmented into type, battery type, motorcycle type, propulsion type, and region. By type, the market is classified into wet cell battery, dry cell battery, and gel motorcycle battery. By battery type, the market is categorized into lithium-ion battery, lead-acid battery, and others. By motorcycle type, the market is divided into cruiser bike, sports bike, standard, and others. By propulsion type, the market is segregated into internal combustion engines (ICE) and electric. By region, the market has been analyzed across North America, Europe, Asia-Pacific, and LAMEA.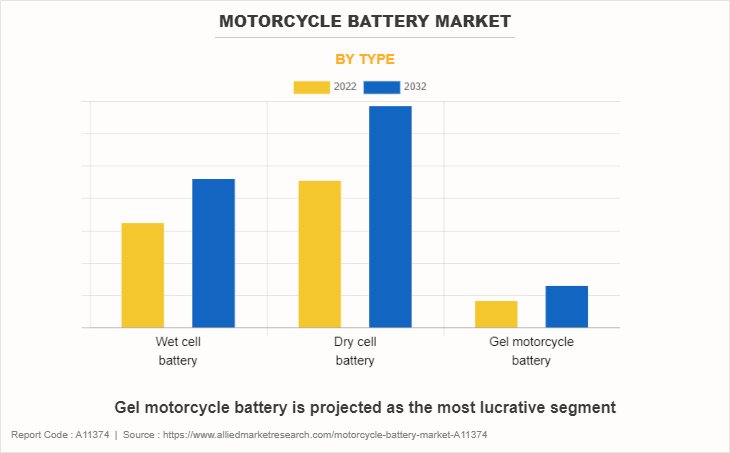 The motorcycle battery market manufactures profiled in the report are Exide Industries LTD., Scorpion Battery, Inc., Robert Bosch GmbH, SF Batteries, KOYO Battery Co., Ltd., GS Yuasa International Ltd., BS Battery, Amara Raja Group, LEOCH International Technology Limited Inc, and Johnson Controls.
Growth in demand for zero emission vehicles
Increase in global concerns regarding the negative effect of climate change along with alarming pollution levels recorded in major cities have created a significant demand for electric vehicles. This involves electric motorbikes that run on battery based electricity and are more economical than fuel powered vehicles. An electric bike utilizes around 50% of the electrical energy from the grid to power the vehicle, whereas the gas-powered vehicle converts about 17% to 21% of the energy stored in gasoline. The demand for electric vehicles has increased recently, due to the rise in the price of petrol and diesel across the globe. This is due to depleting fossil fuel reserves and growth in tendency of companies to gain maximum profit from oil reserves. Thus, these factors give rise to the need for advanced fuel-efficient technologies, leading to a surge in motorcycle battery market demand for electrically powered bikes for travel.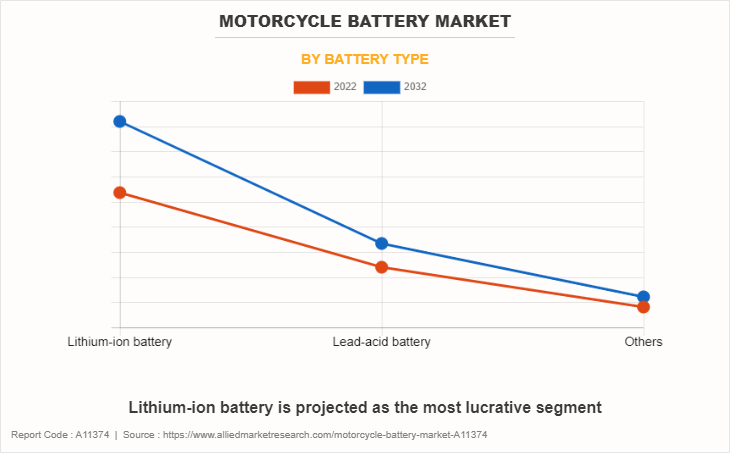 Reduction in cost of electric vehicle batteries
Technological advancements towards the development of electric vehicle batteries on a huge scale has decreased the cost of EV batteries in last few years. This has decreased the cost of electric vehicles as batteries comprise almost 20% to 40% of overall cost of electric vehicles. The price of an EV battery across China was $1,000 per kWh in year 2010, whereas the price has been dropped to around $137 per kWh in 2020 and is maintaining the price as low as $100 per kWh in China. This is attributed to the advancements in battery technologies along with reducing manufacturing costs of these batteries, reduced cathode material prices, and greater volumes of production. The price of EV batteries is projected to decrease by $40-60 per kWh by 2030 across the globe, due to the reduction in the price of electric vehicles making them equivalent to conventional gasoline-powered vehicles.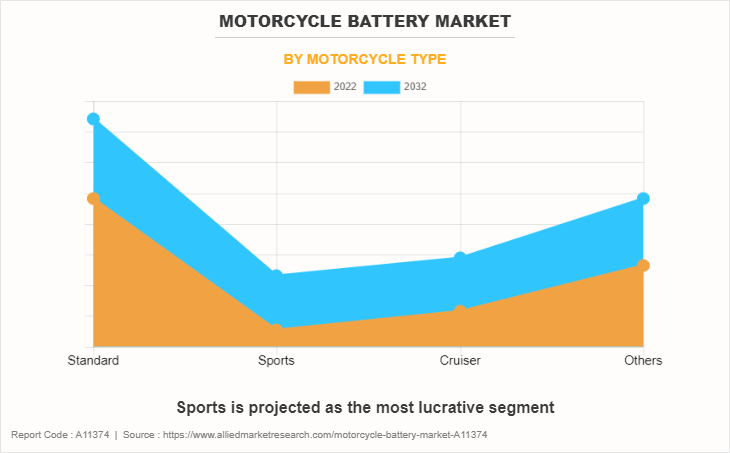 The increased demand for low emission vehicles is expected to support the growth of EV adoption in the future. In 2020, Tesla announced plans to drastically reduce prices of their EV batteries in the upcoming years. Other leading electric vehicle battery manufacturers such as Samsung SDI, Panasonic, LG Chem, SK Innovative, and CATL have been working with leading EV manufacturers for achieving this goal in the next 4 to 5 years. Thus, reducing the cost of batteries is anticipated to drive the growth of the electric battery designed for usage in motorcycles thus leading to the motorcycle battery market growth.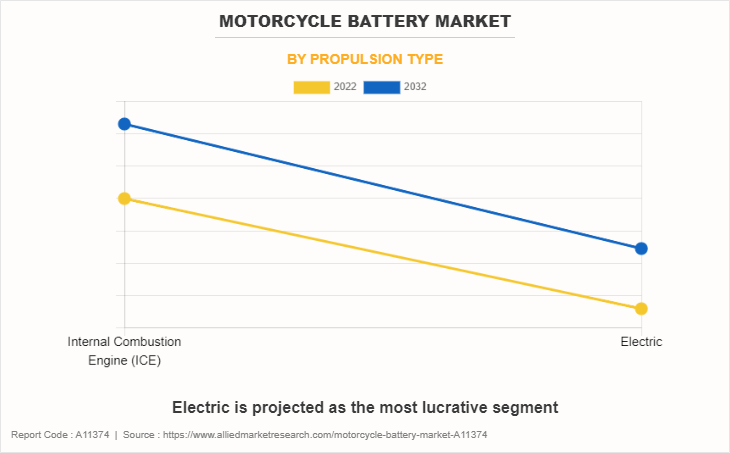 Stringent lead pollution norms
Lead acid batteries are more expensive as compared to other battery technologies such as nickel metal hydride & lithium-ion and are widely used at the global level. Lead compounds being more toxic and a longer exposure to the compounds affects brain & kidney leading to severe damage. According to the Federal Toxic Release Inventory, the auto industry uses 1,000,000 metric tons of lead every year, 90% of which goes into conventional lead acid batteries. Environmental consequences such as improper disposal of lead during smelting, lead mining, and lead disposing in landfills have led to the creation of strict lead pollution norms by government to minimize its usage. These factors act as major barriers for the motorcycle battery industry and hampers market growth.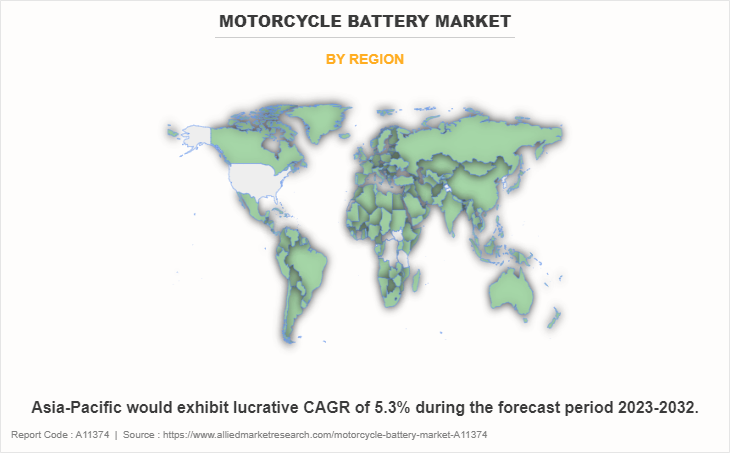 Evolution of lithium-ion technology
The emergence of lithium-ion technology has been fueling the growth rate for batteries over the last two decades. While new hybrid vehicles deployed nickel metal hydride (NiMH) batteries whereas Li-ion batteries were the prime focus of automakers to power pure EVs such as passenger cars & bikes. The high energy density and charge storage capacity along with low maintenance of the battery is the factor which has accelerated the growth of Li-ion battery among vehicle manufacturers. The cost of ownership of lithium-ion batteries is high as compared to other batteries. However, major market players have made investments to increase the performance of Li-Ion battery performance in industry and enhance the production and R&D activities, which has increased competition among manufacturers and has decreased the cost of lithium-ion battery. Moreover, by launching electric vehicles in the market, advanced battery technologies such as enhanced polymer coating and adoption of solid electrolytes in Li-ion battery are expected to provide higher energy-storage capacity & safety of vehicles. Thus, evolution and adoption in battery technology creates various market opportunities for the growth of the motorcycle battery market share during the forecast period.
Key Developments in Motorcycle Battery Industry:
In August 2023, Amara Raja Group through its subsidiary AMARON Batteries planned to expand its two-wheeler electric vehicle (EV) market through chargers & lithium-ion batteries. This strategy helps company to expand its business by generating more revenue through sale of lithium-ion battery.
In January 2023, GS Yuasa International Ltd. signed an agreement with Honda Motor Co., Ltd. for a high-capacity, high-output lithium-ion battery for hybrid electric vehicles (HEVs). This strategy accelerates Honda's electrification strategies toward the achievement of carbon neutrality goal.
In May 2022, EXIDE INDUSTRIES LTD. collaborated with SVOLT Energy Technology to establish a lithium-ion cell manufacturing plant in India. Exide plans to manufacture cells across two popular chemistries- -Nickel Manganese Cobalt (NMC) & Lithium Iron Phosphate (LFP) for the cylindrical, pouch and prismatic cell formats.
In September 2021, BS BATTERY collaborated with motorcycle manufacturer, Sherco to supply of lithium batteries to all racing and production models. This strategy helps Sherco bikes to powered by the lightweight and reliable batteries.
Russia-Ukraine war had an impact on the vehicle battery market due to disruptions in the global supply chain. Initially, many battery manufacturers around the world and in European countries relies on Russia for the supply of metals such as nickel, which are essential components to produce electric vehicle batteries including motorcycles. Similarly, Ukraine provides lead-acid batteries to the nearby European countries as well as to the worldwide manufacturers to produce battery. The war disrupted the supply chain and raised questions about the availability and price of the materials, therefore affecting the production and affordability of electric vehicle batteries.
Key Benefits For Stakeholders
This report provides a quantitative analysis of the market segments, current trends, estimations, and dynamics of the motorcycle battery market analysis from 2022 to 2032 to identify the prevailing market opportunities.
The market research is offered along with information related to key drivers, restraints, and opportunities.
Porter's five forces analysis highlights the potency of buyers and suppliers to enable stakeholders make profit-oriented business decisions and strengthen their supplier-buyer network.
In-depth analysis of the market segmentation assists to determine the prevailing market opportunities.
Major countries in each region are mapped according to their revenue contribution to the global market.
Market player positioning facilitates benchmarking and provides a clear understanding of the present position of the market players.
The report includes the analysis of the regional as well as global market trends, key players, market segments, application areas, and market growth strategies.
 Motorcycle Battery Market Report Highlights
Aspects
Details
Market Size By 2032
USD 12.7 billion
Growth Rate
CAGR of 4.3%
Forecast period
2022 - 2032
Report Pages
250
By Type

Dry cell battery
Gel motorcycle battery
Wet cell battery

By Battery Type

Lithium-ion battery
Lead-acid battery
Others

By Motorcycle Type

Standard
Sports
Cruiser
Others

By Propulsion Type

Internal Combustion Engine (ICE)
Electric

By Region

North America (U.S., Canada, Mexico)
Europe (UK, Germany, France, Italy, Rest of Europe)
Asia-Pacific (China, Japan, India, South Korea, Rest of Asia-Pacific)
LAMEA (Latin America, Middle East, Africa)

Key Market Players
BS BATTERY, EXIDE INDUSTRIES LTD., Robert Bosch GmbH, Johnson Controls, SF Batteries, Amara Raja Group, KOYO BATTERY CO., LTD., Scorpion Battery, Inc., leoch International Technology Limited Inc, GS Yuasa International Ltd.