Multi-Cloud Management Market Outlook: 2023
Multi-Cloud Management is a set of tools used to organize, integrate, control, and manage more than one cloud services provided by different vendors. These services may be for infrastructure management, resource management, policy management, access control management, lifecycle management, metering and billing, identity and access management, and other applications.The global multi-cloud management market was valued at $1,198.4 million in 2016, and is expected to reach $6,816.5 million by 2023, growing at a CAGR of 28.4% from 2017 to 2023.
The major factors that drive the market growth are uncertainty about single cloud reliability, growth in inclination of organizations toward price-sensitive cloud deployments, growth in need to avoid vendor lock-in, and rise in need of policy compliance from regulatory bodies for data sovereignty.
Companies profiled in this report include BMC Software, VMWare, IBM, Accenture, CenturyLink, Cisco, Rightscale, Cloudyn, Jamcracker, and Citrix. Company overview, business performance, strategic moves and developments, and other key points are provided for the aforementioned companies. These players have expanded their market presence by adopting various business strategies such as acquisition, geographical expansion, product development, strategic alliance, and collaboration.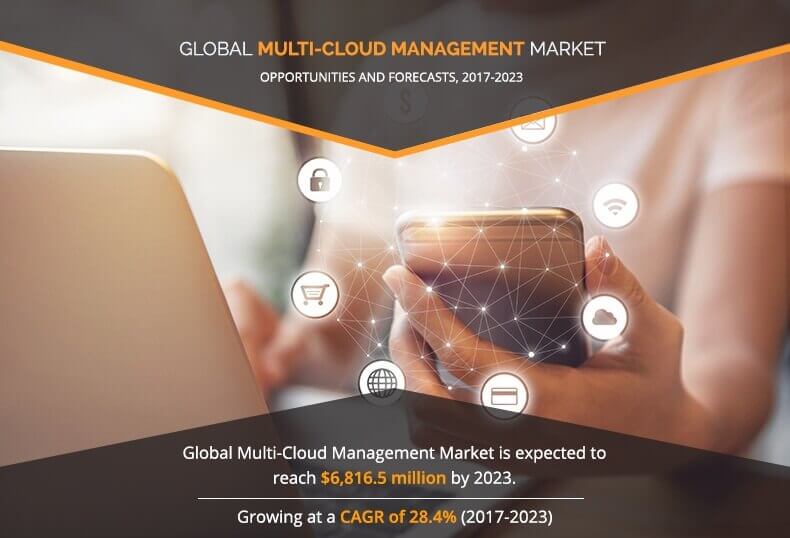 Segment Review
The global multi-cloud management market is segmented based on component, deployment model, application, industry vertical, and region. As per component, the market is bifurcated into software and services. Services segment is further categorized into security and risk management, training and consulting, reporting and analytics, cloud automation, migration and integration, support and maintenance, and others. Based on deployment model, the multi-cloud management market is divided into private, public, and hybrid cloud. As per application, it is segregated into identity and policy management, compliance management, infrastructure and resource management, metering and billing, provisioning, lifecycle management, and others. Industry vertical segment is studied across banking, financial services, and insurance, IT & telecommunication, healthcare, retail and consumer goods, public sector, energy & utilities, and other industry verticals. The global multi-cloud management industry is analyzed across major geographic regions including North America, Europe, Asia-Pacific, and LAMEA.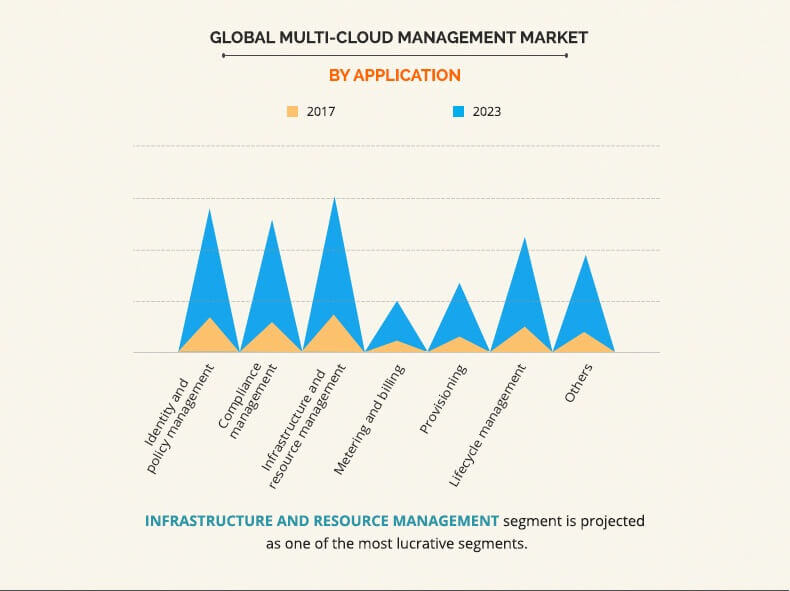 The Asia-Pacific multi-cloud management market generated the highest revenue in 2016, attributed to large population, high Internet penetration in the region, and high number of youth active on social networks & other online platforms. The LAMEA multi-cloud management market is expected to grow at the highest CAGR, owing to the growth in penetration of internet, changes in consumer demographics, and uncaptured opportunities for the suppliers in LAMEA for e-learning content, software, hardware, and other services. Further, government of the Middle East focuses on promoting mass digitization process especially in soft skills development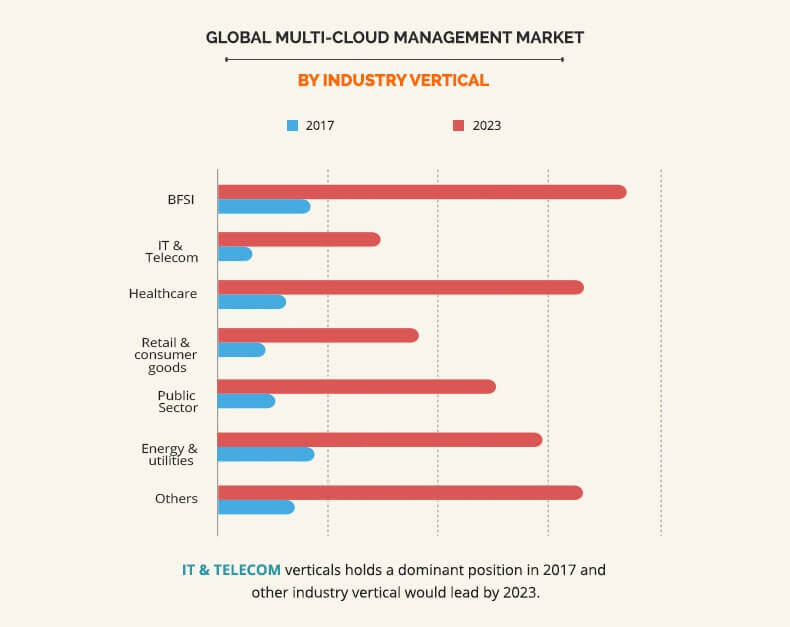 Top Winning Strategies: Multi-Cloud Management Market
Top winning strategies are analyzed by performing a thorough study of the leading players in the Global Multi-cloud Management Market. Comprehensive analysis of recent developments and growth curves of various companies have helped understand the growth strategies adopted by them and their potential effect on the market. The companies are evaluated based on annual reports, SEC filings, and press releases. The key strategies traced from the analysis of recent developments of the key players in the multi-cloud management market are as follows:
Agreement: This strategy enhances market players capabilities and improves market outreach
Acquisition: This move is adopted by companies to take ownership stakes of other companies and control them. It also expands geographical presence of the owners and caters to new customers as well as the owners
Product Launch: This includes introduction of new and unique rental plans in the market
Partnership: This strategy is adopted when two or more companies agree to cooperate to advance their mutual interests
Expansion: These strategies are adopted to enhance product portfolios, effective operations, expand geographical reach, and increase customer base
Collaboration: This includes two or more companies agree to cooperate each other for a specific purpose or achieving a common goal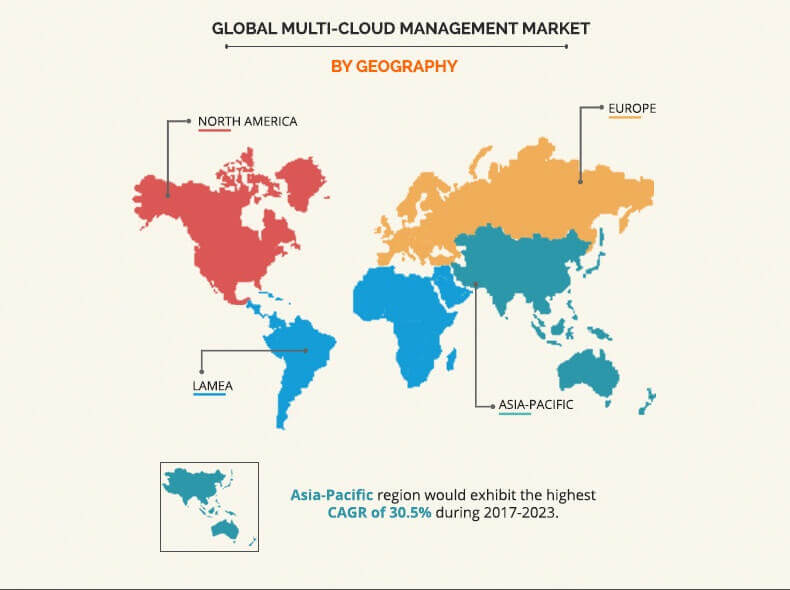 Top Winning Strategies, by Development 2015-2017 (%)
Growth in Need to Avoid Vendor Lock-in
Vendor lock-ins cause a lot of complications in business process and may harm the performance of an organization. To avoid such situation, organizations prefer not to be reliable on a single vendor, but use multiple cloud platforms, which cater to their requirements. This further leads to the growth in adoption of efficient multi-cloud management solutions among the multi-cloud users.
Rise in Need of Policy Compliance from Regulatory Bodies for Data Sovereignty
Organizations are concerned over how to comply with existing rules and their exposure if the company operates in areas where there are no rules governing cloud services, especially in Europe. Thus, storing data on local clouds minimizes issues over data sovereignty as well as controls direct traffic to data centers that are closer to users as per their location.
Availability of Cloud Services Brokerage
Availability of cloud services brokerage (CSB) ease the installations, integration, reporting, analytics, security, risk management, and other services associated with the multi-cloud management. Further, it offers a common platform to be handled by the consumers and handles multiple clouds on the back-end. The increase in demand for cloud brokerage services is expected to positively affect the multi-cloud management market.
Impact of covid-19 on Multi-Cloud Management Market:
With adoption of "work from home" culture due to lockdown, organizations with their workloads on the clouds have an edge over those who were shifting to the cloud and trying to adapting to the situation. Efficient management over the cloud enabled employees to work remotely without hampering productivity.
In unprecedented times like Covid-19 pandemic, organizations have implemented various tools and partnered with companies such as Microsoft, AWS, and Zscaler to enable their employees to work seamlessly from home, achieve agility while serving clients, and ensure data security.
Key Benefits
In-depth analysis of the global multi-cloud management market along with its dynamics is provided to understand the market scenario.
Quantitative analysis of the current trends and future estimations from 2017 to 2023 is provided to assist strategists and stakeholders to capitalize on prevailing opportunities.
Porters Five Forces analysis examines the competitive structure of the multi-cloud management market and provides a clear understanding of the factors that influence the market entry and expansion.
A detailed analysis of the geographical segments enables identification of profitable segments for market players.
Comprehensive analysis of the trends, sub-segments, and key revenue pockets are provided in the report.
Detailed analysis of the key players and their business strategies are anticipated to assist stakeholders to take informed business decisions.
Profile analysis of leading players that operate in the multi-cloud management market are provided in the report, which highlight the major developmental strategies such as mergers & acquisitions, expansions, and new product launches adopted by these companies.
 Multi-Cloud Management Market Report Highlights
Aspects
Details
By Component

Software
Services
Security and Risk Management
Training and Consulting
Reporting and Analytics
Cloud Automation
Migration and Integration
Support and Maintenance
Others

By Deployment Mode

Private Cloud
Public Cloud
Hybrid Cloud

By Application

Identity and Policy Management
Compliance Management
Infrastructure and Resource Management
Metering and Billing
Provisioning
Lifecycle Management
Others

By Industry Vertical

Banking, Financial Services, and Insurance
IT & Telecommunication
Healthcare
Retail and Consumer Goods
Public Sector
Energy and Utilities
Others

By Geography

North America
Europe

UK
France
Germany
Russia
Rest of Europe

Asia-Pacific

Japan
China
India
Australia
Rest of Asia-Pacific

LAMEA

Brazil
South Africa
UAE
Rest of LAMEA

Key Market Players
INTERNATIONAL BUSINESS MACHINES CORPORATION, RIGHTSCALE, INC., CITRIX, BMC SOFTWARE, ACCENTURE, CLOUDYN, JAMCRACKER, INC., CISCO SYSTEMS, INC., CENTURYLINK, VMWARE