Murumuru Butter Market Research, 2031
The global murumuru butter market size was valued at $802 million in 2021, and is projected to reach $1.8 billion by 2031, growing at a CAGR of 8.4% from 2022 to 2031.
Murumuru Butter is very similar to coconut oil, both of which are nutritious ingredients derived from the nuts found in palm trees. However, the biggest difference between these two ingredients is that murumuru butter is lighter and more moisturizing than coconut oil, so it is less likely to clog pores. This butter restores the natural moisture barrier of the skin and soothes it without clogging pores or causing acne. This ingredient is perfect for inflamed skin because murumuru butter also contains anti-inflammatory agents in it. It soothes sensitive skin and restores moisture to dry skin. It is an excellent emollient known for its moisturizing properties. It is also a type of ingredient that may be found in various beauty products, like body butter, hair care shampoo, lip care, and others.
Enriched with fatty acids, it includes myristic acid and lauric acid, which help to care for the natural skin barrier and prevent moisture loss. In addition, Murumuru Butter is fortified with vitamin A, helping the skin fight signs of aging such as fine lines and wrinkles. This shows a positive outlook for murumuru butter market in the future. People prefer buying murumuru butter market products because it is a totally vegan product helpful for skin, hair, and others. The global murumuru butter market share is anticipated to grow at a fast rate during the forecast period.
The impact of COVID-19 pandemic on the global murumuru butter market size was negative in nature. Due to lockdown restrictions, retail stores, cosmetic stores supermarkets and hypermarkets, and public places were closed. Companies in the murumuru butter market are actively expanding their online presence as consumers are very active on social media and digital platforms. Anyway, due to the COVID-19 pandemic, brand owners have for the moment closed their websites. They are waiting for the resumption of business activities after the blockade and are improving their efforts to comply with government guidelines. This had adverse effects on the growth of the global murumuru butter market.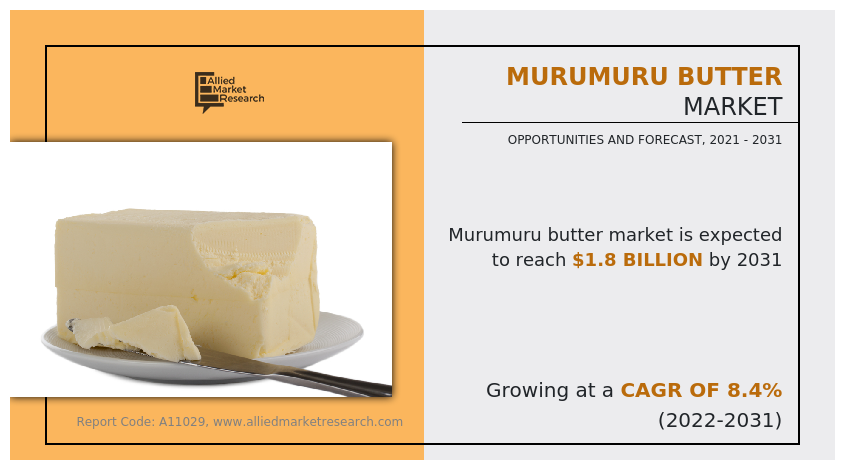 The major factor which drives the growth of the global murumuru butter market growth is the large number of people who are addicted to cosmetics (skincare, hair care and lip care). A huge investment in social media platforms also fuels the demand for murumuru butter products, globally. Ease of access is another such factor. The advent of intelligent murumuru butter and its many cosmetic products that benefit the retailers to understand customer behavior propels the growth of the market.
In many cases, murumuru butter market products face obligations and restrictions due to stringent government policies regarding skin diseases. In addition, Murumuru butter, which is high in fat, traps water and moisturizes the skin. It is also rich in fat such as lauric acid and penetrates the hair shaft to prevent curly hair. Compared to alternatives like cocoa butter, murumuru butter is less expected to clog pores and helps prevent acne. However, if the skin is prone to acne, it may be too heavy to use on the face. Murumuru butter helps reduce signs of aging such as wrinkles and fine lines by moisturizing and nourishing the skin. To prevent dullness, it is better to use a high-oil conditioner such as murumuru butter to moisturize hair and maintain its natural shine. Dry skin conditions, including eczema, are associated with reduced skin lipid levels. Applying a high-fat cream like murumuru butter helps replenish the moisture of the skin barrier and reduces dryness and irritation. Many people report sensitive skin and the symptoms are exacerbated when exposed to certain ingredients commonly found in skin care products. In such cases, murumuru butter can be a good alternative.
Murumuru butter is an exclusively vegan product. At the present time, people look for vegan products rather than non-vegan. According to the government agency Humane Society International (HSI), 100,000-200,000 animals suffer and die each year worldwide, as a result of aesthetic experiments. Animals are used as a cheap alternative to human testing to save money. In addition, animals are slaughtered without pain relief unless they have already died after the test round. Currently, bans on animal testing have been introduced in some countries, and cosmetics are more attractive as consumer interest grows. Countries such as India, the UK, the EU, Australia, Israel, New Zealand, Norway, Switzerland and Turkey have made animal testing illegal and have imposed heavy penalties on cosmetic companies attempting animal testing. The passage of the ban has increased the availability of non-abuse cosmetics in the market and increased sales of murumuru butter cosmetics.
Structural changes in consumer preferences for natural, organic, free, safe, and healthy products play an important role in influencing the choice of ingredients used in cosmetics, food and beverages, which create unique ingredients; for example, murumuru butter is used in cosmetics everywhere and its organic cosmetic products are high in demand due to the natural benefits of murumuru butter. It is an important ingredient in some products of Brazilian cosmetics giant Natura and is widely used in 100% vegetarian and handmade facial and body care products by the British company Lush. California-based Physicians Formula recently partnered with a small retailer to expand its portfolio and surge in awareness of Murumuru Butter Blush. Murumuru Butter also protects against sun damage and skin from heat and other harmful compounds. It also protects the hair and helps to keep it hydrated and soft. In addition, it is a worthwhile substitute to coconut oil. Compared to coconut oil, murumuru butter results in less acne and does not clog pores. All of these benefits boost the growth of the murumuru butter market. There is a growth in the popularity of murumuru butter cosmetics as the increase in the organic population supports the market growth and there is also a shift in the non-organic population toward organic products to support the ban on chemical products.
Shea butter and cupuacu butter are substitutes for murumuru butter available in the market. These types of butter are quite low in price as compared to murumuru butter. This increases the demand for shea butter and cupuacu . In addition, people are unaware of murumuru butter. This results in the threat from substitute products and is expected to hinder the expansion of the murumuru butter market during the forecast period.
Murumuru butter is gaining popularity as customers throughout the world recognize the benefits of using natural and organic cosmetics and anxiously await the arrival of new products to the market. Murumuru butter is a high-end cosmetic.  Many people settle for low-cost cosmetics or quit using cosmetics entirely as they do not have access to high-end, non-organic cosmetics. Producers are developing low-cost murumuru butter cosmetics to target the population of developing countries and gain market dominance in that region. Manufacturers are looking at other options, such as introducing items with dual benefits, which is anticipated to allow the consumers to buy a single product rather than purchasing two separate products to get the intended impact.
E-commerce is the advertising of products or services using new technology, particularly the Internet, and via numerous means such as cell phones, display adverts, and all other digital and social media. Influencers work hard to promote their murumuru butter cosmetics companies on social media and spend a lot of money on digital marketing to raise awareness about the benefits of using murumuru butter; for example, the companies use social media launch and advertising of their brand which influence people to buy the butter cosmetics products. . They work hard on branding, such as adding cruelty-free and 100% vegan tags, which creates interest in consumers. Furthermore, it has been noticed that internet platforms make a range of conscious companies more accessible, therefore mainstreaming  sustainable beauty.  According to e-commerce sites, interest of the consumer in butter cosmetic companies grows faster than that in traditional body lotions and hair care products
The murumuru market is segmented on the basis of nature, end-use, distribution channel, and region. On the basis of nature, the market is bifurcated into conventional, and organic. On the basis of end-use, the market is classified into hair care cosmetics, skin care cosmetics, and lip care cosmetics. On the basis of the distribution channel, the market is categorized into B2B and B2C. On the basis of region, the market is analyzed across North America, Europe, Asia-Pacific, and LAMEA.
Murumuru Butter Market

---
By Nature
Conventional segment is the fastest growing segment during the forecast period.
By nature, the murumuru butter market is fragmented into conventional and organic. The organic segment was the highest revenue contributor in 2020, owing to wide availability of processed organic with various products like shampoos, lotion, body butter, conditioner and many others.
Murumuru Butter Market

---
By End User
Skin care segment is the fastest growing segment during the forecast period.
By end user, the murumuru butter market is fragmented into hair care, skincare and lip care. The haircare segment dominated the market in 2021, owing to surge in usage of murumuru butter market in residential areas. The skincare segment is expected to grow at a modest rate during the forecast period.
Murumuru Butter Market

---
By Distribution Channel
B2B segment is the fastest growing segment during the forecast period.
By distribution channel, the murumuru butter market demand is categorized into B2B and B2C. The B2C segment is dominating the murumuru butter market. Moreover, increase in adoption of online delivery platforms is expected to significantly drive growth of the segment during the forecast period.
Murumuru Butter Market

---
By Region
North America region is the largest revenue generating region in 2021.
The North America market for murumuru butter is analyzed in the U.S., Canada and Mexico. There are fundamental changes in consumer behavior toward the use of organic and herbal cosmetics in the region. In addition, the growth in demand for organic, veganism and rebellion against animal cruelty in North America has led to a significant increase in demand for murumuru butter cosmetics in the market.
The major players analyzed for the murumuru butter industry are jarchem industries, Inc., Liberty Natural Products, Caribbean Natural Products Inc, BERACA INGREDIENTS NATURAIS SA, LUSH RETAIL LIMITED, NSI Group, LLC, Vigon International, Inc, Hallstar Company, H.F.Ed. Meyer GmbH & Co. KG , O&3 Limited 
Key Benefits For Stakeholders
This report provides a quantitative analysis of the market segments, current trends, estimations, and dynamics of the murumuru butter market analysis from 2021 to 2031 to identify the prevailing murumuru butter market opportunities.
The market research is offered along with information related to key drivers, restraints, and opportunities.
Porter's five forces analysis highlights the potency of buyers and suppliers to enable stakeholders make profit-oriented business decisions and strengthen their supplier-buyer network.
In-depth analysis of the murumuru butter market forecast segmentation assists to determine the prevailing market opportunities.
Major countries in each region are mapped according to their revenue contribution to the global market.
Market player positioning facilitates benchmarking and provides a clear understanding of the present position of the market players.
The report includes the analysis of the regional as well as global murumuru butter market trends, key players, market segments, application areas, and market growth strategies.
 Murumuru Butter Market Report Highlights
Aspects
Details
Market Size By 2031
USD 1.8 billion
Growth Rate
CAGR of 8.4%
Forecast period
2021 - 2031
Report Pages
250
Nature
End User

Hair Care
Skin Care
Lip Care

Distribution Channel
By Region

North America (U.S., Canada, Mexico)
Europe (U.K., Italy, Spain, Russia, Turkey, Rest of Europe)
Asia-Pacific (China, Japan, India, Thailand, Australia, Rest of Asia-Pacific)
LAMEA (Brazil, Argentina, UAE, Rest of LAMEA)

Key Market Players
Citróleo Groups, Natural Products, Jarchem Industries, Beraca Ingredientes Naturais SA, Lush Retail, Natural Sourcing, Crafters Choice Brands, Vigon International, O&3, Hallstar, Henry Lamotte Oils GmbH, Gracefruit, Parchem fine & speciality chemical, Mystic Moments, Jadeward International, Paris Fragnance USA
Amanaci Rohstoffe, Hallstar, Jarchem Industries Inc, Henry Lamotte Oils GmbH, O&3