The global musical instruments market size was valued at $9,826.5 million in 2020, and is projected to reach $11,589.8 million by 2030, registering a CAGR of 2.1%.
Musical instruments are devices that make musical sounds. These instruments express and reflect individual and community identities as well as physical geographies. A musical instrument's role in a society can vary to a great extent, for instance, it can be used for entertainment or as part of a ritual, its use in an ensemble can demonstrate social solidarity, or owning a specific instrument can elevate an individual's status.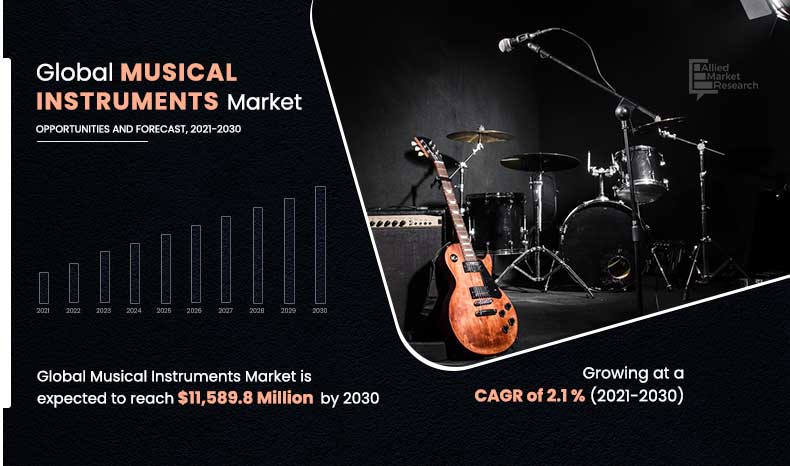 Technological advancements are expected to propel the growth of the musical instrument market. The increasing use of sophisticated technologies encourages major players to design and develop a wide range of upgraded versions of musical instruments. For instance, incorporation of built-in software in musical instruments aids in improving sound quality and facilitates enhanced performance. Furthermore, ease of playing, full and clean sound and improved volume regulation are all major advantages of using these technologically advanced instruments. The significant innovation is the 
As students prefer extracurricular activities, many schools, colleges, and universities offer music and dance classes as courses. This is encouraging students to buy musical instruments, thus increasing their sale globally. Furthermore, increase in disposable income encourages the purchase of musical instruments. Furthermore, with rising consumer demand, manufacturers are focusing on introducing new and innovative products to meet their needs.
One of the important musical instruments market trends is the customization of musical instruments such as electronic guitars and pianos. Leading market players provide customized products that are of high quality and visually appealing. Customers can personalize their musical instruments in terms of shape and size, design their inlays and guitar necks, and choose between premium exotic and traditional hardwood options through customization. Thus, electronic guitar customization and personalization significantly supported the growth of the musical instruments market.
However, the outbreak of the COVID-19 pandemic has hindered the overall growth of the music instrument industry. Owing to the disruption in the supply chain, the production and supply of musical instrument were hampered, owing to unavailability through online and offline channels. In addition, consumer demand has shifted from musical instruments toward essential food items and safety items.
Increase in popularity of live musical performances and concerts acts as a key driving force of the global musical instruments market. Audiences are no longer limited to watching recorded music or new releases on television, and are inclining toward live music concerts. Furthermore, the popularity of live musical performances and concerts is growing due to rise penetration of social media platforms such as Facebook, Instagram, and YouTube and advancements in audio technology. As a result, many musicians have gained international attention and recognition. In recent years, the number of independent musicians has increased, resulting in the formation of a number of musical bands and crews. As a result, there has been a significant increase in the number of concerts and live performances, which has resulted in an increase in demand for high-tech and high-priced musical instruments.
However, musical instruments are expensive. The manufacturing of pianos, violins, and guitars is complicated and requires prolonged time. It indicates that sufficient time and money need to be invested in the production of musical instruments. As a result, the final cost of these musical instruments is considerably high. As technology has advanced, so has the development of innovative products in the musical instrument market, such as digital and electronic pianos. As a result, these musical instruments cost more than traditional instruments. Majority of people cannot afford such high-priced items. This gradually makes it more difficult for businesses to sell their products. Thus, one of the factors limiting the growth of the musical instrument market is the high cost of musical instruments.
On the contrary, online shopping may be viewed as an opportunity by market players in the coming years. This is attributed to online shopping has numerous advantages, including faster access to a broader selection of goods and services, availability of wide range of goods, ease with which payments can be made, and no risk of money theft. In addition, increase in penetration of the internet and smartphones boosts online shopping. Furthermore, in addition to outlets, e-commerce has become a requirement for players to increase their global sales and consumer base.
Musical Instruments Market

---
By Type
Stringed segment helds the major share of 43.1% in 2020
Global demand for musical instruments has been influenced in part by technological advancement. Among the most popular instruments are digital keyboards, pianos, guitars, and wind instruments, which can be purchased from local retailers, superstores, and chain stores. Digital musical instruments are widely used by both professionals and non-professionals as they are easier to play than traditional musical instruments. Advancement of technology has fueled the musical instruments market demand and has been the primary driver of the digital musical instruments market growth.
The musical instruments market analysis is done according to segmentation on the basis of type, distribution channel, and region. On the basis of type, the musical instruments market is categorized into stringed, brass & woodwind, percussion, and keyboard. According to distribution channel, the market is fragmented into supermarkets/hypermarkets, specialty stores, and online sales channel. Region wise, the musical instruments market is analyzed across North America, Europe, Asia-Pacific, and LAMEA.
Musical Instruments Market

---
By Distribution Channel
Specialty Store segment helds the major share of 74.6% in 2020
According to the musical instruments market forecast, by type, the stringed segment accounted for 43.1% of the musical instruments market share in 2020, due to the increased sales of electric guitars. On the basis of distribution channel, the specialty stores segment garnered the largest share, as these stores offer a wide range of musical instruments with varying specifications and features.
The prominent players operating in the global musical instruments industry include Yamaha Corporation, Kawai Musical Instruments Mfg. Co. Ltd., Guangzhou Pearl River Piano Group Ltd., Casio Computer Co. Ltd., C.F. Martin & Co. Inc, D'addario & Company Inc., Eastman Music Company, Fender Musical Instruments Corporation, Roland Corporation, Steinway & Sons, and Yanagisawa Wind Instruments Co. Ltd.
Musical Instruments Market

---
By Region
Asia-Pacific region helds the higest market share of 51.2% in 2020
Key Benefits For Stakeholders
This report provides a quantitative analysis of the current trends, estimations, and dynamics of the market from 2021 to 2030 to identify the prevailing global musical instruments market opportunity.
Porter's five forces analysis highlights the potency of buyers and suppliers to enable stakeholders to make profit-oriented business decisions and strengthen their supplier–buyer network.
In-depth analysis of the market segmentation assists to determine the prevailing market opportunities.
Major countries in each region are mapped according to their revenue contribution to the global industry. 
The market player positioning segment facilitates benchmarking while providing a clear understanding of the present position of the key market players.
The report includes analyses of the regional as well as global market, key players, market segments, application areas, and growth strategies.
 Musical Instruments Market Report Highlights
Aspects
Details
BY TYPE

Stringed
Brass & Woodwind
Percussion
Keyboard

BY DISTRIBUTION CHANNEL

Supermarkets/Hypermarkets
Specialty Stores
Online sales channel

BY REGION

North America (US, Canada, Mexico)
Europe (Germany, France, Italy, UK, Netherlands, Spain, rest of Europe)
Asia-Pacific (China, Japan, India, South Korea, Australia, rest of Asia-Pacific)
LAMEA (Brazil, South Africa, Saudi Arabia, United Arab Emirates, rest of LAMEA)

Key Market Players
Casio Computer Co., Ltd., C.F. Martin & Co., Inc., D'addario & Company, Inc., Eastman Music Company, Fender Musical Instruments Corporation, Guangzhou Pearl River Piano Group Ltd, Kawai Musical Instruments Mfg. Co., Ltd., Steinway & Sons, Yamaha Corporation, Yanagisawa Wind Instruments Co., Ltd.