Myasthenia gravis (MG) is a neuromuscular disease which causes weakness in the skeletal muscles and it occurs when communication between nerve cells and muscles becomes reduced. Myasthenia gravis is characterized by weakness of the head, limb, spinal, eye, and respiratory muscles. In this autoimmune disorder, antibodies are produced against the acetylcholine receptor (AchR) that impedes the normal transmission of electrical signals from nerves to muscles. The muscles is most important part of body which use for movement of body. In myasthenia gravis, immune system produces antibodies that destroy muscles' receptor sites for a neurotransmitter which is known as acetylcholine. With the presence of fewer receptor sites, muscles receive fewer nerve signals, which resulting in weakness in muscles. The development of product such as cholinesterase inhibitors, pyridostigmine medication and neostigmine (Bloxiverz) which increasing the communication between nerves and muscles. Myasthenia gravis occurs more frequently in females than in males, and symptoms may appear at any age, its onset usually peaks in men in their 50s or 60s and in women during their 20s or 30s. But recently, there is no proven therapy for myasthenia gravis, however patients can be treated with medications and surgery for the control the symptoms.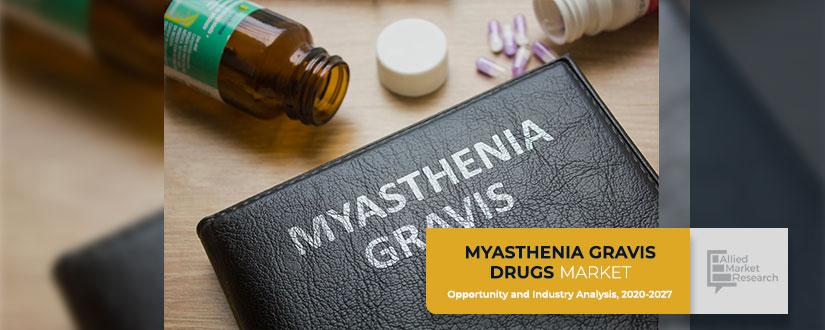 COVID-19 Scenario Analysis:
Pharmaceutical and biotech companies together with governments around the globe are working to address the COVID-19 outbreak, from supporting the development of vaccines to planning for medicines supply chain challenges. Currently, around 115 vaccine candidates and 155 molecules are in the R&D pipeline. Moreover, commonly used drugs such as Hydroxychloroquine have witnessed dramatic surge in demand for the management of COVID-19. Such high demand for these drugs has presented huge opportunity for manufacturers of COVID-19 management drugs, as many developed countries are short of these drugs.
Owing to the demand for vaccine and treatment drugs for COVID-19, the pharmaceutical and biotechnology industry is expected to witness a significant growth in the future.
The ongoing outbreak of COVID-19 impacted on the growth of myasthenia gravis drugs market and provide opportunities to pharmaceutical industries to developed innovative drug product. Patients with MG and COVID‐19 are highly variable. The manufacturer try to develop new drug product which treat the patient myasthenia gravis disease and COVID-19 as well.  
Top impacting factors: Market Scenario Analysis, Trends, Drivers and Impact Analysis:
Globally, North America hold the largest share of myasthenia gravis drugs market and considered as a most dominating region in this market which attributed to rising awareness of exceptional diseases, increasing development of biologics, and increasing acceptance of immunotherapies & immunosuppressant's. However, Europe is considered as a second largest market share due to the increasing development of technologically advanced drug product which treat the myasthenia gravis disease and rising geriatric population. Whereas Asia-Pacific expected to drive the market growth rate due to the increasing rate of geriatric population and increasing awareness amongst the people regarding treatment 
In 2018, "National Organization for Rare Disorders (NORD)", reported that about 100,000 individuals suffer from myasthenia gravis each year. This can be attributed to the rising incidence of autoimmune disorders amongst the general public across the world. They also reported that Myasthenia gravis occurs more frequently in females than in males, and although symptoms may appear at any age, its start usually peaks in men in their age of 50s to 60s and in women during their age in 20s or 30s.
The factor that drive the growth of myasthenia gravis drugs market such as Increasing development of novel drugs such as monoclonal antibodies, rising myasthenia gravis and related disorders and increasing patient population across the globe.  Whereas the factor such as increasing competition of generic drug product due to patent loss of several marketed products and availability of cost effective substitutes to branded drugs is restrain the myasthenia gravis drug market growth.
New Product launch to flourish the market:
Major Key market manufacturer have been focusing on producing new product solution for specific applications as there are varying demands based on the utilization. Leading market players have determined how improved accuracy can be influential in many applications. In 2018, "Alexion Pharmaceuticals" and "Astellas Pharma" has launched "Soliris and Prograf". The drug acts by restricting the disease cells from affecting the immune system. It is used to treat the rare disorders atypical hemolytic uremic syndrome (AHUS) and paroxysmal nocturnal hemoglobinuria (PNH). Recently, this drug is most commonly used to treat the myasthenia gravis disease. In 2018, Novartis' has introduce new monoclonal antibody in the market such as "CFZ-533". This monoclonal antibody help to produce myasthenia gravis related drug product which help to treat the diseases. Similarly, in 2018, "GlaxoSmithKline's" also introduce new monoclonal antibody such as "Benlysta" which helps to produce effective drug product helps to treat the myasthenia gravis disease. In 2019, "GlaxoSmithKline" has launched new drug product such as "MESTINON". This drug is useful in the treatment of myasthenia gravis.
Key benefits of the report:
This study presents the analytical depiction of the global myasthenia gravis drugs market along with the current trends and future estimations to determine the imminent investment pockets.
The report presents information related to key drivers, restraints, and opportunities along with detailed analysis of the global myasthenia gravis drugs market share.
The current market is quantitatively analyzed to highlight the global myasthenia gravis drugs market growth scenario.
Porter's five forces analysis illustrates the potency of buyers & suppliers in the market.
The report provides a detailed global myasthenia gravis drugs market analysis based on competitive intensity and how the competition will take shape in coming years.
Questions answered in the Myasthenia Gravis Drugs Market research report:
Who are the leading market players active in myasthenia gravis drugs market?
What are the current trends will influence the market in the next few years?
What are the driving factors, restraints, and opportunities in the market?
What are the projections for the future that will help in taking further strategic steps?
 Myasthenia Gravis Drugs Market: Global Opportunity Analysis and Industry Forecast, 2020–2027 Report Highlights
Aspects
Details
By Treatment

Medication
Surgery
Others

By Therapy

Anticholinesterases
Immunosuppressant's
Intravenous Immune Globulins

By End User
By Region

North America (U.S., Canada, Mexico)
Europe (France, Germany, Italy, Spain, UK, Rest of Europe)
Asia-Pacific (China, Japan, India, South Korea, Australia, Rest of Asia-Pacific)
LAMEA (Brazil, South Africa, Saudi Arabia, Rest of LAMEA)

Key Market Players
F. Hoffmann-La Roche Ltd., Pfizer, Inc., AbbVie Inc., Bausch Health Companies Inc., Avadel Pharmaceuticals plc., Flamel Technologies, Novartis AG, Grifols SA, GlaxoSmithKline plc, Alexion Pharmaceutical Inc.