Nano Programmable Logic Controller (PLC) Market Outlook-2023
Global Nano Programmable Logic Controller (PLC) Market was valued at $2,585 million in 2016, and is expected to reach $4,250 million in 2023, growing at a CAGR of 7.0% from 2017 to 2023.
A nano programmable logic controller (PLC) is an industrial grade computer capable of being programmed to perform control functions. These controllers can eliminate hardwiring associated with conventional relay control circuits, enhancing the productivity. It is easier to create and change a program in a nano PLC than to rewire the complete circuit.
Requirement for compact automation solutions, enhanced efficiency, and increased need for high-voltage operating devices have increased the rate of adoption of nano PLCs in energy & power, automotive, and other sectors. Hence, the global nano PLC market is expected to witness moderate growth in the near future, owing to compact size and enhanced durability. However, high implementation cost and current leakage hamper the market growth. Integration of nano PLCs with human machine interface (HMI) is expected to provide lucrative opportunities to the market.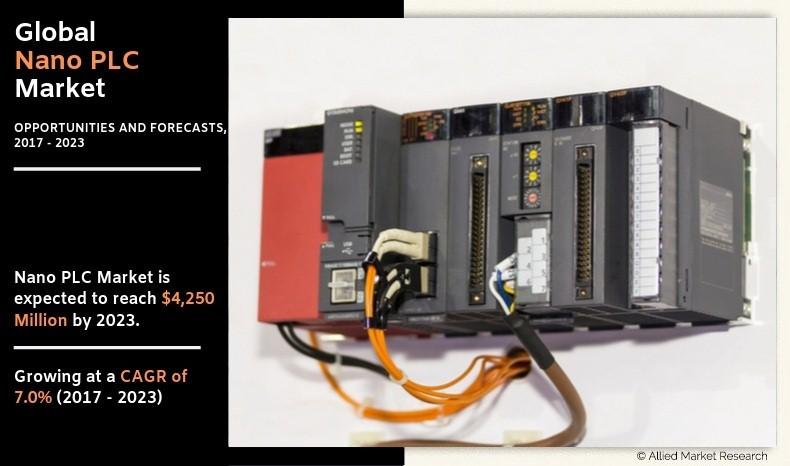 Nano PLC can communicate with other controllers or computer equipment to perform functions such as supervisory control, data gathering, monitoring devices, and other process parameters of programs. Furthermore, to meet the demands of harsh industrial environments, these controllers are designed to be extremely robust, often capable of withstanding extreme temperatures, humidity, vibration, and electrical noise.
The global nano programmable logic controllers (PLC) market is segmented based on component, service, type, industry vertical, and geography. Based on component, it is classified into processor, power supply, and input/output (I/O). In 2016, fixed nano PLC was the highest revenue contributor, as it is widely adopted in energy & power industry, and is expected to maintain this trend throughout the forecast period, owing to its enhanced efficiency and durability.
Segment Overview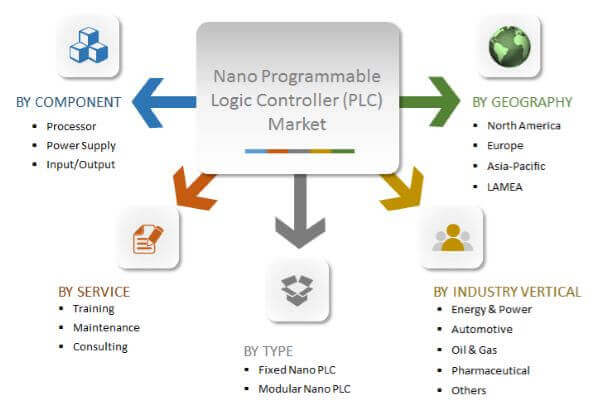 Application Overview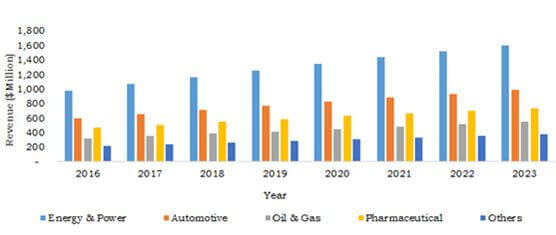 The energy & power segment offers lucrative scope to industry players, and is expected to exhibit higher growth as compared to the other segments during the forecast period. Asia Pacific accounted for the highest revenue share in the global market in 2016, owing to the increase in demand for semiconductor & automated devices.
Top Impacting Factors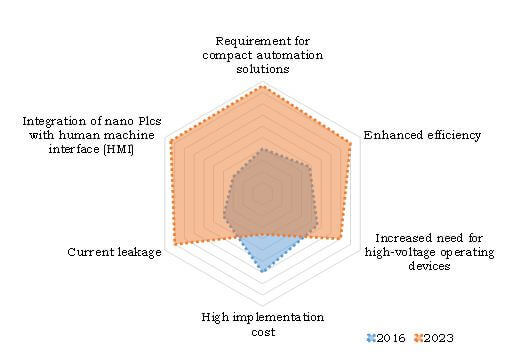 Requirement for Compact Automation Solutions
The nano programmable logic controller (PLC) market is expected to exhibit substantial growth opportunities, owing to its ability to perform a single set of task with superior reliability and performance, except under real-time constraint. At present, increased requirement for automated machineries in industries has led to rise in adoption of nano PLC modules for monitoring and controlling the production process.
Increase Need for High-voltage Operating Devices
Nano programmable logic controllers (PLC) are applicable across automotive, oil & gas, and energy & power industries, owing to the aggrandized use of high-voltage operating devices. Nano PLC is an electronic device used to monitor, control, and manage building systems, production processes, and power. It is the most commonly used power monitor, which can be operated at high voltage and high current with minimized power loss. Fixed nano PLC is used in electronic applications, such as inverters, converters, and other basis controllers, owing to its ease of control at high voltages.
Competition Analysis
The key players profiled in the report are Mitsubishi Electric Corporation, Rockwell Automation Inc., Schneider Electric SE, Siemens AG, ABB Ltd., Robert Bosch GmbH, Honeywell International, Hitachi Ltd., IDEC Corporation, and General Electric.
Key Benefits for Nano Programmable Logic Controller (PLC) Market
The study provides an in-depth analysis of the global nano PLC market to elucidate the prominent investment pockets.
Current trends and future estimations are outlined to determine the overall attractiveness and single out profitable trends to gain a stronger foothold in the market.
The report provides information related to key drivers, restraints, and opportunities and their impact analysis.
The market is analyzed based on various regions, namely, North America, Europe, Asia-Pacific, and LAMEA.
 Nano Programmable Logic Controller (PLC) Market Report Highlights
Aspects
Details
By Component

Processor
Power Supply
Input/Output

By Service

Training
Maintenance
Consulting

By Type

Fixed Nano PLC
Modular Nano PLC

By Industry Vertical

Energy & Power
Automotive
Oil & Gas
Pharmaceutical
Others

By Geography

North America
Europe

UK
Germany
France
Rest of Europe

ASIA-PACIFIC

China
Japan
India
South Korea
Rest of Asia-Pacific

LAMEA

Latin America
Middle East
Africa

Key Market Players
Schneider Electric SE, General Electric, Mitsubishi Electric Corporation, Hitachi, Honeywell International, Robert Bosch, Siemens AG, Rockwell Automation Inc., ABB group, IDEC Corporation