Nanocellulose Materials Market Research, 2031
The global nanocellulose materials market size was valued at $0.4 billion in 2021, and is projected to reach $2.2 billion by 2031, growing at a CAGR of 20.1% from 2022 to 2031.
Report Key Highlighters:
20 countries are covered in the nanocellulose materials market report. The segment analysis of each country in both value ($million) and volume (kilotons) during the forecast period 2021-2031 is covered in the report.

More than 6,700 product literatures, industry statements, annual reports, and other similar materials from major industry participants were reviewed to have a deeper knowledge of the market,.

The nanocellulose materials industry is highly fragmented, with several players such as Sappi, NIPPON PAPER INDUSTRIES CO., LTD., GranBio, DKS Co. Ltd., Kao Corporation, SEIKO PMC CORPORATION, CelluForce, Kruger Inc., Anomera, Inc., and ANPOLY INC

. Also tracked key strategies such as product launches, acquisitions, mergers, expansion etc. of the players operating in nanocellulose materials market.
Increasing demand for textiles and nonwoven products has resulted in the increased use of products such as masks and sanitary tissues, which has raised the demand for nanocellulose materials. The need for bio-based materials such as nanocellulose in the production of composites and packaging products, particularly in the paper and pulp sector, has benefited the nanocellulose industry.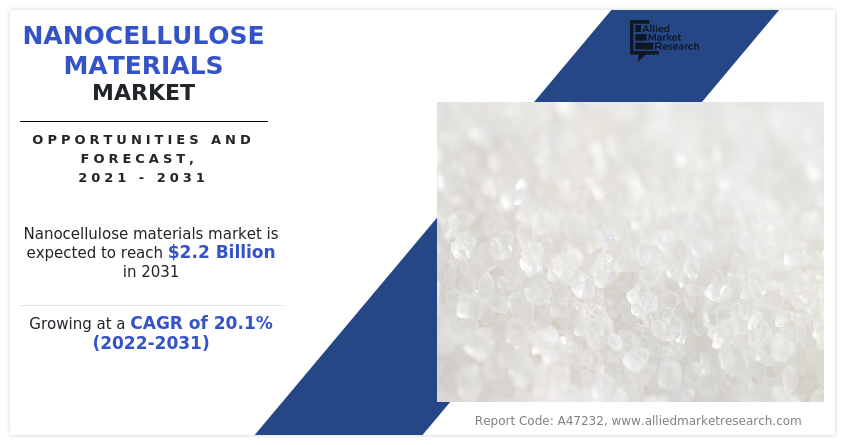 Nanocellulose (NC) can be generated from a number of abundant cellulosic biomass sources such as wood pulp, agricultural crops, organic waste, as well as from microbes. Their properties include high tensile strength, biocompatibility, and high aspect ratio, which make them desirable to a wide range of sectors, from medical to construction to aerospace. As nanocellulose is derived from renewable elements, its potential to replace petroleum-derived materials in films, coatings, composites, and packaging is particularly appealing in light of current governmental and social campaigns to reduce plastic consumption.
Nanocellulose packaging products are manufactured using plastics, paper & boards, or metals. The concept of 'active packaging' approaches, which integrate nanoparticles into polymers, is gaining traction to improve the packaging industry's sustainability. In January 2022, a professor from Rutgers University's Department of Food Science collaborated with ProAmpac, a flexible packaging and material science player. A new partnership has been formed with ProAmpac's Material Science and Innovation team to assist the business in fulfilling its promise of providing active and intelligent nanocellulose food packaging.
Growing demand from pulp and paper industry is driving the nanocellulose materials market growth
The wood-based pulp allows for the development of paper products owing to the use of wood as a raw material in the manufacture of nanocellulose. Nanocellulose is used as an additive in paper manufacturing to provide lighter, stronger paper and board with improved qualities such as fewer porosity, greater printing quality, and less transparency.
According to the Coalition for Epidemic Preparedness Innovations, consumption of paper and board increased by 5.8%, outperforming the eurozone GDP recovery overall. Production increased by 6.1%, while the operational rate of paper mills reached 90%, up from 85% in 2020.
Wrapping papers are primarily used for decorative or kraft papers, which are further utilized for gift wrapping. Wrapping paper with high-quality printing and design helps in the successful promotion of consumer products. According to Brightly, the U.S. produces 4.6 million pounds of wrapping paper each year, with around 2.3 million pounds ending up in landfills during the holidays. Thus, surge in demand from pulp and paper industry coupled with the growth of the pulp and paper industry is predicted to drive the market of nanocellulose materials during the forecast period.
However, the creation of nanomaterials needs extensive technical expertise and technology, which raises the production cost. The manufacturing of nanocellulose for a given purpose necessitates high-end technology. Nanocellulose production has not yet been marketed on a significant scale due to a lack of competence. Furthermore, the few companies that manufacture nanocellulose materials hold patents on their technologies which requires a considerable initial investment.
Emerging processing technologies are used in nanocellulose manufacturing which includes an enzymatic technique, deep eutectic solvent, microwaves, electron beam irradiation, cold plasma, and pulsed-electric field containing a high production cost of nanocellulose materials. As per the Taylor & Fransis Group, the cost to isolate the nanofibers from cellulose and sludge is estimated to be $148 and $113 respectively. Thus, the high production cost is predicted to hinder the market growth of nanocellulose materials during the forecast period.
The nanocellulose materials market is segmented into type, application, and region. On the basis of type, the market is categorized into cellulose nanofibrils (CNF), cellulose nanocrystals (CNC), bacterial cellulose (BC), micro fibrillated cellulose (MFC), and others. On the basis of application, it is categorized into pulp & paper, composites, pharmaceutical & biomedical, electronics, food & beverage, personal care & cosmetics, and others. Region wise, the nanocellulose materials market share is studied across North America, Europe, Asia-Pacific, and LAMEA.
Key Players and Strategies:
Major players operating in the global nano cellulose market includes Sappi, NIPPON PAPER INDUSTRIES CO., LTD., GranBio, DKS Co. Ltd., Kao Corporation, SEIKO PMC CORPORATION, CelluForce, Kruger Inc., Anomera, Inc., and ANPOLY INC.
Anomera, Inc. extended its operations on February 1, 2022, by creating a new research and development facility at its headquarter in Montreal, Canada. This expansion will allow the manufacture of carboxylated cellulose nanocrystals to be scaled up, resulting in increased demand for nanocellulose products in the market.

ANPOLY INC. has agreed to provide nanocellulose to POSCO International in Songdo beginning in November 2022. Through this agreement, POSCO will expand and expand the ANPOLY INC. material market by utilizing worldwide trade networks.

Kao Corporation (Kao) extended its business in June 2020 by altering biomass-derived cellulose nanofiber (CNF) and blending it with resins for diverse uses, with findings indicating enhanced strength and dimensional stability even in tiny amounts. Kao has begun providing modified CNF-formulated high-performance resin as the LUNAFLEX series, which may be tailored based on the user's purpose or application.

Further, in September 2020, CelluForce announced the signing of a commercial deal worth millions of dollars over the next ten years.  The deal reached with a multinational cosmetic's conglomerate calls for the construction of a new, larger-capacity facility in the near future. The multinational customer will have global exclusivity for the selling of nanocellulose-based cosmetics. The first application has already been published, and sales will gradually expand over the course of the contract.
Nanocellulose Materials Market

---

By Region
Asia-Pacific dominated the market in 2021
Asia-Pacific is projected to register a robust growth during the forecast period. Nanocellulose is mostly employed in cosmetic formulations in Asia-Pacific as an abrasive, absorbent, emulsion stabilizer, slip modifier, and viscosity-increasing agent.  Also, nanocelluloses can be utilized in Asia-Pacific as formulation modifiers, moisturizers, nanofillers, additives, membranes, and films. Further, nanocellulose are used in many areas of oilfield chemistry, such as drilling fluid chemistry, oil production chemistry, and gathering chemistry in Asia-Pacific.
Nanocellulose Materials Market

---
By Type
Cellulose Nanofibrils (CNF) segment was the highest revenue contributor to the market in 2021
The cellulose nanofibrils (CNFs) segment accounted for the largest share of the global nanocellulose materials market in terms of revenue, in 2021. Cellulose nanofibrils (CNFs) are renewable and biodegradable natural-based nanomaterial and are produced by mechanical fibrillation, which includes homogenization, microfluidization of cellulose biomass. CNFs are employed as the load-bearing ingredients in many polymer nanocomposite systems as they can improve mechanical characteristics significantly even at extremely low volume fractions.
The oxygen barrier efficiency of pure CNF films is highly competitive and even be comparable with commercial synthetic polymers. Load bearing structures used by cellulose nanofibrils include beams, columns, walls, braces, and trusses. A load bearing wall is primarily responsible for transferring weight from the floors and slabs above to the foundation.
Cellulose nanofibers are also employed in the water treatment industry as a scaffold for TFC (thin-film composite) membranes in pressure and osmotic membrane operations. They are also employed in the thermally-driven MD (membrane distillation) process for water treatment. Thus, the increasing demand for cellulose nanofibrils is expected to boost the market of nanocellulose materials market during the forecast period.
Nanocellulose Materials Market

---
By Application
Pulp and Paper segment was the highest revenue contributor to the market in 2021
The pulp and paper segment accounted for the largest share of the global nanocellulose materials market in terms of revenue, in 2021. Nanocelluloses can be utilized as additives in paper & pulp, inducing wet end strengthening and flocculation, as well as for surface applications (by lamination methods or coating technologies). The main use of nanocellulose as a coating material is to increase the strength and durability of paper and improve barrier properties against grease, oil, and oxygen.
Key Benefits For Stakeholders
This report provides a quantitative analysis of the market segments, current trends, estimations, and dynamics of the nanocellulose materials market analysis from 2021 to 2031 to identify the prevailing nanocellulose materials market opportunities.
The market research is offered along with information related to key drivers, restraints, and opportunities.
Porter's five forces analysis highlights the potency of buyers and suppliers to enable stakeholders make profit-oriented business decisions and strengthen their supplier-buyer network.
In-depth analysis of the nanocellulose materials market segmentation assists to determine the prevailing market opportunities.
Major countries in each region are mapped according to their revenue contribution to the global market.
Market player positioning facilitates benchmarking and provides a clear understanding of the present position of the market players.
The report includes the analysis of the regional as well as global nanocellulose materials market trends, key players, market segments, application areas, and market growth strategies.
 Nanocellulose Materials Market Report Highlights
Aspects
Details
Market Size By 2031
USD 2.2 billion
Growth Rate
CAGR of 20.1%
Forecast period
2021 - 2031
Report Pages
200
Type

Cellulose Nanofibrils (CNF)
Cellulose Nanocrystals (CNC)
Bacterial Cellulose (BC)
Microfibrillated Cellulose (MFC)
Others

Application

Food and Beverage
Personal Care and Cosmetics
Others
Pulp and Paper
Composites
Pharmaceutical and Biomedical
Electronics

By Region

North America (U.S., Canada, Mexico)
Europe (Germany, France, Italy, Spain, UK, Rest of Europe)
Asia-Pacific (China, India, Japan, South Korea, Australia, Rest of Asia-Pacific)
LAMEA (Brazil, South Africa, Saudi Arabia, Rest of LAMEA)

Key Market Players
Sappi, NIPPON PAPER INDUSTRIES CO., LTD., GranBio, DKS Co. Ltd., Kao Corporation, SEIKO PMC CORPORATION, CelluForce, Kruger Inc., Anomera, Inc., ANPOLY INC.