Natural Gas Storage Market Research, 2031
The global natural gas storage market was valued at $300.8 billion in 2021 and is projected to reach $629.0 billion by 2031, growing at a CAGR of 7.4% from 2022 to 2031.
The natural gas storage market major focuses on the indicators that are comprehensively included while conducting a thorough analysis. The key indicators include detailed value chain analysis, porter's five forces, top player positioning, market dynamics, covid impact, patent analysis, market size and forecast in terms of value($Million), and top winning strategies that have helped understand the growth strategies adopted by the key players and their potential impact on the market.
Global natural gas consumption showed a strong recovery in 2021, with an estimated 4.5% y-o-y increase. This strong growth resulted from the combination of a rebound in economic activity after the lockdowns of 2020, boosting consumption in the industrial and power generation sectors, and a succession of extreme weather events that led to higher-than-expected heating and power generation needs. Growth slowed significantly in the second half of 2021 due to a challenging price environment and softening of the economic recovery.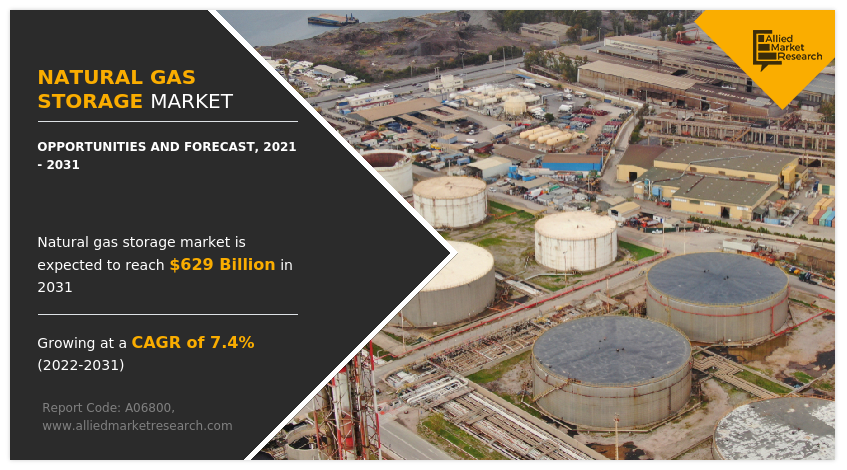 Natural gas is a colorless and odorless gas that is a mixture of several hydrocarbons primarily methane and higher alkanes.  Natural gas is a non-renewable source of energy, however, as it is available in abundance and is a clean fuel, that is it produces relatively low carbon dioxide and low air pollutants if any, it is considered clean fuel. It has several applications such as it is burned for generating electricity, heating, and cooking. For chemical and several industrial processes, it is used as feedstock. In the transportation industry, it is used as fuel for vehicles. Natural gas is stored in aquifers, salt caverns, depleted oil fields, mines, tanks, and containers. It can be stocked for use in the immediate or far future. Such vast applications of natural gas drive its demand which directly impacts the natural gas storage industry growth. As the demand for natural gas increases, storing facilities start extracting more and more natural gas and stock it at consumer centers from where it is further transmitted to its demand location. Natural gas is stored in aquifers, salt caverns, depleted oil fields, mines, tanks, and containers. It can be stocked for use in the immediate or far future.
Natural gas is stored by using fuel stabilizers and thus can be used as and when required. Natural gas can be reinjected into the storage facilities when there is low demand or during stocking season especially in winter. Large containers are used for storing gas in gaseous or liquid form. Natural gas is distributed to the respective places as per the demand through pipelines, or storage tanks and cylinders. The natural gas storage market is currently experiencing demand from the automotive and industrial sectors. It is due to the transition toward using clean and green fuels being adopted in different sectors.
Natural gas is considered a form of clean energy. The combustion of natural gas produces less to no smoke and is carbon emission free. Through time, the use of natural gas has grown and is rooted in various sectors. From households to large chemical and petrochemical industries and stretching to the transportation sector, natural gas has a very large consumer base in almost all sectors. It is majorly used in households for cooling & heating and as the primary energy source for cooking. It is also used in transportation to fuel vehicles. Vehicles that run in a compressed state of natural gas are largely being adopted for several benefits offered by natural gas. One of them is reduced carbon footprint, secondly, it is available in large amounts and can be explored, extracted, stored, transported, and reinjected. The aforementioned reasons act as driving factors for the natural gas storage market growth.
According to bp statistical review of world energy 2022, natural gas consumption showed a fourfold growth in 2021, rebounding from 2020 when it saw a sharp decline. Demand for natural gas increased by 5.3% globally which is greater than in the pre-pandemic years. COVID-19 saw a decline in demand for natural gas as various sectors of the economy took a hit and thus the downfall in the demand and production for natural gas and thus hampering the natural gas storage market growth.
Natural gas is stored in gaseous as well as liquid form. Salt caverns, aquifers, oil fields, and mines are major underground locations for storing gaseous forms of natural gas. They can be extracted and reinjected depending on the seasonal demand for natural gas which leads to fluctuations in natural gas storage. The liquid form of natural gas is maintained through high pressure for storage in different tanks or cylinders. They are transported from extraction locations to end-users through containers, tanks, pipelines, and cylinders.
The natural gas storage market is estimated to register a high growth rate owing to the government assistance has greatly influenced the demand for natural gas which has encouraged the natural gas storage industry players to increase storage capacity. The government and regulators have created a conducive environment for encouraging investment in natural gas storage market growth. Consequently, large private players are involved in the entire natural gas storage value chain owing to attractive leverages offered by the government in the sector. The aforementioned initiatives from governing bodies encourage market growth for natural gas storage. Businesses and industrial manufacturers with sustainability goals are also driving renewable energy development by building their own facilities (e.g., solar roofs and wind farms), procuring renewable electricity through power purchase agreements, and purchasing renewable energy certificates (RECs). This shift supports the demand for natural gas as it is a clean fuel thus, acting as a driving factor for natural gas storage owing to increased demand for natural gas from several sectors.
However, there are several rules and regulations that need to be adhered to. This complicates the prices of natural gas. Moreover, the ongoing war also impacts market growth acting as a market restraint. The cost associated with the production of natural gas is high. Unless there are increased incentives or larger markets, large-scale industrial production of natural gas is not economically profitable.
Russia contributed as a major provider to the European Union with 40% of its natural gas being imported in 2021. The primary energy consumption for 2021 was 564.01 exajoules in which the natural gas share was 138.44 exajoules which is 24.5% contribution. China is projected to drive the demand owing to the plans of increasing its storage capacity to 16% in the coming years through several ongoing and planned projects. The same goes for India as well, as the country is planning to reduce its natural gas dependency by increasing its storage capacity
The natural gas storage market is segmented into type and region. By type, the market is divided into above-ground storage, underground storage, and others. The underground storage segment garnered a higher share for 2021 and is expected to maintain its position during the natural gas storage market forecast period. depleted fields are close to centers and well-equipped with pipeline connections. existing fields are easy to convert to storage facilities and thus dominate the market.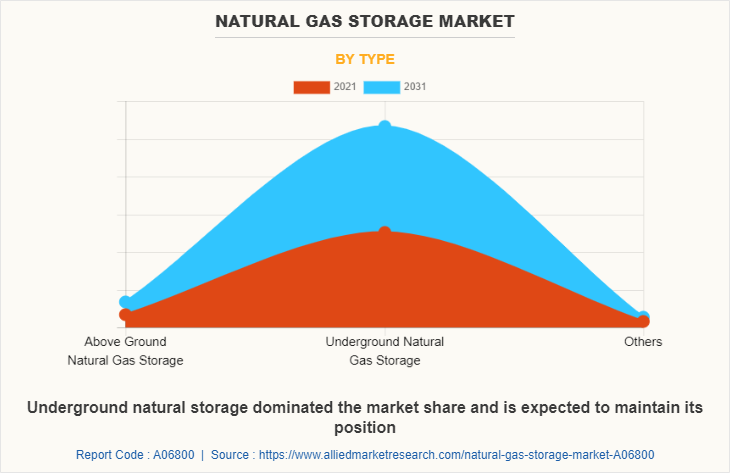 Based on type, the underground natural storage segment is the fastest-growing segment during the forecast period. This is attributed to The deliverability rate of UGS is far better than above-ground and other storage types.
Based on region, Asia-Pacific is the highest revenue contributor during the forecast period. Owing to a modest rise in consumption in Mexico as compared to strong rebounds in other mature markets in 2021 post-pandemic. An increase in consumption from the residential and commercial sectors fostered market growth in North America.
Region-wise natural gas storage market analysis is done across North America, Europe, Asia-Pacific, and LAMEA (Latin America, Middle East, and Africa). North America dominates the natural gas storage market share. This is owed to large reserves of natural gas in the U.S. and Canada. However, Asia-Pacific is expected to grow at a higher pace during the forecast years majorly driven by developing economies in the region. The growth of the region will be led by China and India as governments are increasing storage capacity to combat demand-supply gaps.
Key market players are Gazprom, Lukoil, Rosneft Oil Co., Total, Chevron, Shell, ExxonMobil, BP plc, Saudi ARAMCO, and China National Petroleum. The companies are engaged in exploration, collaboration, and business expansion strategies to sustain market competition. Gazprom holds the most share of the Europe oil and gas market with full or partial ownership in most natural gas reserves and thus was impacted largely by sanctions imposed on it owing to the war. 
Recent Announcements:
In the last week of January 2022, the fifth-largest withdrawal from natural gas storage was reported in the U.S. since 2010. Net withdrawals from storage were 268 billion cubic feet, which was also larger than the previous five years (2017-2021). This was attributed to the high demand from residential and commercial customers for natural gas by 14%. Also, power sector demand went up by about 7%, to produce electricity to operate heat pumps. Moreover, according to data from the National Oceanic and Atmospheric Administration, the heating season was longer than the 10-year average as January month for 2022 was the coldest in past 10 years.
Besides the human tragedy it is causing, the invasion of Ukraine by Russia on 24th February 2022 has triggered a major energy crisis. This has wider repercussions for the global economy that will negatively affect economic growth and support rising inflation through higher commodity prices. The conflict has added further pressure and uncertainty to an already tight natural gas storage market. Europe's natural gas supply has been a topic of concern since mid-2021 as storage inventory levels have remained well below average – especially in sites directly or indirectly controlled by Gazprom. The continent's storage opened the heating season 17% below its five-year average, and 22% below the previous year's level.
Key Benefits For Stakeholders
This report provides a quantitative analysis of the market segments, current trends, estimations, and dynamics of the natural gas storage market analysis from 2021 to 2031 to identify the prevailing natural gas storage market opportunities.
The natural gas storage market forecast is offered along with information related to key drivers, restraints, and opportunities.
Porter's five forces analysis highlights the potency of buyers and suppliers to enable stakeholders make profit-oriented business decisions and strengthen their supplier-buyer network.
In-depth analysis of the natural gas storage market segmentation assists to determine the prevailing market opportunities.
Major countries in each region are mapped according to their revenue contribution to the global natural gas storage market size.
Market player positioning facilitates benchmarking and provides a clear understanding of the present position of the market players.
The report includes the analysis of the regional as well as global natural gas storage market trends, key players, market segments, application areas, and market growth strategies.
 Natural Gas Storage Market Report Highlights
Aspects
Details
Market Size By 2031
USD 629 billion
Growth Rate
CAGR of 7.4%
Forecast period
2021 - 2031
Report Pages
158
By Type

Underground Natural Gas Storage
Others
Above Ground Natural Gas Storage

By Region

North America (U.S., Canada, Mexico)
Europe (Russia, Ukraine, Germany, Italy, France, Austria, Rest of Europe)
Asia-Pacific (China, Japan, India, South Korea, Australia, Rest of Asia-Pacific)
LAMEA (Iran, Islamic Republic Of, Qatar, UAE, Saudi Arabia, Iraq, Brazil, Rest of LAMEA)

Key Market Players
Saudi Arabian Oil Co., China National Petroleum Corporation, Exxon Mobil Corporation, TotalEnergies SE, Gazprom PJSC, Lukoil, Chevron Corporation, Shell Plc., PJSC Rosneft Oil Company, BP p.l.c.