The global natural stone market size was valued at $33,375.3 million in 2020, and is projected to reach $50,465.1 million by 2030, registering a CAGR of 4.0%. Natural stone is a mountain-acquired mineral, which includes quartzite, slate, limestone, sandstone, marble, granite, and others. It majorly finds its application in residential and commercial flooring and wall cladding, owing to its durability, hardness, and aesthetic appearance. It finds applications in furniture, statuary, and monuments. 
The COVID 19 outbreak has affected the growth of the natural stone market owing to the lockdown measures in the countries and delay in manufacturing and supply of natural stone which are utilized in residential and commercial spaces.
An expansion of building industry, owing to rise in investment in the housing sector, and increased construction spending across various countries such as the U.S., Japan, India, and others, which fuels the growth of the global natural stone. In addition, rise in urbanization, and population growth, which is expected to rise in demand for natural stones, for flooring, and wall cladding applications, boost the growth of the global market. Benefits associated with natural stones such as long durable, aesthetic presence, and reliable, in turn, boost adoption of slate, and limestone in the commercial and residential building, which drive the growth of the global natural stone market.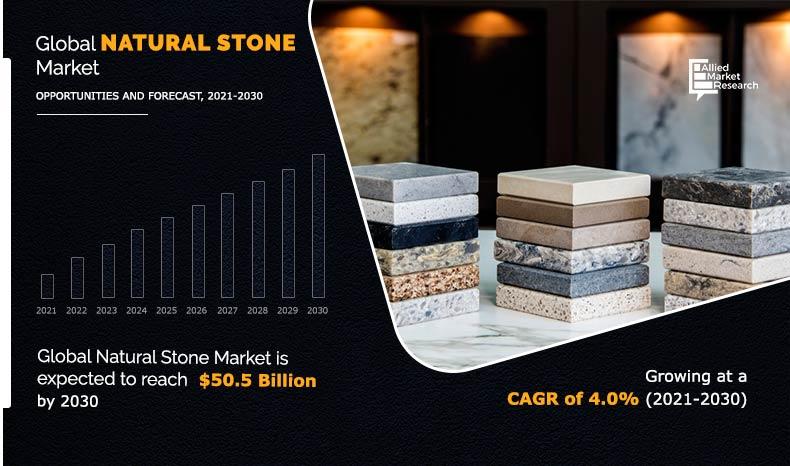 Increase in disposable income of individuals and surge in awareness of attractive outdoor designs have shifted the inclination toward home remodeling among residential end users, especially in urban areas.
Stones such as marble and granite used for flooring in patios, porches, backyards, and pavements enhance the visual appeal of residential buildings, thereby fueling their adoption. Moreover, increase in number of engineering, procurement and construction (EPC) projects in the infrastructure sector coupled with real estate and various urban infrastructure projects is expected to increase the demand for natural stones at a global scale. Thus, the market is majorly driven by infrastructure construction activities, which include building roads, bridges, airports, power plants, and notably highway & road projects. Furthermore, increase in industrialization and rise in need for residential & commercial infrastructure setup are expected to boost the global market.
In emerging economies, increase in popularity of outdoor entertaining area has created the need for natural stones for wall cladding, which has positively influenced the market. In addition, the demand for construction materials such as marble is on the rise at a significant pace, owing to increase in its adoption for construction of memorials and furniture. However, fluctuation in climate in recent years due to global warming and exploitation of resources have resulted implementation of stringent policies toward utilization of natural resources and reduce emission globally. Thus, government initiatives toward reduction of stone mining restrict the global market growth.
Natural Stone Market

---
By Product Type
Granite segment holds dominant position in 2020
Growth in response to rise in consumer demand for home renovation and replacement is one of the major factors boosting the global natural stone market growth. For instance, according to Harvard Joint Centre for Housing Studies article published in January 2021, the growth of house remodeling and repair expenditures is expected to increase from 3.5% at the end of 2020 to 3.8% by the year-end of 2021, based on the most recent Leading Indicator of Remodeling Activity (LIRA). Similarly, officials at the National Association of Home Builders' IBSx virtual event in February 2021, predicted that remodeling expenditure on owner-occupied single-family homes are expected to witness a rise by 4% in 2021, then another 2% in 2022. Remodeling and renovation across the globe are factors that provide lucrative growth in the natural stone industry throughout the forecast period.
However, fluctuation in raw material prices, and increase in adoption of artificial stone is projected to hinder the growth of the global market in the coming years. Furthermore, increase in new construction activities, especially in emerging economies is anticipated to provide lucrative opportunities for the growth of global natural stone market during the forecast period.
Natural Stone Market

---
By Application
Wall cladding segment is expected to grow at a significant CAGR
The market is segmented on the basis of type, application, construction type, and region. On the basis of type, the market is segregated into marble, granite, limestone, and others. The granite segment dominated the market in 2020. The applications covered in the market include flooring, memorial arts, wall cladding, and others. The flooring segment held a major natural stone market share in 2020. Based on construction type, the market is bifurcated into new construction and renovation. Renovation segment is expected to grow at a highest rate during the study period. Region wise, the market is analyzed across North America, Europe, Asia-Pacific, and LAMEA. Asia-Pacific region dominated the market in 2020. 
Competition Analysis
The key market players profiled in the report of natural stone industry include Aro Granite Industries Ltd., Dimpomar, Dermitzakis Bros S.A., Levantina y Asociados de Minerales, S.A., MARGRAF, Mumal Marble, Polycor Inc., Temmer Marble, Topalidis, and Xishi Stone Group. The major players operating in the global natural stone market have adopted key strategies such as business expansion and acquisition, to strengthen their market outreach and sustain the stiff competition in the market. 
Natural Stone Market

---
By Region
Asia-Pacific holds a dominant position in 2020 and is expected to grow at a substantial rate during the forecast period.
Key Benefits For Stakeholders
The report provides an extensive analysis of the current and emerging global natural stone market trends and dynamics.  
In-depth market analysis is conducted by global natural stone estimations for the key market segments between 2020 and 2030. 
A comprehensive analysis of all the regions is provided to determine the prevailing natural stone market opportunities.
Extensive analysis of the global natural stone is conducted by following key product positioning and monitoring of the top competitors within the market framework.
The global natural stone market forecast analysis from 2021 to 2030 is included in the report.
The key market players within market are profiled in this report and their strategies are analyzed thoroughly, which help understand the competitive outlook of the global market. 
 Natural Stone Market Report Highlights
Aspects
Details
BY TYPE

Marble
Granite
Limestone
Others

BY APPLICATION

Flooring
Memorial Arts
Wall Cladding
Others

BY CONSTRUCTION TYPE

New construction
Renovation

BY REGION

North America (U.S., Canada, Mexico)
Europe (Germany, Italy, France, Spain, Rest of Europe)
Asia-Pacific (China, Japan, India, South Korea, Rest of Asia-Pacific)
LAMEA (Latin America, Middle East, Africa)