The global navigation lighting market was valued at $34,826.40 thousand in 2021, and is projected to reach $51,277.10 thousand by 2030, growing at a CAGR of 4.2% from 2022 to 2030. Navigation lights are colored or white illuminating devices which are used in watercraft, spacecraft, and aircraft. They give visual signaling as well as provide awareness regarding vessel & craft position, condition, and direction, which is especially crucial during nighttime vehicle operation. Navigation lights help ground personal, harbormaster, yard crew, and bridge engineer about locating the position and movement of craft. Commonly, they are placed according to international conventions. Red on the port side and green on the starboard side are internationally recognized colors.
The supply chain was disrupted and numerous industrial processes were hampered by COVID-19, which had an effect on practically all industries. Most businesses stopped operating as a result of a lack of workers. Consequently, a significant drop was seen as a result of COVID-19.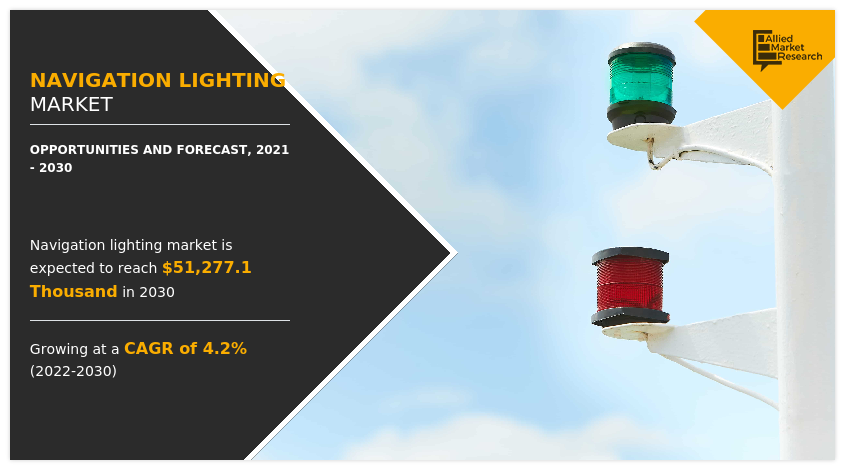 The navigation lighting market industry is likely to accelerate in the forecast time period owing to its demand in aerospace & marine sector for safety application of aircraft, watercraft, and spacecraft by providing information about position and status. These types of lights help in avoiding collision at night or in harsh weather condition. The demand for navigation lights has increased as result of increased demand for air & water mobility for travel and import-export purpose. Moreover, the expansion of the navigation lighting market is fueled by an increase in aircraft fleets as a result of a rise in air travel. The production and installation cost of these lights will be the major restrain for the navigation lighting market. The navigation lights are made of incandescent filaments, light-emitting diodes (LEDs), halogens, flashes or strobes, and high-intensity discharge (HID) bulbs. Besides, navigation lights are equipped on passenger aircraft, cargo planes, military aircraft, and ships. As these types of vehicles operate in harsh environmental conditions, these types of lights get damaged from overheating and harsh environmental conditions. Such factors are expected to hinder market growth in the coming years.
LED lights are energy efficient and are durable, as a result, the demand for LED navigation lighting in anticipated to increase in the coming years.
The leading players in the market are investing more on the research and development on innovative and unique strategies to sustain in the global market. These strategies includes new product launch, merger, collaboration, and partnership.
The key players profiled in this report include Glamox AS, Aveo Engineering Group, S.R.O., Hella Marine, Perko Inc., Lutron Electronics Co., Inc, Canepa & Campi, Den Haan Rotterdam, FAMOR S.A., and TRANBERG.
The global navigation lighting industry is segmented on the basis of type, end-user, and region. By type, the market is classified as low light intensity, medium light intensity, and high light intensity. By end-user, the market is segmented into marine and aerospace. By region, the market is analyzed across North America, Europe, Asia-Pacific, and LAMEA.
The navigation lighting market is segmented into End-User and Type.
Navigation Lighting Market

---
By Type
Medium light intensity is anticipated to grow at a highest CAGR over the forecast period
By type, the medium light intensity sub-segment is predicted to be the fastest growing sub-segment in the global market during the forecast period. This is attributed to rising demand for advanced feature navigation lighting in the aerospace and marine industries. Medium light intensity lights are high in demand because these lights are constructed of LED, they require little maintenance and have a life expectancy of about 50,000 hours. These factors are predicted to be major factors affecting the navigation lighting market size during the forecast period too.
Navigation Lighting Market

---
By End-user
Marine end-user held the largest market share in 2021
By end-user, the marine sub-segment dominated navigation lighting market share in 2021. As the population has grown globally, the demand for import-export has also increased. When compared to aviation, watercraft transportation of goods & services is less expensive. This factor has accelerated the growth of navigation lighting market as navigation lights are widely used by water vessels for avoiding any accident and to provide information such as direction, position, and size of the vessels.
Navigation Lighting Market

---

By Region
Asia-Pacific region is anticipated to grow at a fastest CAGR over the forecast period
By region, Asia-Pacific dominated the global market in 2021 and is projected to remain the fastest-growing sub-segment during the forecast period. This is attributed to numerous factors such as rapidly growing middle class and their rising demand for air travel & tourism industries in the region. The navigation lights are set of lights which are used for indicating position and direction of watercraft & aircraft.
Impact of COVID-19 on the Global Navigation Lighting Industry
COVID-19 had a negative impact on the global market. Due to increasing prevalence of corona viral transmission, many industries including manufacturing, tourism, and import-export industries were completely shut down which decreased the demand of navigation lights considerably. This factor has resulted in negative growth of the market in the pandemic time period.

COVID-19 impacted almost all industries by hindering various industrial operations and disrupting the supply chain. Maximum companies halted their operation due to fewer workforces. Therefore, a major decline was observed the due to impact of COVID-19.

Sales of navigation lights are directly proportional to the demand from end-use industries namely aircraft manufacturing, ship building, and others. However, the demand for navigation lights in air travel and shipping industry was greatly affected owing to import-export restrictions, closed borders, and supply chain disruptions due to the outbreak of the COVID-19 pandemic.

The Covid-19 pandemic has had an influence on public services, economics, and opportunities all around the world, and tourism is one of the most affected businesses. The entire value chain of the organization has been disrupted.

According to the United Nations Industrial Development Organization (UNIDO), 30.0%–70.0% of pre-COVID-19 workforce of various industries, such as third-party vendors migrated to their hometowns, due to uncertainties and loss of income during the lockdown. This unavailability or less availability of workforce is expected to directly affect the production and manufacturing activities, thereby resulting in decline in aircraft and water vessel manufacturing industry, which in turn, is expected to decline the growth of the global navigation lighting market during the forecast period.
Key Benefits For Stakeholders
This report provides a quantitative analysis of the market segments, current trends, estimations, and dynamics of the navigation lighting market analysis from 2021 to 2030 to identify the prevailing navigation lighting market opportunities.
The market research is offered along with information related to key drivers, restraints, and opportunities.
Porter's five forces analysis highlights the potency of buyers and suppliers to enable stakeholders make profit-oriented business decisions and strengthen their supplier-buyer network.
In-depth analysis of the navigation lighting market segmentation assists to determine the prevailing market opportunities.
Major countries in each region are mapped according to their revenue contribution to the global market.
Market player positioning facilitates benchmarking and provides a clear understanding of the present position of the market players.
The report includes the analysis of the regional as well as global navigation lighting market trends, key players, market segments, application areas, and market growth strategies.
 Navigation Lighting Market Report Highlights
Aspects
Details
By End-User
By Type

Low light intensity
Medium light intensity
High light intensity

By Region

North America (U.S., Canada, Mexico)
Europe (Germany, U.K., France, Spain, Italy, Rest of Europe)
Asia-Pacific (China, Japan, India, South Korea, Australia, Rest Of Asia Pacific)
LAMEA (Brazil, Saudi Arabia, UAE, South Africa, Rest of LAMEA)

Key Market Players
Glamox AS, Aveo Engineering Group, s.r.o., Hella Marine, Perko Inc., Vega Global, Lutron Electronics Co., Inc, Canepa & Campi, Den Haan Rotterdam, FAMOR S.A., TRANBERG