Needle-Free Injection Systems Market Overview:
Global Needle-Free Injection Systems Market was valued at $8,166 million in 2016, and is estimated to reach $23,116 million by 2023, growing at a CAGR of 16.0% from 2017 to 2023. Needle-free injection systems are used to administer liquid formulations, drugs, and vaccines into patients without piercing the skin with a conventional needle. The demand for these systems has increased considerably in the recent years as they improve immune response to vaccines, eliminate risks of needles, and reduce healthcare costs. However, lack of skilled professionals and the restricted use of needle-free injection systems for intravenous administration impede the market growth.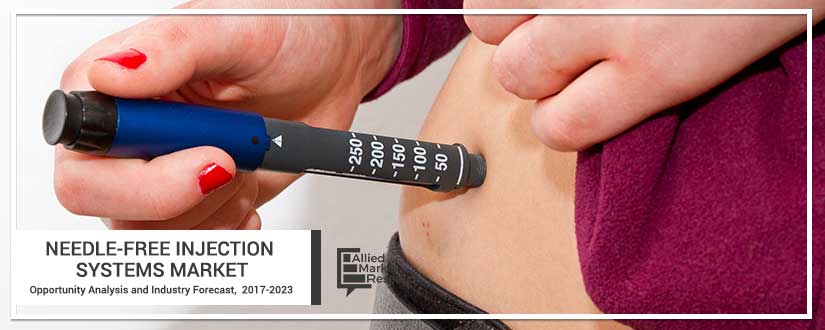 Rise in Diabetic Population
Rise in prevalence of diabetes raises the demand for needle-free insulin delivery devices. According to the Centers for Disease Control and Prevention, in 2015, approximately 30.3 million people or 9.4% of the total population of the U.S. suffered with diabetes. In addition, according to the Diabetes UK, in 2016, approximately 3.6 million people were diagnosed with diabetes in the UK. Hence, increase in diabetics is expected to have a positive impact on the market.
Growth in Asia-Pacific
Asia-Pacific offers lucrative opportunities for the market growth, due to its high population base and growth in awareness about the benefits of needle-free injections and their application in treatment of cancer, diabetes, and other infectious diseases.
Benefits of Needle-Free Injection Systems
Needle-free injection systems ensure faster drug delivery and better reproducibility as compared to invasive drug delivery systems. In addition, needle-free injection systems also eliminate the needle phobia and enable self-administration of drugs.
Global Needle-Free Injection Systems: Market Segmentation

The global needle free injection system market is segmented on the basis of product, source of power, type, usability, site of delivery, application, end user, and region. Based on product, the market is classified into fillable and prefilled needle-free injection systems. By source of power, it is divided into spring-based and gas-propelled/air forced injector systems. According to type, it is segmented into liquid-based, projectile/depot-based, and powder-based. By usability, it is bifurcated into disposable and reusable needle-free injectors. On the basis of site of delivery, the market is categorized into subcutaneous, intramuscular, and intradermal injectors. Based on application, it is segmented into vaccine delivery, insulin delivery, pain management, and others. According to the end user, the market is classified into hospitals & clinics, home care settings, research laboratories, and others. Geographically, it is analyzed across North America, Europe, Asia-Pacific, and LAMEA.
The key companies operating in the market include Antares Pharma, Inc., PharmaJet, PenJet Corporation, Medical International Technology, Inc., INJEX Pharma AG, Crossject needle-free injection systems, National Medical Products Inc., Valeritas, Inc., and European Pharma Group.
South Africa Needle-Free Injection Systems Market, 2016-2023 ($Million)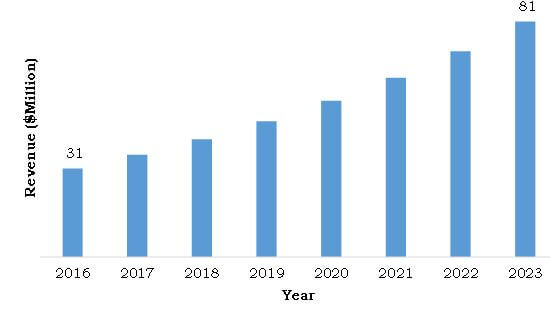 Key Benefits:
The study provides an in-depth analysis of the global needle-free injection systems market, with current trends and future estimations, to elucidate the imminent investment pockets.
Quantitative analysis from 2016 to 2023 of all geographical regions is expected to enable the stakeholders to capitalize on prevailing market opportunities.
Extensive analysis is conducted by closely following key product positioning and monitoring the top contenders within the market framework.
Needle-Free Injection Systems Market Key Segments:
By Product
By Source of Power
Spring-based Injector Systems
Gas Propelled/Air Forced Injector Systems
By Type
Liquid-based
Projectile/Depot-based
Powder-based
By Usability
By Site of Delivery
Subcutaneous Injectors
Intramuscular Injectors
Intradermal Injectors
By Application
Vaccine Delivery
Insulin Delivery
Pain Management
Others
By End User
Hospitals & Clinics
Home Care Settings
Research Laboratories
Others
By Region
North America
Europe

France
Germany
UK
Italy
Spain
Rest of Europe

Asia-Pacific

Japan
China
India
Australia
Rest of Asia-Pacific

LAMEA

Brazil
Saudi Arabia
South Africa
Rest of LAMEA