Neonatal birth also called as Preterm birth, is the condition when the baby is born means before 37 weeks of gestation. Neonatal care is the special care given to the premature born baby after the delivery for the first 4 weeks. Premature born baby usually has some health concerns like difficulty in breathing, gaining weight and require intensive medical care, hence are often kept in the neonatal intensive care unit (NICU). Equipment such as infant warmers & incubators, respiratory assistance & monitoring devices, phototherapy equipment and neonatal monitoring devices are used in providing intensive care and monitoring the baby. Neonatal infant care aims in assessment and evaluation of the infant as s/he transitions from intrauterine life to extra uterine life, providing a healthy and secure a safe environment to the infant and monitoring and comparison of the newborn baby thoroughly for normal versus abnormal functioning and potential treatment for maladies.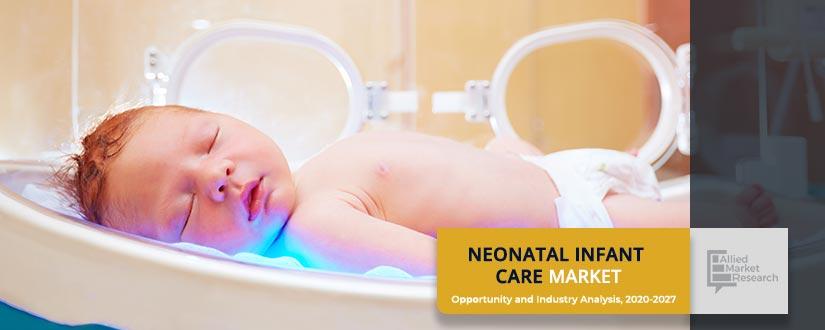 Technological advancements and innovations in 21st century, aimed at development of highly efficient instruments for effective infant care has proved to be significant for treatment of premature infants. Neonatal infant care units can be traced down to late nineteenth century.
COVID – 19 scenario analysis:  
The COVID-19 pandemic has emerged as a humanitarian as well as economic crisis, creating strain on the society and affecting millions of people and businesses
Industry closures and people are asked to stay in their homes which has cause taken a huge toll in terms of money and economic growth
Over 4 million people affected globally, with 300 thousand losing their lives due to SARS-CoV-2
Healthcare organizations are already working in battle mode, preparing new plans to respond growing COVID-19 patients, right from sourcing rapid diagnosing kits to sufficient PPE kits for workers
Due to diversion of medical field towards treating COVID-19, the funding to R&D activities related to neonatal care has been reduced and this segment have to face negligence subsequently causing negative impact on neonatal infant care market
Top impacting factors: Market Scenario Analysis, Trends, Drivers and Impact Analysis
Ever rising high birth rate in developing and developed countries, rising prevalence of premature births, increasing number of installations for NICU units, technological advancements in neonatal infant care devices owing to heavy investments in R&D activities and government initiatives to increase survival rates in neonatal incidences are the factors boosting the growth of this market.
As per the UN, maternal & infant care is a global priority, as around 800 women face fatalities per day owing to curable causes associated with pregnancy or childbirth. Rising concerns related to hospital-acquired infections and growing awareness about neonatal health & care devices owing to their efficacy and benefits is expected to propel the market growth
According to UNICEF (United Nations International Children's Emergency Fund) data, it was observed in 2017 that around 2.5 million children died in the first 4 weeks after birth worldwide. Adding to this, the preterm births followed by low weight in babies is a leading cause in acquiring various health concerns and hence make it essential to provide specialized care to the infant. This will further surge the demand for neonatal equipment and is expected to grow significantly in coming years.
However, presence of high entry barriers due to government compliances and regulations imposed by regulatory authorities, lack of technical skilled personnel, and poor accessibility toward neonatal care especially in the developing economies is restricting the growth of the neonatal infant care market.
Technological advancements in neonatal care industry to boost the growth
Technological advancements in neonatal care for infants have improved the quality of treatment and care provided over decades. However prematurity still is a serious health concern and ranks in the top 10 list of WHO for burden of deaths caused by diseases. Prematurity leads to deformation of organs, organ injury, particularly related with lungs and brain, and is responsible for 50% of perinatal mortality. Decent progress in the field of neonatal care has been made due to technological advancements resulting into higher survival rate for preterm infants has also been increased by the innovations in an infant incubator. Use of double-walled servo-controlled incubator, and enhanced mechanical ventilators ensuring better treatment and care than their predecessors has better yields and positive outcomes, thereby fueling the growth of neonatal infant care market.
Currently, technology integrated with artificial intelligence, computerization and machine learning has resulted into better health outcomes for the infants. Devices and equipment used comprises of built-in algorithms will help healthcare professionals minimizing the occurrence of errors and potential injuries to the infant. These advancements ensure a significant growth in this neonatal infant care market.
For instance, Apollo Cradle launched eNICU in India. The advanced product is fueled by cloud-based systems and aims to improve neonatal care that and ensured proficient management of doctor's workflow.
Earlier in July 2016, RetCam ophthalmic imaging system was acquired by Natus Medical. This move was tactically a game changer for Natus Medical as it helped in the expansion of market and better product portfolio.
Increasing number of pediatric clinics and neonatal intensive care units to surge the market growth
Past few years saw drop in the growth of neonatal care market, as there was limited number of pediatric clinics and neonatal intensive care units and adding to this lack of accessibility to neonatal care in low-middle income countries. The lack of numbers of clinics resulted into lack of neonatal specialists and has pushed various multi-chain hospitals to open specialized pediatric clinics in various locations to improve access to neonatal clinics. For example, the Seattle Children's Hospital in 2015, announced the opening of the regional clinic, Seattle Children's South Clinic, in Pierce and South King counties. It aimed to provide better access to pediatric specialty clinicians and services. In addition, increase in the number of neonatal intensive care units in community hospitals and specialized neonatal clinics opened for service at various places has further increased the demand and use of devices used for neonatal infant care treatment and would further help the market grow significantly.
Key benefits of the report:
This study presents the analytical depiction of the global neonatal infant care industry along with the current trends and future estimations to determine the imminent investment pockets.
The report presents information related to key drivers, restraints, and opportunities along with detailed analysis of the global neonatal infant care market share.
The current market is quantitatively analysed from 2020 to 2027 to highlight the global neonatal infant care market growth scenario.
Porter's five forces analysis illustrates the potency of buyers & suppliers in the neonatal infant care market.
The report provides a detailed global market analysis based on competitive intensity and how the competition will take shape in coming years.
Questions answered in the Neonatal Infant Care Market research report:
Who are the leading market players active in the neonatal infant care market?
What are the current trends that will influence the market in the next few years?
What are the driving factors, restraints, and opportunities in the market?
What are the projections for the future that will help in taking further strategic steps?
 
 Neonatal Infant Care Market: Global Opportunity Analysis and Industry Forecast, 2020-2027 Report Highlights
Aspects
Details
By Product type

Infant Warmers
Convertible Warmer & Incubators
Neonatal Monitoring Devices
Respiratory Devices
Phototherapy Equipment
Catheters
Others

By Technology

Thermoregulation Devices
Monitoring Systems
Hearing Screening Devices
Vision Screening Equipment

By End users

Hospitals
Diagnostic Centers
Pediatric and Neonatal Clinics
Other

By Region

North America (US, Canada, Mexico)
Europe (France, Germany, UK, Italy, Spain, rest of Europe)
Asia-Pacific (Japan, China, India, Australia, South Korea, rest of Asia-Pacific)
LAMEA (Brazil, South Arabia, South Africa, rest of LAMEA)

Key Market Players
Drägerwerk AG & Co. KGaA, Atom Medical Corp, Fisher & Paykel Healthcare Limited, GE Healthcare, Ibis Medical, Medtronic, International Biomedical, Koninklijke Philips N.V., Natus Medical Incorporated, Phoenix Medical Systems Pvt Ltd.