Nephrology Devices Market Outlook - 2026
The global nephrology devices market accounted for $12,012 million in 2018 and is expected to reach $16,421 million by 2026, registering a CAGR of 4.0% from 2019 to 2026. 
Nephrology is a branch of medical science, which deals with the study of functions and diseases associated with kidneys along with their treatment. The devices which are used for the treatment of kidney diseases are termed as nephrology devices. For instance, various devices are used to treat kidney diseases such as dialysis instrument, which is deployed to remove solutes, excess water, and toxins from the blood in patients with kidney failure. Similarly, lithotripter is a device, which is used to pulverize kidney stones by focusing electromagnetic shock waves on a patient sitting in a water bath. Moreover, other devices used in nephrology include hemodialysis water treatment systems, acidified & bicarbonate concentrates, and catheter caps. Furthermore, some of the nephrological disorders for which these devices are used include renal failure, interstitial nephritis, and chronic kidney disease.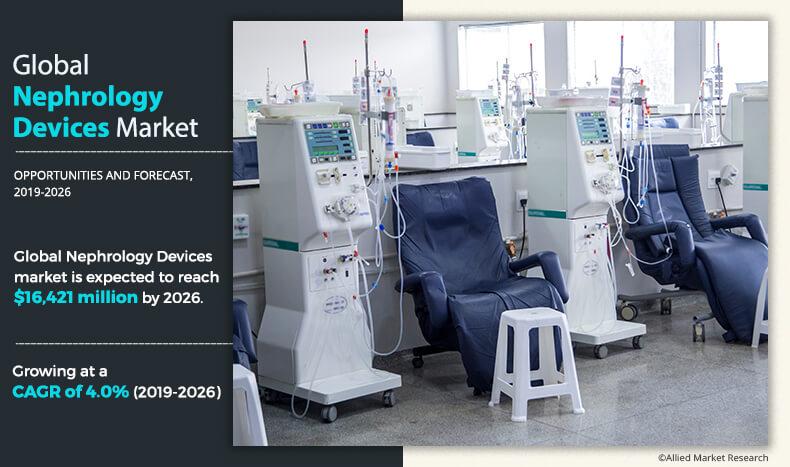 The key factors that contribute toward the growth of the global nephrology market include surge in geriatric population and rise in prevalence of chronic kidney diseases across the globe. Furthermore, innovation in nephrology devices and rise in healthcare expenditure are other factors that fuel the growth of the Nephrology Devices Market. However, high cost associated of these devices hinders the growth of this market. Conversely, rise in awareness about benefits associated with nephrology devices such as reduced treatment and recovery time among renal disease patients is expected to offer lucrative opportunities during the forecast period.
Nephrology Devices Market Segmentation  
The global nephrology devices market size is studied on the basis of device type and region to provide a detailed assessment of the market. Depending on device type, the market is categorized into dialysis instrument, lithotripter, dialysis catheters, and others. Region wise, the market size is analyzed across North America (U.S., Canada, and Mexico), Europe (Germany, France, the UK, Italy, Spain, and rest of Europe), Asia-Pacific (China, Japan, India, Australia, South Korea, and rest of Asia-Pacific), and LAMEA (Brazil, South Africa, and rest of LAMEA). 
 
Segment Review
According to device type, the dialysis instrument occupied the major nephrology devices market share in 2018, and is anticipated to register highest growth rate during the forecast period. This is attributable to rise in demand for these machines in developing countries such as India as there is an increase in the number of patients who require hemodialysis. Therefore, there has been an increase in the purchase of hemodialysis machines, thereby contributing toward the growth of this segment. For instance, in July 2017, the State Government of Telangana in India provided 268 single-use hemodialysis machines in 39 hospitals. Therefore, this helped in the improvement of services provided by the hospitals to the hemodialysis patients. The other factors that contribute toward nephrology devices market growth include rise in awareness related to the use of nephrology devices in the treatment of renal disorders. Furthermore, surge in prevalence of chronic kidney disease (CKD) also contributes to the growth of this market. For instance, according to an estimate by National Kidney Foundation, Inc., 37 million American adults are estimated to have CKD. 
Nephrology Devices Market

---
By Device Type
Dialysis instrument segment holds a dominant position in 2018 and would continue to maintain the lead over the forecast period.
Get more information on this report :
Request Sample Pages
Region wise, North America accounted for the major nephrology device market share in 2018, and is expected to continue this trend owing to easy availability of nephrology devices. Moreover, surge in geriatric population which is more predisposed to nephrological disorders is another major factor that boosts the growth of nephrological devices market in North America. However, Asia-Pacific is expected to register the fastest growth during the forecast period, due to surge in awareness related to the use of nephrology devices. Moreover, the constantly evolving life science industry drives the growth of the market in the developing economies such as India, China, and Malaysia.
Nephrology Devices Market

---
By Region
Asia-Pacific region would exhibit the highest CAGR of 5.0% during 2019-2026.
Get more information on this report :
Request Sample Pages
The global nephrology devices market is highly competitive, and the prominent players have adopted various strategies for garnering maximum Nephrology Devices Market share. These include collaboration, product launch, partnership, and acquisition. Major players operating in the market include Baxter International, C.R.Bard, Fresenius Medical Care, Nikkiso Co. Ltd, Dornier Medtech, Asahi Kasei Corporation, DaVita, Nipro Corporation, Cantel Medical Corporation, and B. Braun Melsungen AG.
Key Benefits for Stakeholders:
This report entails a detailed quantitative analysis along with the current global nephrology devices market trends from 2019 to 2026 to identify the prevailing opportunities along with the strategic assessment.
The nephrology devices market forecast is studied from 2019 to 2026. 
The market size and estimations are based on a comprehensive analysis of key developments in the industry. 
A qualitative analysis based on innovative products facilitates strategic business planning.
The development strategies adopted by the key market players are enlisted to understand the competitive scenario of the market.
 Nephrology Devices Market Report Highlights
Aspects
Details
By Device Type

Dialysis Instrument
Lithotripter
Dialysis Catheters
Other products

By Region

North America (U.S., Canada, Mexico)
Europe (Germany, France, UK, Italy, Rest of Europe)
Asia-Pacific (Japan, China, India, Rest of Asia-Pacific)
LAMEA (Brazil, South Africa, Saudi Arabia, Rest of LAMEA)

Key Market Players
Asahi Kasei Corporation, BECTON, DICKINSON AND COMPANY, Dornier MedTech GmbH, Fresenius Medical Care AG & Co. KGaA, Nipro Corporation, B. Braun Melsungen AG, Cantel Medical Corporation, BOSTON SCIENTIFIC CORPORATION, Baxter International Inc., Nikkiso Co. Ltd