Nephrology Drugs Market Overview:
The global nephrology drugs market was valued at $14,501.75 million in 2020, and is projected to reach $23,405.42 million by 2030, registering a CAGR of 5.0% from 2021 to 2030. Factors such as increase in kidney failure cases, rise in adaptation of unhealthy lifestyle, surge in prevalence of chronic nephrology diseases, rise in geriatric population, increase in demand for diagnostic tests, surge in excessive alcohol consumption, and rise in obese population drive the growth of the nephrology drugs.
COVID-19 cases involve the kidneys, and acute kidney diseases have an incidence of 50% in hospitalized COVID-19 patients.
Emerging technology in developing countries, increase in demand for targeted & immunotherapies, development in diagnosis & renal treatment, rise in R&D activities to improve drugs & launch of novel drugs, and joint ventures & agreement between key market players boost the growth of the nephrology drugs market. However, high treatment costs and lack of awareness about kidney disorders hinder the growth of the market. On the contrary, government initiatives for regulatory approvals and favorable insurance policies are expected to offer lucrative opportunities for market expansion.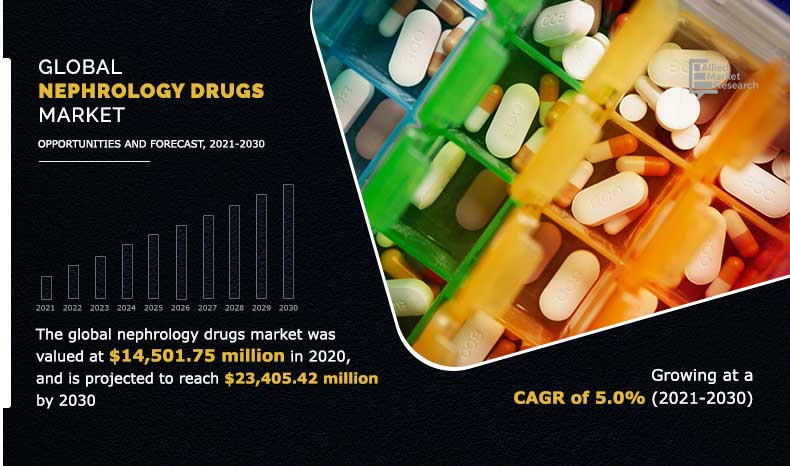 Nephron is a major part of the kidney that plays an important role of filtration of blood. Diabetes and hypertension both affect the nephron functions and have the potential to damage nephrons. Furthermore, this affects the filtration rate of nephrons. Chronic kidney disorders such as kidney stones, kidney failure, and kidney cancer are treated with Nephrology drugs. Such disorders gradually deteriorate the functioning of the kidney. Invokana, Phoslo, Renvela, Sensipar, and Procrit are some examples of drugs used in the treatment of nephrology.
Nephrology Drugs Market

---
By Drug Class
ACE inhibitors segment dominated the market in 2020 and would continue to maintain the lead over the forecast period.
The outbreak of COVID-19 has disrupted workflows in the healthcare sector across the world. The disease has forced a number of industries to shut their doors temporarily, including several sub-domains of healthcare. The overall impact of the COVID-19 pandemic remained negative for key players in the nephrology drugs industry. The COVID-19 pandemic has stressed healthcare system in the world.  COVID-19 has caused clinical trial delays for nephrology drugs and has also resulted in low usage of these drugs. Due to worldwide lockdowns, production has been halted which is causing supply chain issues. The COVID-19 pandemic is a major inhibitor for the growth of nephrology drug trials during the period. The coronavirus outbreak is disrupting clinical research across the globe and has affected the management of ongoing trials and planning of future trials. However, market players and research institutes are focusing on initiating clinical trials associated with COVID-19 to understand the effects of chronic kidney disease treatment drugs on patients suffering with COVID-19. Therefore, the COVID-19 pandemic is expected to significantly have a positive impact on the growth of the global next-generation sequencing informatics market.
Nephrology Drugs Market Segmentation
The nephrology drugs market is segmented on the basis of drug class, route of administration, distribution channel, and region. By drug class, the market is classified into ACE inhibitors, calcium channel blocker, beta blockers, diuretics, erythropoiesis- stimulating agent, and others. The route of administration segment is further classified based on oral, parenteral, and others. The distribution channel segment is segmented into hospitals pharmacies, retail pharmacies, and online pharmacies. By region, the nephrology drugs market is analyzed across North America, Europe, Asia-Pacific, and LAMEA.
Nephrology Drugs Market

---
By Route Of Administration
Oral segment held a dominant position in 2020.
Segment Review
By drug class, the ACE inhibitors segment currently dominates the global nephrology drugs market, and is expected to continue during the forecast period owing to the rise in the prevalence of various cardiovascular and hypertension conditions and changing lifestyles.
By route of administration, the oral segment dominated the global nephrology drugs market in 2020. This is attributed to key players focusing on novel drugs launches. 
By distribution channel, the retail pharmacy segment dominated the global nephrology drugs market in 2020, and is anticipated to developments in the medical infrastructure and rise in public healthcare expenditure. 
Nephrology Drugs Market

---
By Distribution Channel
Retail Pharmacy segment held a dominant position in 2020.
Region Segment Review
Region wise, North America dominated the market in 2020, owing to awareness regarding the chronic kidney diseases in the region. However, Asia-Pacific is expected to increasing accessibility to healthcare facilities and treatments in the region, rising rate of kidney diseases, growing investment from public and private sectors for drug manufacturing, and the entrance of global players in this region.
The key players in this market have adopted business expansion as one of their key developmental strategies such as product launches and collaboration. The major companies profiled in this report include AstraZeneca, AbbVie Inc., Akebia Therapeutics, Inc., Amgen Inc., F. Hoffmann-La Roche, FibroGen Inc., GlaxoSmithkline PLC., Johnson & Johnson Inc., Pfizer Inc., and Teva Pharmaceutical Industries Limited.
Nephrology Drugs Market

---
By Region
Asia- Pacific region would exhibit the fastest CAGR of 7.7% during the forecast period.
Key Benefits For Stakeholders
The study provides an in-depth analysis of the global nephrology drugs market along with the current trends and future estimations to explain the imminent investment pockets.
A comprehensive analysis of the factors that drive and restrict the nephrology drugs market growth is provided in the report.
Comprehensive quantitative analysis of the industry from 2020 to 2030 is provided to enable the stakeholders to capitalize on the prevailing nephrology drugs market opportunities.
Extensive analysis of the key segments of the industry helps to understand the application and products of nephrology drugs used across the globe.
Key market players and their strategies have been analyzed to understand the competitive outlook of the nephrology drugs market.
 Nephrology Drugs Market Report Highlights
Aspects
Details
By Drug Class

ACE Inhibitors
Calcium Channel Blocker
Beta Blockers
Diuretics
Others

By Route of Administration
By Distribution Channel

Hospital Pharmacy
Retail Pharmacy
Online Pharmacy

By Region

North America (U.S., Canada, Mexico)
Europe (Germany, France, UK, Italy, Spain, Rest of Europe)
Asia-Pacific (Japan, China, Australia, India, South Korea, Rest of Asia-Pacific)
LAMEA (Brazil, Saudi Arabia, South Africa, Rest of LAMEA)

By LIST OF KEY PLAYERS PROFILED IN THE STUDY:

AstraZeneca
Pfizer Inc.
Amgen Inc.
FibroGen Inc.
GlaxoSmithkline Plc.
AbbVie Inc.
Akebia Therapeutics, Inc.
Teva Pharmaceutical Industries,
Johnson & Johnson Inc.
F. Hoffmann-La Roche.