Network Emulator Market Statistics: 2027
Network emulation is a practice that tests performance of various applications in real time through virtual network tools, known as network emulators. Network emulation is used by service providers, application developers, and manufacturers to verify the strength of a network application or product. The standard functionality of network emulators include modifiers, impairments, routing, and filtering. These emulations are different from network simulations as emulations represent mathematical models of network models, channels, traffic, and protocols that are applied to a network. The objective is to evaluate performance, predict impact of change, and optimize technology decision-making. Network emulator designs include a wide range of standard network attributes including duplication of packets, amount of available bandwidth, given degree of packet loss, round-trip time across network reordering packets, and corruption and modification of packets.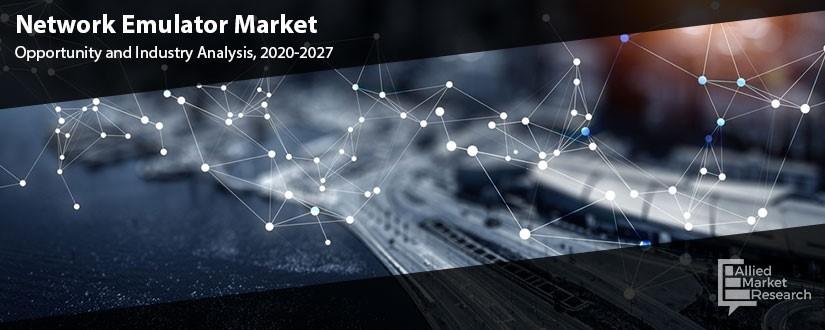 COVID-19 Scenario Analysis: 
Organizations are required to take proactive steps by advising their staff and customers to be more vigilant and cautious, especially when opening links, emails. or documents related to the subject COVID-19. Organizations should ensure their detection and alerting capabilities are functional while keeping an eye on the impact of having many remote workers.
COVID-19 pandemic has led many employees to work from home and many students to learn virtually, enterprise virtual private network (VPN) servers have now become a lifeline to companies/schools, and their security and availability will be a major focus going forward.
Organizations are hereby encouraged to sensitize their employees around information security outside of the office space. Working from public spaces should be restricted and organization should utilize technologies that ensure confidential information remain secure on these devices in the case of theft or damage.
Top impacting factors: Market Scenario Analysis, Trends, Drivers and Impact Analysis
Proliferation of 5G, IoT, and connected devices, rise of cyber-attacks and cyber security breaches on networks among various industries across the globe are the major factors that drive the growth of market. In addition, the growth of network emulator market is majorly driven by the need to reduce downtime in networking among end users. However, longer time and extended R&D requirements for new networking technologies is a factor that hampers the growth of market. Contrarily, rise in demand for software defined networking & virtualization is an opportunistic factor for the global market.
Proliferation of 5G, IoT, and connected devices
With continuous changes in technological landscape, variety of telecommunication service providers in the world have acknowledged the demand for a complete overhaul of prevailing wireless infrastructure in which there are numerous factors that create a necessity for an overhaul. In addition, contribution of traditional infrastructure to globalization is a major factor to increase the demand for change in existing telecommunication infrastructures. 
In the era of digitization, the need to improve delivering services into a wider geographic area, coupled with demand for high quality of services and the need for sustainable environments have proliferated the adoption of connected devices. These are some of the factors that have directed to the conceptualization of 5G network infrastructure. 
Further, proliferation of IoT enabled devices that are connected over the internet and rise in adoption of IoT solutions among industries across the globe have increased the number of connected devices from. Thus, expansion of the network emulator market by a variety of end users is anticipated to rise at a rapid rate in the coming years, with 5G technology and IoT gaining greater prominence around the world.
Longer timelines and extended R&D requirements for new networking technologies
Manufacturing of network emulators and its emulations require rigorous testing. Stringent government regulations have reduced development or enhancements in network emulators.  R&D activities take longer timelines in emulations to create a real-life network environment. For these environments various parameters are considered and then behavioral observation is evaluated, which usually takes longer time. Further, the network research is a tremendously time-consuming task, which delays the time to market products, thereby adding to the total costs. This factor is anticipated to be a challenge for development of the network emulator market during the forecast period.
Key benefits of the report
This study presents the analytical depiction of the global network emulator industry along with the current trends and future estimations to determine the imminent investment pockets.
The report presents information related to key drivers, restraints, and opportunities along with detailed analysis of the global network emulator market share.
The current network emulator market is quantitatively analyzed to highlight the market growth scenario.
Porter's five forces analysis illustrates the potency of buyers & suppliers in the market. 
The report provides a detailed network emulator market analysis based on the present and future competitive intensity of the market
 Network Emulator Market Report Highlights
Aspects
Details
By Test Type

Protocol Testing
Signaling
Functional Testing

By Application

SD-WAN
Internet of Things
Cloud
Others

By Industry Vertical

BFSI
IT & Telecommunication
Healthcare
Retail & Ecommerce
Government & Defense
Others

By Region

North America (US, Canada)
Europe (Germany, UK, France, rest of Europe)
Asia-Pacific (China, Japan, India, rest of Asia-Pacific)
Latin America (Brazil, Mexico, rest of LATAM)
the Middle East
Africa

Key Market Players
Keysight Technologies, Calnex Solutions Ltd, Polaris Networks, W2B1 Incorporated, Valid8.com Inc., Apposite Technology Inc., GignaNet Systems Inc., SolarWinds Worldwide, LLC, InterWorking Labs Inc., SCALABLE Network Technologies Inc.