Network Forensics Market Statistics:
Network forensics is empowering companies to better protect data and recognize vulnerabilities in the system. Network forensics is a process and is widely considered as a study of network data that is captured, recorded, and analyzed to discover the source of security/cyber threats.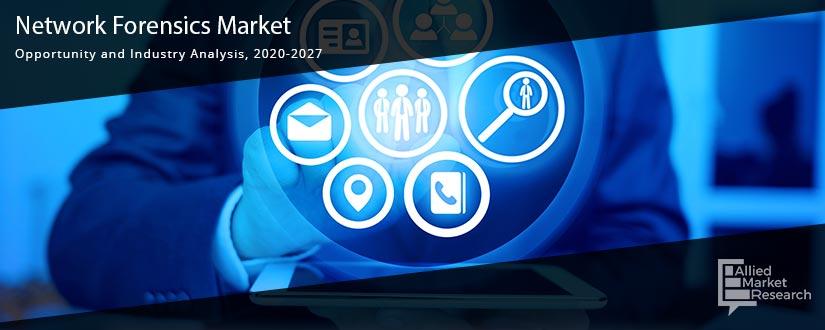 Network security has become one of the most significant aspects in the current connected landscape, with the amount of data traffic handled by network infrastructures increasing at an exceptional rate. Moreover, rise in investments in security solutions in growing technological landscape propels adoption of network forensics as one of the leading solutions across industries. The main objective of network forensics is to collect evidence. It tries to analyze network traffic data, which is collected from different sites and different network equipment, such as IDS and firewalls. In addition, it monitors networks to detect attacks and analyze nature of attackers. Network forensics is a process of identifying intrusion patterns, focusing on attacker activity.
Impact of COVID-19 on Network Forensics Market:
Working of many security teams has reduced, owing to the COVID-19 pandemic thereby making detection of malicious activities difficult and responding to these activities even more complicated. Revising patches on systems may also be a challenge if security teams are not operational.
Experts from the National Cyber Security Centre have revealed a range of attacks being perpetrated online as cyber criminals seek to exploit COVID-19. Sophisticated attacks were witnessed from the start of the year 2020, which included counterfeit emails with links claiming to have important updates, once clicked, they lead to device infection. These 'phishing' attempts have been witnessed across regions and have led to loss of money and sensitive data. These attacks are versatile and can be conducted through various media, adapted to different sectors and monetized via multiple means, including ransomware, credential theft, bitcoin, or fraud.
Top impacting factors: Market Scenario Analysis, Trends, Drivers, and Impact Analysis
Rise in need to secure networks from cyber threats such as ransomware, Denial-of-Service (DDoS), and advanced persistent threat and rise in sophistication of hacking techniques are factors that drive growth of the market. Rise in demand for cloud-based network forensics is also a factor that boosts growth of the network forensics market. However, lack of skilled network forensics investigators hamper growth of the market. Contrarily, rapid evolution in mobile, IoT, and web applications and integrated next-generation network forensics solutions are opportunistic factors for the market, which is further anticipated to generate substantial opportunities for players during the forecast period.
Rise in sophistication of hacking techniques
On-going digitization is transforming present business environment where implementation of new networking technologies might have compatibility and security issues for which network forensics investigators are required to collect digital evidence to provide better solutions. Generated output from network forensics are digital evidences documented to be strong and accurate, owing to which they are legally accepted. Growth in sophistication of cyber criminals that utilize multi-layered hacking mechanism to monitor networks across enterprises has compelled businesses to adopt network forensics. 
Traditional security solutions are unable to adapt changing attacks patterns, thus next-generation security solutions such as SIEM, IDS/IPS, packet capture analysis, firewalls, and log management are high in demand. These solutions provide analysis of historic data and monitor real-time network traffic to respond threats accurately. Moreover, growth in need for in-depth analysis of network data coupled with rise in need to extract or gain actionable digital evidence on cyber-attacks is anticipated to witness high growth of network forensics products and services across industries in the coming years.
Lack of skilled network forensics investigators
In this digital era where cyber risks are increasing at a faster rate, organizations around the globe are thriving to find technological solutions. However, these advance solutions require talented professionals who can help them defend against these risks and help their systems respond accurately. 
According to the most recent Cybersecurity Workforce Study from (ISC)2, the world's biggest nonprofit association dedicated to IT security, there is currently a massive cybersecurity workforce shortage on a global basis. Around the world, there are currently 2.8 million cybersecurity professionals. Unfortunately, it would take a 145% rise in the number of these professionals in order to fill the current expected need for 4.07 million cybersecurity experts.
As a whole, the (ISC)2 report presents an extremely sobering glance at the current cybersecurity workforce shortage. Steps taken in recent years such as creating new security certifications and degrees, promoting need for greater training and up-skilling, and highlighting ways that non-traditional job candidates can make an immediate contribution to the industry are expected to be opportunistic for the market.
Key benefits of the report:
This study presents the analytical depiction of the global network forensics industry along with the current trends and future estimations to determine the imminent investment pockets.
The report presents information related to key drivers, restraints, and opportunities along with detailed analysis of the global network forensics market share.
The current market is quantitatively analyzed from 2020 to 2027 to highlight the global network forensics market growth scenario.
Porter's five forces analysis illustrates the potency of buyers & suppliers in the market. 
The report provides a detailed market analysis based on the present and future competitive intensity of the market.
 Network Forensics Market Report Highlights
Aspects
Details
By Component

Solutions
Professional Services

By Application

Data Center Security
Endpoint Security
Network Security
Application Security
Others

By Deployment Mode
By Organization Size

Small & Medium-sized Enterprises (SMEs)
Large Enterprises

By Industry Vertical

BFSI
Government
Healthcare
IT & Telecom
Manufacturing
Retail
Others

By Region

North America (US, Canada)
Europe (Germany, UK, France, Rest of Europe)
Asia-Pacific (China, Japan, India, Rest of Asia-Pacific)
LAMEA (Brazil, Mexico, Rest of LATAM)

Key Market Players
Cisco Systems Inc., FireEye Inc., IBM Corporation, LogRhythm Inc., NIKSUN Incorporated, NETSCOUT Systems Inc., RSA Security, Symantec Corporation, Savvius Inc., VIAVI Solutions Inc.,