Network Function Market Statistics
Network Function (NF) is a functional building block across a network infrastructure, which possesses well-specified external interfaces and a well-defined functional performance. It abstracts network functions, enabling them to be installed, manipulated, and controlled by software running on identical compute nodes. It integrates cloud and virtualization technologies to drive rapid development of new network services with flexible scale and automation. Information and communication technologies are often grouped as NFV and software-defined networking (SDN). NFV brings responsiveness in delivering network services with capital efficiency by removing bottlenecks imposed by manual processes and allowing new services to be deployed on demand. It enables service providers to deliver services faster and cost-effectively to exploit automation so that they can adapt to customer needs for scale and agility.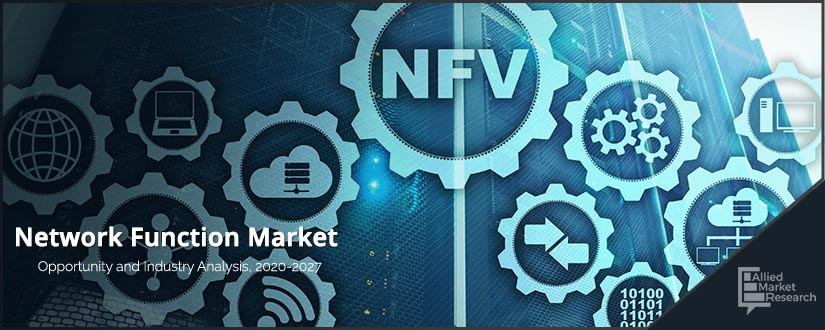 Impact of COVID-19 on Network Function Market:
Organizations are encouraged to sensitize their employees around information security outside office space. Working from public spaces should be restricted and organization must utilize technologies that ensure confidential information remains secure on these devices in case of theft or damage.
Organizations should take proactive steps by advising their staff and customers to be more vigilant and cautious especially while opening links, emails, or documents related to the subject COVID-19. Organizations should ensure their detection and alerting capabilities are functional while keeping an eye on impact of having many remote workers.
Presently, many employees are working from home and students are learning virtually, hence enterprise virtual private network (VPN) servers have now become a lifeline for companies/schools and their security and availability would be a major focus going forward. There is a possibility that an organization's unpreparedness can lead to security misconfiguration in VPNs. This, in turn, could expose sensitive information on the internet and devices to Denial of Service (DoS) attacks. In addition, some users utilize personal computers to perform official duties, which could also pose a great amount of risk to organizations.  
Top impacting factors: Market Scenario Analysis, Trends, Drivers, and Impact Analysis
Increase in demand for network virtualization and automation and increase in emergence of cloud services, data center consolidations, and server virtualization among various industry verticals across the globe are the major factors that drive growth of the network function market. However, rise in number of security risks across NFV infrastructure can hamper growth of the market. Contrarily, adoption of NFV for IoT technology and rise in demand for private cloud solutions and services are opportunistic factors for the global market.
Increase in demand for network virtualization and automation
As the networking industry is being transformed by next-generation virtualization approach called software-defined networking (SDN) and network functions virtualization (NFV) is getting more prominence, organizations can execute NFV without SDN and vice versa, but these two approaches can potentially offer even more value when used together. 
Apart from scalability, flexibility, agility, and cost efficiency, an important feature of NFV is automation, a key selling point for NFV. In early days, to install a new service within network, CSPs used to take several months and it was susceptible to errors as configuration processes had manual interference, which led to costly and delayed service launches. In telco NFV use case, data centers are spread over multiple regions. In such distributed telco environment, it is hard to manage physical resources at every data center, which may incur massive manual effort as well as costs. Along with software propelled and highly programmable nature of NFV, CSPs can now be able to automate workflows and operations such as infrastructure management, resources management, and network services lifecycle throughout the network. Making use of automation capability, CSPs can reduce OPEX significantly, offering faster time-to-market for services.
An exponential increase in size and complexity of network infrastructures over the past decade has created a need for solutions to streamline and efficiently manage the entire network. NFV solutions serve directly to these problems by providing more flexibility, in terms of traffic management to operators to improve network efficiency. Therefore, rise in demand for advanced network management systems drives the global network function market growth.
Growth in number of security risks across NFV infrastructure
Despite the fact that NFV offers a wide range of new network functions, it also opens up a window for new security risks. Routers and firewalls on dedicated hardware are more difficult to crack from a security stance. Software is significantly more vulnerable to Distributed Denial of Service (DDOS) attacks. The platform must be protected from constant threats that can submerge a network. A hypervisor is able to provide a high level of isolation for virtual machines (VMs), signifying if one VM is infected by a computer virus it may not spread to other VMs.
While installing virtualized network functions, operators have to make sure that the security features of their network are not affected. Virtual appliances are allowed to run in data centers that are not owned by network operators directly. These virtualized network functions can even be outsourced to third parties. Launch of new elements such as orchestrators and hypervisors generate additional security vulnerabilities, which enhance load of intrusion detection systems. Underlying shared networking and storage can also launch new security threats, for instance, when running a software router in a VM that is sharing physical resources with other network appliances. In addition, these software-based components can be offered by different vendors, potentially generating security holes, owing to integration complexity. All these modifications require to reconsider security issues when designing and building NFV systems. NFV can also enhance security level of a broad range of networking services. 
Key benefits of the report:
This study presents the analytical depiction of the global network function industry along with the current trends and future estimations to determine the imminent investment pockets.
The report presents information related to key drivers, restraints, and opportunities along with detailed analysis of the global network function market share.
The current market is quantitatively analyzed from 2020 to 2027 to highlight the global network function market growth scenario.
Porter's five forces analysis illustrates the potency of buyers & suppliers in the market. 
The report provides a detailed market analysis based on the present and future competitive intensity of the market.
 Network Function Market Report Highlights
Aspects
Details
By Component

Solutions
Orchestration & Automation
Services

By Virtualized Network Function
By Application

Virtual Appliance
Core Network

By Enterprise Size

Small and Medium-sized Enterprises
Large Enterprises

By End User

Service Providers
Data Centers
Enterprises

By Region

North America (US, Canada)
Europe (Germany, UK, France, Rest of Europe)
Asia-Pacific (China, Japan, India, Rest of Asia-Pacific)
LAMEA (Brazil, Mexico, the Rest of LATAM)

Key Market Players
Allot communications, Amdocs Inc., Cisco Systems Inc., Connectem Inc., Huawei technologies Co Ltd., Intel Corporation, Nokia Corporation, NEC Inc., Oracle Corporation, Open Wave Mobility Inc