Network Security Market Statistics - 2027
The global network security market size was valued at $18,480 million in 2019, and is projected to reach $63,398 million by 2027, registering a CAGR of 16.7% from 2020 to 2027. Network security is a broad term that covers a multitude of technologies, devices and processes. In the simplest term, it is a set of rules and configurations designed to protect the integrity, confidentiality and accessibility of computer networks and data using both software and hardware technologies. Every organization, regardless of size, industry or infrastructure, requires a degree of network security solutions in place to protect it from the ever-growing landscape of cyber threats in the wild today. Cybercriminals are seeing the pandemic as an excuse to increase their immoral behavior by leveraging the weakness of remote workers and trying to capitalize on public interest in coronavirus. These factors are encouraging organizations to further increase their security spending and improve their network security infrastructure to adapt to remote working environments. This promises a stable growth opportunity for the global network security market.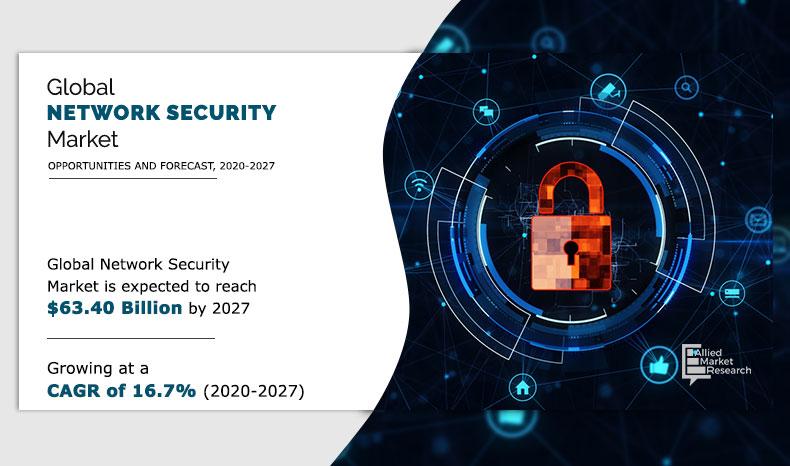 In 2019, the global network security market share was dominated by the solution segment, and is expected to maintain its dominance in the upcoming years as solutions all solution types primarily focus on various system parts right from network security, device management, network packet analysis, and on embedded security, thereby creating a highly profitable scenario for the market growth. Increase in number of cyber-attacks on enterprises has resulted in huge loss, in terms of both social and economic scenarios. This has mandated organizations to increase their spending in security conditions, which has created a lucrative growth foundation for the overall market. Furthermore, there has been a heavy reliance on cloud and online systems, owing to work from home policy, which has increased the risk of cyber threats. However, the services segment is expected to witness the highest growth, as these services reduce time and costs associated with optimization of systems in the initial phase of deployment. As services help to deploy and integrate distinct IT solutions in an enterprise ecosystem, they work as an important part of an organization. There has been an increase in adoption of services among end users over time, as it ensures effective functioning of software and platforms throughout the process. Increase in adoption of these software and platforms is expected to boost demand for these services.
By solution type, the IDS/IPS segment achieved the fastest growth within the market in 2019, and is expected to maintain a similar trend in the upcoming years. Malware and web application-based attacks have become extremely prone in the past decade within the digital world. With rise in threat of these attacks, demand for intrusion detection system has increased colossally. Intrusion detection system (IDS) is a software application that scans a network or a system for harmful activities or policy breaching. There is a growing demand for IDS solution, owing to a colossal increase in number of malicious attacks such as malware, web-based attacks, and phishing. Various advancements in the solution has increased demand for IDS solution, which is expected to create a strong foundation for the market growth during the forecast period.
North America dominates the network security market, owing to various factors such as rapid adoption of favorable government initiatives in the technology domain by the government of Canada is estimated to create a wide range of opportunities for the network security market. For instance, Venture Capital Catalyst Initiative, unveiled in December 2017, allocated $400 million within technology domain to achieve high growth business scenario. The funds allocated are adopted for research in the field of advanced artificial intelligence and quantum computing. Thus, with such a heavy reliance on digital technology, the demand for effective security measures is expected to rise, which would create ample opportunities for the market growth. User/data interaction software technologies include natural language processing, question and answer (Q&A) processing, facial recognition, natural language generation, video and image analytics, and speech recognition. 
The report focuses on the growth prospects, restraints, and network security market analysis. The study provides Porter's five forces analysis of the network security industry to understand impact of various factors such as bargaining power of suppliers, competitive intensity of competitors, threat of new entrants, threat of substitutes, and bargaining power of buyers on the network security market trends.
Segment review
The network security market is mainly segmented on the basis of component, solution, services, deployment, and organization size and industry verticals. Based on component, the market is segmented into solution and services. Based on solution the market is segmented into firewall, antivirus/antimalware, network access control (NAC), data loss prevention, IDS/IPS, secure web gateways, DDoS Mitigation, unified threat management and others, while on the basis of services the market is segmented into professional and managed services. Based on deployment, the market is bifurcated into on-premise and cloud, while on the basis of organization size the market is classified into small and medium enterprise and large enterprise. Based on industry vertical, the market is segmented into aerospace and defense, government, banking, financial services, and insurance (BFSI), information technology (IT) and telecommunication, healthcare, retail, manufacturing, energy and utilities and others.
Impact of COVID-19 Pandemic on Network Security Market:
Post COVID-19, size of the network security market is estimated to grow from $21,530 million in 2020 and is projected to reach $63,398 million by 2027, at a CAGR of 16.7%. The current estimation of 2027 is projected to be higher than pre-COVID-19 estimates. COVID-19 pandemic has bought a moderate impact on the Network Security market, achieving a growth rate of 3-5% in the year 2020. However, with this colossal growth, the risk of cyber threats also increases, thereby venture capitalists are investing more in cybersecurity and more specifically, into network security. More than 70% security executives also believe that their budgets for fiscal year 2021 will shrink. As a result, supporting new Overall, the pandemic has massively affected how cybersecurity protection is delivered to organizations and users, fast-tracking remote workforce support and accelerating cloud adoption. With most of the companies adopting work from home policy, there has been a colossal demand for cloud-based systems, creating a strong foundation for network security market .Tactics to safeguard organizations is expected to limit outlays for such things as compliance, governance, and risk tools, which in turn is set to open wider opportunities for network security solutions.
Top impacting factors    
Factors such as immense focus on data safety and privacy, have emerged as one of the striking factor that is driving the market growth. Furthermore, growing incidences of cybercrimes coupled with huge loss also has mandated the need for effective network security solutions. However, the huge setup cost and high level of expertise required within the operations is mainly creating a staggering effect on the market. Growth of digitalization in a global manner and rapid increase in the number of cyber-attacks within the pandemic period has boosted the market growth.
Ongoing technological advancement across the transportation and logistics sector
Over the past few decades, the need for security solutions has grown exponentially around the world. Security equipment started becoming mainstream for commercial and government since the past few decades, around these times enterprise level firewalls, intruder detection systems, identity management systems, and event management solutions and others started to surface. Cyber and network security has gained a colossal traction and has gained significant demand owing to the factors such as increased governmental policies for safety and privacy of user data, an increasing number of cyber and network attacks, crucial corporate data, and others, have made security solutions an absolute necessity in today's world.
Network Security Market

---
By Component
Cloud segment is projected as one of the most lucrative segments.
Get more information on this report :
Request Sample Pages
Increasing level of cybercrimes coupled with its higher economic losses
Digital technologies has gained  a colossal space within every aspect of day to day routine starting from simple mobile devices used for communication to complex software and electronics adopted in high security based applications. For instance, one of the recent technology termed as "Edge computing" is gaining a huge traction within the commercial sectors as it reduces the overall latency in acquiring a data from a respective servers. Furthermore, edge computing is also estimated to increase the demand for various parallel technologies such as Internet of Things (IoT) and cloud computing. By 2022, the global edge computing market is expected to reach $16.5 billion.
According to a 2018 survey published by Cisco systems, the Chief Information Security Officer (CISO) in many organizations has pushed for strong network monitoring and security solutions. 93% of the organizations that participated in the survey, expressed that they are planning to further increase their network monitoring infrastructure. CISOs do have a number of network security and monitoring plans in place, include incorporating new and improved network security monitoring with existing networking and security technologies, increasing cybersecurity training, and investing in new network security monitoring tools. This ongoing scenario has raised the demand for network monitoring and security tools, thereby elevating the market growth during the forecast period.
Network Security Market

---
By Region
Asia-Pacific is projected as one of the most significant region.
Get more information on this report :
Request Sample Pages
Key Benefits For Stakeholders
The study provides an in-depth analysis of the network security market along with current trends and future estimations to elucidate imminent investment pockets.
Information about key drivers, restrains, and opportunities and their impact analysis on the market size is provided in the report.
Porter's five forces analysis illustrates the potency of buyers and suppliers operating in the network security industry.
The quantitative analysis of network security market for the period 2020–2027 is provided to determine the market potential.
Key Market Segments
By Component
By Solution
Firewall
Antivirus/Antimalware
Network Access Control (NAC)
Data Loss Prevention
IDS/IPS
Secure Web Gateways
DDoS Mitigation
Unified Threat Management
Others
By Service
Professional Services
Managed Services
By Deployment 
By Organization Size
Large Enterprise
Small and Medium Enterprise
By Industry Vertical
Aerospace and Defense
Government
Banking, Financial Services, And Insurance (BFSI)
Information Technology (IT) and Telecommunication
Healthcare
Retail
Manufacturing
Energy and Utilities
Others
BY REGION
North America
Europe 

UK
Germany
France
Spain
Italy
Rest of Europe

Asia-Pacific 

China
India
Japan
India
Australia
South Korea
Rest of Asia-Pacific

LAMEA

Latin America
Middle East
Africa
Key Market Players
Cisco Systems
Solarwinds
IBM
Trend Micro
FireMon
Symantec
FireEye
GFI Software
Avast Software
Juniper Networks
 Network Security Market Report Highlights
Aspects
Details
By Component
By Solution

Firewall
Antivirus/Antimalware
Network Access Control
Data Loss Prevention
IDS/IPS
Secure Web Gateways
DDoS Mitigation
Unified Threat Management
Others

By SERVICE

Professional Services
Managed Services

By DEPLOYMENT
By ORGANIZATION SIZE

Large Enterprise
Small and Medium Enterprise

By INDUSTRY VERTICAL

Aerospace and Defense
Government
BFSI
IT and Telecom
Healthcare
Retail
Manufacturing
Energy and Utilities
Others

By Region

North America (U.S., Canada, Mexico)
Europe (France, Germany, Italy, Spain, UK, Russia, Rest of Europe)
Asia-Pacific (China, Japan, India, South Korea, Australia, Thailand, Malaysia, Indonesia, Rest of Asia-Pacific)
LAMEA (Brazil, South Africa, Saudi Arabia, UAE, Argentina, Rest of LAMEA)

Key Market Players
IBM CORPORATION, AVAST SOFTWARE ., SOLAR WINDS, FIREEYE, SYMANTEC, TRENDMICRO, GFI SOFTWARE, JUNIPER NETWORKS, CISCO SYSTEM, FIREMON