Neural Network Market Statistics: 2030
The global neural network market was valued at $14.35 billion in 2020, and is projected to reach $152.61 billion by 2030, registering a CAGR of 26.7% from 2021 to 2030. Neural network is defined as the system of hardware and software comprising simple and highly interconnected processing elements (neurons). Moreover, it is known as artificial neural network (ANN). It is a form of artificial intelligence involving a series of algorithms, and is used to understand the relationship between datasets to obtain a desired output. This network implements a process, which is designed to incorporate the functionalities of human brain through a variety of deep learning technologies to solve complex pattern recognition or signal processing problems. Applications of neural network includes weather prediction, handwriting recognition, oil-exploration data analysis, facial recognition, and speech-to-text transcription.
The adoption of neural network has increased with start of COVID-19 pandemic owing to surge in IT expenditure by the developing nations during the pandemic period and growing application of deep learning in various industries across the globe
Advancement in the field of artificial intelligence (AI) market and growth in cloud disruption in the modern industry boost the growth of the global neural network market. In addition, availability of advanced analytical tools and prediction solutions positively impacts the growth of the market. However, huge requirement & high dependency on data, lack of experienced professionals, and difficulties in training multilayer neural network hamper the market growth. On the contrary, surge in application areas for deep neural networks is expected to offer remunerative opportunities for expansion of the market during the forecast period.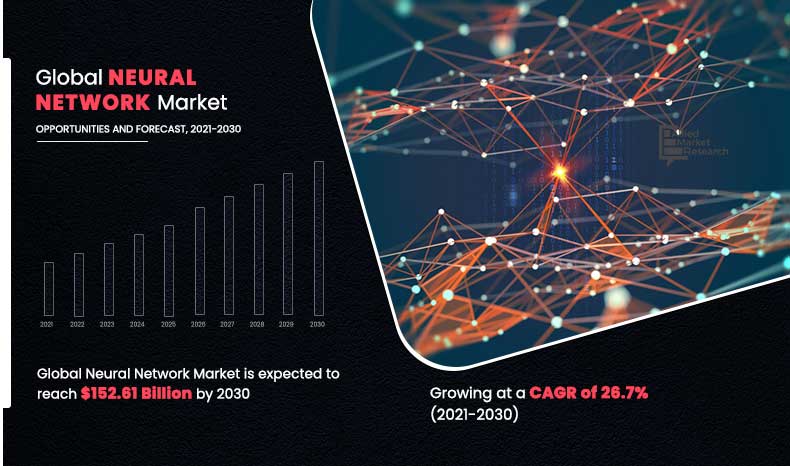 According to component, the software segment holds the largest neural network market share, owing to increase in popularity of its key features such as accuracy and self-learning capacity across various industries. However, the services segment is expected to grow at the highest rate during the forecast period, owing to rise in adoption of various services such as, outsourced product development (OPD), call recording, email management, enterprise resource planning, chat platforms, project setup & forecast review, custom software development, and remote training.
Region wise, the neural network market share was dominated by North America in 2020, and is expected to retain its position during the forecast period, due to the early adoption of neural network and technological advancement in this region. However, Asia-Pacific is expected to witness significant growth during the forecast period, owing to rise in digitization and increase in data generated by internet of things (IoT) devices.
Segment Review
The neural network market is segmented on the basis of component, industry vertical, and region. Depending on component, it is bifurcated into software and services. According to industry vertical, it is classified into BFSI, IT & telecom, aerospace & defense, public sector, retail, healthcare, manufacturing, energy & utilities, and others. Region wise, the market is analyzed across North America, Europe, Asia-Pacific, and LAMEA. 
The key players that operate in the neural network market are Afiniti, Alyuda Research, LLC, GMDH Inc., Neural Technologies Limited, NeuralWare, nDimensional, OLSOFT LLC, Starmind, SWIFTKEY (Microsoft Corporation), and Ward Systems Group, Inc.
Neural Network Market

---
By Component
Software segment is projected as one of the most lucrative segments.
Covid-19 Impact Analysis
The neural network industry has grown significantly in recent years; but, due to the outbreak of the COVID-19 pandemic, the market experienced a sharp decline in 2020. This is due to the governments implementing lockdown in the majority of countries and halt in travel across the globe to limit the spread of the virus. Neural network industry is expected to grow post-pandemic. Various firms across the globe have implemented a work-from-home culture for their staff, resulting in demand for cloud-based solutions, rise in demand for spatial data & analytical tools, and surge in market prediction solutions. Increase in volume of data generated by different industries and the need to manage this data are the key factors that drive the growth of the neural network market size. 
In addition, healthcare organizations utilized ANN to anticipate recovery and death cases by using a majority of clinical characteristics, despite the fact that gathering such extensive information necessary for prediction purposes might be difficult. It was found to be satisfactory efficient based on the rich and specific input data required by their proposed model. Moreover, it will not give a prediction of probable confirmed cases in future. Therefore, the application of neural networks to detect the cases increased the demand for the market during the COVID-19 pandemic having a positive impact on the neural network market size.
Neural Network Market

---
By Industry Vertical
BFSI segment is projected as one of the most lucrative segments.
Top Impacting Factors
Advancement In The Field Of Artificial Intelligence (Ai) Market
Artificial intelligence (AI) system includes learning, reasoning, and self-correction powered by neural network. Particular applications of AI include expert systems, speech recognition, and machine vision. Presently, challenging project which includes big data infrastructure and cloud computing are responsible for increase of popularity of AI. Top companies in various sectors such as Software & IT (Google, Microsoft, and Amazon), Financial Services (Bloomberg and American Express), and Automotive (Tesla and Ford) have identified AI as core strategic driver and started investments in neural network to develop efficient systems, which will be more advanced. In addition, these top companies have also supported new start-ups, providing financial support to generate new innovative neural search platforms. For instance, in November 2021, Berlin-based Jina.ai, an open-source startup that uses neural search raised a $30 million series A funding round led by Canaan partners, which help its users find information in their unstructured data.
Increase In Cloud Disruption In The Modern Industry
Cloud computing is one of the most powerful computing models. Cloud computing continues to be successful with the major IT providers and consumers compete to reap the benefits of this computing model and the capacity to utilize SaaS (Security as a Service), PaaS, and Iaas developments. New services including "Function as a Service" and "Backend as a Service" have been added to the mix in response to increase their profits. Furthermore, most of the cloud computing platforms are still built on operating systems that use basic Core Processing Unit (CPU) scheduling algorithms that lack the intelligence needed for such innovative computing model. The intelligence needed for cloud computing is provided by the use of ANN in cloud. Nowadays, use of cloud computing with ANN have increased among industries such as healthcare (for detection of cancer) and security (SaaS).
Neural Network Market

---
By Region
Asia-Pacific would exhibit the highest CAGR of 28.2% during 2021-2030.
Key Benefits For Stakeholders     
The study provides an in-depth analysis of the global neural network market forecast along with current & future trends to explain the imminent investment pockets.
Information about key drivers, restraints, & opportunities and their impact analysis on global neural network industry trend is provided in the report.
The Porter's five forces analysis illustrates the potency of the buyers and suppliers operating in the industry.
The quantitative analysis of the market from 2021 to 2030 is provided to determine the neural network market potential.
 Neural Network Market Report Highlights
Aspects
Details
By Component
By Industry Vertical

BFSI
IT & Telecom
Aerospace & Defense
Public Sector
Retail
Healthcare
Manufacturing
Energy & Utilities
Others

By Region

North America (U.S., Canada)
Europe (UK, Germany, France, Italy, Spain, Netherlands, Rest of Europe)
Asia-Pacific (China, Japan, India, South Korea, Australia, Rest of Asia-Pacific)
LAMEA (Latin America, Middle East, Africa)

By Key Market Players

Afiniti
Alyuda Research, LLC
GMDH Inc.
Neural Technologies Limited
NeuralWare
nDimensional
OLSOFT LLC
Starmind
SWIFTKEY (Microsoft Corporation)
Ward Systems Group, Inc.